The Night Before Christmas Poem
This post was sponsored by Amazon as part of an Ambassador Activation for Influence Central and all opinions expressed in my post are my own.
Oh the memories I have with The Night Before Christmas Poem! When I was in first grade I had about the most amazing teacher in the world. I'm the fourth child in my family, and we were all lucky to have her. She believed in every kid and she really pushed us in the best kind of way. The things that happened in only 1st grade was really impressive!
She was really big on ready and on poetry. Each year the first graders performed for the elderly (and our parents) a series of holiday songs. But my favorite part was how she helped every single first grader memorize Twas the Night Before Christmas poem. It was so fun to learn more about audible storytelling and share this Christmas classic.
Learning The Night Before Christmas Poem
Consequently, this has been my favorite holiday poem turned to book my entire life. I love that I can still recite it! It's just one of those stories that begs to be read and to be shared aloud, and to even be performed. Truly, every child should listen to The Night Before Christmas read out loud each Christmas season!
Unfortunately Mrs. Merrill is no longer teaching, We can only hope first graders reciting The Night Before Christmas is still happening! However, every child can enjoy The Night Before Christmas in audiobook form!
The Night Before Christmas Poem Tradition
I've always planned to carry on learning and reciting The Night Before Christmas as a tradition with my own family. This year we've been learning and reading and listening to The Night Before Christmas poem with audio.
We just acquired a Fire HD 8 Kids Edition Tablet for the purpose of reading and listening to audiobooks! I can't get books fast enough for my preschooler to look through. Consequently, I love that a device makes reading easier and more accessible as a parent! These are about the greatest devices to set your kid up for reading and audiobook listening, particularly with great books and poems that beg to be read aloud.
I first learned about the Fire HD 8 Kids Edition Tablet tablets at Mom 2.0 a year and a half ago, and I was blown away! They are the #1 kids' tablets in the U.S. for lots of reasons! They make tablets with a kid-proof case and a two-year worry-free guarantee—if they break it, you just simply return it and Amazon will send a replacement for free, no questions asked.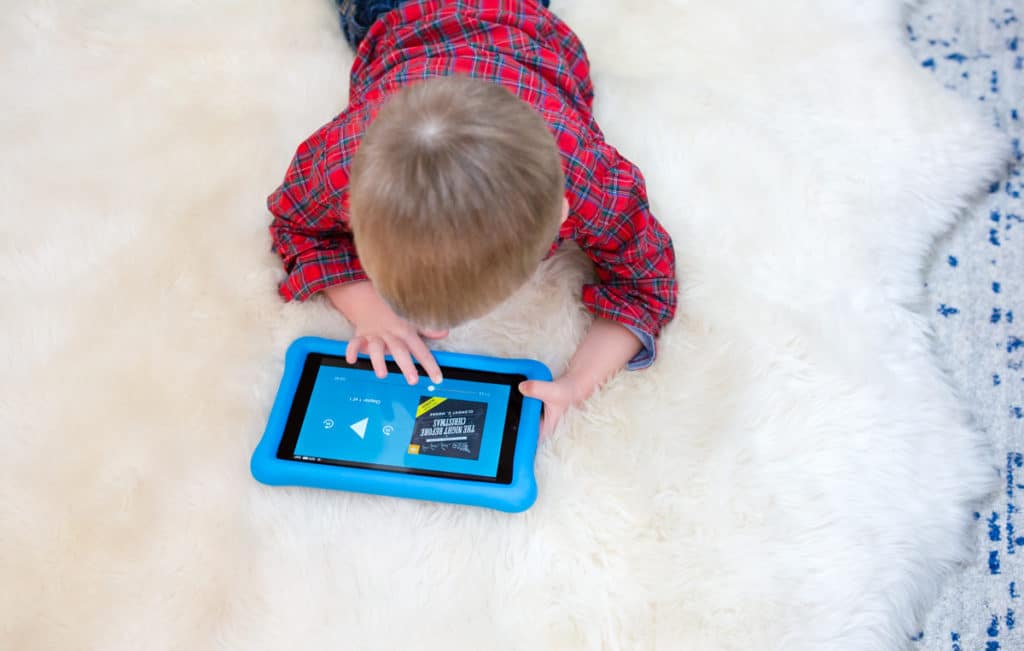 Parent Controls and Unlimited Reading
That part was great, but I have to admit as a parent concerned with screen time, I was even more blown away by the Parental Control settings in FreeTime. In the Parent Dashboard, you can set limits, adjust age filters, disable web browser access, and control and review all digital content kids are using. It's a tool for educational goals and one you have the power to set limits on. They really thought of everything! We have it so our preschooler can only read books and audiobooks, and it shuts down about a half hour before bedtime. It's perfect for any age with settings to really put parents in control.
We're loving the Fire HD 8 Kids Edition tablet for educational use. Each one comes with a one-year subscription to Amazon FreeTime Unlimited. Which provides access to over 20,000 books, videos, Audible books, educational apps, and games that are age-appropriate and hand-curated by the Amazon FreeTime team. The Night Before Christmas came free with Amazon FreeTime, and it's being listened to on repeat! There are tons of options in Spanish, and web-safe controls so you have peace of mind if your child is web browsing.
Enjoying Listening to Christmas Books Together
I know my three-year-old will grow into more features, but I love the Fire HD 8 Kids Edition Tablet for reading and audiobooks at this phase. I'm particularly loving it for Christmas! He loves The Night Before Christmas as much as I do. He also loves How the Grinch Stole Christmas, and the Walter Matthau reading is just so delightful. He's listened to it on repeat and I love his intense listening voice and grinch faces he makes.
Christmas books are one of our favorite Christmas traditions, and I love that my three-year-old is no longer limited to only my time reading them! Plus, a professional reading of The Night Before Christmas is just something we are loving sharing as an entire family!
Get 365 Date Ideas!
We want to help you have the best date nights ever! Grab this FREE printable with 365 date ideas, a date for every day of the year so you never run out of ideas!