Date Info: 
Price: Temple- Free
Location: Los Angeles, CA
Time: 2 Hours for temple session
We decided that to keep everything within our trip budget, it would be a good idea to find a few free activities we could do. We also starting thinking about our
Bucket List
, and went to one of the items toward the end: "Visit 50 Temples" together. We knew this meant that each trip we go on, we would need to find one and make it part of our vacation. We figured attending the 2nd largest would also be a cool experience, so we headed over to Santa Monica to visit the
Los Angeles LDS Temple
.
We are LDS, so we went inside and participated in the ordinances there. If you've ever wondered what those are or what that means you can read more about that
HERE
. And if you're ever wanted to visit one, anyone is welcome on the grounds, and each has  Visitor's Center, typically filled with Christian artwork and photography exhibits to see.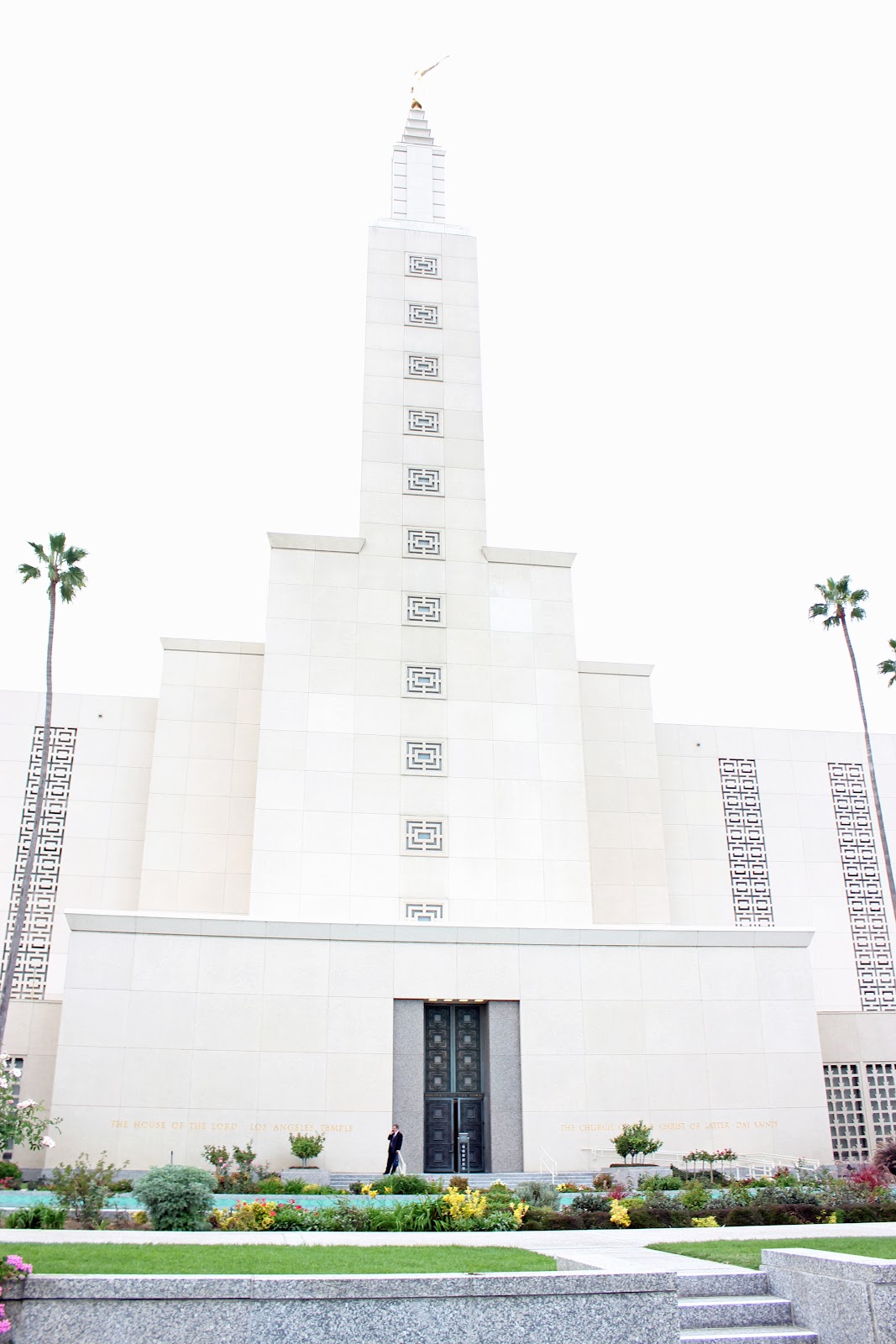 Another cool thing to do at an LDS temple is to go visit the grounds. They are always gorgeous! We love to walk around the Mesa, AZ grounds an see others visiting and taking pictures of all the pretty flowers and greenery. Sometimes those things are hard to find in AZ. Once again, anyone is welcome and invited to do this, even if you aren't LDS or even religious! We always like learning about other religions and visiting them, so I thought we'd let anyone who didn't know in on the fact this one is great for visitors.
Luckily in LA they have even more greenery than many temple grounds! Maybe next time I go I'll have to re-think the green dress…I feel like I'm in a Where's Waldo book in this picture. 10 points if you find me!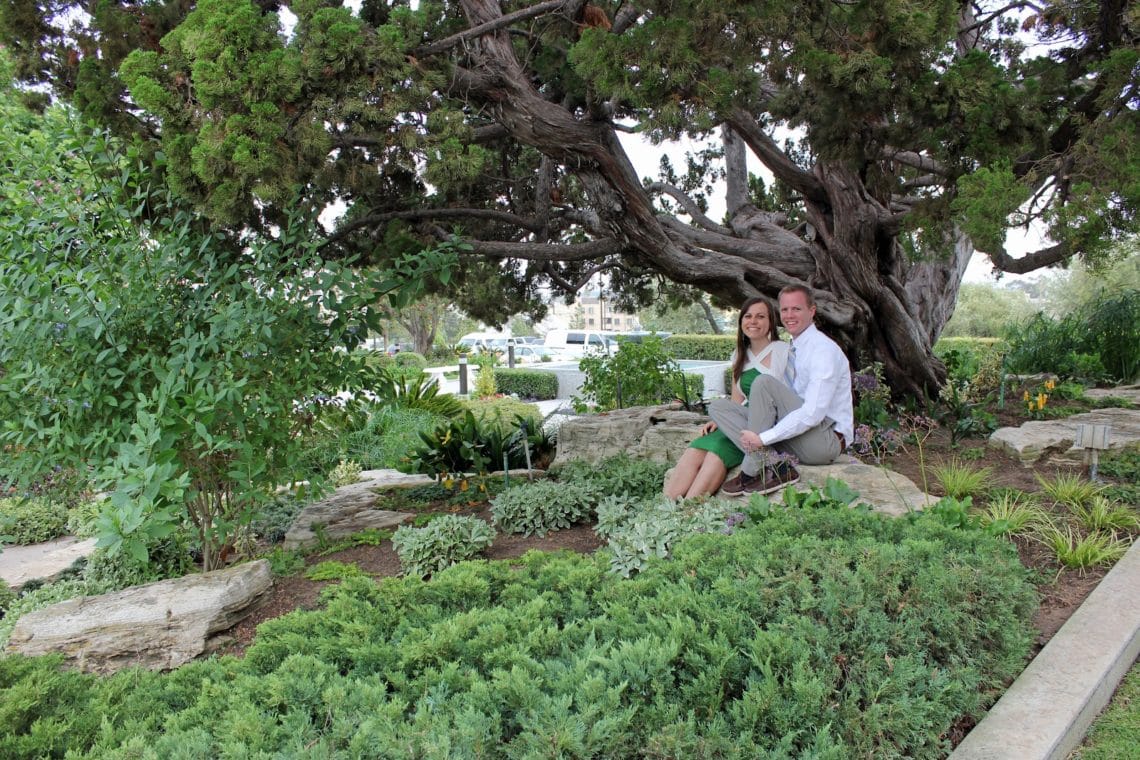 After we met up with one of my best friends from high school Rachel and her husband Shawn. They are some of the greatest people! They are both so smart, so funny, and so kind and giving to others. We love to see them whenever we're in So Cal, we also spend some time with them when we went to LA last year.
They took us to one amazing Mexican Food place, which name we never even got, it's that hole-in-the-wall. It was really good! There are few other places we trust for amazing Mexican food besides Phoenix, but LA is definitely one of them! Sadly we only took this one picture, next time we'll get a group shot!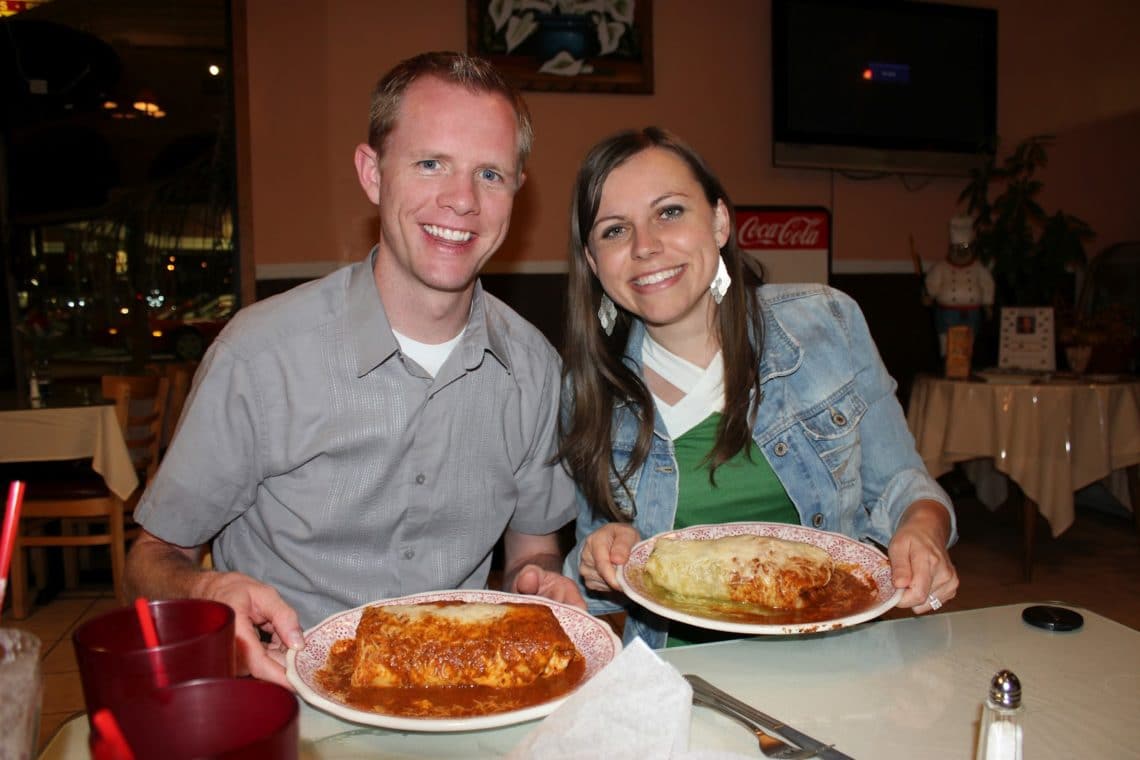 We had a great day just being together, and letting our blisters start to heal from our days at Disneyland and CA Adventure! Not to mention religious dates and free dates are a double win to help remind you of your beliefs in marriage and family, and to have a great time at no cost!
And if you're keeping track, 3 temples down (Mesa, Snowflake, LA), 47 to go!
Get 365 Date Ideas!
We want to help you have the best date nights ever! Grab this FREE printable with 365 date ideas, a date for every day of the year so you never run out of ideas!