Our First Trial as a Married Couple
Sometimes I read other people's blogs and I think about how their lives seem a little too perfect, and that there has to be elements they just aren't posting. Then it hit me, I am probably one of those people! I don't believe complaining or sharing certain things is something appropriate for blogs, and really do try to remain super optimistic and look to the good things that happen each day. We made this blog to inspire dates, but every once in a while life updates may be important so our posterity who will read this as a printed book, our friends and family, and our readers realize that we really are just posting the highlights of our week- our date, and we are real people with real problems that happen.
Late April to late May was the hardest month we've had as a married couple. In order to understand some of our posts it's probably important to share a few personal things that have happened to the Whiting clan. And by clan I mean two, but clan makes us feel better about my short frame and Jacob's skinny body.
We had heard that bad things happen in 3's, and we unfortunately experienced this and our first big trials as a married couple. Late April brought the death of Jacob's grandmother. He grew up about 20 feet from this woman, who he adores like a 2nd mother, and the funeral was something that was hard to attend. It's an interesting thing to be a spouse and to have never met this person, but to know the heartache and pain of your spouse and to be there to love and support them in a really low moment. Something I loved that I heard, she used to ask each of her 10 children to say the best thing that had happened to them that day when she put them to bed. It taught them to look at the positive and to find the joy in the small things in life. What a great lesson for anyone to take away from one inspiring woman!
Only one week after the funeral I received a call from Jacob letting me know there was a reduction in force at his work, and that he had lost his job. He was in complete shock, this is a boy most employers beg to come work for them again after he leaves. I know I'm not biased here, he really is a hard worker, smart, and probably the man with the greatest integrity any employer has ever seen! He has been employed since he was a child and has never experienced times of unemployment. We were in shock, but felt a lot of peace too knowing that he has a sought after degree (that's right single ladies- marry engineers! You may have to take them shopping, but they will likely always find a job quickly). We also knew the company he'd worked for had some unethical  management decisions being made that caused Jacob to feel they weren't always being honest in their dealings, which caused him a lot of stress. It was amazing how only 3 days after losing his job Jacob seemed like a much happier, less stressed man. We were lucky to have savings, to have had opportunities to earn degrees to help with employment options, and to have me still employed, even if only bringing in a meager teacher's salary. Even though I've personally been struggling with some serious discouragement not being able to find a marketing or management position post MBA graduation.
One week later I came down with a terrible flu- or maybe it was food poisoning. Either way, it's a bad thing for me. My body doesn't have a mechanism to stop vomiting once I start. I will empty the contents of my stomach, even the bile, and start throwing up lining of organs. It's pretty bad. I've been hospitalized 3 times for this already in my life, and this added another trip and the most painful experience to date with a 7 hour wait to see a doctor.
We had a week where we both felt so discouraged that we broke our own rule- we missed date night. We figured we didn't have the money, and I was so sick all week it was best to go to bed early. And guess what, we felt an instant difference! We noticed we weren't feeling close to each other. We noticed communication wasn't as clear and open. We noticed we were acting more like roommates and less like a happily married couple. Luckily it didn't take long for us to confront this issue and decide that when life is stressful and times are hard that's all the more reason to date!
We recommitted and decided that free dates are out there and totally doable! We also became thankful for Groupons purchased and unused and gift cards from presents, teacher-of-the month awards, and work giveaways. A rainy-day stash for dates will continue to be present in our home.
We also realized that trials in life are necessary to build our faith that God loves us and has a plan for us. It also can tear you apart or bring you together as a couple. No it's not fun to have the discussion of how many months you can go unemployed before you'll have to put your house up for sale, or to have to talk your spouse into buying shampoo when they are running low because you are both so frugal you'll wait this one out and water it down, or to quit going out to dinner or other fun luxuries because of fear of what may or may not happen. We discussed moving, even out of the country if that's what it takes to find jobs. We knew we may have some tough decisions to make in the near future, and those were hard to discuss. However, the moment we made plans together what we would do was the moment we joked, "I wouldn't want to be homeless with anyone else but you!" It was the moment we became very close and realized that no matter what happens, no matter what the road is ahead, we have each other, and food poisoning spared my life again, which means we really do have the things that really matter- health, love, our faith, and each other.
I know it sounds cheesy, but it's true.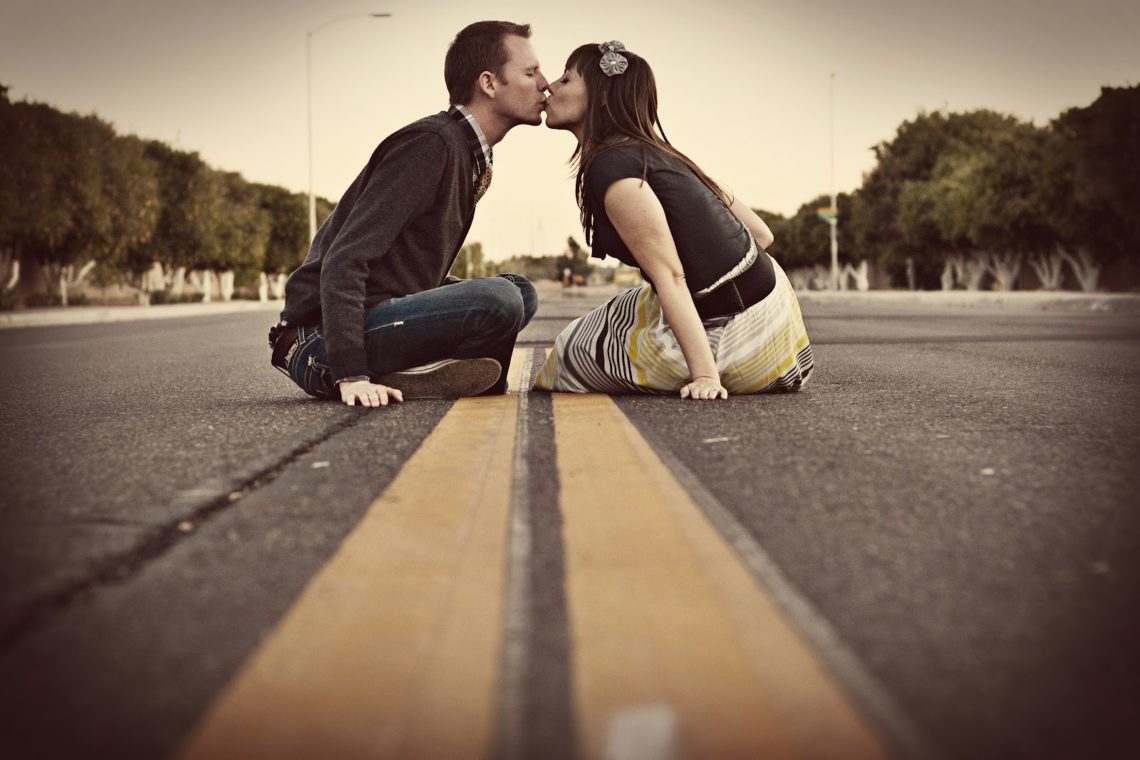 And it only took less than a month for us to have some very happy things happen. Jacob will be working for a much better company, closer to our home, working in an industry he always dreamed of being in. The day my contract was due I was called with a formal job offer to be a manager for an Internet marketing agency with an amazing company culture, lots of growth opportunities, and it's close to home. We were both extended offers within an hour of each other. It was a joyous day with much screaming and hugging when I walked in the door and we both said "I have great news!" at the same time.
I'm grateful we passed our first of many tests as a couple- we can indeed grow stronger and closer in hard times. I am also grateful life isn't always perfect, it sure makes the happy moments and those special moments we are together, namely our dates, all the more appreciated, and all the sweeter.
Get 365 Date Ideas!
We want to help you have the best date nights ever! Grab this FREE printable with 365 date ideas, a date for every day of the year so you never run out of ideas!