Marrying someone who balances you out is one of the biggest blessings in life! I'm a planner. That's an understatement- I'm a project manger who plans the launch of web tactics for Fortune 500 companies, and makes sure many finite details take place for successful launches. I want to tell you I leave work at work, and unless it's an emergency launch I do. However, I do OCD plan my weeks, outfits, meals, and particularly my vacations down to the minute. For Europe I made a spreadsheet that included activities with the time we'd spend at each, food stops (or options in the location), what we'd wear, and what time we'd fall asleep and wake up each day. 
Jacob turned to me on Day 4 in London completely exhausted and asked "Did you ever plan a night I'll get to sleep more than 6 hours?" Sometimes I forget that he doesn't do well without sleep like I do, just like I don't do as well without food as he does. I opened the travel spreadsheet and looked at the plans remarking, "Yep, you get about eight in two days." He rolled his eyes at me and let me know that it was probably okay if we didn't see EVERYTHING I could ever dream of seeing in London and Paris, and it was probably more important that we enjoyed our time together and our memories. I raised an eyebrow thinking he was nuts. I mean how could someone live without seeing all the top rated sites while in London? How could we say we went to Paris and only do a few things a day? 
After we debated about this and he let me know he knew I'd be like this, and recommended enjoying our time together as a couple again, I started to see my crazy planning inner-monster rearing its ugly head. We made a deal, we'd see what we could as we wrapped up London, and during our hour train ride to the London Temple we'd talk about Paris and it being a more relaxed experience. 
I'm a lucky girl to be married to such a patient man. As I post the moments we shared in Paris I think of how sweet they are compared to just the cool factor of the places we visited in London. We literally stopped to smell the pastries, cut a bunch of things that weren't huge on either of us lists out, and enjoyed a lot of time together.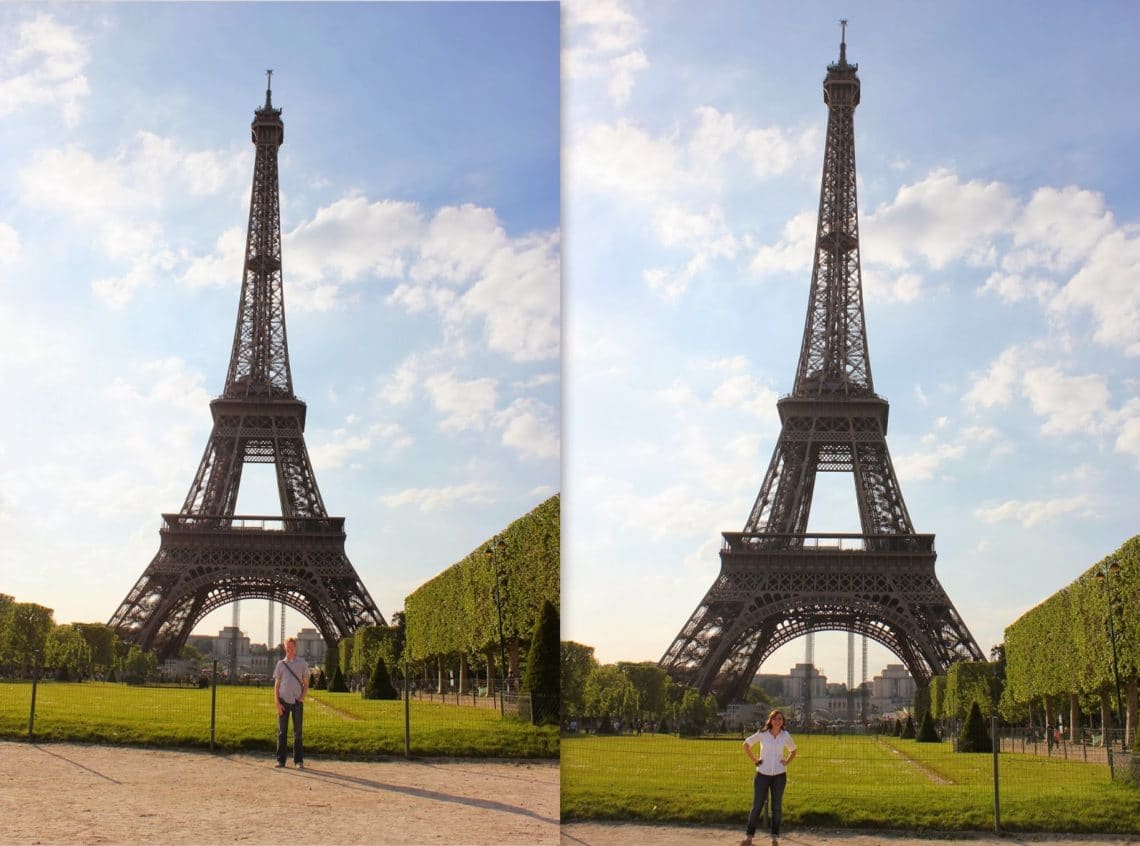 This started as we went down the steps of the Eiffel Tower, ready to explore the streets and just be together in Paris. We snapped a few pics outside the Eiffel Tower in broad daylight, and then our real adventure, including a trip with memories of being together began. 
Over the next 2 weeks I'll post all about our explorations in Paris, some special moments, and why Paris is known as the most romantic city in the world (when one member of your party isn't being an OCD tourist).
Get 365 Date Ideas!
We want to help you have the best date nights ever! Grab this FREE printable with 365 date ideas, a date for every day of the year so you never run out of ideas!