Park City Getaway for Couples
Date Info:
Park City Utah Getaway
Price: Cost of hotel and food- $100 and up a night
Location: Park City, UT

Hi!! My name is Katie and I am so excited to be guest-posting on Camille's awesome blog!! I will be sharing about a fun out-of-town date night I shared with my favorite (and only) dating buddy & my husband Aaron. First, though, I would like to give a shout-out to my girl Camille! Camille and I go way back. Years ago we rode together in a large passenger van all the way from Provo, Utah down to Sonora, Mexico. Our adventures involved dancing, a love letter from a much older man, eating day old beans that just sat on the stove and got re-heated, and doing our best to speak Spanish. One of our favorite things to ask over the walkie talkie between vans was, "do you like anyone from the van as MORE than a friend?" I was going to ask Camille again just for old times' sake, but I think we all know the answer since she and Jacob write about their fabulous dating life here every week.
On to the dating adventure the husband and I shared just last month.

  

June 17th was our 6 year wedding anniversary.

  

It just so happened that our anniversary fell on the same day of the week of our wedding day.

  

We thought this was pretty cool and

spent the whole day figuring out what we were doing on our wedding day at the same time.

  

We decided to do something extra special.

  

We arranged a babysitter for our two adorable kids and got ourselves a place in Park City.
If you are in the Greater Salt Lake area, I highly recommend you plan an over-night date to

Park City

.

  

It's not too far to drive to for just one night, but it's far enough to feel like you are getting away.

  

We found an amazing deal for a stay at the Hotel Park City.

  

I have noticed that they have deals quite often on Citydeals and on their website.

  

You can always call hotels directly and finagle a great deal.

  

We left our home early Friday afternoon and made our way to the Hotel.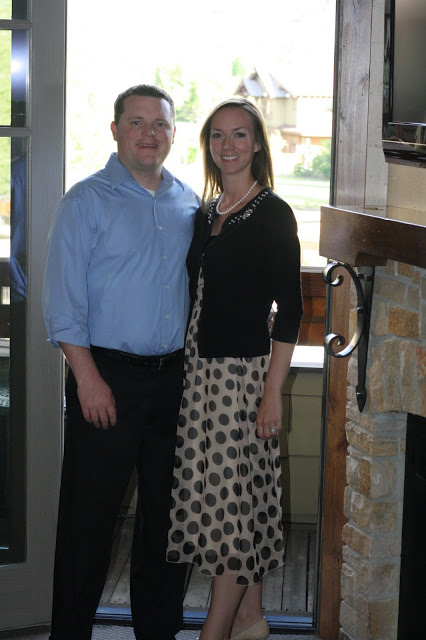 We arrived early and got dolled up for a dinner out.

  

We don't do gifts for our anniversaries, but we both enjoy having a fancy dinner every once in awhile.

  

We decided to go the Ruth's Chris Steakhouse in the Hotel.

  

I think it is fun to get dressed up every once in awhile for your dates with your spouse.

 
Before you were married, getting

ready for a date was exciting and fun.

 

Sometimes when you are going out with your spouse there isn't the same anticipation.

 G

etting dressed up changes things up, and gets you out of the ordinary. It makes the night special! Plus who doesn't love seeing their husband in a suit or their wife in a beautiful dress?

  

Our dinner was delicious.

  

We sat right out on the balcony and had a view of the gorgeous mountains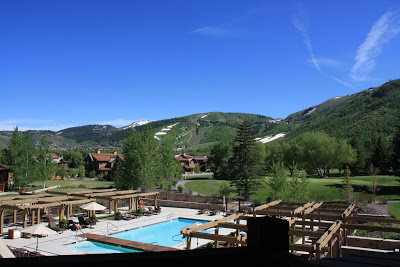 After dinner, we changed into our swimsuits and lounged in the hot tub and chatted about our lives, hopes and dreams.

  

All the good stuff!

  

We felt relaxed knowing our kids were in good hands and knowing that we had all the time in the world.
The next day we slept in as long as we could, (but since we have kids, sleeping in doesn't last much longer than 7 even when we are away from them.) and decided to get some food.  We made our way over to Squatters.  I highly recommend you try the blueberry pancakes, they were life changing!  After our breakfast we checked out of our hotel and heading down to Main Street.  We chose to just walk around and take it easy.  Main Street has fun shopping, a museum and unique restaurants.  There is so much to do in Park City in the summer time – you can zip line, take a ride on the Alpine Slide or even tour the Olympic Park.  So many options, what will you choose?
We really had such a nice time in Park City and cannot wait until the next time. I think having an over-night date away from home every so often rekindles the magic, and makes a good marriage even better! What are you waiting for? Plan a get-away as soon as you can.
Katie is a stay-at-home Mom to her two children, Quinn 3 and Lyla 1, she occasionally works as a substitute teacher. She loves to read, craft, run, blog and take care of her family. She and her husband have been married six years and currently live in the greater Salt Lake City area. They enjoy date nights as often as they can find a babysitter.
Get 365 Date Ideas!
We want to help you have the best date nights ever! Grab this FREE printable with 365 date ideas, a date for every day of the year so you never run out of ideas!