Practicing Fine Motor Skills On the Go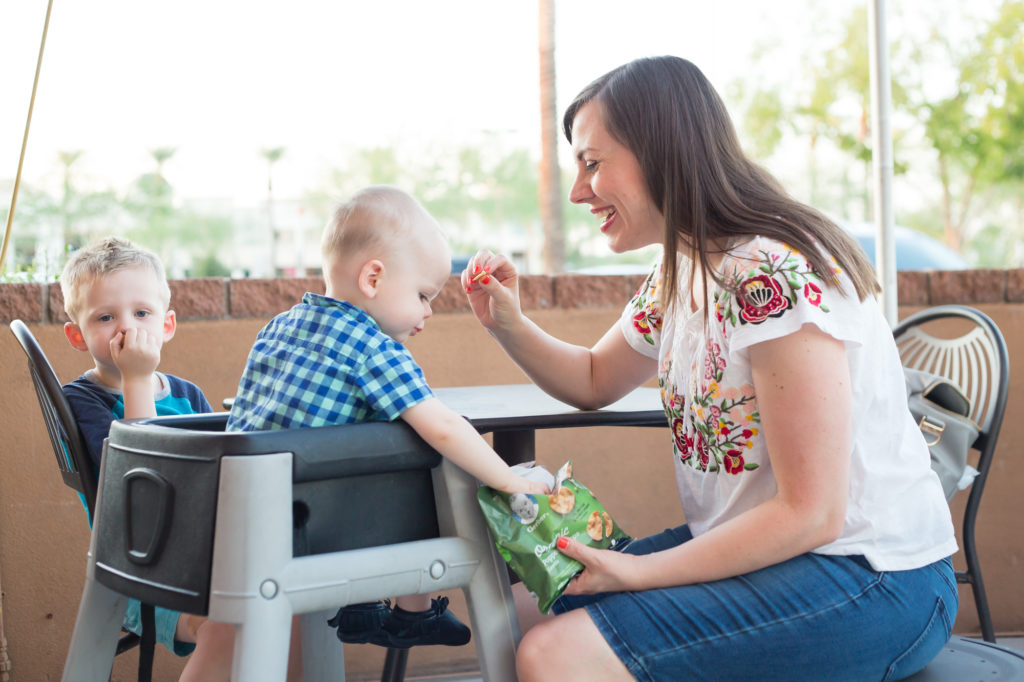 This post has been sponsored by Gerber®. All thoughts and opinions are my own.
It's no secret we love going new places and trying new things as a couple. But family outings are just as important to us too! We strive to take our kids out with us at least once a week, even if it's just to a restaurant.
Even my baby has learned it's fun to go out as a family! Look at his excitement to be out and about and enjoy his Gerber Organic Popped Crisps Lentils! Really this kid is a champion at restaurants, and we've learned we can make outings really exciting and educational for them with a little practice and preparation.
Let me tell you one major secret we've learned. You can make anything a fun experience for your kids with a little extra attention! We've learned we can do so much to help our kids learn and master new skills while we're out and about. One of the best things we've done is use the time at restaurants to teach our kids new skills and practice mastery of what they learn.
We love having our oldest son practice shapes, colors and letters while we're on the go. He's become so good at identifying and putting academic learning into real-life practice!
But, we also love using the time to help the baby learn too! I love eating out with our kids for the confidence and social skills it seems to instill. But I really love that we can use the time to practice fine motor skills!

Practicing Fine Motor Skills with a Baby
Bring a Favorite Snack for Fine Motor Skill Practice
One of the easiest things to bring that toddlers (and honestly the whole family) enjoy are the new Gerber® Organic Popped Crisps, Lentils or the Gerber Organics Popped Crisps, Green & Yellow Peas. They are easy to find with the other Gerber toddler foods available in the baby aisle at Target. These crisps are delicious (I love them too!) with ingredients mom loves, and taste kids love. The nutritional value of toddler snacks is important, and I love these snacks that my toddler loves too! Plus, they are easy for little fingers to grab. It's a great way to help him practice fine motor skills! We let him practice removing a snack from the bag and putting them back in. It's an easy time to be patient and let him fine tune these skills!
PSA**Target Circle offer savings – valid on Snack products ■ Save $0.30 of ANY ONE (1) Gerber Snack Item
We love having Gerber® Organic Popped Crisps as an easy option for a snack he'll eat on his own. It gives us time to enjoy our food while he enjoys his! In addition, we cut up small pieces of whatever we're eating and let him practice picking up different items. One familiar favorite snack plus a few new options make for a lot of excitement, and a lot of practice with fine motor skills!
Practice Passing Between Hands
This is an easy one to do with a toy, a napkin, or a Popped Crisp! My pediatrician told me it's a sign they are connecting between their left and right brain, how cool is that! That's why we use practicing fine motor skills by passing snacks while we wait for food at restaurants. This is an easy one to do wherever you go on the go! Waiting in the car, sitting in an airplane, or buckling a baby in a car seat are all good times to practice. Help encourage passing items back and forth from hand to hand.
I love that we're in a phase of my baby has mastered picking up foods to feed himself and is now wanting to feed his parents too! It's a fun game he loves to play while we wait for food. One Gerber® Organic Popped Crisps, Lentils for him, and one for mom. Luckily they taste so good the whole family is fine with baby sharing his snacks!
Bring a toddler set of silverware
We learned early that adult silverware can be intimidating to kids. But a small, portable set of toddler silverware lets them practice fine motor skills and table manners too. They will learn to enjoy eating and feeding themselves no matter where you go. And you can know they're using a safe utensil designed for their chubby little hands.
We bring our own bib so we aren't worried about ruining clothes or messy food while baby practices. They can feed themselves, and we can wipe down the bib as we leave. I also bring a few toys to pass back and forth. I'm also a fan of plenty of wipes, a diaper change, our Gerber® Organic Popped Crisps snacks we pick up on our weekly Target run, baby utensils, and even their favorite sippy cup. Let baby wipe down the table when they are done. They love to feel big and involved, and you're letting them practice fine-motor skills while they clean! It's a fun way to end the outing and gives one more learning opportunity for your kids. Plus, I know most restaurants really appreciate that we don't leave the toddler mess behind! It's a great way to teach manners too!
I'm so glad I have children who love going places and learning new things! But I'm also glad that we've learned we can make the most of anywhere we go by helping them learn and practice new skills!
Get 365 Date Ideas!
We want to help you have the best date nights ever! Grab this FREE printable with 365 date ideas, a date for every day of the year so you never run out of ideas!