Pregnancy Update: 11 Weeks Pregnant
Sharing what to expect at 11 weeks pregnant with the size of baby at 11 weeks, body changes, and my pregnancy updates 11 weeks along!
Baby at 11 Weeks Pregnant
Sick of pregnancy posts yet? I promise this won't be the only piece of the blog and we have a lot of dates and trips to share! I also vow that although I'll include kids and lifestyle stuff, the mission and purpose of the blog is going to stay the same with all phases of life and marriage.
However, a few series and updates I plan to start incorporating. Thanks for your patience with a lot of pregnancy heavy content this week- and after years of trying I think asking for one week of pregnancy posts is fair 🙂
11 Weeks Pregnant
I am almost 15 weeks along, but I decided just before I hit 11 that I should start taking pictures and writing updates. My pregnancy apps told me to, so I went for it! Since I use this place as a journal too, I'm going to do a weekly post so I have the record. This week I'll fit a few in, because I need to catch up to 15 pretty fast!
I love seeing weekly shots of my pregnant friends and favorite bloggers and reading their updates, so naturally, I couldn't help but decide to get on board!
Since it took me so long to accept I was actually pregnant and it was healthy and going to make it, it took a while to decide it was actually a good idea to start doing this. 11 weeks sounded about right- capture a bit of the first trimester, but still pretty safe if anything went wrong.
We're lucky it's still going great and I love that almost a month later I am already seeing some progress! Please enjoy watching me get fatter this week, it's going to happen in a matter of days!
11 Weeks  Pregnant What to Expect

Size of Baby at 11 Weeks
Baby is the size of a lime. 
Feeling: Pretty good! I've been so lucky to not really have morning sickness and only a handful of queasy nights if I didn't eat enough or the right balance that day. For a girl who has done a near diabetic diet with really low carbs it's been a new adventure to make sure I'm getting enough carbs every day! A carb with a protein at every meal does the trick and I'm fine as long as I do this. Thank you, wise friends, who taught me this trick!
11 Weeks Pregnant Belly
Body Changes: Lots of back ligament pain, had to buy a new bra at week 9, and my skin is both better and worse at the same time. More cystic acne, but more glowy and clear in other ways. I've gained some weight, but I hate when that is a focus. Bodies are different, I know what I should gain and sometimes we just aren't right on that perfect track.
I'm trying my best to eat healthy, I'm staying fit, and I've put on a couple more lbs than I probably should have. BUT, the full bra size bigger and reintroducing carbs may be to blame. I'm focusing more on making good choices and feeling great and active instead of the actual lb amount.
Sleeping Issues 11 Weeks Pregnant
Sleeping: Not super awesome. I'm a back sleeper through and through. I've been waking up with sciatic nerve pain, which started around week 9. There was definitely a kind of freak out since that's way too early to have it. I can hardly walk some mornings and I have to force myself to run/walk it out and stretch. I think I've put together it's a backing sleeping issue.
I'm training my body to sleep on my side, it's going slow for sure. I wake up a few times to readjust often. I'm also a fairly sound sleeper- I've been known to take socks and even sweatshirts off in my sleep if I'm too warm. I've woken up to find pillows on the floor and me right back on my back no matter how hard I try. Grr subconscious, you're not making this easy! But we'll get there.
My Pregnancy at 11 Weeks
Running: Yep, I still am! I had a fertility doc tell me in the early fall I needed to stop marathon/half marathon training. It kind of crushed my soul. I had visions of running at least six miles a day and being a super runner the whole pregnancy. She said no more than 3 miles a day. I cheated for the Turkey Trot 10k at Thanksgiving. I've done a few 4 milers, but for the most part, I'm getting in 2-3 miles every other day.
I also introduced HIIT when I had to cut back on running and I'm still doing a lot of this! We'll see how long burpees last as the belly grows, but so far they feel great and help with the ligament and sciatic nerve pain. I'm also doing pilates once or twice a week. I'm still trying to do something daily, and I can tell it's helping me a lot with how I feel.
11 Weeks Pregnancy Symptoms
Craving: I had my first weird one this week. I've always been a fan of apples with peanut butter and raisins on top. I've craved that and had that often! One morning a rice cake with peanut butter and raisins sounded like the best thing. I gave baby what it wanted, but not without sending Jacob a picture and letting him know what a weird moment was happening.
Other than that I've wanted bean and cheese burritos almost every day since conception. Cereal was a big must the first few weeks, but now it's just a once or twice a week thing.
This week was all about the smoothies! We went to LA for a weekend getaway and of all the delicious places to eat and treats to try, Jamba Juice was had twice in 36 hours. I've wanted a smoothie almost every day, and I'm happy baby is letting me eat my veggies a little more these days- even if it's only in a blended smoothie. It's been a big aversion up until this week.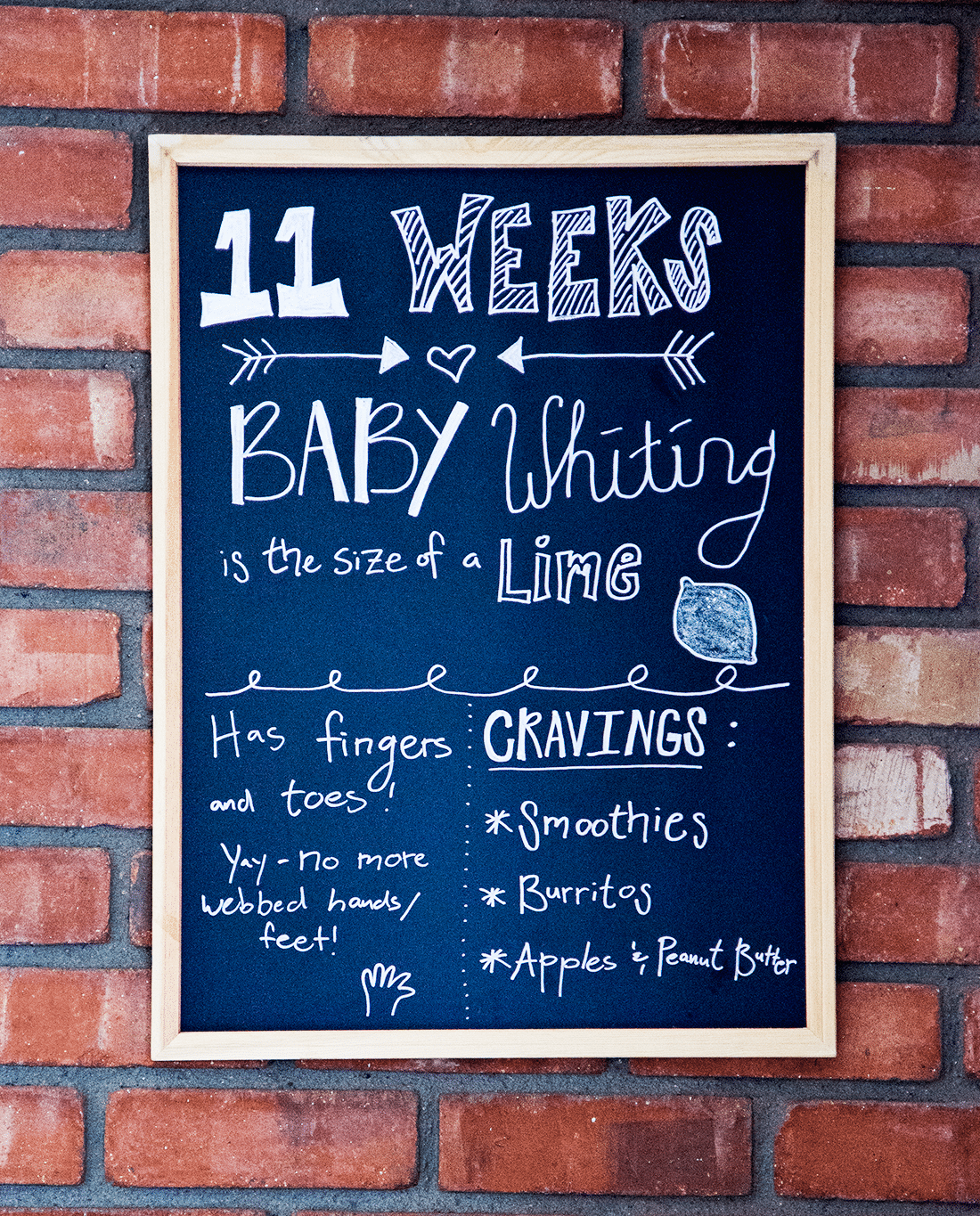 Like this 11 weeks pregnant update? You may like these posts too:
Pregnancy Update: 12 Weeks Pregnant
Pregnancy Update: 13 Weeks Pregnant
Pregnancy Overalls: The Trend to Rock
Get 365 Date Ideas!
We want to help you have the best date nights ever! Grab this FREE printable with 365 date ideas, a date for every day of the year so you never run out of ideas!