Pregnancy Update: 16 Weeks
16 Weeks
Baby is the size of an avocado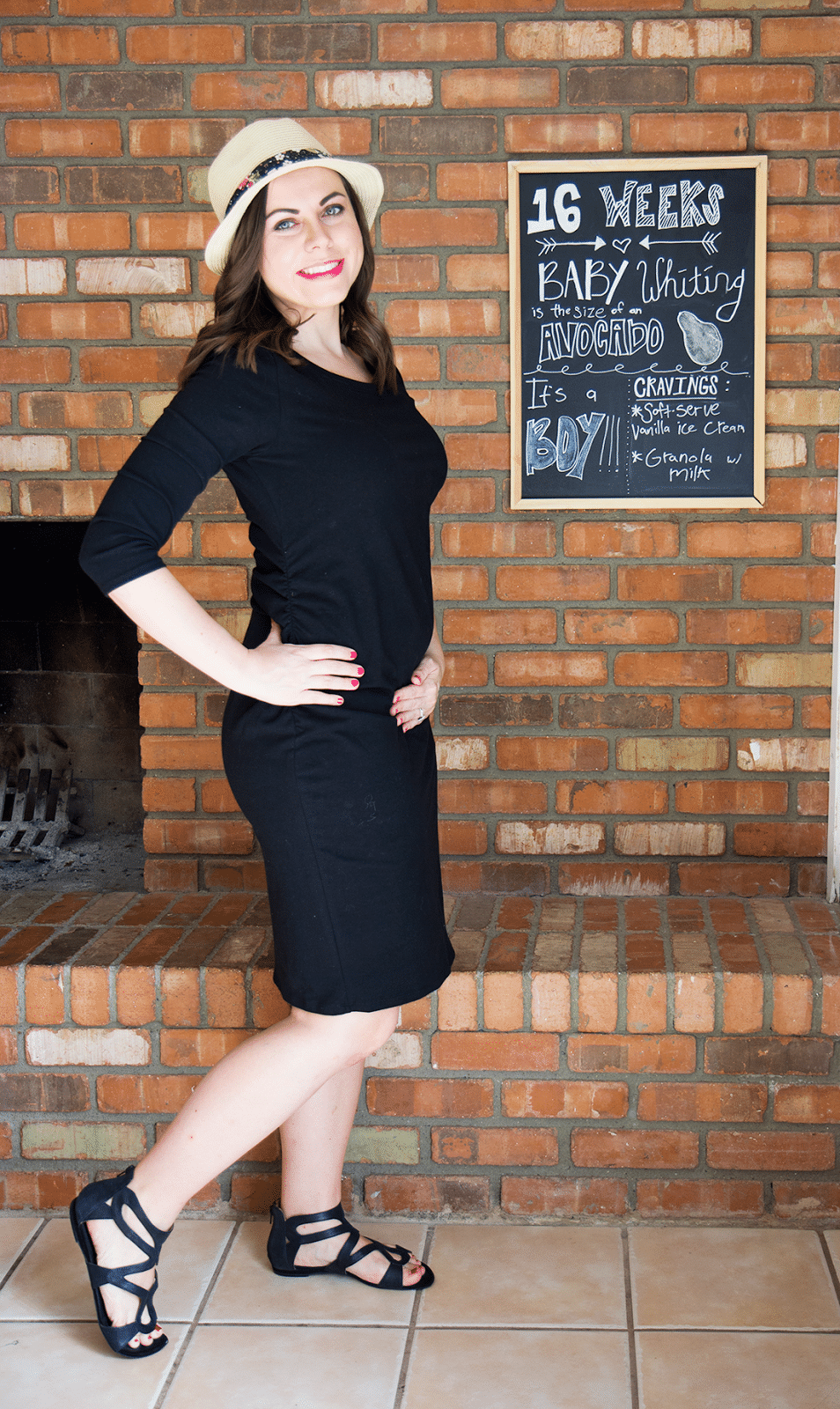 Feeling: I think a terrible headache once a week is a new thing, but I'll take it over morning sickness! Other than that I'm feeling good. I had my first weird moment where I feel asleep on the couch and snuggled up to the back to find there was some discomfort that kept waking me up. Apparently there's enough of a bump now and little guy has an opinion about being squished!
Oh my aching back ligaments this week, luckily there are so many awesome resources online and I'm thinking it's time to start seeing a chiropractor and maybe get a massage too.


Body Changes:
I gained about half a lb this week, I'm at about 12.5 lbs total so far. I keep telling myself you're close to half way, so if you do 15 by then you're doing great! Every body is different, some people just gain more and some don't. I'm not stressing but I am trying to eat a few more salads and baby seems to be okay with that these days! Bless you child!
My skin has been a lot more dry and itchy lately too. A friend recommended
Mother's Special Blend All Natural Skin Toning Oil
. I am loving that stuff! I've been lucky to avoid stretch marks so far, and I've heard that's mostly genetic so I'm hopeful I'm like my mom and don't get any. However, this is the only cure for my super itchy skin and has been a life saver! Seriously, anyone pregnant, nursing, or just dealing with skin issues, I can't recommend this enough!
One other crazy thing, I'm definitely seeing a belly! I can't hide it anymore and I'm actually diving into the maternity clothes realm. My bottoms are all still working since I'm a pear shape who has clung to skirts and I've been able to rock either elastic waist bands or use my
Belly Band
to fit over unzipped zippers. On the inverse, I've always worn very fitted tops to accentuate the smaller waist. I'm finding very few shirts are working without giving me what I've affectionately termed, "Winnie the Pooh Syndrome" where just a little belly pokes out from a shirt. This has mostly been an issue with pajamas since I wear a lot of dresses to work, but I realized I had to buy some t-shirts if I planned to ever wear bottoms again. I splurged on two and so far so good. This one and this one will be making many appearances soon I am sure! I'm wearing my first
maternity dress
in these pics and it's feeling great too! Why I waited so long to get maternity underwear and a few pieces is beyond me, but I'm feeling way better physically and even mentally having some stuff that fits.
Sleeping:
Hardly any bathroom trips this week and a whole lot of sleeping through the night- hooray! I'll enjoy this while it lasts! I still can't sleep well when Jacob is traveling, but I think that's just a way of life with nothing to do with pregnancy.
Fitness:
Arizona is having one of the worst allergy seasons on record, and it is making it so hard to breath during my outdoor runs. I'm trying to enjoy those while I can before it gets too hot, but I'm having to stop and walk a few blocks here and there to blow my nose and catch my breath. It's so weird, but if I can run up until 6 months along I'm going to be happy. Two more months body- we can do this! I did have a little boy walking to elementary school catch up to me walking for a minute on Monday, and decide he wanted to chat this stranger's ear off. He filled me in on the content of his metal lunchbox, why he thinks pixie sticks should be called Wonka sticks, and why his latest injury was okay (it didn't hurt his kicking leg for kickball). It was darling and made me think of the walks I'll take with my own son someday hearing all about the important things in his little world. This kid couldn't be older than a second grader, and I'm thankful for the reminder that little boys can love chatting it up too- even with strange women in running gear!
Prenatal yoga has been awesome too! I started doing some this week and my sciatic nerve pain feels so much better the next day every time I do this. I can't wait to find some more great resources- anyone have any prenatal yoga favorites?
Craving:
I was thinking half way through this week how I hadn't had any and this kid is letting me make more of my own eating decisions, but then an overwhelming craving for vanilla soft serve ice cream came along, and it's stuck around! I've also wanted a lot of granola and milk this week.
Baby Updates:
My sister-in-law snuck us in for an ultrasound at 15.5 weeks for an early peek at the gender- we had a pretty good idea from the last ultrasound with the doctor three weeks ago, but we wanted to be certain. She confirmed all our hopes and dreams- Whiting Baby #1 is a BOY! We are so thrilled! I wrote a post all about why I think I'm more suited to be a boy mom, and I can't help but feel overwhelmed and grateful that I get to be!
It's been so cool to change from, "It/Baby" to "He/Him." Yep we know the name, it has great meaning for us, but it something we'll likely wait to share until he's born. We confirmed it's what we wanted to do right after the ultrasound when we knew officially it is a boy. What has been cool is to hear Jacob pray for this little guy by name, and when we call/Google Hangout/Facetime while he's away on trips to have him ask how baby is doing by name too. It's really an exciting thing to have an identity for your child and to start buying clothes for them. Little man outfits are my favorite thing, and I've let myself buy a couple things already. I can hardly wait!
I know it was early to feel anything a few weeks ago, but I'm definitely feeling this little guy move! Every ultrasound has shown he's super active and we're in for a wild child (and I wouldn't want it any other way). I am feeling a little more movement this week from flutters to a pushing/kicking type sensation. Oh boy am I in for it as he gets bigger, but I'm glad I still know he's alive and enjoying himself!
Get 365 Date Ideas!
We want to help you have the best date nights ever! Grab this FREE printable with 365 date ideas, a date for every day of the year so you never run out of ideas!