Pregnancy Update: 22 Weeks
22 Weeks 
Baby is the size of a papaya  
Feeling: Good again this week! I've had a lot of energy and I'm definitely feeling the nesting settle in! We purchased a used nursery set and spent the weekend redoing it- I can hardly wait for that post to go live! We still need to touch up a few places, but operation hipster nursery is under way! (I'm just accepting that my kid will be wearing mini cardigans and colored pants and living in a uniquely painted crib). 

I've been a little tired, but we've pushed it hard with some home projects and with the nursery. I'm looking forward to a long weekend, but we may have a big life event happening aside from the baby that may take a lot of time and energy too! In the mean time I'm going to enjoy mostly feeling energetic and not being too big to slow me down too much! 

Body Changes: 
I didn't weigh myself last week, and this week it looked like I've gained 1-2 lbs over the past few weeks. I'm back up to about 13 lbs gained and I'm glad! I can see the belly getting rounder and more pronounced. I'm also having some itchy skin even with all the special creams and oils. 
One more not-so-fun symptom- a little swelling! My body is really sensitive to hot and cold, and consequently my wedding ring is always too loose in the winter and too tight in the summer. It's heating up a little in AZ and every morning is a big question of whether my ring will fit. I have a fake I can wear, but I'm sad that I've already had one day I've had to wear it. Hopefully I can hang onto my normal ring for one more month and make it through this second trimester! 
Sleeping:
It's been getting a little harder to stay comfortable since the belly and baby got a little bigger the past two weeks. 
Don't worry, crazy dreams are still happening! The best one this week included attending a traditional Indian wedding in India where my younger sister was part of the wedding party. All the guys were hitting on her and I warned her she may not want to get involved in this. She decided to keep dating every guy there and learned to Bollywood dance, which ended in her hitting a large candle while dancing and burning a good chunk of hair. She instantly had this haircut and rocked it might I add! After the wedding everyone left and Jacob and I stayed to tour the country with my parents. We got stuck in a serious earthquake where I was trying to save everyone with my earthquake training drills I learned in elementary. Jacob woke me up mid dream panic to say goodbye while leaving earlier for work that morning. I told him I was in shock from being in an earthquake in my dream, kissed him, and dozed off in two seconds. He loves to tease and started shaking the bed which made me wake up for good in a panic! That funny punk I married! 
Fitness:
 I'm walking a lot more than running, but I've been including interval training lots. I've heard squats are great prep for delivery, so I've been doing a lot of them lately! I'm still doing pilates and that's still feeling awesome too! 
Craving: 
I feel like this child is constantly trying to get me to do the "Gallon Challenge" this week. I've drank more milk in one week than I think I ever have! I'm trying to drink mostly organic which come in half gallons, and Costco sized purchases aren't quite lasting an entire week with me. Milk always sounds good, plain, on cereal, or chocolate, I'm always a fan these days! 
I've also really wanted beef, specifically hamburgers. In-N-Out has been visited twice this past week, and I'm not complaining about that!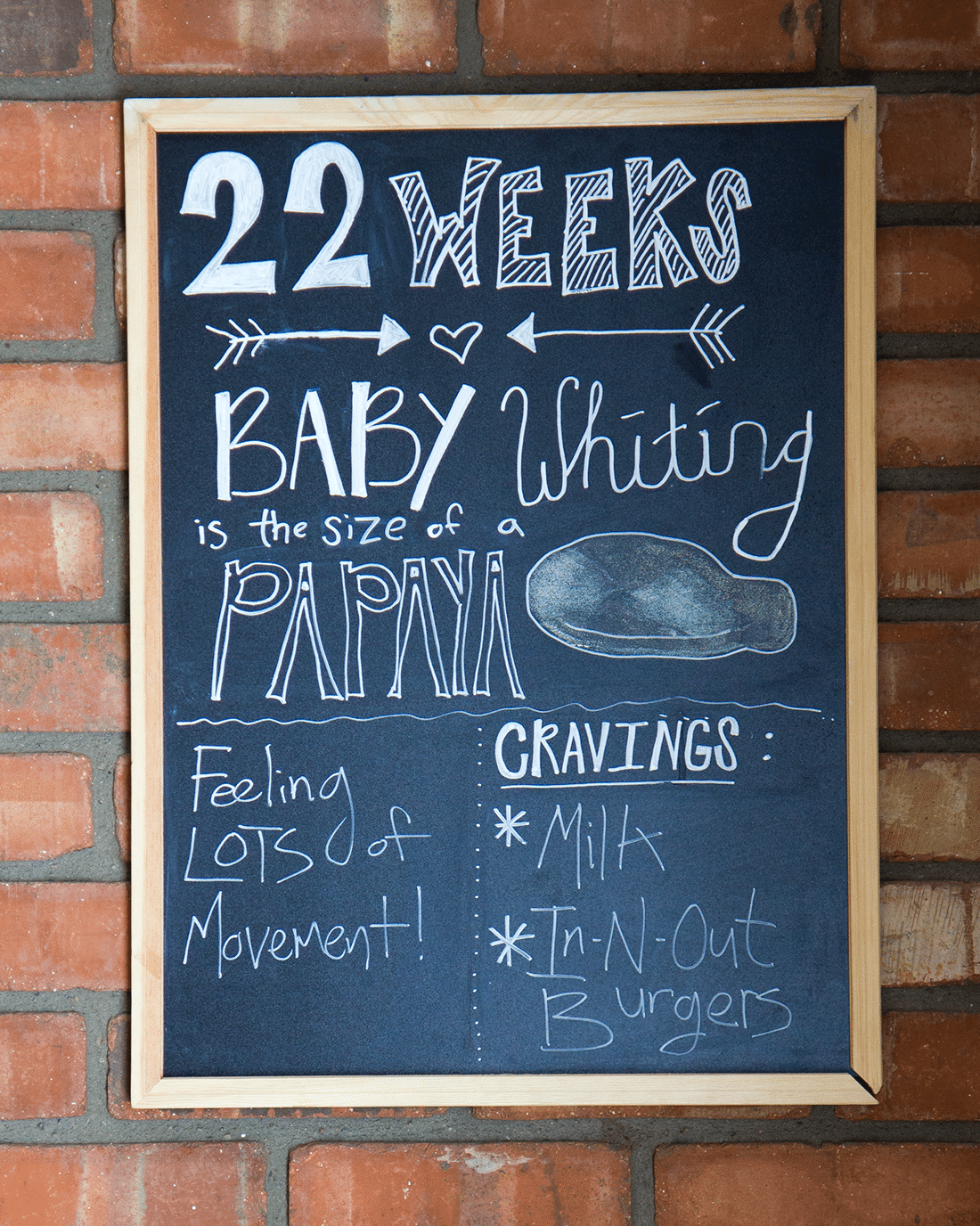 Baby Updates:
 According to pregnancy apps, he's grown from six inches to about 11-12 in the past two weeks! It's amazing how they do these huge growth spurts and then calm down for a while. I'm bracing myself to be a little tired in a few weeks when they put on a lot of fat all in one week! 
I am feeling him move every day. Mostly when I eat cold food or at night when I'm calming down and getting ready to sleep. He likes to kick, he gets pretty excited after I drink chocolate milk, and I constantly feel him shifting around. He also seems to be more opinionated which side I lean on. We're having to switch up where I sit next to Jacob so I can still cuddle up to him without someone getting upset their head is getting a little bit of pressure! 
We are both still watching our four videos from the ultrasound on repeat, and enjoying the picture of him asleep bent in half. 
We both keep commenting how in love with this little guy we are, and even though ultrasound pics can be kind of creepy, when it's your own baby, it's amazing how cute and miraculous you think everything is! 
Get 365 Date Ideas!
We want to help you have the best date nights ever! Grab this FREE printable with 365 date ideas, a date for every day of the year so you never run out of ideas!