Pregnancy Update: 27 Weeks
27 Weeks 
Baby is the size of a rutabaga 
Feeling:
 Definitely still having heat-induced gagging, which is leading to a bit of queasiness now and then. I've been too busy this week prepping for moving to notice much else, but ice chips are my best friend right now since they cool me down and help the gagging. 

Body Changes: 
I've gained 2 lbs again this week, I'm hoping this isn't a pattern from here on out. I'm also seeing a little bit of swelling in my feet, so I'm saying goodbye for now to a few favorite shoes.
Sleeping: 
This week was a little tougher. I've been waking up hot, waking up thirsty, and waking up needing to use the bathroom again. It may be time to invest in a fan to go by my bed, force myself to drink a gallon of water by 8 pm, and wear myself out a little better during the day! 
Fitness:
 Running is not happening for more than a minute or two at a time, and that's making me sad. My stomach hurts and so does my tailbone when I run, so it may be time to find other activities. I'm still trying hard to get a little walking on the treadmill in, even in the 90 degree morning temps, at least I have the treadmill! 
Craving:
I've had a hard time wanting to eat much this week due to some nausea and the heat. However, I've been all about the cold liquids! Lemonade and ice chips have been on my mind daily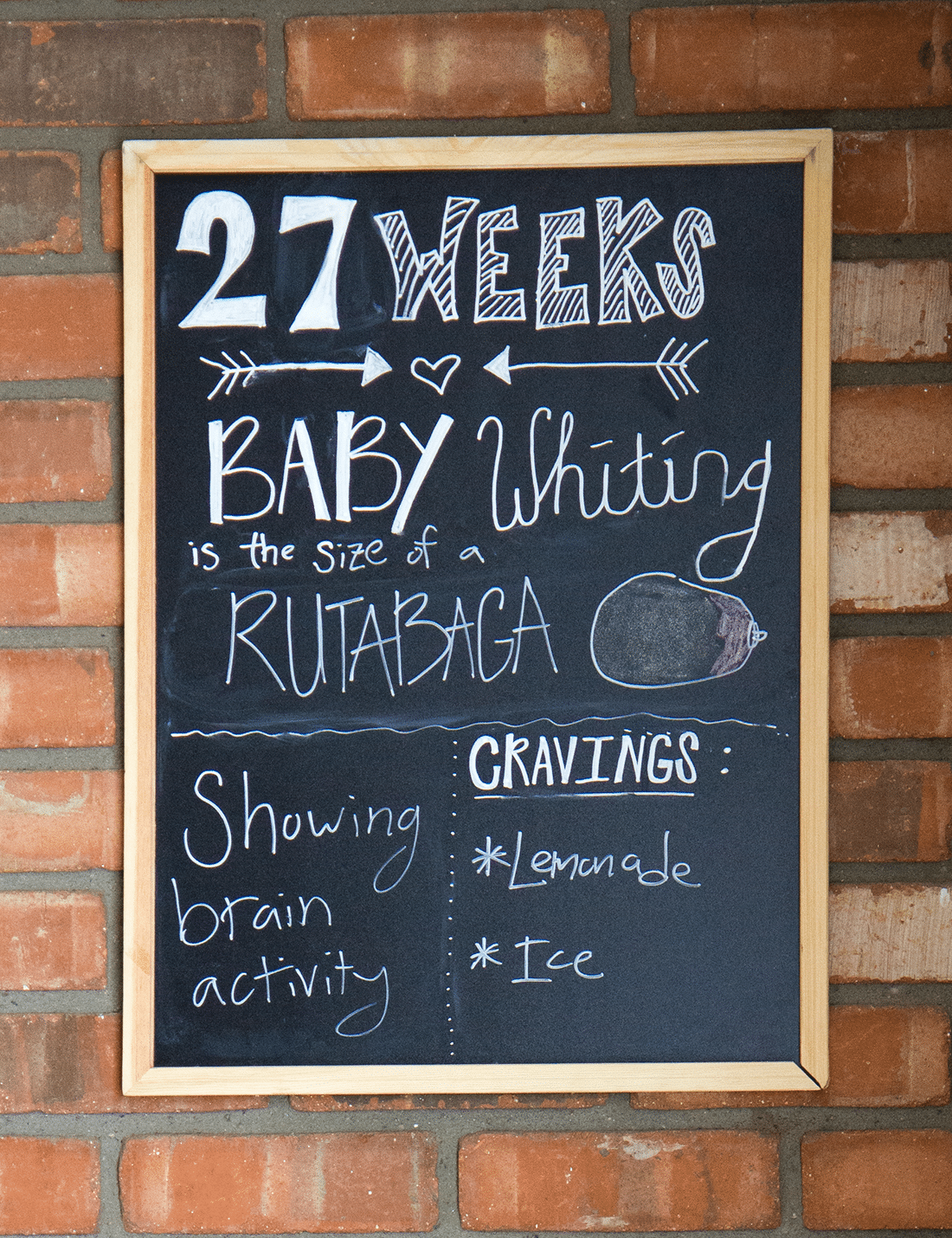 Baby Updates:
 The really amazing thing that happened this week happened when I curled up to Jacob on the couch lying down, he put his hand on the side of my belly, and the little guy starting kicking up a storm repeatedly. It's the first time Jacob has got to feel any movement, and it was really cool and special that he got so many kicks for several minutes. 
Lungs are forming and he's breathing in and out, prepping for life on the outside. What is really amazing to me is the brain activity they start showing this week, getting smarter every day! It will never cease to blow my mind that even though it feels like pregnancy is dragging on times to me, an entire human is created and formed within a matter of just weeks! I can't believe something so complex as the brain is now showing activity, it makes me wonder what the little guy is thinking in there and what those first thoughts consist of. 
Get 365 Date Ideas!
We want to help you have the best date nights ever! Grab this FREE printable with 365 date ideas, a date for every day of the year so you never run out of ideas!