Pregnancy Update: 28 Weeks
What two posts two days in a row? Yes, I'm behind so please consider this my catch up! 
28 Weeks – WELCOME 3rd TRIMESTER! 
Baby is the size of an eggplant 
Feeling:
 This has definitely been my hardest week! I probably brought it on myself, but I threw up for the first time this entire pregnancy. I was on the treadmill and started to gag as I heated up, and thought, "You've never vomited before, just push through the gag!" Well, bad idea. I applaud that my marathon running mentality is still there even if my muscles aren't, but it's never fun to throw up and feel queasy for the entire day after. I'm also having struggles sleeping, and the days after a poor night's sleep are catching up to me many days. The AZ heat I knew would not be fun, but it's definitely worse than I thought and my pregnant body isn't doing its best with it. 

Body Changes:
I only gained 1 lb this week, and I'm off to take the glucose tolerance test tomorrow, so I'm hopeful I'm back on track to normal weight gain and a healthy pregnancy! We will see how I do, insulin resistance makes everything a gamble, but this healthy week has been very encouraging! 
I'm still having some feet swelling even with trying to drink lemonade and get in plenty of walks. Nothing too alarming, but it's definitely not fun to realize you only have so many shoes, and your body really likes the ones with the most padding. I've had aching feet this week while we've shopped for refrigerators, and that's been a new thing to feel worn out after a shopping trip. 
Sleeping: 
It's been a rougher week. I had one morning I woke up at 4:00 to use the bathroom and tried to go back to sleep, only to lie in bed for an entire hour wide awake. Sleep has never been an issue for me, so insomnia is definitely a new experience. It's so hard to only get about five hours of sleep, and sadly I've had a few of those nights! I'm hoping it was due to the stress of purchasing a new home, and the offer/counter offer process on our current home. Here's to hoping next week gets better and this isn't a 3rd trimester trend! 
Fitness:
 I've been trying so hard to keep this up! Now that I'm only walking I've been trying to speed walk, which is always resulting in overheating and gagging within a few minutes. I'm having to walk slower, much to my dismay. I always had visions of running 3-6 miles a day until 3rd trimester and then cutting down to 1-2. I'm sad that my athletic mentality and body have had different plans. Luckily I'm still getting some walking in, and I'm adding a lot more pilates to the mix. 
Craving:
I'm still loving ice chips. This may be a thing for the next 12 weeks! I've also chosen many lunch destinations during the work week based on who has fresh squeezed lemonade. I can't get enough of it these days!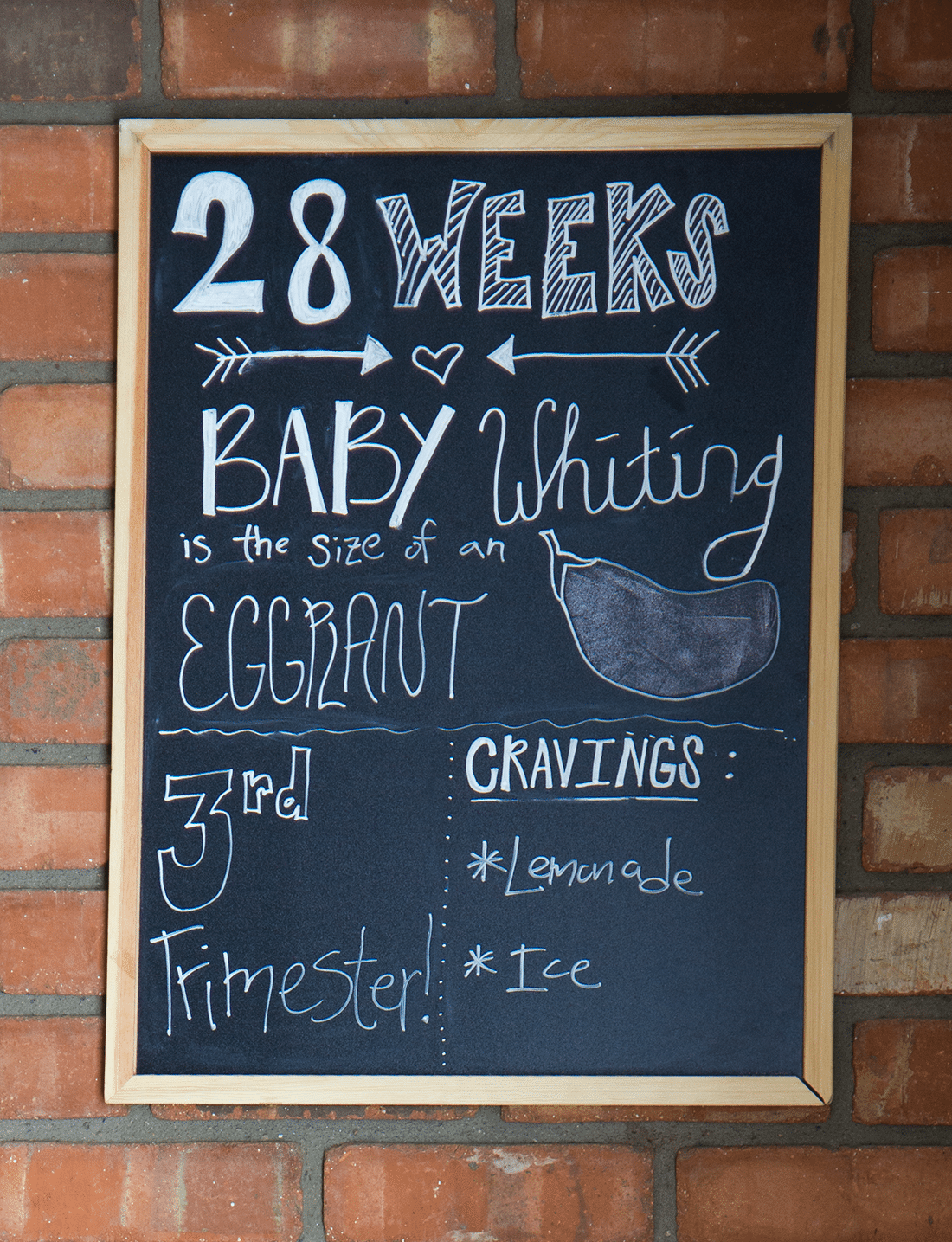 Baby Updates: He's getting hiccups regularly. I kept feeling like he was tickling me from the inside, and then learned that this is what hiccups feel like. He has them often, and it's kind of fun to feel them! 
Just when I think he can't get more active, he always seems to! I can feel him sleeping and awake at more regular times each day, apparently he's already setting a schedule! When he's awake, oh my, this kid is insane! We're going to have a busy one on our hands, and I'm actually super happy about this! We have big dreams of traveling, having family dates, and keeping up our hyper lifestyle the best we can with baby, and if gestation is any sign, we're definitely getting another energetic, excited about life Whiting to add to our family! 
Get 365 Date Ideas!
We want to help you have the best date nights ever! Grab this FREE printable with 365 date ideas, a date for every day of the year so you never run out of ideas!