Pregnancy Update: 36 Weeks
36 Weeks
Baby is the size of a honeydew
A little tired these days, and a lot of stress! I feel like I have a million things to do before baby comes and I'm trying hard to mow down the list and do all I can to prep! 
I'm still feeling huge and learning at this phase in the game any small indulgence can really help you feel better! This blingy number that's c/o 
Happiness Boutique
has fit the bill for me and helped me like something somewhat detracts from the huge belly!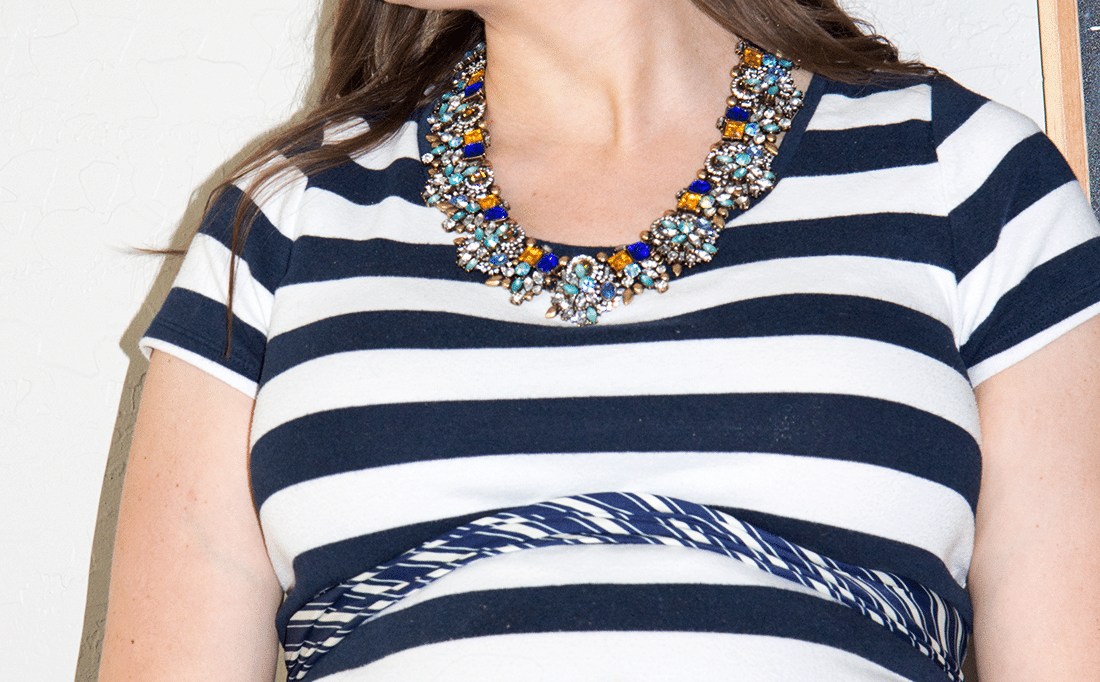 They offer free shipping, have an incentive program, and do regular giveaways. I love having a Euro necklace with a unique look, particularly to get me through these last couple weeks of feeling huge and needing a fun pick-me-up with fashion! Not to knock you 8 maternity outfits I constantly wear, but something needed an update along the way. 
I actually lost a lb last week, then gained 2 at my visit yesterday. I'm relieved after several weeks of no gain, and the doctor told me I'm right on track and looking healthy. That was great to hear! 
Contractions started this week. We were out on Friday and I got out of the car and almost fell over with my first strong, painful contraction! I had another shortly after and seriously thought labor was coming early. luckily it stopped after those two. I'm not dilated, and the doctor thinks I'll be on time, but it's crazy to start having these changes and realize my body is prepping for the big day! The pressure changes of monsoons in Arizona aren't helping tons either. It's probably time to pack that hospital bag just in case! 
I'm sleeping better this week, feeling pretty exhausted most nights. We had two family emergencies this week, one on both sides, and I'll write a separate post about those because they've been humbling events that have really impacted me. Between a lot of stress and tears and fear I've been pretty wiped out and sleeping pretty soundly at night with one bathroom trip only. 
I'm still walking every day. I've had to take the treadmill down in speed a bit from time to time, but I'm still determined to fit this in until the very end! 
Dairy. My dietician said I could do more milk with the gestational diabetes since my blood sugar counts have been low and I've REALLY wanted it. I'm so happy to be buying Costco size amounts again! I also discovered the frozen yogurt place by our house sells three kinds of sugar free flavors, so that seems to be a constant craving these days! 
I saw him on an ultrasound yesterday and for the first time got a glimpse of most of his face- he usually has at least one hand on it so we've only seen a few pieces here or there. The hand was high on his forehead so we got to see most of the face in one shot and learned he has my lips and chubby cheeks, and Jacob's nose and forehead. They even saw some hair! It's looking like peach fuzz, but we'll know for sure when he gets here! They checked all his organs and it's looking like all systems are a go and he would be healthy if he were born any day! It was such a relief to hear he's doing so well that we aren't worried about a c-section, and the GD hasn't taken a toll on either of us so far. 
I'm so glad he's healthy and ready to go, but I still need two weeks to prep, so we'll just let him add another lb. and hold tight a little longer! 
Get 365 Date Ideas!
We want to help you have the best date nights ever! Grab this FREE printable with 365 date ideas, a date for every day of the year so you never run out of ideas!