Pregnancy Update: 39 Weeks
39 Weeks
Baby is the size of a watermelon
Feeling: Ready to have this baby! I'm feeling big, I'm having quite a few painful contractions, and it's hard to get comfortable in most positions these days. Good news, if I don't go into labor in the next few days, I do have an induction scheduled. The little guy is measuring a little big and ahead of schedule, and my body is measuring behind, combine this with gestational diabetes and they aren't going to let me go past my due date. I'm 100% okay with this! The project manager in me is relieved to know we have a target date for this deadline! 


Body Changes: 
I'm down two lbs. this week. This brings my total weight gain to about 26-27 lbs. I'm feeling good about being in the recommended range, and I know I"m a size bigger in the bottom half of my body so I can plan on squats and running in about six weeks! I'm so glad fitness has been a part of this pregnancy and I'm hoping it helps with labor quite a bit! 
I went to a chiropractor/physical therapist who helped adjust me and stretch and do some exercises to induce labor and dilation naturally. The baby dropped a few inches, but my doctor confirmed the following day no changes with my body. I guess it took a lot of fake hormones to get pregnant- I should expect a lot of fake hormones to get the baby out. I am grateful c-section is currently off the table unless something goes wrong with induction or baby before the big day. 
Sleeping: 
Hit or miss- I've had some insomnia this week and nights I've woken up with headaches or back aches so strong I couldn't sleep. I've also slept through the entire night like a log a few nights. My body can't decide if it's exhausted or too excited to sleep! 
Dream of the week: Suddenly dinosaurs returned to the earth, and decided they wanted to kill all the men, but keep the women around. I spent my days hiding Jacob from them and acting like a gross homeless person so they didn't pay much attention to me. Sometimes I wonder if pregnancy hormones have the same impact smoking crack has…
Fitness:
 Walking every morning, and trying to fit in several at night too! I've almost made it this whole pregnancy, and I even had my first walk outside in months this morning. I love it's cooling down, and I can't wait to start walking with the little man soon! 
Craving: Ice chips and frozen yogurt. I'm still loving all things cold!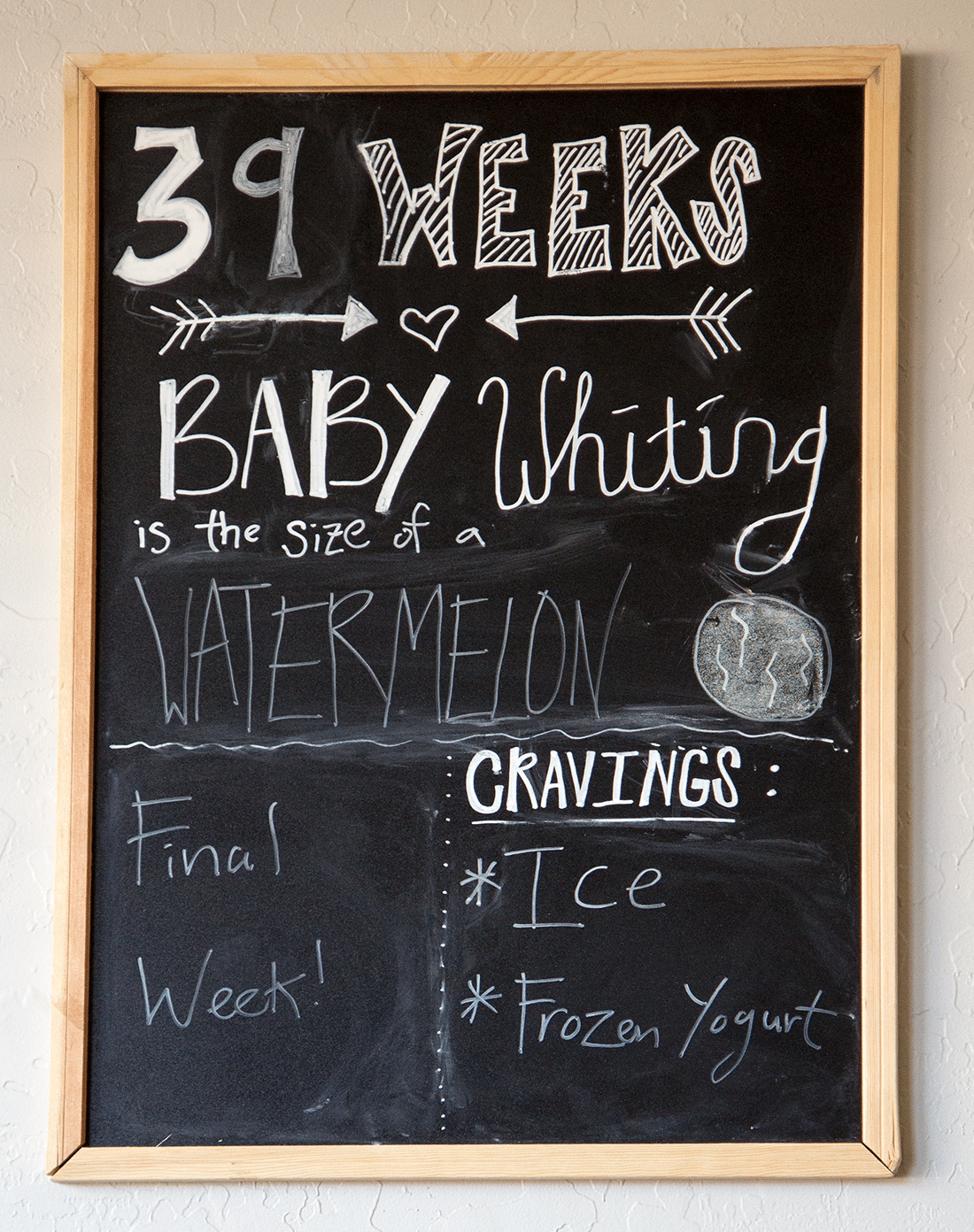 He was pretty mellow during this week's ultrasound. He looked right at me and I got to see his face, which I think it pretty cute and developed! He's still breathing like a champ and looking healthy. He was all about his hands today too- trying to shove both in his mouth at once. I'm hoping that means he's going to be one great eater and nursing will come easy! 
It's amazing to me that we're in our final days and we'll meet him so soon! I know a lot of pieces of pregnancy haven't been so fun, but I am still grateful every day for this experience! Even if it took years for this to happen, lots of money, lots of extra doctor appointments, and it's looking like a harder labor than I thought, I wouldn't trade this for the world and truly am amazed how quickly time has passed with this pregnancy! 
Next pregnancy update will be a birth announcement- so thanks for sticking with me through this journey! 
Get 365 Date Ideas!
We want to help you have the best date nights ever! Grab this FREE printable with 365 date ideas, a date for every day of the year so you never run out of ideas!