Quality Family Time During the Busy Holiday Season
This post is sponsored by Isotoner but the content and opinions expressed here are my own.
I share often how much I love the holidays, it's just a time when dates come easy and memory making as a couple and as a family happens in rich abundance! But I know it's also a chaotic time for many families and sometimes these moments are hard to include with all the holiday rush.
One thing I couldn't do without are my comfy 
Isotoner Slippers
, which are one of the 5 ways we enjoy quality family time together during the busy holiday season (stay tuned for a discount code to get your own pair- mine are called the Chunky Sweater Knit Amanda Hoodback)
The Holiday Rush
The week of Halloween we had an experience that changed my outlook on this memory making time. We love to go an do and experience new things. One night we had every intention of heading to our third Halloween party, with another one the next night. Jacob had a professional exam that day and had been testing all day long. I had a lot of work deadlines. Our kids were tired from all our working and stress and bustle. We made a last minute call to skip the party and just stay home. This is not my normal friends, in fact, this was a first!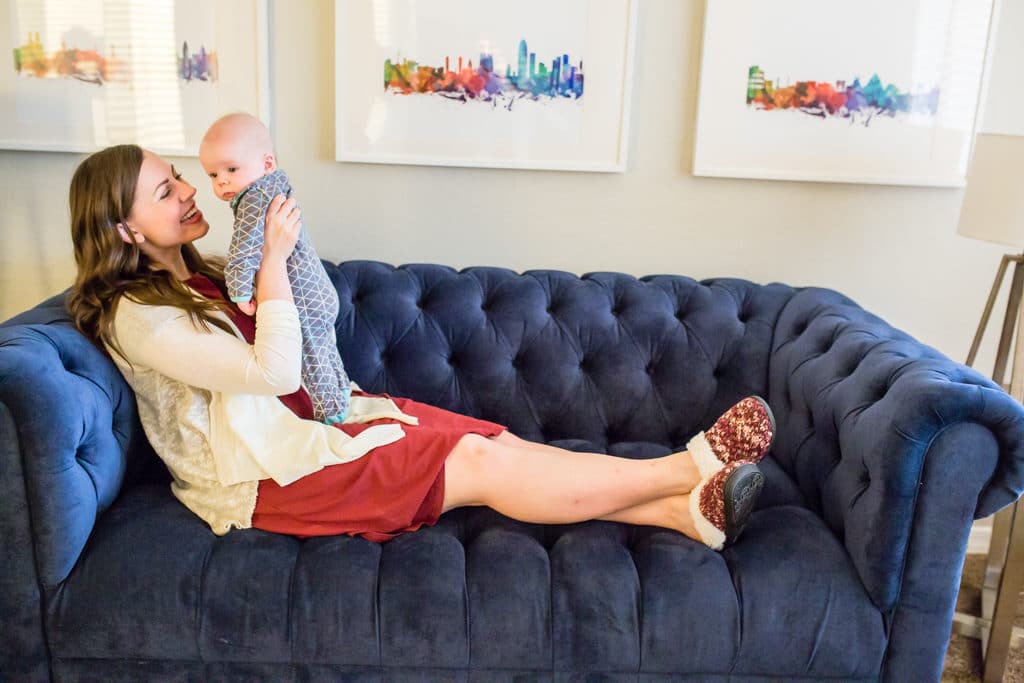 Quality Family Time
We made a low-key dinner and decided to have a family movie night in. I couldn't believe what happened- it was a magical night we all loved! Our toddler snuggled up to us with a smile on his face. He loves quality time and physical touch, and his little cup was filled with both. Either that or some screen time which we really limit. But either way, he was thrilled!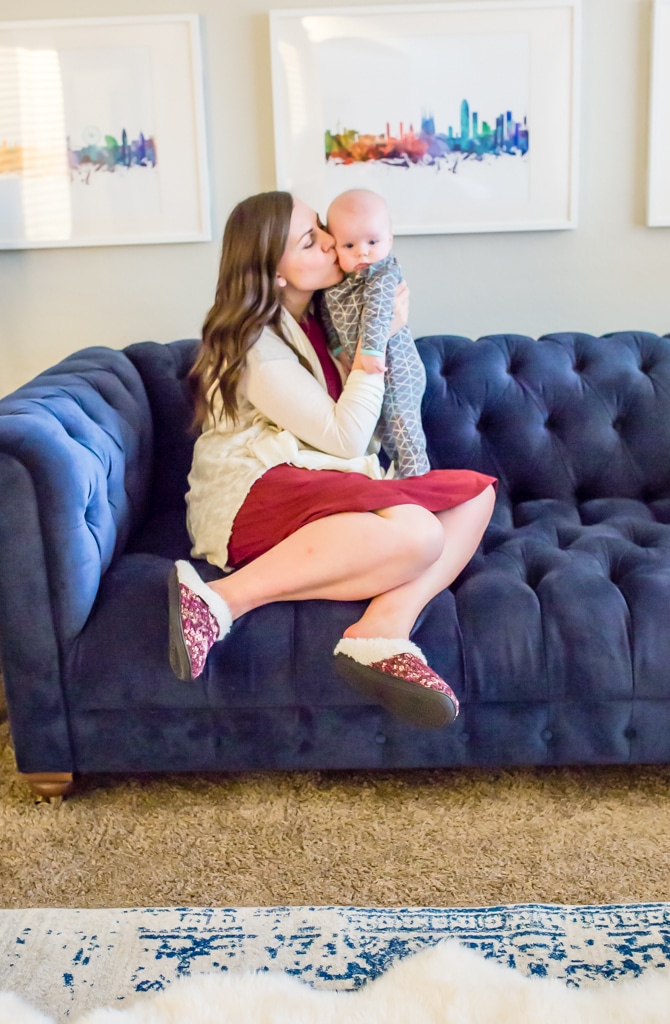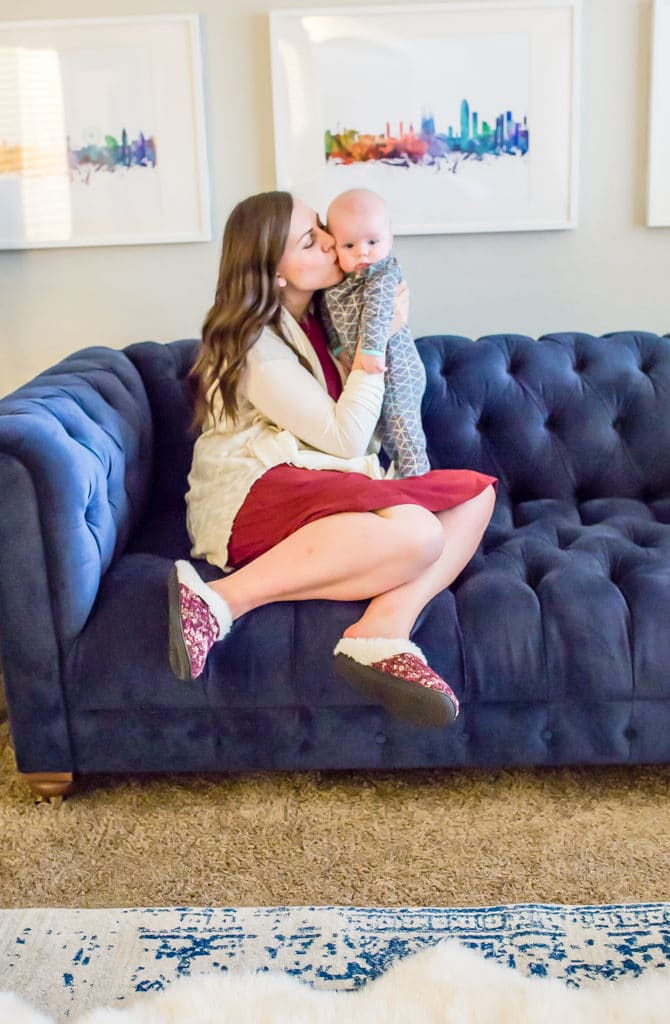 The baby was placed on our knees away from the screen and loved looking up and smiling at mom and dad. He was about as happy as he's ever been and completely content to just smile at each other.
Jacob and I actually got to snuggle, hold hands, and enjoy being together after a week of passing by with all the business. It was honestly magical to just be home, be cozy, and bond in a different manner than we normally do during the busy holiday season. The quality family time during the holiday season looks different for lots of people, and this slow down was the perfect addition for our family!
For a family who isn't always movie watchers, we recommitted to our family movie nights and decided that maybe some more cozy activities at home are called for with the busy holiday season. After all, the quality family time during the busy holiday season seems just as important as the trending family bucket list items we try to check off!
So as we look ahead to more holiday business and all the fun it brings, we're pausing to think about our kids. We're thinking about that quality family time and what it looks like to them. Sometimes that means all the activities and parties, and sometimes that means time in.
Here are five ways we're planning for a calm quality family time during the busy holidays.
Five Ways to Enjoy Quality Family Time During the Busy Holiday Season
1. Trying a new recipe together.
This doesn't have to be complex, but I love that we can all be together in the kitchen and make it feel special. We have to eat anyway, and we do a lot of cooking for the holidays. It's always fun to enjoy this time as a family.
2. Baking cookies together at home.
Our toddler adores cooking and baking. An evening in our warm home with all the time in the world to let little hands use cookie cutters and frost is just so fun. He talks about these nights for days after we do them. It's such an easy and inexpensive activity to enjoy as a family.
3. Movie nights in!
Sure they can be themed and fun. But when you're life is so busy just cuddling together feels amazing. I love that we can all be together, and we do it in our pajamas! At the very least, in slippers. And speaking of slippers, let me tell you about the pair I'm loving that feel like memory foam pillows on your feet.
Isotoner slippers
offer a 360 Surround Comfort™ memory foam technology that no other slipper brand offers! They offer soft comfort and lots of support with a perfect fit while you enjoy all your holiday activities. If you want to grab your own pair for PJ night or hanging around the house, use code THANKSISO for 20% off!
I love them so much I'm planning to gift them to a few people on my list! They make the perfect gift!
Quality Family Time at Home
4. Read plenty of holiday books.
I have the best memories of my mom reading us piles of books. I love reading to my book-loving toddler. There's something so fun about the time we all snuggle up and read as a family.
5. Breakfast in bed
If you're like us, Saturdays are busy days we get up and start to tackle projects and to-do lists galore! But the weekends are the perfect time to just sit and chat and be together. I love that my toddler climbs in our bed to snuggle us each morning. It's the perfect time to prolong those plans and just enjoy a breakfast in bed together as a family.
Like this quality family time during the busy holiday season time post? You may like these posts too:
11 Fall Activities to Do with Your Toddler
Halloween Activities for Kids + Families: 14 Halloween Traditions
Get 365 Date Ideas!
We want to help you have the best date nights ever! Grab this FREE printable with 365 date ideas, a date for every day of the year so you never run out of ideas!