Rainbow Striped Shirt for Dancing in the Rain
The perfect rainbow striped shirt: you won't believe where this trendy women's rainbow shirt is from, and the amazing price tag!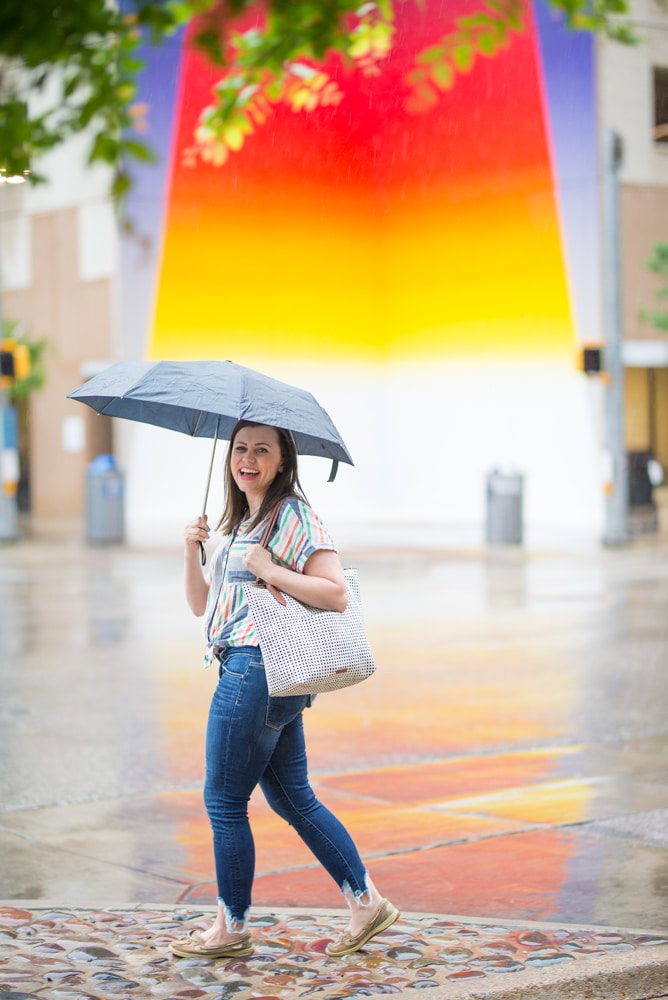 Rainbow Striped Shirt Details
Rainbow striped shirt in the rain outfit details: top / jeans / shoes / bag 
I'm loving the rainbow trend right now. It's the easiest way to add some color to an outfit effortlessly. But rainbow in a rainbow striped shirt form makes an effortless date night outfit.
The only problem with this trend is everything seems either incredibly over-priced or sell out crazy fast. And more often than not,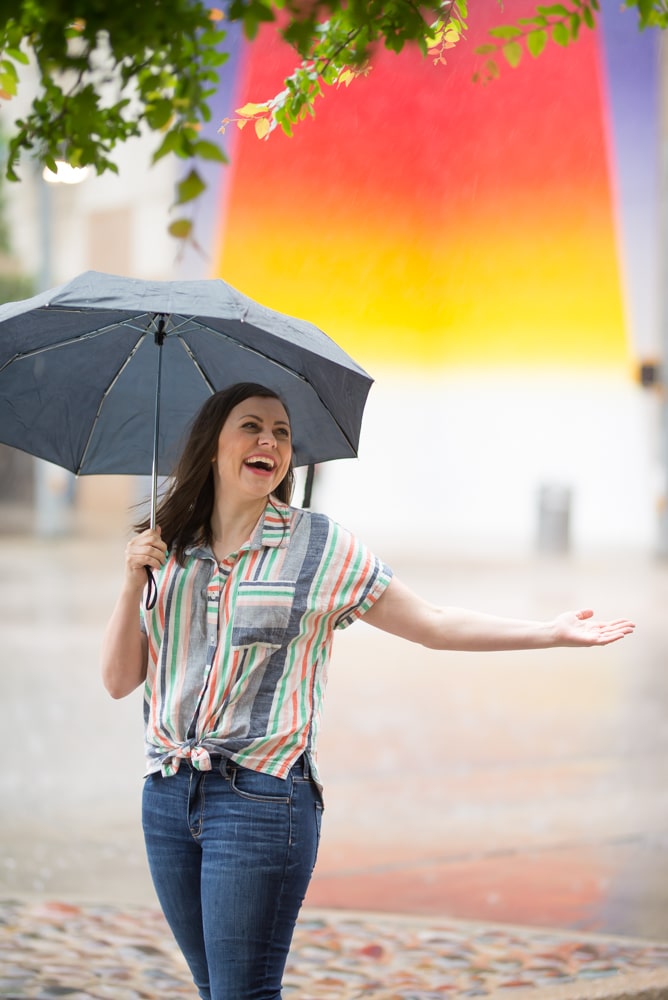 I love this particular shirt for a couple of reasons.
First of all, with the promos and deals it's about $15. It's hard to beat a quality shirt that's right on trend at that price!
Secondly, the pattern with some classic blue makes it feel like a good blend of trendy and more classic. I feel like it's the perfect fun, colorful rainbow striped shirt without feeling too over-the-top. Not that I'm opposed to over the top for the record. This one just makes the women's rainbow stripes trend a little more accessible for the masses.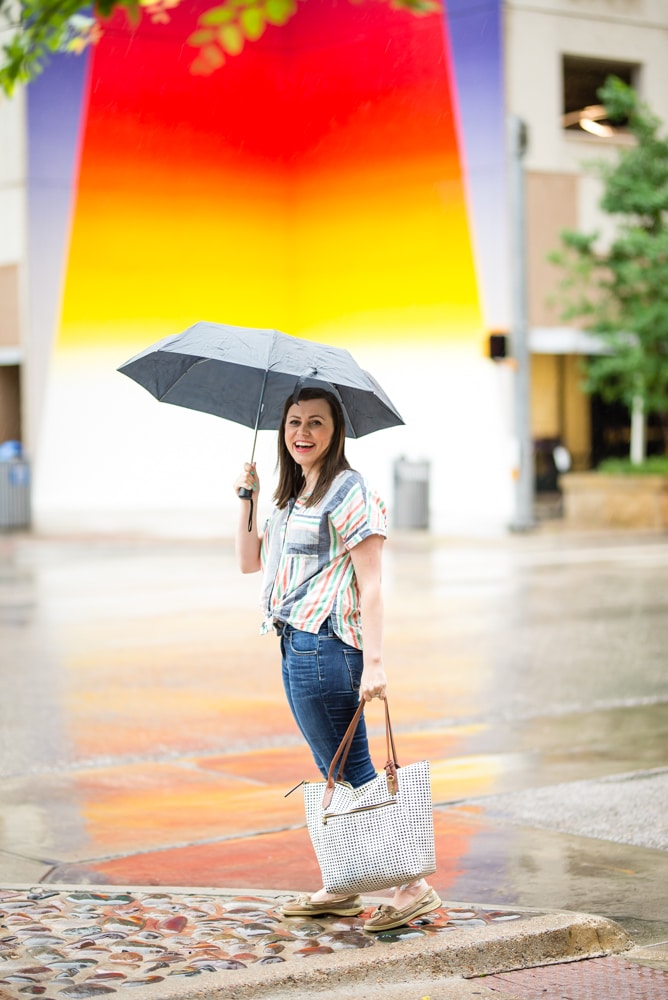 Affordable Trendy Distressed Jeans
And on a similar note, can we talk about the trendy dream jeans at a super affordable price point I'm loving right now? I'm typically a fan of splurging on jeans, but when I found these jeans online for about $40 with hundreds of 5/5 star reviews I decided to try them for myself.
I love the trendy distressing. I love that they stretch just enough to be so comfortable without stretching too much. They wear great for several days before they need a wash. And they wash well for anyone who has children or tends to get jeans dirtier faster.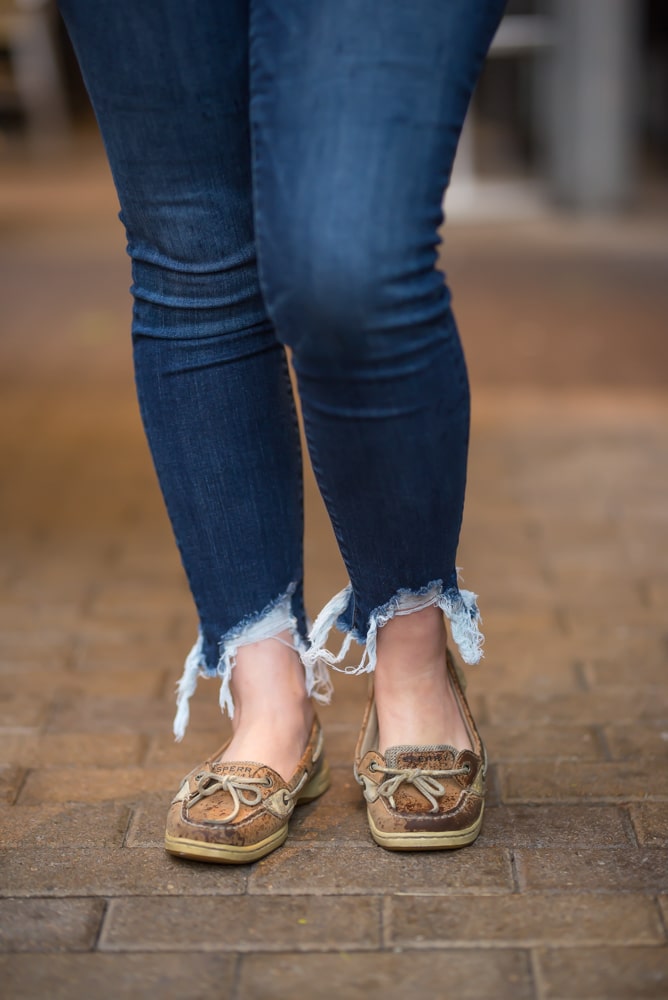 Women's Rainbow Striped Shirt
I am still working through my postpartum body, which means a few more curves and diastasis recti ab issues than I'd care to admit. I love the tie trend for helping women of all bodies have a flattering option! This shirt runs a little big, so I'd recommend sizing down or planning on a knot.
But I made the conscious decision to be a little more real here and start sharing my favorite date night looks again because I have a real body. And most of us have a real body. I'm embracing the miracle of a baby and the postpartum size in all its glory. Also, I plan to write a full post on this but wanted to give a shout out to a shirt that makes me feel stylish and put together while my body is still changing postpartum.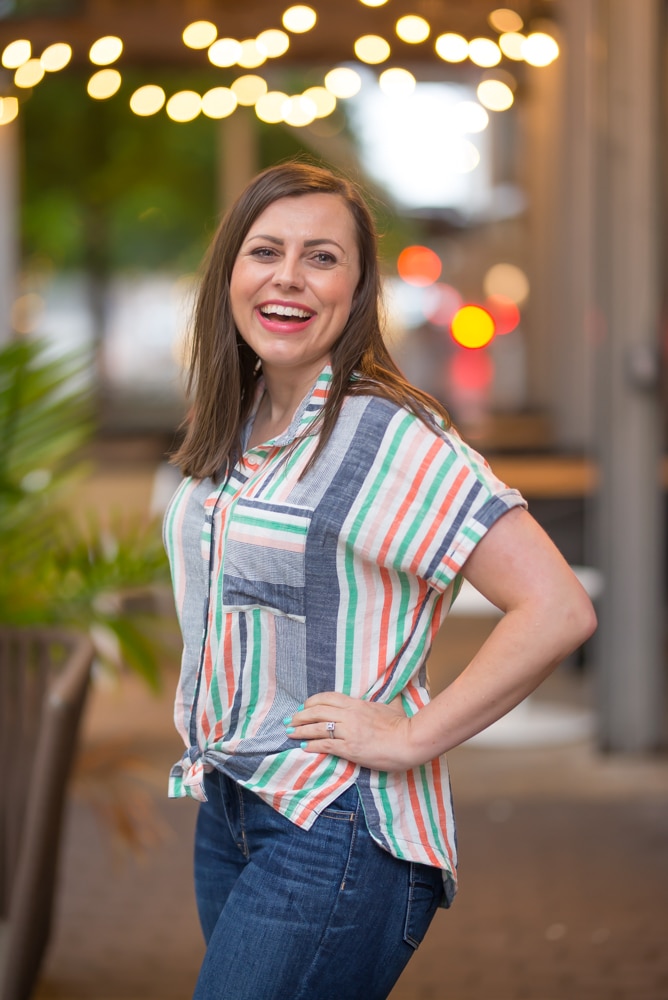 This casual date night look is currently on repeat. And for anyone looking to update their wardrobe inexpensively with a few fun pieces this summer, I can't recommend either of these enough!
Like this rainbow striped shirt look? You may like these posts too:
Styling a Velvet Top For Your Next Date Night Outfit
Postpartum Fashion: Nursing Friendly Styles with Stitch Fix
Get 365 Date Ideas!
We want to help you have the best date nights ever! Grab this FREE printable with 365 date ideas, a date for every day of the year so you never run out of ideas!