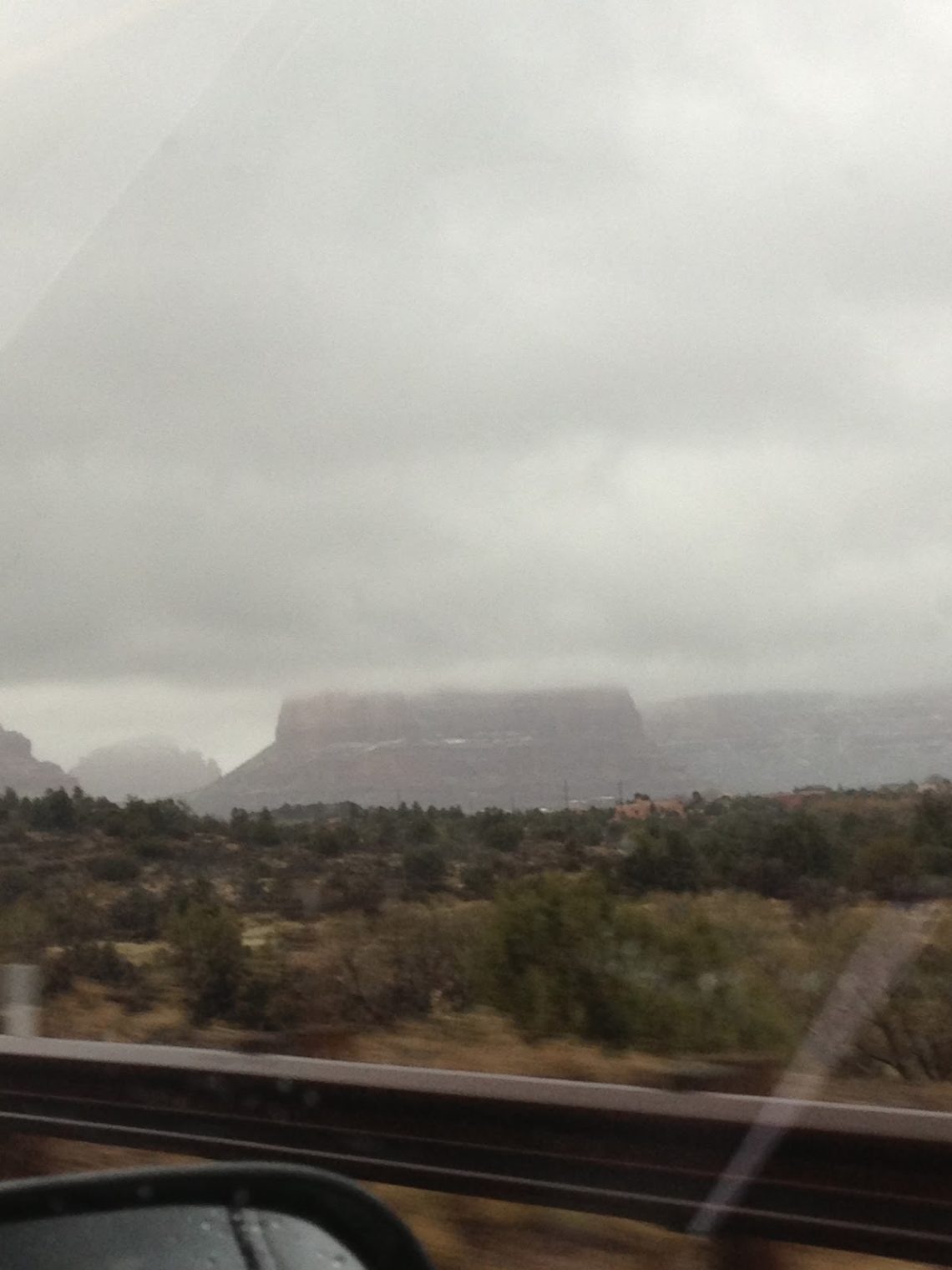 We're saving for a big trip this year, so we skipped our usual anniversary cruise and decided to take a small getaway just a few hours from home and head to Sedona, Arizona.
I'd been briefly once, at night, and never really got to experience the beauty and quaint charm that is Sedona. This was also a first for Jacob, so we were pretty stoked to get to share it together.
When we pulled in it was snowing. Jacob turned to me worried and said, "This is not how I pictured this when I booked a March getaway several months ago."
I reassured him I love snow, I haven't seen much of it since moving to AZ, and I was glad we had one more taste of winter before returning home to a forecast of 90 degrees and sunny the following week. I am an obsessive weather checker, so I was aware this was going to be the case.
And when we pulled into town I couldn't believe how stunning snow + red rocks really are.
Jacob found a great deal on a hotel months ago, so we were lucky enough to stay in a seriously nice place! If you want to splurge or you find a great deal we'd definitely recommend Los Arbrigatos.
Man do I love this tall skinny man who happens to be wearing my favorite date shirt!
The balcony was really cool, too bad it was too cold to hang outside on it.
We were happy to have made it and to have checked in. We'd both had a crazy week the week before, I'd had lots of late work nights, which resulted in no research being done on where to eat and ratings aside from a few friend recommendations. We did what any couple would do, we rigged the wifi connection and got onto Yelp as fast as we could. (Wait, not everyone does that?)
We were lead to one of the top-rated restaurants in Sedona that happens to be closed Sunday and Monday, two of the 3 days we were there. We heard there would be a 2 hour wait, but we also heard it was that good. We figured there is no night life in Sedona, and we couldn't find anything to do at night, so why not go and wait?
We enjoyed watching the snow fall and seeing it on the ground around us at the hotel the restaurant is embedded in.
We got our name on the list and headed outside to enjoy some romantic time by a fire.
That hour flew by as we talked to people getting out of the cold in the Midwest, and we enjoyed some time together just holding hands and basking in the time alone. We both are hyper-active over-achievers, and unless we get out of our house and go somewhere where we can't do productive things, we often don't stop to just enjoy the moment. This is one reason date night is so big for us, and a huge reason why we try to take little getaways quarterly.
After an hour of waiting on a cold patio, we were definitely hungry! We were also rewarded handsomely for our patience as we indulged in one of the best meals we've ever had to eat.
The chips and salsa were top notch!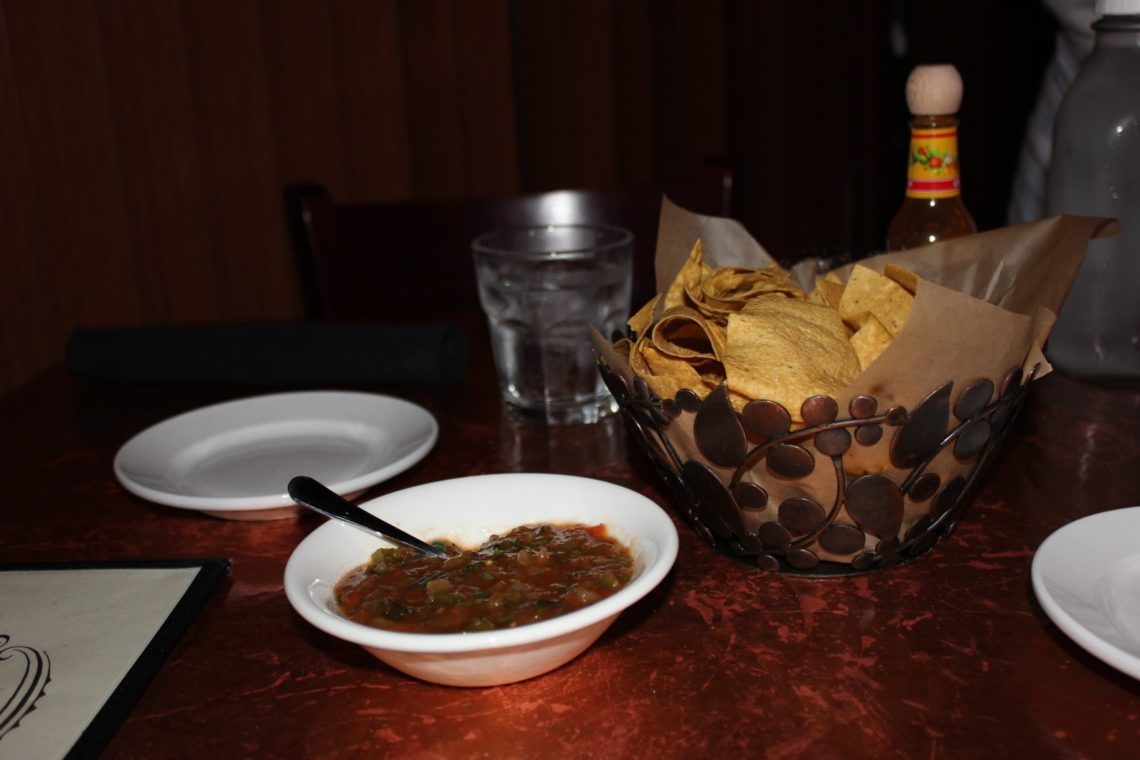 Elote means corn, and corn was the highlight of many of the dishes. Our excellent waitress recommended the Elote appetizer, which was a fancy take on the street corn on a stick covered in mayo and spice. We figured it was worth a try. And as I type this I salivate, it was seriously in the top 3 best things I've ever had to eat! It was SO SO SO good! I will be figuring out this recipe even if it takes my lifetime to do!
We were set on the Relleno de Pollo until we found out it was chalk full of walnuts. I wanted it so bad I contemplated if a night of Benadryl and a possible hospital trip was worth it. Under some circumstances I may have justified, but a wedding anniversary probably isn't the time or place.
Our waitress recommended the Smoked Pork Cheeks instead, and boy are we glad we listened!
We also opted for the smoked chicken enchiladas from the start, it was an excellent choice!
We counted this as our anniversary dinner, even if it was a day early. Partly because it was a little bit of a splurge, mostly because we knew we wouldn't top it the rest of the week!
And after the dinner we knew there wouldn't be much to do in town. We decided we would do what so many do for their weekend date and just watch a movie at home. It's kind of like a special treat for us since it isn't our norm. It was really fun to rent a movie, debate Red Vines or Nibs (both won in the end) and check out The Perks of Being a Wallflower. Which I immensely enjoyed and thought of so many students I taught and how hard it is to be a teen. It was well done, and it was even more fun when we realized our bed was a hide-a-bed and we could watch it lying down. I have no idea why that is so cool, but I swear it's the little things in life that you have to get excited about to be truly happy!
Away from our responsibilities, full of the best Mexican food we've ever had (and we've had some!), and relaxing on a seriously crappy hide-a-bed made for one perfect first day!