Who knew that a late night run to Target for some baby medicine and a long line could yield a somewhat life-changing experience? The girl in front of me in line was on her phone and said, "Well if they complain I just remind them that three gifts were plenty for Jesus!"
I smiled at that thought, of course, consumerism is at an all-time high, and of course, kids compete for who gets the most presents. What a smart mom, what a clever response!
Jacob and I always went all out buying all the stuff we could think of in years past, but this Christmas, with a child, we knew it was time to really think about budgets, consumerism, and what we want Christmas to be like for our children.
I'd heard a rhyme somewhere before for simplifying Christmas, but in all honesty had to look it up. We settled on it once I discovered it again-
Something you WANT
Something you NEED
Something to WEAR
Something to READ
That's it! We added a stocking with some fun treats and small presents, we added in a few bonus items for each family member in each category (i.e. several books for the baby) and called it good. I have to say, I loved this Christmas and I'm so glad we decided to simplify! Here's how Christmas looked for each of us.
For the baby: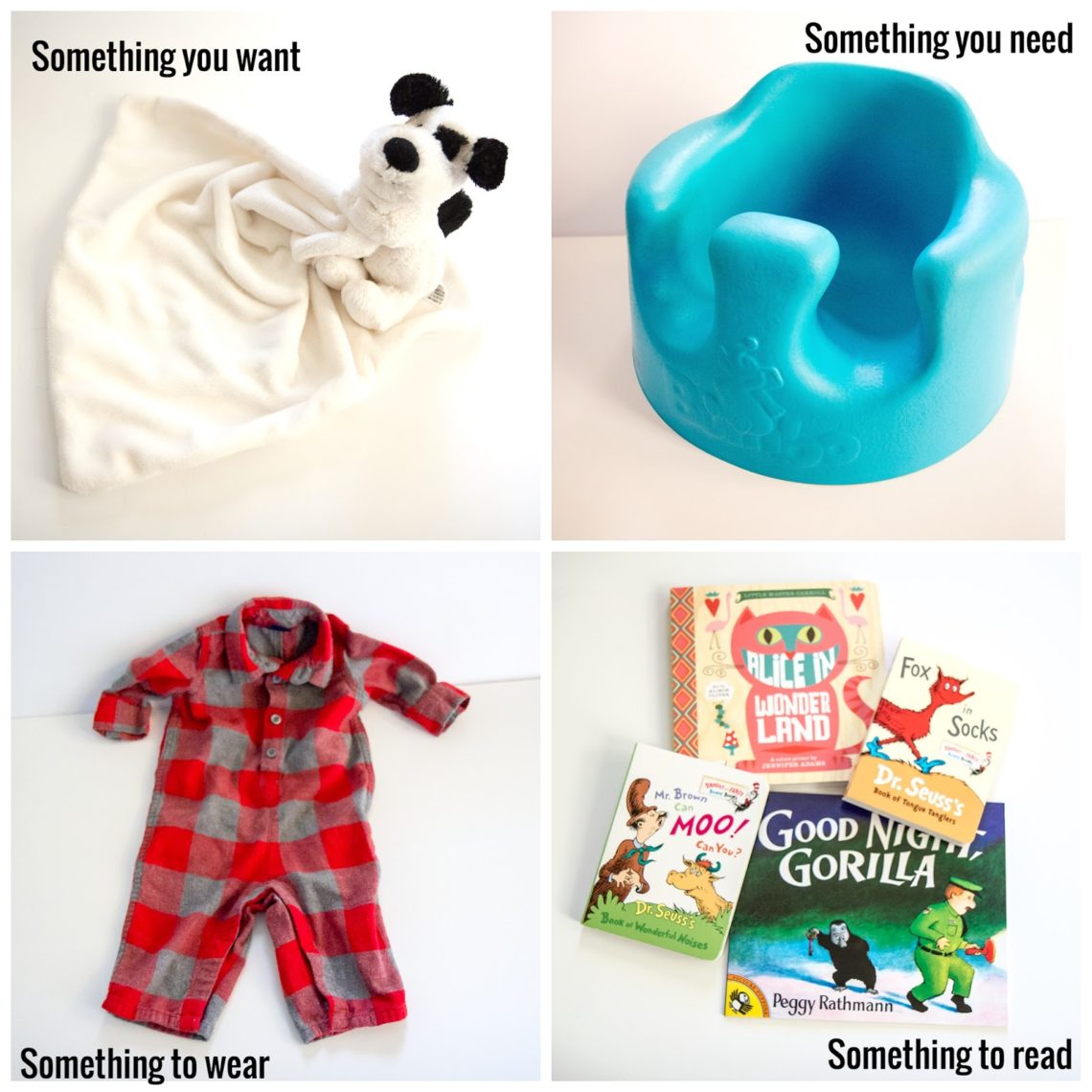 Something you want:
He's taken to snuggling his burp cloths lately, so we knew he'd want a
soother
he could love up. I've always thought many of these were creepy- I mean an animal head sewn to the middle of a partial blanket felt like something Sid from
Toy Story
would have cooked up with his mangled toys. When I found
this one by JellyCat
I was sold on how cute it was, soft, and well made! He loves it, and now I need to buy a backup before he loves it death or it actually needs to be washed and he knows it's missing for a few hours!
Something you need:
He's a tall baby- 92% for height, and he's hanging out of his bouncer. He's also developing physically faster than average, and he's liking sitting up, standing up (yikes), and looking forward instead of lying down. We knew a
Bumbo chair
would be a good thing in the coming months, but much to our shock, he loved it the moment we set him in it on Christmas morning! When he snuggled his soothie and sat in this I already felt like Christmas was a winning experience!
Something to wear: as a reflux baby he often has stomach issues and we've had to add a few more one-piece outfits than I originally planned. Bless Baby Gap for making several that are cute and still look like little boy's clothes!
Something to read: We kind of went a little nuts on this one. I'm only showing four books, but in all honesty there were about 14 purchased. We're into building his library and it's something we both justify some splurging on. Not to mention he recently became a huge fan of books and being read to! Some of our favorites:
For Jacob: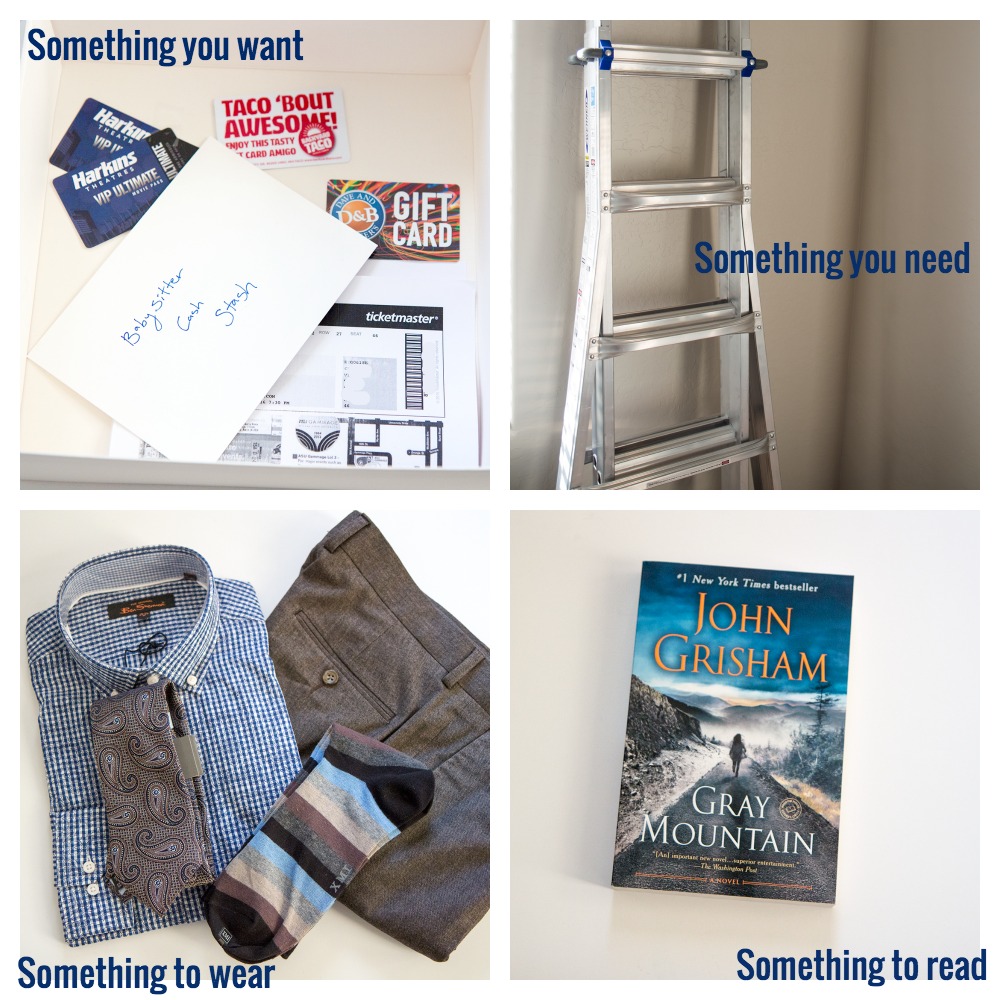 Something you want: I've given him A Year of Dates so many times, and he always loves it! However, with an unpaid maternity leave and us focusing on a budget and simplification, he told me to please give him a couple within reason. I had splurged on tickets to see Newsies way back in July, so I already had that. I added some movie tickets, a Dave and Buster's gift card, and a gift card for our favorite local taco joint. I also started getting a little cash every time I went to the grocery store a to start a babysitter cash stash. I think I'm going to do this every year, because it's so nice to have this on nights we're ready for a date alone and the budget is a little slim for a babysitter.
Something you need: Our new house has much higher ceilings than our old. Watching Jacob climb up in the attic with our old ladder, a jump, and some serious pull-ups was entertaining, but not super safe. We found this one on Black Friday for a great deal and I've probably let him use it early and I'm up a ceiling fan installation for my leniency.

Something to wear: Jacob does energy consulting (but I still like to call him The Rocket Scientist), and consequently he needs to dress up for work and client meetings. He has a decent wardrobe, but he really needed some nice dress pants. I often splurge on him in this area at Christmas and help him get some tailored pants for his long lean frame, a dress shirt, and a tie. Nordstrom really is worth the money in my book since they hem for free, tailoring isn't expensive, and we take them back if anything goes wrong.
Something to read: He's always been a John Grisham fan, and I love giving him a newer book so he has something to read on the plane when he travels for work or we travel as a family.
For Me:
Something you want: I love running, I love my child, and our Orbit Baby stroller is nice, but really heavy to run with. I've struggled to get back into it outdoors and had to fit in a mile here or there on the treadmill, much to my dismay and hopes and dreams for running outside during running season. We found a great Black Friday deal on a Bob jogging stroller that was cheaper than all the used ones we were looking at, and we went for it! We're both using it now and our little man seems to love the views too.

Something you need: We have a few bonus rooms in our new home we didn't have in our last, like an office and an entryway nook that is currently empty aside from our keyboard. I love that my husband insisted furniture wouldn't be my gift, it's for the house, not me. But really, a nice couch is what I want and I have a few in mind we just need to try out and sit on before we actually go for it. So, a terrible drawing will have to do for now!
Something to wear: I tried Stitchfix this year to help with the postpartum body and this awesome classic polka dot dress that I think I'll live in this come summer. I decided it would be perfect for an item I could get that would work all year round and I'd love! But I would have taken a subscription to Stitchfix too, they've been a lot of fun.

Something to read: I took a photography styling class from Stephanie this fall, and she recommended this book. I fell in love looking through her book and decided I really wanted this one! It was all I could do to wait until Christmas to open this up and start reading.
I think overall we were super happy with our simplification and will continue to move forward with this tradition! It makes it simple, easy to prep for, and with a new baby it was all we could do to even get this together this year. However, we did get it together aside from the couch, and I'm looking forward to upcoming sales to find my perfect couch!

*This post contains affiliate links
Get 365 Date Ideas!
We want to help you have the best date nights ever! Grab this FREE printable with 365 date ideas, a date for every day of the year so you never run out of ideas!