Where I Am on Social Media and What to Expect on Each Platform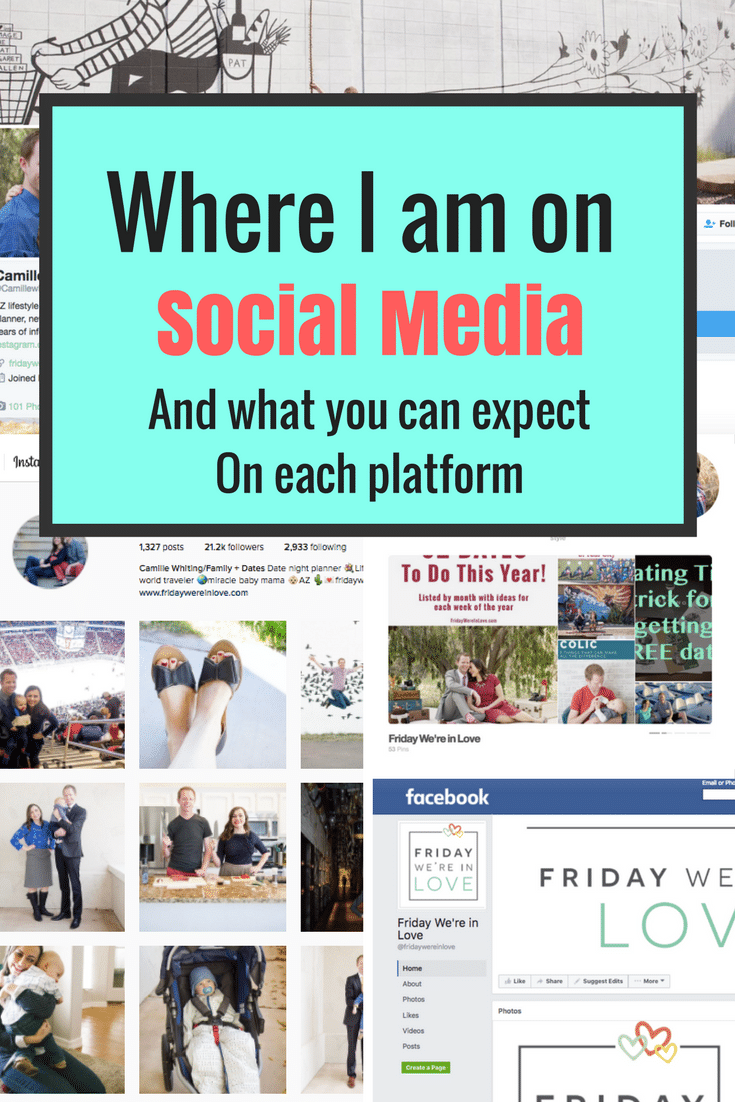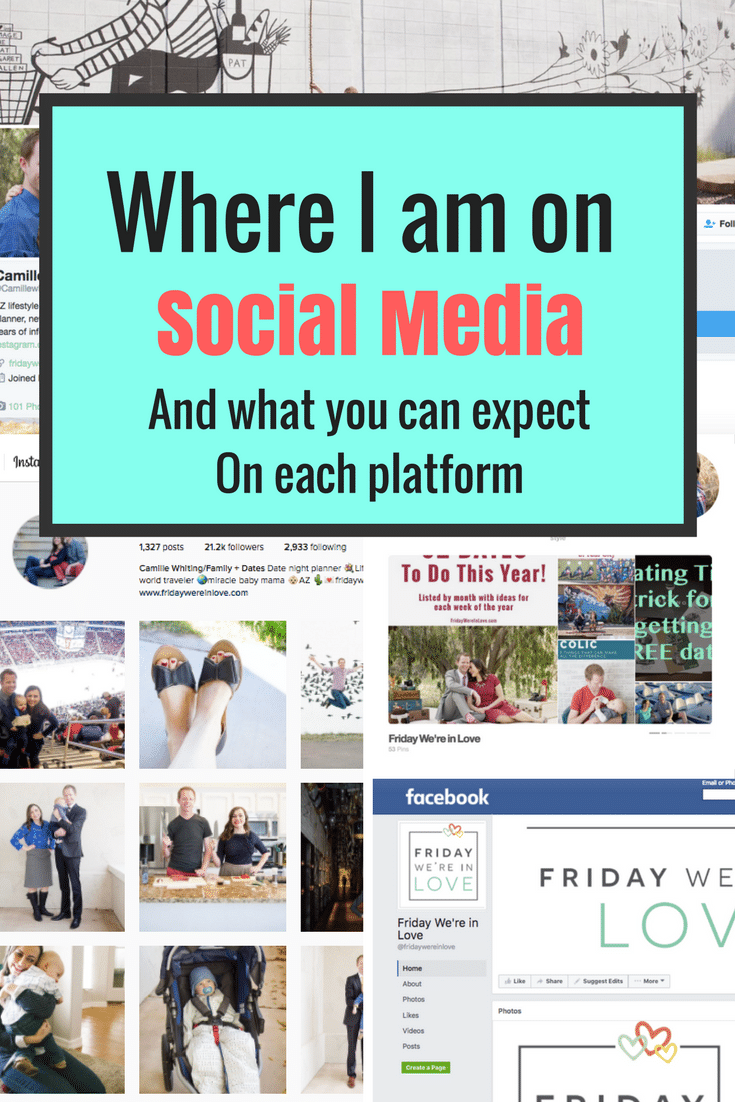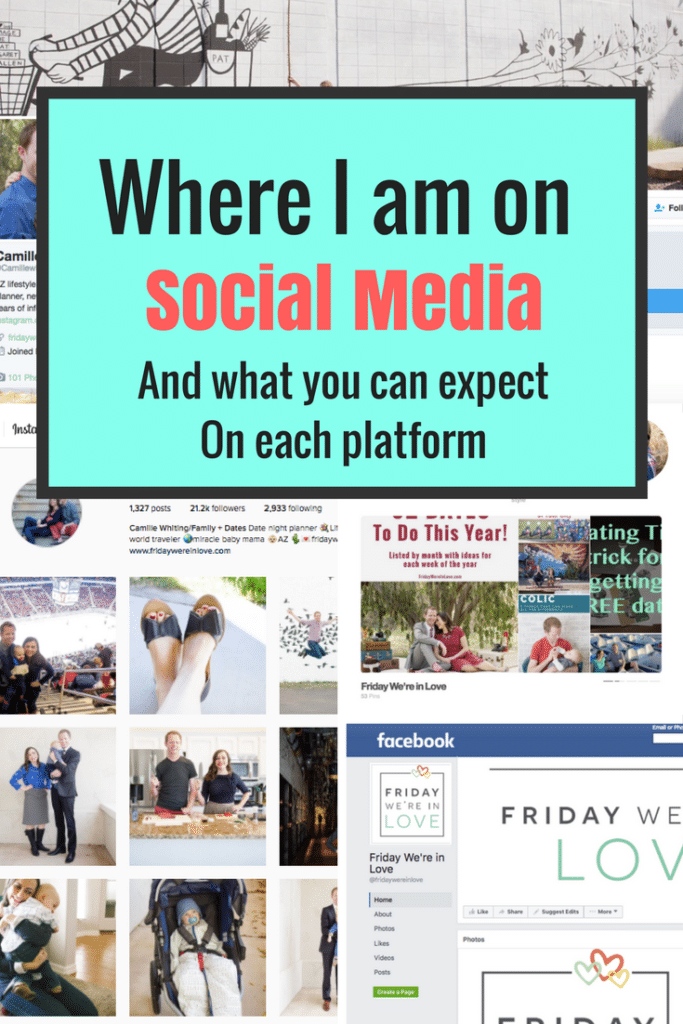 When I first started a blog it was essentially a social platform to itself, and where a lot of people spent their time while being social online. Facebook was just getting up and running, and still had some exclusivity to even join, and the other platforms were not dreamed of yet or in the works to be fully developed and launched. I've watched it change so much since I learned about what a blog was in 2004, and it's changed even more in the time I've been a regular publisher.
Today most bloggers have adopted the title "Influencer" and manage not only a blog but several different social platforms. Once again, a few years ago that meant sharing your latest post on social media and calling it a day, which is perhaps how some still use their platforms, but for the most part, they have different audiences and different functions. I think my time working in digital marketing and doing strategy for several brands has made me realize that there's a different purpose for each social media and that it doesn't always make sense for brands to be on each. It's been a bit of an ah-hah to me the past year to look at analytics and realize for the most part I really do have different readers and followers on each platform. Thank you to all who follow and support me on each individual one, and thanks to those who support me across the board!
I also have to say I started blogging as a hobby, so many of my social accounts aren't as polished with usernames as I'd like. I used several for professional reasons while in grad school and used my name, some were always meant for blogging, and many were personal with nicknames. I wish it was a clean slate, but sadly it's not and for some it's too late to change. Anyway, there's my authentic up-front disclosure that I love them and they are all different and not just meant as something I built to promote the blog.
I thought it might be kind of fun to share an overview of where I am on different social platforms, what I'm doing there and what you can expect to see, and maybe some reasons behind each!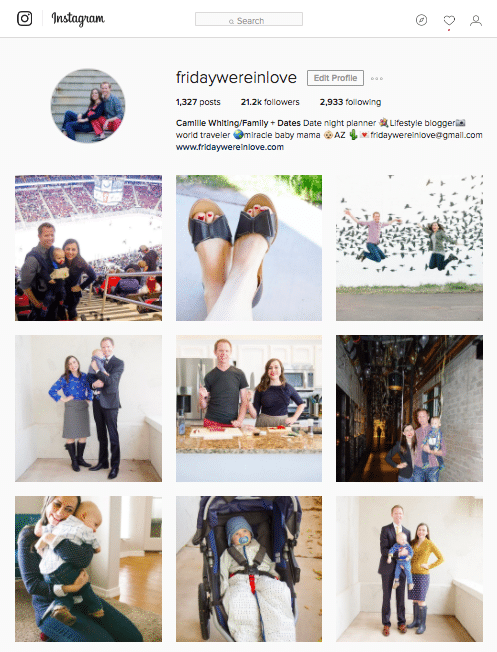 I'm starting with this one for a reason, it's probably my favorite and it's currently my largest platform! It's a micro-blogging with one image and one story. Back in the day when it was the only big player, I used to scroll Facebook  and scan for pictures only. It was my favorite to get a little glimpse into a friend's life via a quick caption and single image/video that was timely. Clearly I wasn't the only one since Instagram is the fastest growing platform! I still use Instagram this way. It's mostly professional shots these days with a few candid, but it's always timely!
I love posting real-life moments and it's a mix of date ideas and experiences, relationship thoughts and captures with me and Jacob, family moments, motherhood moments, some fashion, and every Sunday we take a picture as a family before or after church to document our family growing and changing and remind ourselves we get spruced up at least once a week! I promote a blog post once or twice a week, and other than that it's all separate content that's more of-the-moment and a little less planned.
Also, Instagram stories are something I love and am using more and more! I usually share date-nights in real time there so every weekend you can expect to see a little glimpse into what we're doing and what will be on the blog soon. There's even a few dates I don't end up posting, but they do end up in a story! I share more about my baby and cute things he's doing from time-to-time, and a few glimpses into everyday life.
My Instagram handle is @FridayWereInLove if you want to follow along!
The original gangster of social media has found a huge comeback the past year with Facebook live, video streaming, and due to some annoyance by many users with other platforms developing algorithms they are still figuring out. Facebook does limit what you see, and thus I've seen so many bloggers jump ship and give up on Facebook. I think I may have been in this boat too until the past year, but I'm sure glad to be back and to figure out what I like using it for as a blog page!
Facebook is a community for sharing in my opinion, that means sharing thoughts and status updates, sharing pictures, sharing blog posts, and sharing other people's content too! I'm a sucker for funny movies, heart-warming marriage stories, cool ideas that could be fun dates, recipes, and other blogger's content that rings true to what I do. The Friday We're in Love Facebook page has several posts a day, and it's a place you can catch the latest blog post notification most days, but can also see a few other images, and a few other fun pieces of content too! If you're looking to be entertained, it's a good place to join in the community conversation and content share! I've also been getting into Facebook live more, and it's been really fun to create some dating lists and tips and share big news items and exciting behind-the-scenes projects there too.
Facebook Page: www.Facebook.com/FridayWereInLove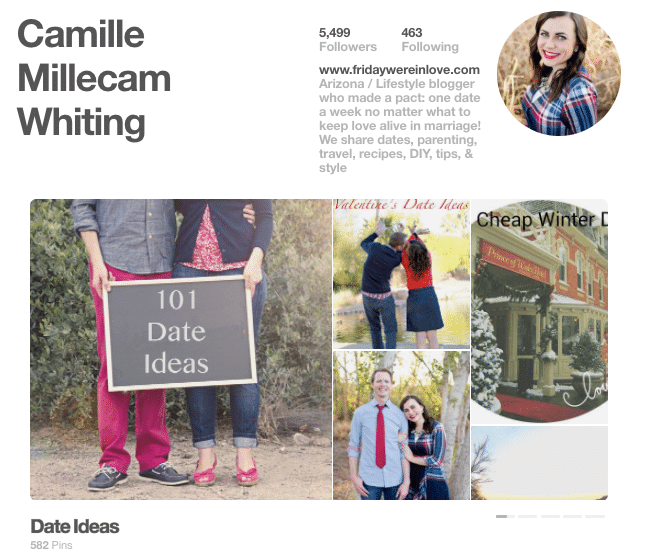 I was lucky to get into Pinterest early with beta testing, and it became a huge addiction that caused me to fear I was going to miss a pin! I think everyone who has used it has been there, and most people have come to the conclusion that they need to take a step back and really think about useful content and what truly inspires them!
I started my account as a very personal one, I even used my high school nickname as my username because my maiden name was too long to add to my first name. My nickname is a merger of the two just FYI, since the same letters are in both and it's close to a palindrome. More info than anyone needed I'm sure! Anyway, FridayWereInLove is too long to use as a username, so until they allow one more character, Camillecam it is! It's something I've used for personal use and finally become comfortable sharing my own content there in the past year or two. It's a place that you can expect to see what inspires me and hopefully gives inspiration to others! I have a pretty robust date night board sharing a blend of our dates with other date pins, plus a lot of random things I find that inspire me for future dates. It's a little preview into what I'm planning for the future. I've also had a big collection of recipes for years since I'm a fan of all things culinary, right down to my stereotypical pumpkin obsession board. Home decor, parenting information, travel adventures, life hacks, and style are also big players of there! I've even updated my style boards to reflect casual date night looks, dressy date night looks, and date night looks for him. If you're looking to be inspired in style, food, and fun, Pinterest is a great place to find me!
Pinterest Username: @Camillecam if you want to follow along!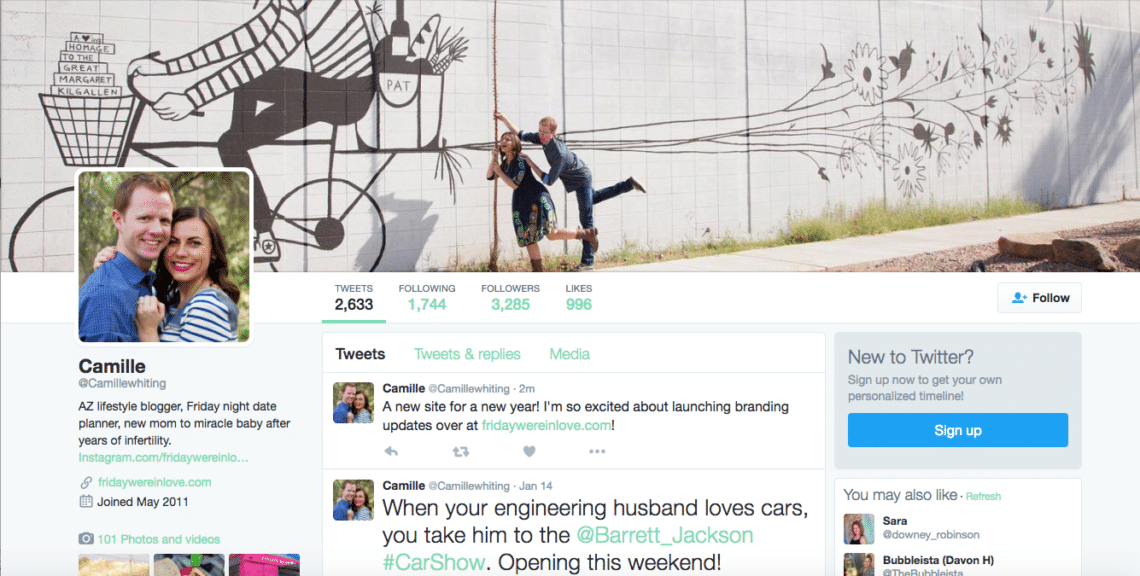 Everyone has a platform it takes them a while to get and feel comfortable with, and Twitter is that for me. I used to just share blog posts there, but the past few months it's become a lot more for me! It's one of the fastest and easiest places to get a hold of me. It's also a place synced with Bloglovin' and shares every single published post. I've been sharing more images that work better there than other places, old content that's still timely and relevant, and it's a place I get involved in community chats. Perhaps best of all, it's a place I share all my quirky thoughts and funny experiences. Sometimes you just feel witty or need to laugh about something and there's nowhere better to share those moments than Twitter!

If you want to follow me on Twitter I'm over there @CamilleWhiting
I started YouTube just to have a place to curate funny videos for a date and to log a few concert movie clips, but it's turned into a place where I share pieces of content that just work best in video format! You can find pieces of dates, home tips, baby updates, product reviews, and some vlogging these days over on YouTube.
Once again, this one started personal and YouTube doesn't let you change your username. So nickname plus birthday again, and I always shake my head for not snagging a better name over there!
Find me on YouTube: Camillecam22 or CamilleMillecamWhiting
SnapChat
Oh how I love snaps and filters! I'm going to credit Snapchat for being the first place I felt comfortable talking on live on camera. It made Facebook live, Periscope, YouTube, and the copy of Snapchat as Instagram stories so much easier and more comfortable for me! I haven't promoted this one as much because I have been using Instagram stories much more lately. But I'm still there, still sharing, and it's a place I share more of my candid moments with motherhood, workouts, thoughts, and times you're just not wearing makeup but have something to share.
You can find me and my favorite filters on Snapchat as CamilleWhiting.
I'm still a blog-lover and probably always will be! I love seeing what others create, I love the feed view of blog posts, and I love reading and following along on Bloglovin'.
You can find me there as FridayWereinLove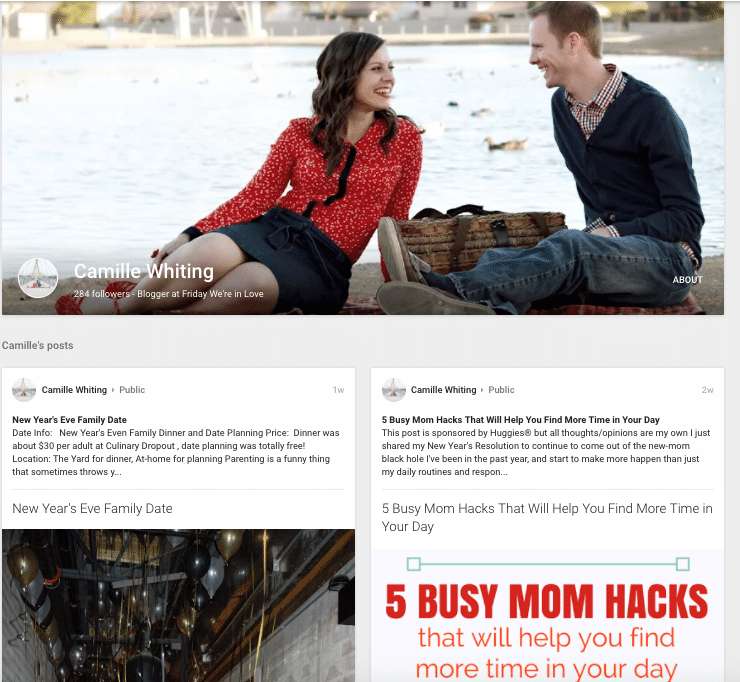 Sometimes I still like to get professional in life and share more business thoughts and articles, and I love to share my blog posts and others I find inspiring over at Google Plus. I love that there isn't an algorithm and that it's a smart platform with segmenting. I've really enjoyed it and wished it would have caught more. If you're on there, we should connect, it's a great tool!
Find me on G+ as +CamilleMillecamWhiting
I love finding relative content, and I love sharing my content too! If you're into stumbling, find me there at FridayWereInLove
Honorable Mentions
I have done a few scopes over on Periscope (fridaywereinlove) but found I liked Facebook Live much more and deleted the app. I've also been on Pippit (fridaywereinlove) and thought it could be a huge thing with a lot of potential at first, but soon found it too be too much an Instagram copy and haven't been active there.
I also love using Feedly for feed reading and viewing. I toggle between Bloglovin' and Feedly, and you can find me on Feedly at FridayWereInLove.
I'm pretty open to trying new things and love the possibility of most social platforms, so you can find me pretty much anywhere under FridayWereInLove or CamilleWhiting.
Okay friends, that's where I am! I'd love to hear, what's your favorite platform you use most often? Where do you spend most of your time?
Get 365 Date Ideas!
We want to help you have the best date nights ever! Grab this FREE printable with 365 date ideas, a date for every day of the year so you never run out of ideas!