Stepping Up My Fitness Game This Summer with Vega
There's no motivation like seeing your baby's 9 month mark staring you in the face to remind you it's time to step up your fitness game one more notch to wear the pre-pregnancy jeans. I've stayed pretty active, but adding some more intensity and focusing on more clean eating is something I've been working at the past few weeks, and plan to continue doing!
These both sound easy in theory, but with a baby sometimes those early wake up calls and HIIT workouts after a night with little sleep can be so hard to accomplish! Sometimes I'm busy feeding the baby all day and I grab something easy that isn't very clean for myself. Whatever good I'm doing with burpees I'm counteracting with poor food choices.
There are a few things that are helping me get past my mom excuses and get my butt in gear.
1. Getting up and putting on my gym clothes. It doesn't matter if I'm working out at home, gym attire sets me up for success so I'm prepped and ready!
2. Drinking a clean energy drink like Vega®  Clean Energy.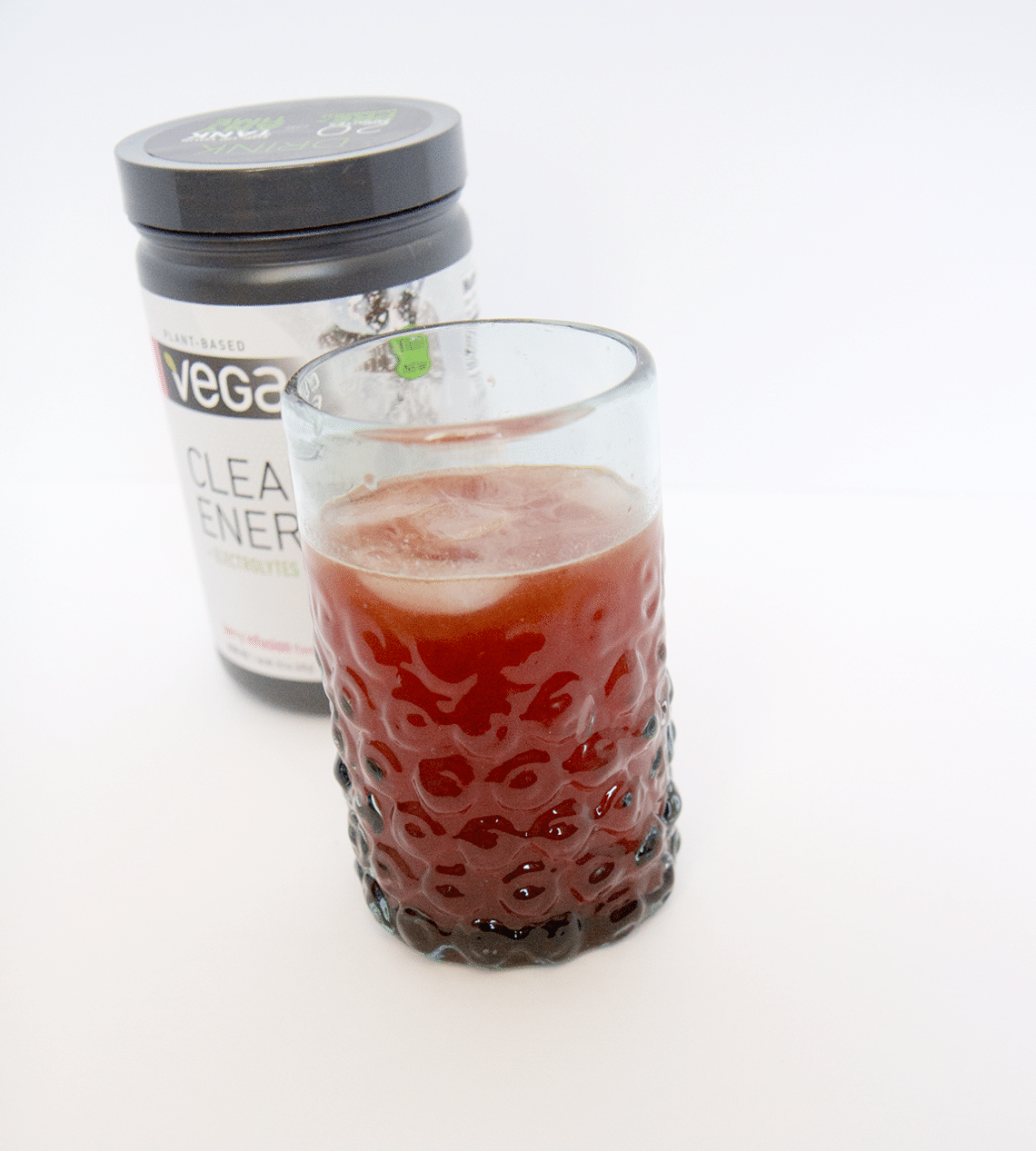 3. A little shot of electrolytes to hydrate, sustained energy from carbohydrates and ahem, 80mg of caffeine from green and black tea, amp me up with the energy I need to add in more intense moves, to go a few more rounds, and even to face burpees with less dread. Also, I know that Vega®Clean means it's Non-GMO Project Verified, gluten-free, vegan certified, made without dairy or soy, and there's no artificial colors, flavors, or sweeteners. This comes in two flavors- Berry Infusion or Citrus Iced Tea, to mix up your morning.
 4. Meal planning. I can't say it enough, when I only buy clean food and know what is on the agenda, I can only eat clean when I'm at home. This is such a game changer for me! I still splurge on dates and have a cheat meal, but having plans keeps me in check the rest of the time.3. Have a variety of workouts ready to go. I love going to the gym, but I can't always get there with the baby's nap schedule. Knowing what gym classes I can do, if it's not too hot to run outside, or having a handful of at-home workouts handy eliminates any excuse. If I'm short on time I know which things can fit into my allotted time too. Too little time or the heat are no longer an excuse for me.
5. Have a super fast, very delicious protein drink on hand. Vega® Clean Protein plus a mixer bottle make my life so simple, and make for a really delicious breakfast after my workout!
I love that I can use a cup and a half of the almond milk I have on hand or just opt for water and know I'm getting 25 grams of protein in a complete, premium, plant-based protein (pea, hemp, alfalfa, and pumpkin). Also I am getting all essential amino-acids including 4 grams of BCAAs and it's only 130 Calories. There's vanilla if I want to blend it with a smoothie, and chocolate which I am always craving! But then again, chocolate goes great in recipes too!
7. Stay accountable! Find a buddy, find an app, find a friend you chat or text with every day, and make sure you are reporting your workout and progress! The shame of saying I ditched a workout keeps me constantly going. Should my app tell me to log a workout, I'm about 100% more inclined to do it just so there isn't a hole in my schedule and so I'm keeping myself honest!6. Utilize other great online resources to stay motivated like
FuelYourBetter.com
. Whether you're an endurance or strength and conditioning athlete FuelYourBetter.com is a great training hub with training tips, nutritional articles, and recipes that can help you crush your personal best and get fit this summer. Their new active Instagram is awesome too,
@VegaFueled
has beautiful photos featuring real people's fitness inspiration, tips, and motivation. The hashtag #vegafueled gives an opportunity to be featured, and leads you to some really inspiring people! They are all about the ways to #FuelYourBetter and keep you motivated!
So here's to another month of harder workouts, better eating, and I plan to report back on a few more lbs lost and some jeans happily sliding on!
This is a sponsored conversation written by me on behalf of White Wave. The opinions and text are all mine.

Get 365 Date Ideas!
We want to help you have the best date nights ever! Grab this FREE printable with 365 date ideas, a date for every day of the year so you never run out of ideas!