Surviving Shopping Trips with a Baby and a Toddler
Going shopping with a baby and a toddler can be a stressful event! It took months for me to feel comfortable with it, and here's how surviving shopping (and life!) with a baby and a toddler is doable!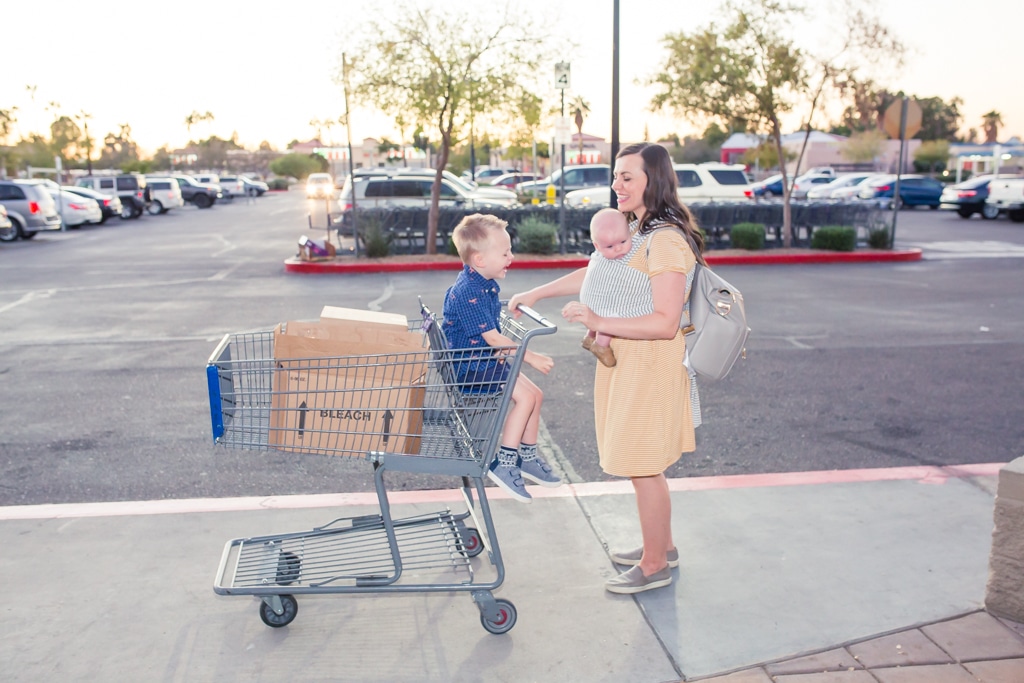 This post is sponsored by Sam's Club, 
I remember feeling so overwhelmed with a new baby the first time around. Bring a car seat everywhere and not going anywhere alone seemed like such a hard change! Then that baby became a toddler always trying to climb out of carts and throw fits. The more he grows, the more I realize I need to add another five minutes onto every day plans just to let him buckle himself in his car seat!
I was pretty overwhelmed those first three months adding a baby to the mix. Now we had the car seat and the toddler, and I worried I wouldn't be able to go anywhere again. It took a few months, but I've learned there are tricks to surviving life with a baby and toddler and still keep up on household tasks. Here's what I've done to keep us afloat and still manage to feed us on even the most chaotic days.

Shopping Tips with a Baby and a Toddler
Lower expectations. I know, that's a funny way to start. But let me say that letting go of perfectionism is the best thing that's ever happened to my parenting. I plan for a fit, I know we'll be late, we'll likely go places with only one of us dressed and hair done. And you know what, that's fine! Life goes on, and with any kid adjustment, I think that's a great rule of thumb.
Write everything down! I used to trust my memory, but when I'm sleep deprived and have two people constantly needing me, it's best it gets written down. This is mostly digital for me. There are appointments immediately recorded on my phone. I have an ongoing grocery and household needs list. If it's important, it gets put on a list or a digital calendar immediately.
Love warehouse shopping. This last year we added a Sam's Club membership to our household and it's been a glorious thing! I love that we can stock up on items we use and reduce trips out. One less car seat buckling fight with my toddler is always a good thing! We know what we go through regularly, and it's so great to have those items handy. From food to baby supplies, it's good to be prepared. I feel like the specific things I love about Sam's Club belong on their own bullet points that are part of surviving life with a baby and a toddler, so let me proceed to tell you some specifics!


Surviving Shopping with a Baby and a Toddler

Have diapers on hand always. My toddler is potty trained (phew!) but we still keep back up potty training diapers on hand just in case there's an accident. That's nice to have, but having baby diapers in rich supply is a must! I love having a box of the size he's in all ready to go when we run out, and one a size bigger ready too for those sudden growth spurs. I really love that you can participate in stock up savings at Sam's Club and they make changing sizes out so simple if you need to exchange.
Also, they carry many brands and I know for a lot of parents that's an amazing thing. You can get whatever brand you want in bulk, ready to make life easier. I have diapers stashed in our diaper bag, car, the nursery, etc. It's just so helpful with two kids and a lot of diapers!

Utilize online shopping. I love that there are options for online shopping with Sam's Club. You can order online and pick up in store. If you are limited on time, particularly with two kids, you can get your groceries with an easy pickup. You can also have items shipped right to your doorstep. Diaper stocking up is even easier with shipping and large boxes brought to your porch that you can drag in during nap time. It's a great tool that makes mom life so much easier!
Know your best time to go and go then! Mornings are often great times with fewer crowds. It's also typically when kids are happiest. I still have two nappers (luckily!) and I have to plan a time when the toddler is awake and the baby is fed. Find your groove of a good time and make sure you go then to avoid meltdowns.


Shopping with Two Kids

Hit up fewer stops whenever possible. If you need to run errands, make them count! Get the kids new pajamas at stores you can get food at too (Also, hello Sam's Club for this as well)! You find great value and convenience all in one. Try to plan errands in one area, and really make each stop count for more time.
Get a baby carrier. We have an infant wrap that makes shopping with two so much easier! Room in the cart without the car seat, hands-free to hold a toddler's hand, and I feel a lot better about being out and about. I just wrap up the baby and then get the toddler out of his car seat. It makes shopping so much easier and less chaotic with two littles in tow!
Smile through the chaos. This time goes fast. You'll only have a snuggly baby AND a funny toddler saying mispronounced words for a short season. Remind yourself that and focus on the positive. Even if there are fits while you're out shopping now and then.


Life with Two Kids

Know there will be takeout and quick dinner days. We know we're in a season when quick meals happen often, and we just accept it now. The Sam's Club food court may be a great inexpensive option, or a freezer meal may be on hand too. We plan this way. Chaos is inevitable, and managing food around it helps immensely!
Accept help. With my first baby, I rarely let other help me. I set a goal with this child to say yes to everything, even on my most on-top of it days. It's made a huge difference. I'm grateful for every spare set of hands or quick errand others offer!
Get a backpack diaper bag. I can't believe the difference it makes it freeing up hand space! It's a lot easier to hold a toddler's hand and get them situated with a backpack style bag/purse.
Let dry shampoo be your best friend. I joke a little, but really, any hack to help you and kids get ready faster is a good idea right now! Plus it's easier to get out the door and feel more put together.


Surviving Shopping Trips with a Toddler and a Baby

Don't go when you're stressed out or in a huge hurry. My toddler asks me if I'm stressed out when he senses it happening. My emotions feed his emotions. When I can go more patiently, we make it happen. If you're stressed or limited on time, it's not going to go well for anyone.
Plan extra time. What used to take me an hour now takes at least an hour and a half. Setting yourself up with a time buffer is a great idea. Inevitably, it will take more time than you think.
Okay and a few more awesome things about Sam's Club:
If you sign up as a new member you'll receive a $20 gift card, as well as $25 in new member Instant Savings. You can also enter to win one of 25 $100 Sam's Plus Gift of Membership cards being given away by Savings.com.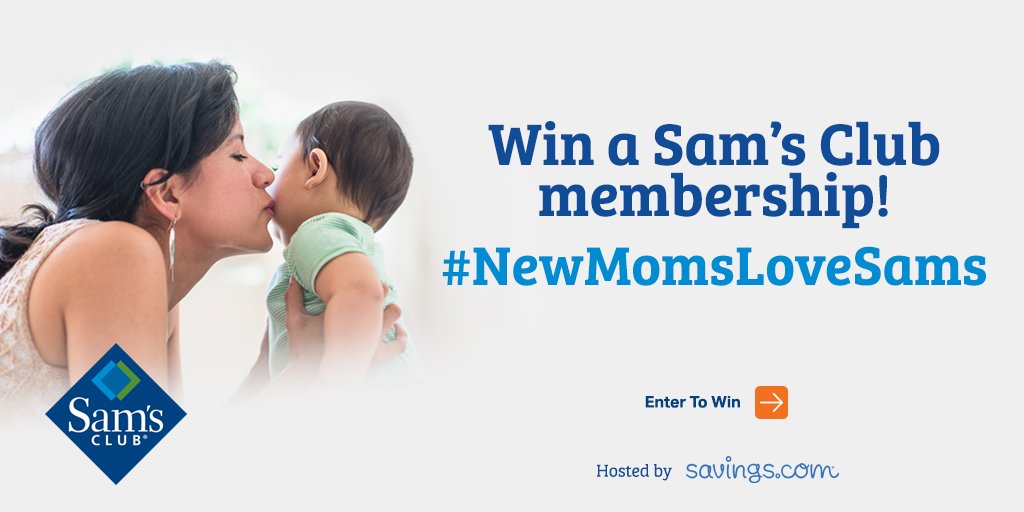 Get 365 Date Ideas!
We want to help you have the best date nights ever! Grab this FREE printable with 365 date ideas, a date for every day of the year so you never run out of ideas!