Take Me Out to the Ball Game
Date Info: 
MLB Game
Price: $12-$120 per ticket (Look for BOGO free deals)
Location: 
Any MLB Stadium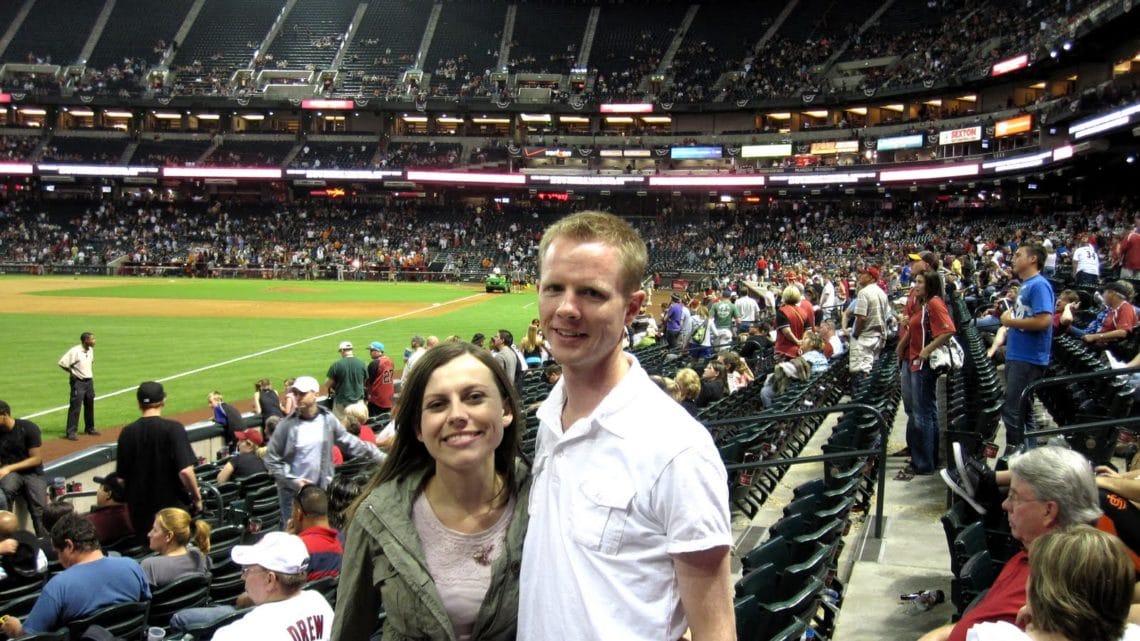 We've been enjoying some amazing weather in AZ and decided some outdoor themed dates would be a great idea for the month of April and May before the real heat sets in. Jacob planned the "All American" date- taking me out to the ballgame! I think even if you're not a baseball fan it's still a great date. There's enough downtime to talk, there are drunk people to laugh either at or with, and for some reason hot dogs sound like an amazing treat when you walk into a ball park!
April 15th is the anniversary of the first baseball game Jackie Robinson would play in the major league. I have a journal prompt from a book that talks about the great 1st in American history, and this game is on the list of the top 5! Jacob bought some tickets in the lower bowl for this night just for the weather, little did we know it would be a game honoring Jackie, and little did we know we would be so close to the field we could talk t
o players! Every player wore a jersey with #42, and every time anyone was up to bat they announced them as #42.
It was pretty cool to see a field full of #42. There was a video at the end documenting the threats and prejudice Jackie had to face, and his courage and
character throughout his whole career both in baseball and after. It was a really cool bonus to a naturally fun date!
Our team lost pretty bad to the Giants, but we still really enjoyed the cool vibe of the game and the perfect weather. We really enjoyed the fireworks after the show as well to celebrate this historical day. We couldn't have asked for more fun at a baseball game!
Get 365 Date Ideas!
We want to help you have the best date nights ever! Grab this FREE printable with 365 date ideas, a date for every day of the year so you never run out of ideas!