This is a sponsored post written by me on behalf of Tazo® Tea for IZEA. All opinions are 100% mine.
It takes becoming a mom to fully realize that bliss that is nap time. You get that kid in their crib and you wait for silence, check the monitor, and I imagine it's the same feeling of a fairy getting it's wings. I've been known to audibly shout "YES!" some days. Don't get me wrong, I'm in love with my child and miss him when he's asleep, but apparently, babies need sleep or something and that's a thing I have to remind him of almost daily in this phase.
When he finally gives in after a few minutes of crying it's a moment of joy, and a moment I realize I have some time to myself. Maybe I finally get that shower in, maybe it's cleaning up the whirlwind mess he left behind, but most of the time it's getting some work in.
I will never complain about my life and my schedule, I'm running a small business from home and I get to do the majority of it during nap time and the few hours of the week a nanny comes. I see so much of my family and I still get to do my thing too. It's great, it's the dream, and I feel lucky every day! Even work feels fun…at least most of the time. Although I admit there are those moments I fantasize that nap time means Netflix time, but maybe one day it will.
Before I head to the grind, every now and then I do give myself a few moments of peace and quiet by myself and spark a little joy with a few moments of indulgence.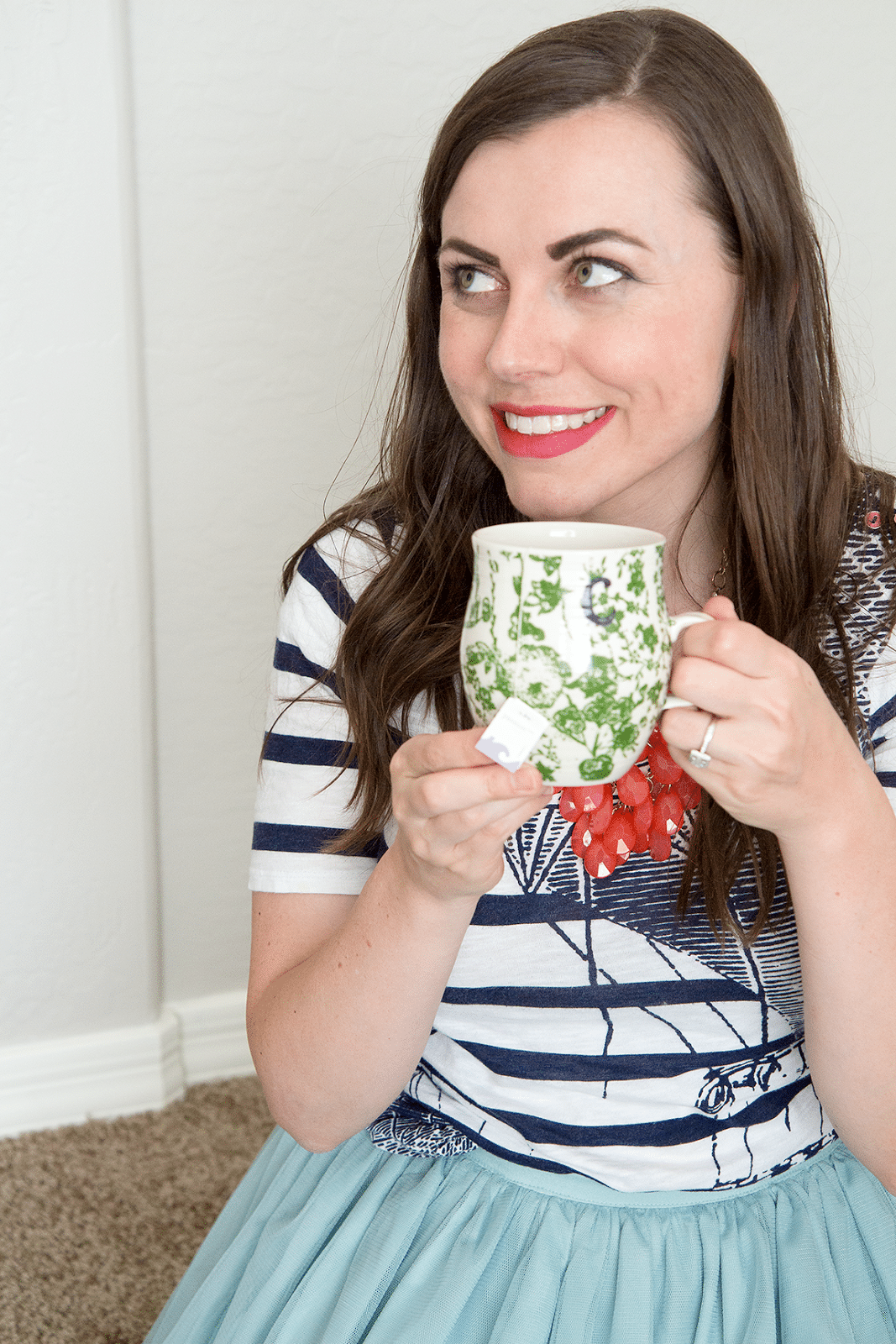 My family has teased me for years that whatever English genes we possess I hoarded, because I can't get enough tea. But with that, I'm also not a caffeinated tea person, so finding a good herbal tea is totally my jam.
If you've had Tazo® Tea blends you know what a bit of joy and deliciousness they are without the guilt! Tazo tea is made with some of finest quality tea leaves, spices, and botanicals to create unexpected blends, and focuses their tea around taste that delights the senses so you don't just sip, you sip joyfully. I'm such a fan of their Passion™ tea, I've had it quite a bit particularly as my beverage of choice during several business meetings, and it never disappoints! Passion™ is an exuberant herbal infusion of hibiscus, orange peel, rose hips and passion fruit flavors, and it is seriously delicious!
I love that it draws some nostalgia in me too, that excitement to chat a new business venture or network with a new friend is sparked at home since Tazo is so easy to find and carried at so many grocery stores (check it out at Tazo.com). And for all my friends who love and need caffeine in their lives there's the Zen™ and Awake™ English Breakfast blends that are just as easy to find too!
So thank you Tazo Tea for sparking a little joy in me and making me feel excited to start my hour and a half of work, after a few minutes of silence steeping a cup! And maybe you also remind me that I'm okay with my few moments of alone time and then some productivity, and life can still have a lot of joy even sans Netflix!
Get 365 Date Ideas!
We want to help you have the best date nights ever! Grab this FREE printable with 365 date ideas, a date for every day of the year so you never run out of ideas!