The Crepe Co: Provo, Utah
We enjoyed a very rainy night with one of our single friends we love to invite on dates. Yes, you read that right, sometimes we have a single friend or two tag along. I feel strongly about keeping your friends no matter what state of life you or they are in, and luckily I married someone who feels the same! We have a standing invitation to our single friends to invite themselves over for dinner or to tag along on a date, and you know what, a lot of them do!
When we heard we would be in Utah we had to see our favorite singer/songwriter Catherine Papworth. I love this woman, she's probably the coolest girl in the history of ever. I love her voice, I love that she has two songs about us, I loved teasing her about being fan-girled since she has a song on this year's EFY CD, I love that she gave us our favorite wedding present, I love that she inspired the name of our blog, but I love her sense of humor and heart even more.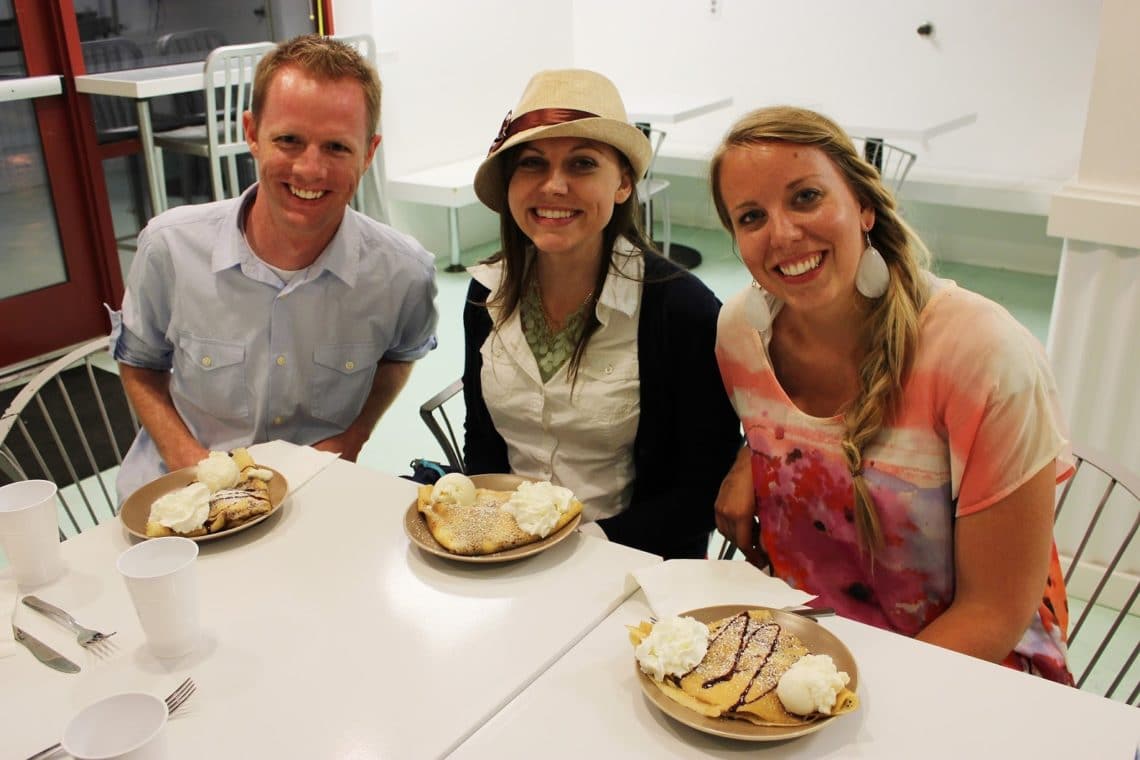 We decided when she was out of a concert, a late night crepe run was in order, and thus we discovered The Crepe Co in Provo, Utah. I loved the hipster ambiance, but I loved the crepe even more!
Catherine got The Cookie Monster, and she broke her organic vegan diet for what was described as "a party in my mouth". I was boring, I went with Notorious Nutella, because Nutella and Bananas are never wrong. Jacob got the French Kiss, mostly because he wanted to try to embarrass me and make awkward statements about French Kissing, asking the poor girl working how she felt about French Kissing. It was actually quite funny. She told us a bunch of stories of guys she has seen hit on girls ordering this. Too funny. Oh Provo, some things never change!
Verdict- winner! What a cool date spot- responsibly priced, great atmosphere, and best of all- delicious crepes!
Get 365 Date Ideas!
We want to help you have the best date nights ever! Grab this FREE printable with 365 date ideas, a date for every day of the year so you never run out of ideas!