At every new developmental phase I think we have now reached the cutest phase our baby could possibly reach, so I may eat my words on this one, but I'm pretty certain the four month mark is where it's at! We made it past the I-hope-I-don't-breathe-wrong-and-kill-you-fragile-newborn fearful stage, he's learned to eat pretty efficiently, he smiles, he coos, he holds hands, he has some chubby parts that are darling, and he's learning new things everyday! He's still too little to be mobile and into everything just yet, but we know that's coming soon and we're bracing ourselves, soaking up this cute time while we can. I absolutely can not get enough of his learning to babble, learning to roll around, and learning to inspect the world around him.
One of the funny things I've noticed is he has a lot of his best learning and development moments right after he wakes up. Jacob has nicknamed him "100" because he goes from zero to 100 in no time flat, and there's no in-between! He's either happy and calm at a zero, or super inpatient and screaming at 100. Luckily we get more of the former, and luckily we have a great baby monitor that lets us watch our little guy learn and grow during those first cute moments he wakes up. Without it, we'd think he was out cold until we heard the "100" kick in.
I love that our VTech VM343 makes keeping an eye on baby super easy with a remote pan and tilt camera and 2x zoom. There's also automatic night vision so we can see him clearly in the middle of the night. We can zoom in on the cutest moments and never miss a detail or expression due to the full-color, high-resolution monitor. The digital transmission also ensures all videos are private and secure, which was a big thing for me, I wanted our moments to be our moments without worry.
At four months old I'm enjoying it all the more. I keep catching him talking to his mobile, playing with his little fingers, trying to figure out a pacifier, and a myriad of other darling baby behaviors. One of my favorite things has been watching him discover his feet this week. He's obsessed, and he's always staring, holding, eating, or talking to his feet.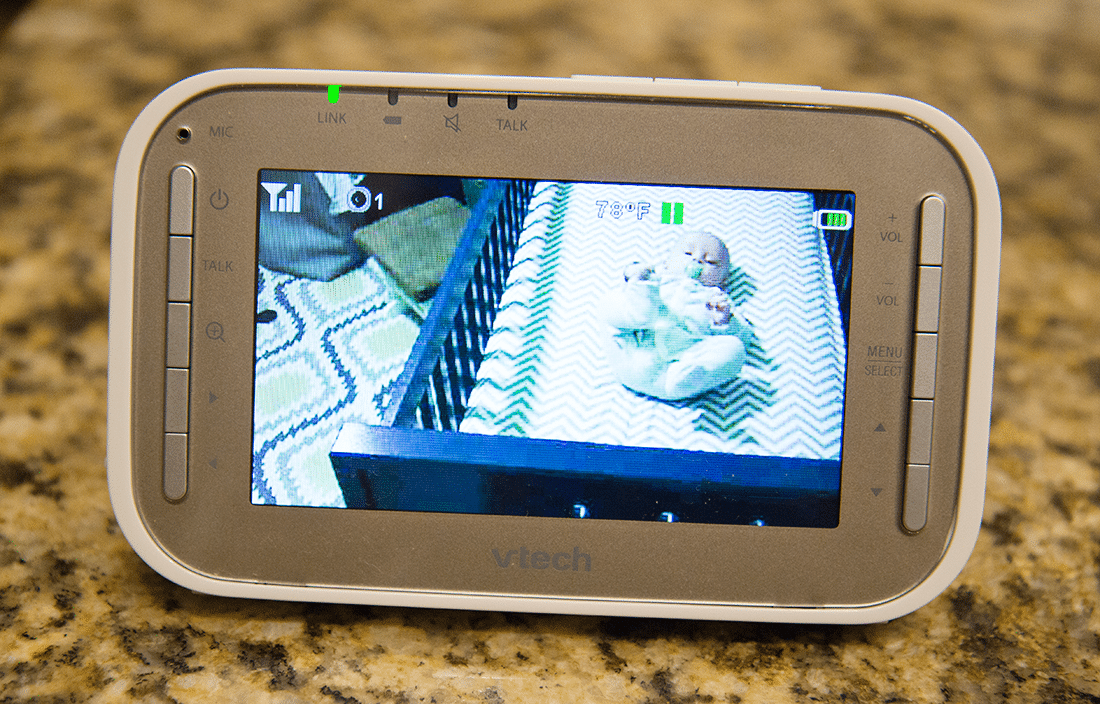 I laid in bed laughing this week as I watched him wake up and slowly unravel his swaddle to uncover his favorite prizes.
[youtube https://www.youtube.com/watch?v=5gY1lbljbxw]
I'm also kind of swooning over the cuteness I get to see with his big smile every time his favorite guy goes into his room to get him, or the tender moments of dad comforting him with just a touch.
I know in two months I may sound like a broken record, but I just can't imagine a cuter phase than the one we are in right now, and I hope I have even more issues with phone storage due to these feelings!
I was selected for this opportunity as a member of Clever Girls and the content and opinions expressed here are all my own.
Get 365 Date Ideas!
We want to help you have the best date nights ever! Grab this FREE printable with 365 date ideas, a date for every day of the year so you never run out of ideas!