The Perfect Bag for Every Role I Play- and a Giveaway!
Does anyone else have a nearly impossible time finding the perfect bag? I like to only own a select few, and I like to find one that works for all the different pieces of my life. That can be a challenge because I feel like there are a few roles I play and each one needs to be accommodated. These include:
1. A girl who likes to be prepared
I'm someone who hasn't had a small purse in years. I blame my endocrine issues, but I'm always thirsty, and I typically carry a 32 ounce water bottle with my wallet, phone, keys, and a bag with lipstick and lotion at all times. I like to have enough space I can throw in a book because sitting without something to read is a tragic experience in my book.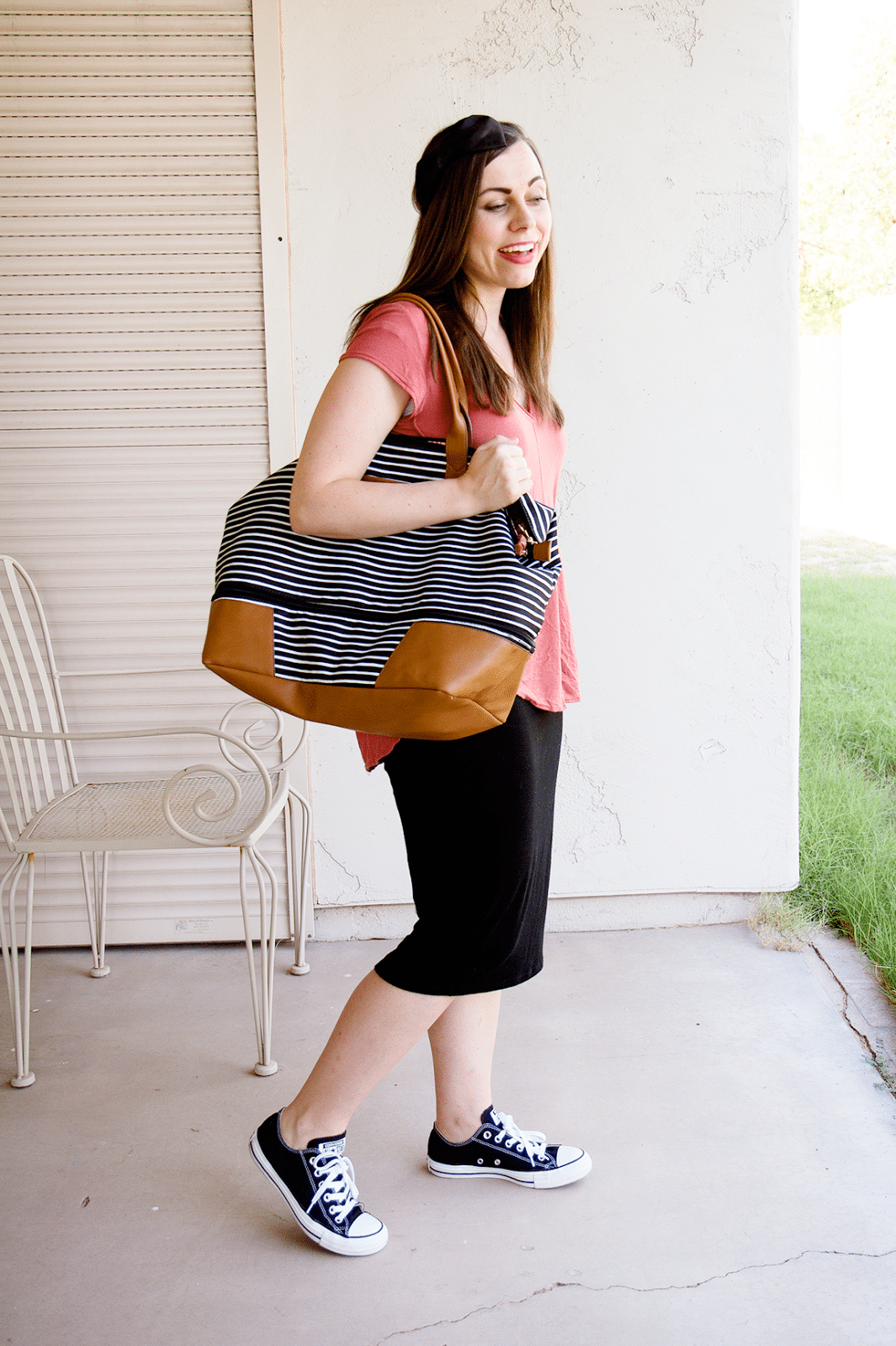 2. A mom!
I like the diaper bag and all, but sometimes I need a stylish bag with my items as well as my baby's necessities. Something that holds diapers and wipes and a few books and toys in addition to my stuff is such a great find and something I look for in a bag.
3. A wanna-be fashionista
I'm not a style blogger, but I tried to be in a former life. I love clothes, I love fashion, and I love my own quirky brights meets business prepster style. Sometimes the bag is what ties it all together for me, and finding a cute print and the ride shape really can make an outfit!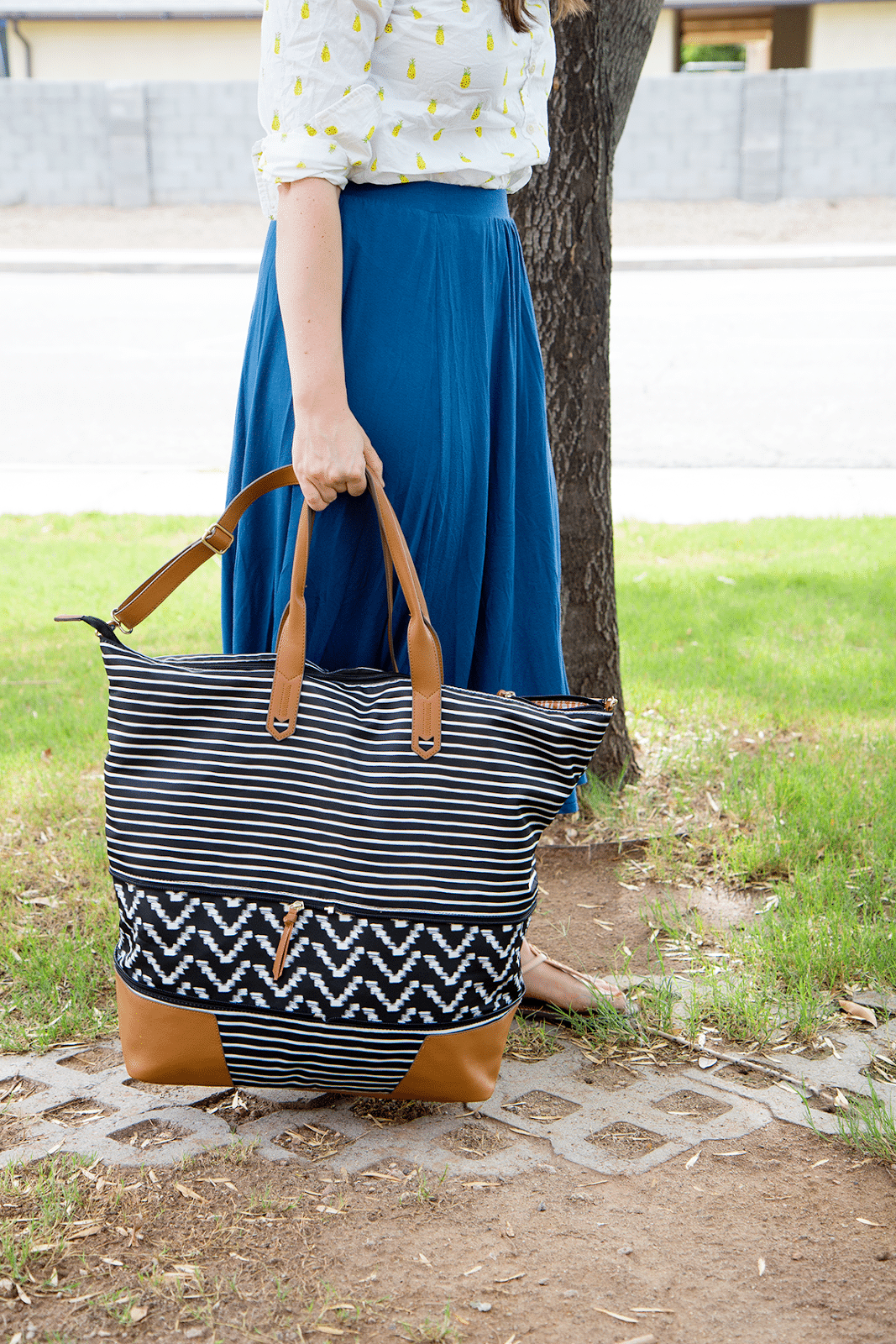 4. A blogger
I own it, I blog pretty regularly and most my posts are lifestyle about what we're doing for dates or family activities. I lug a DSLR with my half the time, and I need a bag I can fit my camera and maybe a tripod in comfortably. I also sometimes work from random locations, and if a bag can fit my laptop, it gets double the kudos.
5. A consultant
It's amazing to me that I still get to use my degree and my internet marketing knowledge from time-to-time. This often means getting down to business with a laptop, business cards, and sometimes my camera. I love having a bag that's professional and polished and hold all my work items.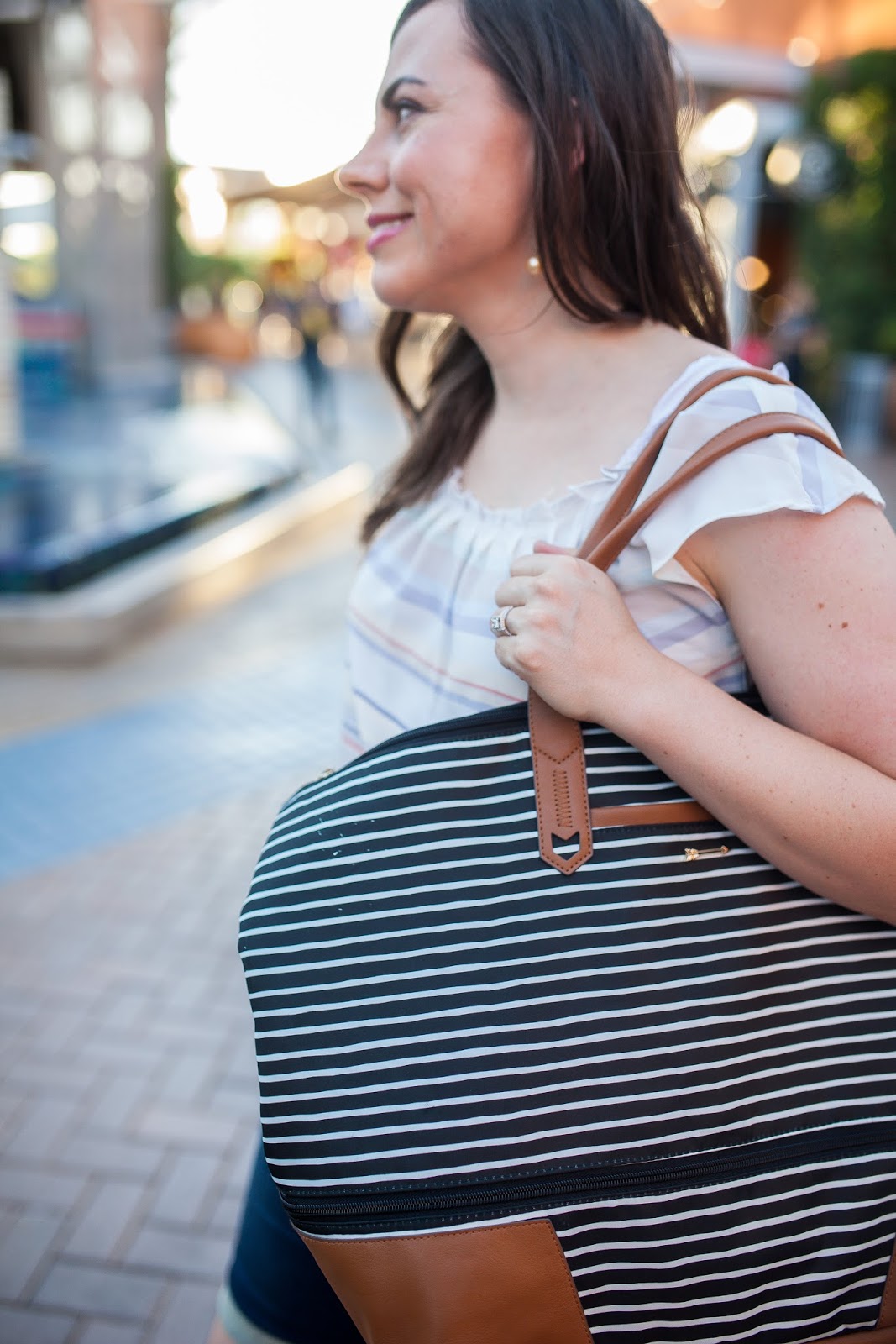 6. A date night enthusiast
Remember how we go out at least once a week? Sometimes it's just to Taco Bell, but more often than not it's out on an activity, out to try a new exciting restaurant- and if you've been a reader for a while you know pretty much everything in-between! Can we have fun and make a memory with it? Great, it's a date! This sometimes takes a bag I can lug date items with. Maybe it's the laptop for a movie in the park, maybe it's picnic food, maybe it's sporting equipment- I just never know. I love when I don't have to pack a second bag though and can fit it all in mine. Plus the camera, it's always coming with us and needs to fit discretely in a bag for dates- that's the number one thing I think of when I'm looking into sizes and shapes of a new purse/bag!
7. A weekend traveler
Yes, we love our international trips we take every year, but we also take domestic trips pretty often too! Sometimes it's an Arizona getaway, but due to frequent flier miles from Jacob's job, we often get to spend the weekend in a fun new place. I love packing light, and I love when I can fit everything in a tote for easy flights or easy road trips.
Clearly I wear a lot of hats, as I'm sure most of you do too! One would think that maybe a bag for each is necessary, but I love when I can find that Sisterhood-of-the-traveling-pants one-size-fits-all unicorn that works for at least most of these roles.
Queue the magic bag! I've literally looked at Stella & Dot bags often and thought how cool they are, but never made the plunge and bought one I've been eyeing. You can imagine my excitement when one of their sweetest and coolest stylists reached out asking if I'd like to team up for a giveaway. I was like, ummmmmm, can a bag be involved? So this bag c/o Stella & Dot is making my unicorn dreams a reality.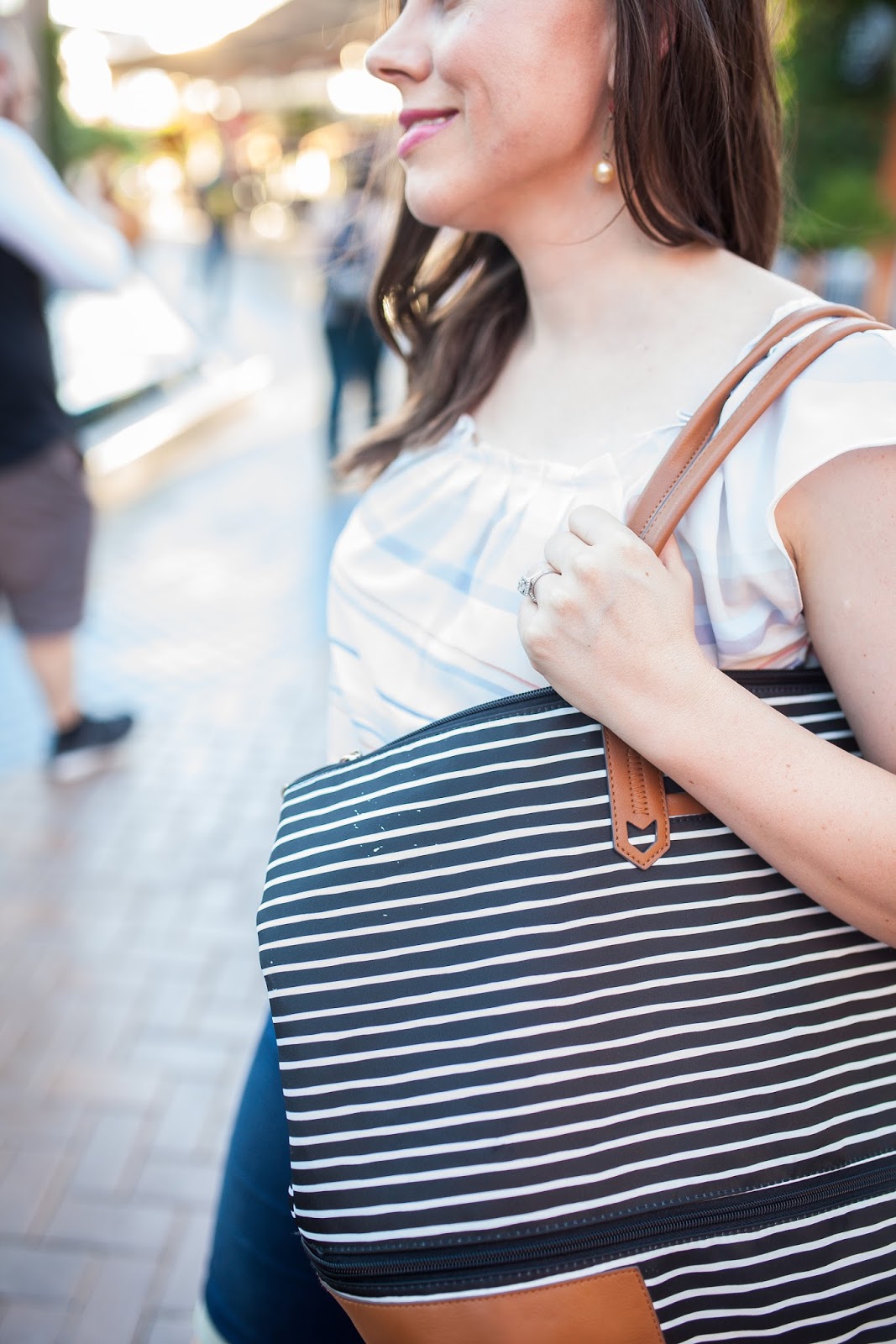 The pics above show me wearing it ready for the movies, snacks secretly stashed and a camera read to capture a few pictures to document the date. I'm also ready for a casual play date, funny face made at baby and all!
There's also a weekend getaway outfit with the cute stripes and chevron patterns to match everything I'm doing while out of town. And did I mention it has all my clothes for the travels too? It unzips for even more space, so it's title of a "Getaway bag" really does it justice!
If you need a jane-of-all-trades bag like I do, I can't recommend the Stella & Dot weekender bags enough! They are worth every penny, high quality, stylish, and they fit whatever you need without feeling too large.
Here's the best part, they are giving away a bag to one lucky Friday We're in Love reader! The party is happening over at Instagram this week, so head over to
—–> https://www.instagram.com/fridaywereinlove/
for a super easy giveaway all ready for one lucky reader to score the perfect bag for free!
*photos out on date night captured by the lovely Chrissy of Let Me See You Sparkle Photo
Get 365 Date Ideas!
We want to help you have the best date nights ever! Grab this FREE printable with 365 date ideas, a date for every day of the year so you never run out of ideas!