The Perfect Black Friday Outfit
This is the part where I make a huge confession: Black Friday is one of my favorite holidays. It may not be an official holiday, but it sure feels like one in my family! We all love good deals, we love plotting routes, and we love spending time as moms and sisters. It's really a fun event and even if one of us already has our holiday shopping done, we still attend just for the fun girl's day out experience it becomes!
So I've been doing this for years, and I've learned that the perfect outfit is crucial. I miss the good old days when waking up at 3:00 to get in line was what you did, and I have to admit I am not a huge fan of Thanksgiving being creeped on. However, as much as I wish it wasn't this way, it is, and it's caused some plan evolution. We go out after we get Thanksgiving dinner cleaned up, and start with an early evening for the stores that open at night. There's another wave of stores that do midnight shopping, and we head there for a little bit. There's also some online shopping somewhere in the mix from various locations- often my parent's couch before a quick nap. Last but not least, there's the classic Black Friday openings at 6:00 AM, and some of those happen to be my favorite! It's about a 15 hour event that involves being ready and dressing for Thanksgiving dinner and all that entails, standing in lines in the cold, lots of walking and adrenaline rushes, and a few hours of sleep here and there. And you'd better believe pulling together an outfit that works with the perfect pieces for this marathon of a half day is really important!
I need something comfortable for over-stuffing at Thanksgiving dinner, easy to layer with options to keep me warm when I'm out in the cold, or easy to remove when I'm sweating from the stress of finding the hottest toy this season. I also need something that's so comfortable I'm completely happy to fall asleep in, but still looks put-together for all the shopping endeavors and inevitable family pictures during Thanksgiving.
So here's this year's look, and a few pieces that really go the distance and meet all the above requirements!
The world's most comfortable leggings from Cuddl Duds are the staple of my cozy outfit! They have just enough structure but feel amazingly comfortable and soft and I'm pretty much ready to ditch all my pajamas and start sleeping in these amazing leggings! They're easy to find at Macy's, which happens to be one of my favorite Black Friday locations.
I add a few other cozy layers like a long sleeved layering shirt, comfortable boots, and a trendy cozy vest to top it all off.
When I make sure comfort is a top priority and pull in a few trendy pieces, it's amazing how great I feel, and how much ground I'm able to cover and accomplish
I love that I can marathon shop, nap, and feel put together all day and night, and come home ready for even more coziness with snuggles from my favorite baby.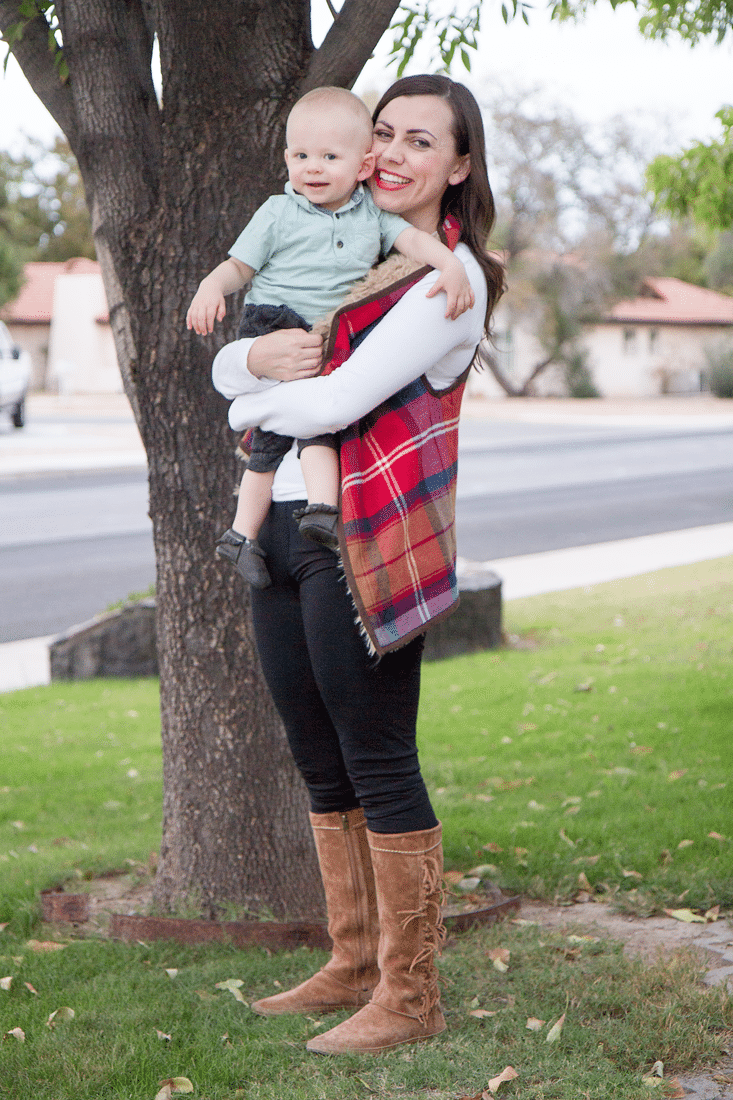 Get 365 Date Ideas!
We want to help you have the best date nights ever! Grab this FREE printable with 365 date ideas, a date for every day of the year so you never run out of ideas!