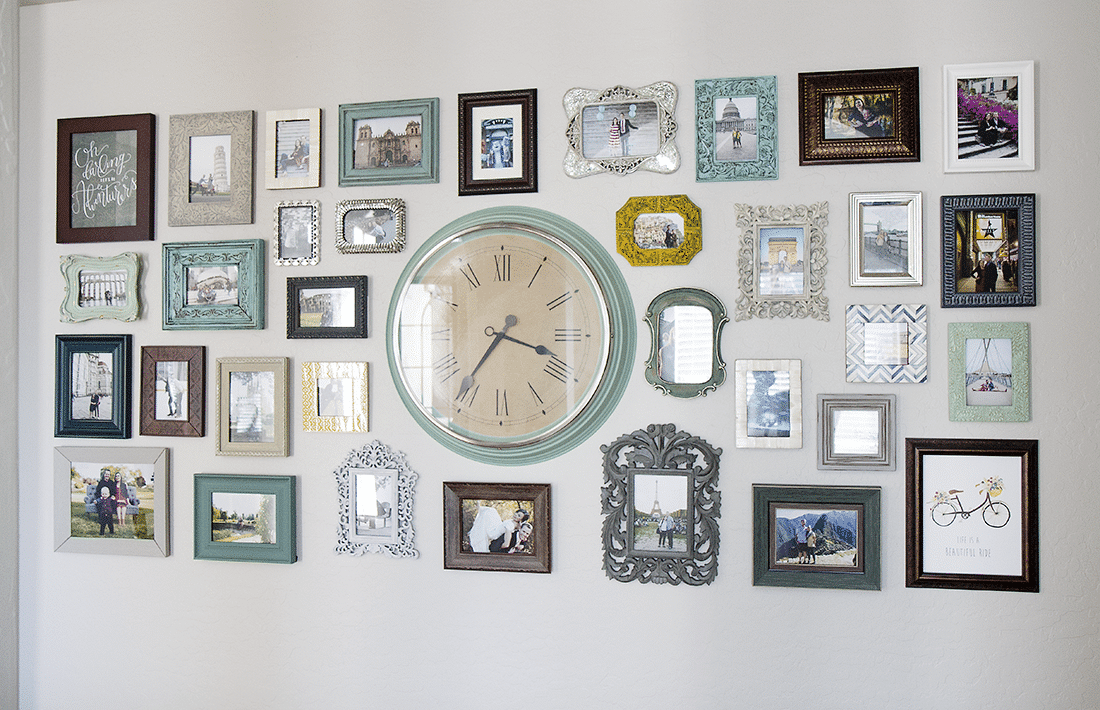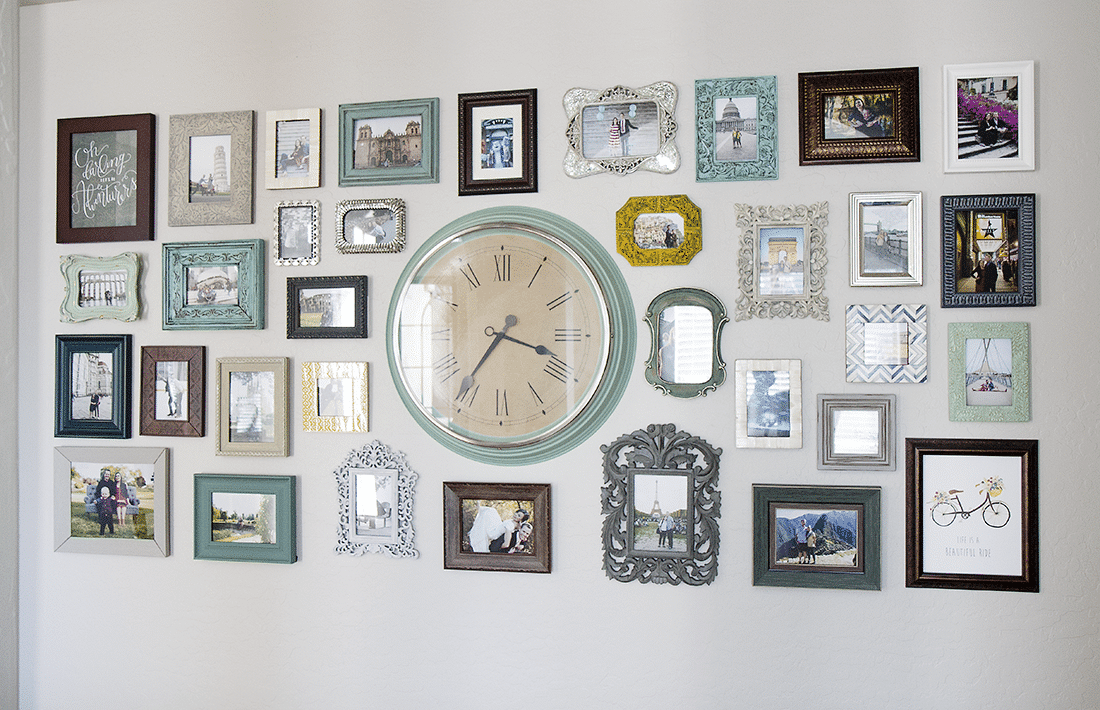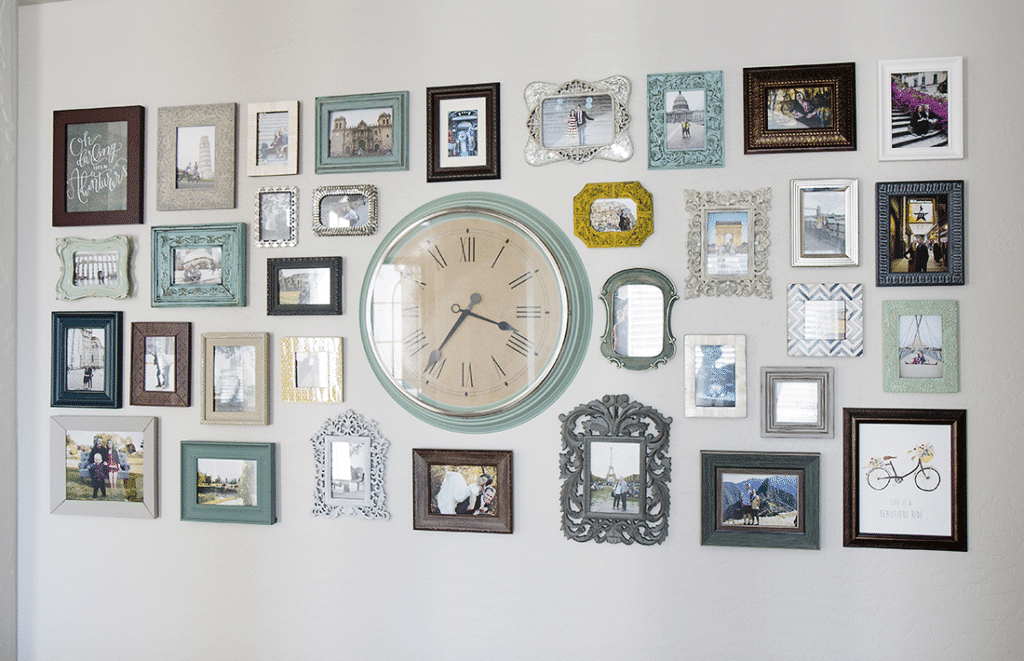 We decided this was the year to get our act together and start to make our house more like our home. We loved moving into a pretty ready-made house that didn't need too many updates or projects, but when we combined that with being very pregnant and then new parents, we kind of found ourselves lost in everything being fine and complacent with bare walls and a good-enough house. It just hasn't really ever felt 100% like us, and so this year was the year we decided we would finally buckle down and invest in decorating and beautifying the home. I've been trying to get inspiration since we moved in, which was very difficult after being used to areas that needed a complete 180 remodel, but I'm learning to look at a clean canvas with new eyes this year and come up with projects that feel more like our style- not to mention defining a style. The front entry way of our home and visible rooms were particularly challenging, I call those the bonus rooms we never planned on having. Our old home had a kitchen, living room, bathrooms, and bedrooms. To have all that plus a large open loft, a large hallway, and an office right as you walk in the door felt like bonuses that we had no furniture and or decor to work with. And for a year they have sat empty, or there's the one ugly couch I wrote about in the DIY Faux Brick Wall post. We started with the DIY Faux brick wall once I started to get some vision of what I wanted, and I can't wait to go from here!
The one thing we had a semblance of before we moved was a gallery wall I had started in our old home and finished just as we decided to move. It was small and had a few pieces, but I figured I could take that start and really expand it to fit our space.
I'm not always a fan of gallery walls, but I've learned a lot about them in the process of making one, and what makes one you personally love.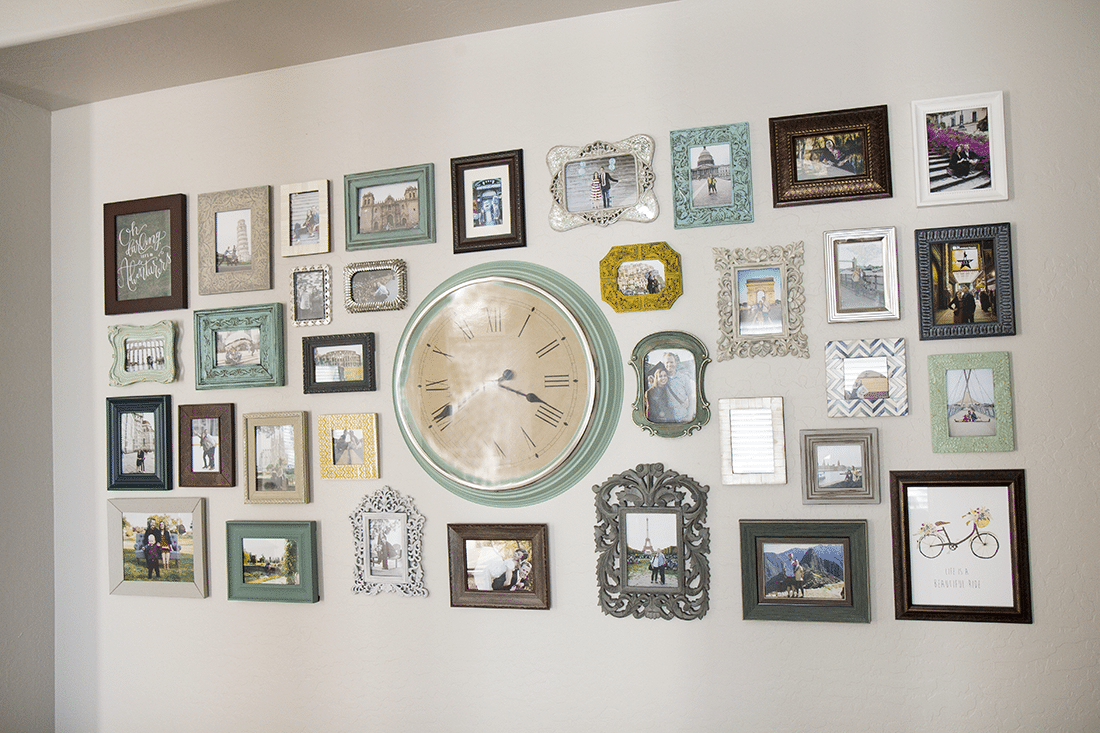 Namely, starting with pieces you adore and adding as you go. I love turquoise, always have and always will, and a clock started this whole process complimented by a few purchased frames and a few hand painted frames. I then decided to bring in some earthy browns and some bright silvers. It went from there, a few pops of yellow and unexpected textures added to the mix. I went to several different places for frames and I had the layout of the frames on the floor in the front room for weeks while I put the project together. Once I finally felt like I had it, we transferred the vision to the wall and even then realized we needed a few different print layouts and sizes. It worked in our favor because this wall is meant to be a gallery wall that represents our favorite activity- travel. We've been lucky to go so many places and do so many things and each photo selected for the wall is a very happy memory. We mixed in a few family pictures that we'll replace as we continue to travel, but for now, figuring out that a gallery wall should be all pieces you love, colors you love, different textures, and something meaningful to you is an accurate representation of our front entry hall.
Info/Links to Frames (and Similar Frames) From Above
1 Oh Darling Let's be Adventures Print, Wood Frame
4 Hand painted frame (thrifted and painted with this paint)
6 Painted textured frame (thrifted and painted with this paint)
8. Mirror Textured Frame– (original from Hobby Lobby)
9. Teal Frame
14. White Wood Frame
15. Painted Wood Frame (thrifted and painted with this paint)
16. Metal Vine Frame
18. Turquoise Clock
21. Painted Texture Turquoise Frame
23. White Frame
24. Yellow Painted Cut Out Frame- (thrifted and painted with this paint)
27. Blue Striped Textured Frame
28. Apparently, I hate this number and didn't assign it…
29. Teal Shaped Frame- Home Goods lucky find
35. Teal and Brown Blend Frame
36. Life is a Beautiful Ride Bicycle Print / Wood Frame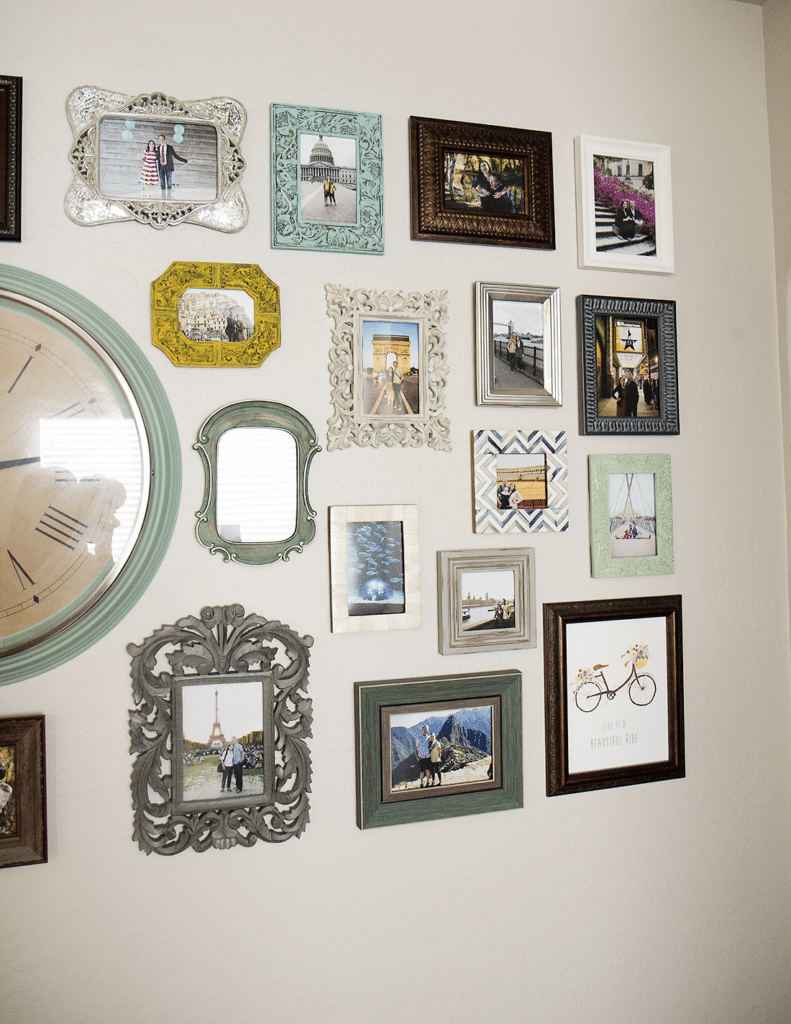 Maybe my favorite part of all is watching how much my toddler loves this wall. He asks to be picked up and to stare at picture pointing out "mommEEEEEEy" and "daddddEEEEEEy" and even himself each time. I'm glad we have a place to tell tales and also enough room to remind us our adventures have only just begun!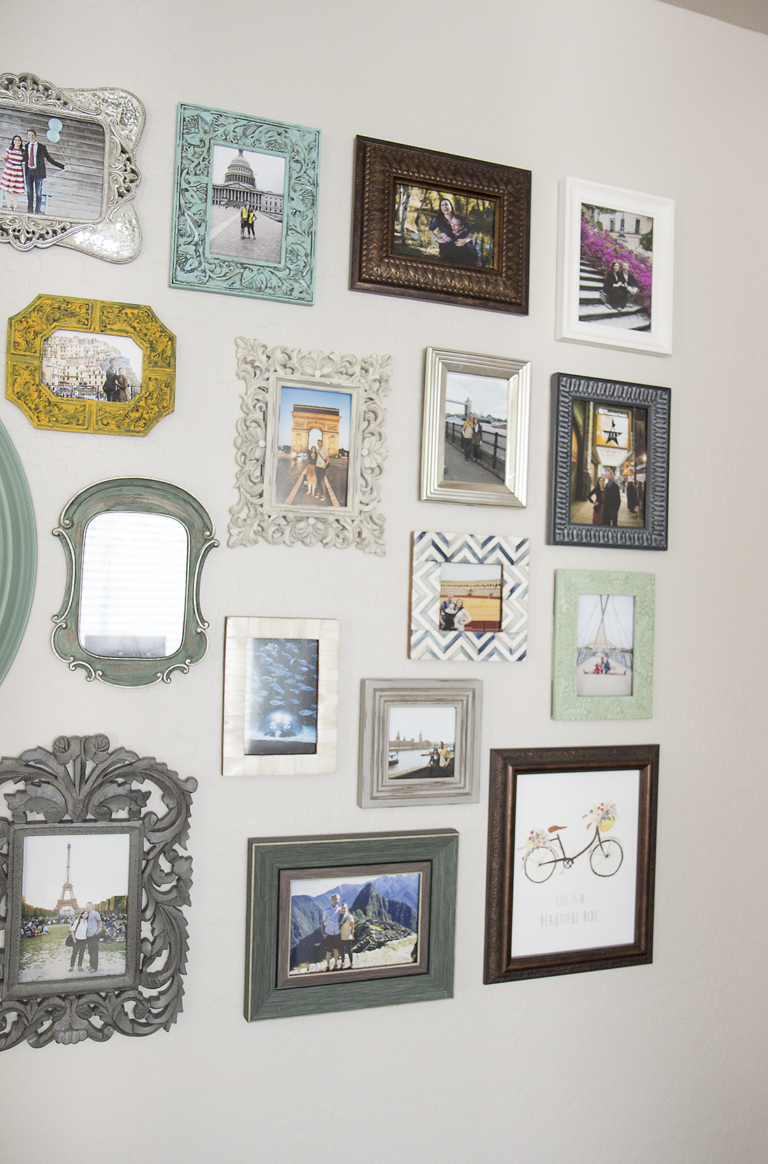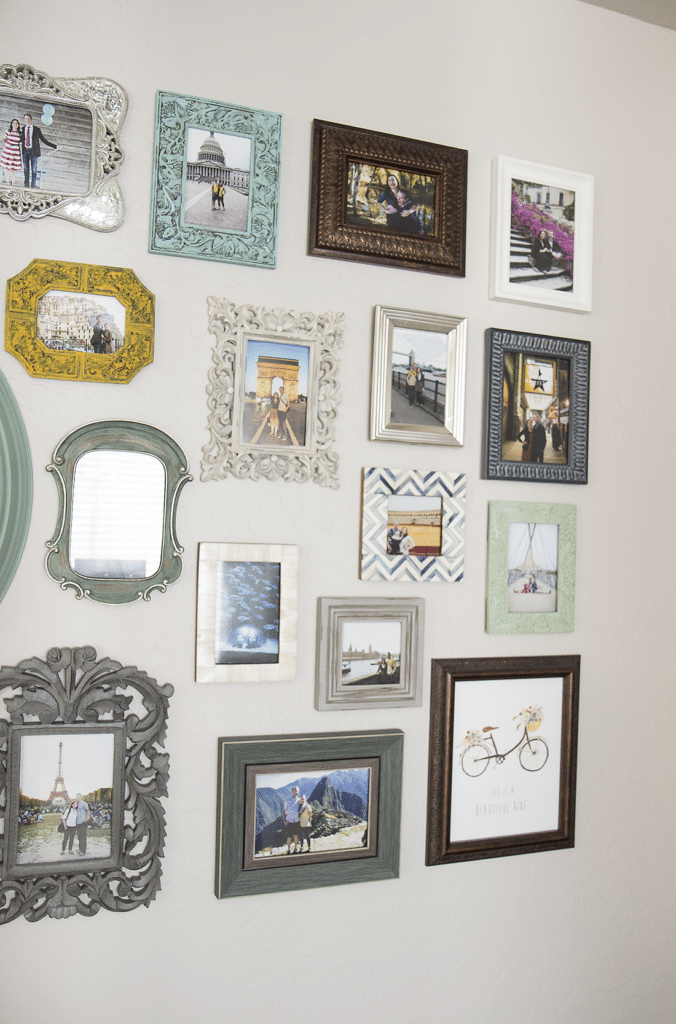 *This post contains affiliate links
Get 365 Date Ideas!
We want to help you have the best date nights ever! Grab this FREE printable with 365 date ideas, a date for every day of the year so you never run out of ideas!