Want to know what question I get asked a lot that I've never answered or blogged about?
What was your first date?
I am hesitant to answer this often, because of all the things we've done in our time together, of all the cool activities we did as friends in group settings, our first date seems a little lame.
I'll come back to this opener, I promise, just stick with me here.
The second question I get most often is how we met. Answer: a lame church dance neither of us wanted to go to. We were the wing-man and wing-woman for friends. I tried to assert myself with the occasional banter as the 3rd wheel to a friend and a guy who seemed to mutually be digging each other. I don't know what I said, but I was trying to be funny. I heard a witty reply to it from behind me, turned around, and even in the dark room I could see a tall, skinny, smiley man. This took me back, as my perception of funny guys is they typically developed-an-awesome-personality to compensate for lower self-esteem in another area. At least that was my story in junior high, "Well self, we're going to have to learn to be funny, because people just aren't going to come flocking to that weird cowlick and large set of thighs." Surprisingly, I had great self-esteem growing up. I just saw this as the reality of life. The really beautiful people often don't develop the funny personality because they get attention without it. Every now and then, you find either a late bloomer or someone completely oblivious to their looks who think they need to develop a stronger sense of humor, and I was pleasantly surprised the night I met Jacob that he fell into this category.
We talked all night, he committed me to going to his church the next day, and he made sure to save me a seat. I went home thinking how I didn't hold back an ounce of my weirdness, and he stayed. I've never clicked with anyone that fast in all my life.
The story stops there, because that's how we met. But I love how almost everyone I tell this story to in person adds, "And it was happily ever after from there." I kind of do that weird head scratch thing I do when I'm not sure what to say. But I usually add, "Well, after 4 months of drama, each of us was convinced the other person was in love with or dating someone else, but somehow miraculously stayed friends. There was also a moment where a friend asked Jacob his feelings and he tried to play it cool which made him come off as a total jerk using me, a month of me avoiding him, a strong spiritual feeling I still needed his friendship in my life and to be nice, and several weird months of kind of dates later, there was dating. It took close to a year to get to this point. Dating also involved a lot of conversations and hard moments dealing with my abusive past, my lack of belief in love and marriage, and a lot of hard work with him at his first job working grueling hours. As well as me teaching by day and getting an MBA by afternoon, evening, all hours of the night, and also the weekend. There was a lot of figuring out how two independent upper-20-somethings make room in their lives for someone else.
Let's go back to our first date. I was just getting into the phase of feeling like I should be friends with Jacob, after some heartache feeling like he never liked me and was just using me because he liked the attention. I had just barely let him in as a distant friend, so when he told me he wanted to chat about someone he was concerned about, I didn't think he was asking me on a date. When we walked into a nicer restaurant, I still didn't think it was a date. When he picked up the check after dinner, I thought, "Wait, what? He's never done this before!" I think that was when I realized we were alone, not with a group, and that he'd even picked me up at my house. I only half thought it was a date. And then when he suggested we go to a movie, I raised one eyebrow. When we got to the ticket counter, and he paid for two seats it hit me, I was on a date. It took almost two hours into our first date to realize we were on a date. I apologize at this point for all hopeless romantics whose jaws are dropped at this point. It is very true, I had no idea we were on a date until it was more than half over. It was incredibly lame as far as dating stories go.
I'd also love to tell you we went and saw an epic movie together, one that will date a year and will go down in history. I guess that could be true if you're a legit Michael Jackson fan. But really, "This Is It" will always be a sweet memory of a movie with a nearly empty theater and two people laughing pretty hard at some of funny things MJ said and did during the filming and maybe some sing-along/dance-along moments happened too.
I've thought a lot recently about how to try to give readers that story of epic meeting, hard and fast falling in love, and a very romantic courtship, but the truth is, it just isn't there! We're kind of lack-luster romance story. The two people who go on a romantic date each week and really are blessed with a great marriage have a very un-romantic story.
The more I reflect on this, the happier my meeting/first date story make me. It was just all kind of lame and calm. Why would that make me happy? Because I realize what a power there is in lame. It doesn't have to be the greatest pick-up line at a grocery store, or an epic blind date, or serving together in the Peace Corps in a 3rd world country. It can be a mundane dance wearing t-shirts and jeans, and the love of your life can just show up. You don't have to know they are for you when you meet, it can take months to even figure out if you should go on a date. That can still make someone right for you. Skydiving, cooking-classes, and dinners at hip restaurants are wonderful and exciting first date stories. But a trip to a movie theater to see a low-grossing movie can also yield the same spark of love. And, if you don't even realize your first date is a date, that's totally fine too. Love really does often hit when we least expect it, where we least expect it.
I love that love finds us in the right places at the right time. I love a good story as much as the next, but I also love that we're writing an exciting story together now. Life isn't a romantic comedy where it ends at that exciting first kiss or a proposal. Real love comes from some pretty mundane, lame moments. It's the moments where we do chores together, talk about our weaknesses and fears, or even help clean up barf from the flu that I see that real love is just beaming through life. Those lame moments that you don't typically share with others, those are where the true love and romance are. And so friends, there are the top questions I'm asked, and the answer is something I think just took some time and maturity for me to realize. We have the lamest, most beautiful love story in the world, because it is real, and because it is ours.
The older I get, the more I continue to realize just how beautiful the powers of lame are.
….and how dated using the word "lame" makes me. So here's your reward for reading an absurd amount of the word "lame"- a few pictures of awkward almost-dating, and just-barely dating baby Camille and Jacob!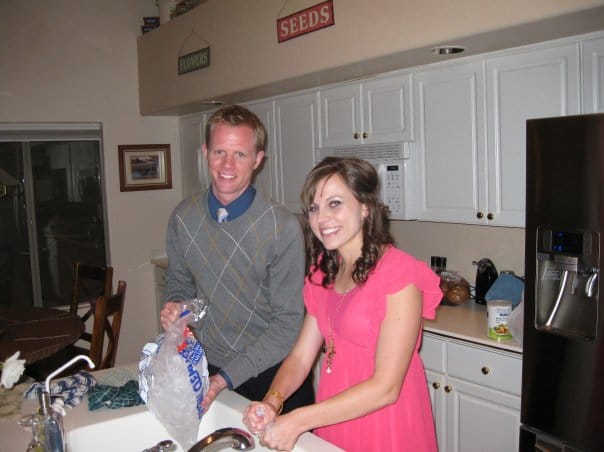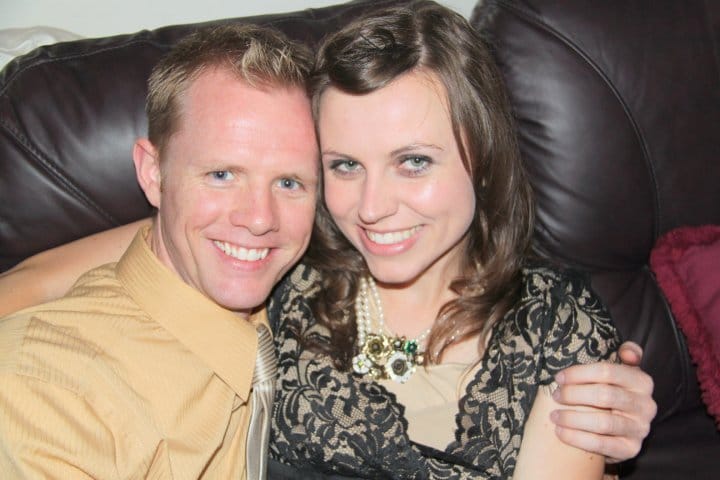 *Our friends had a thing for formal dinner parties, and consequently that's when we took pics!
Get 365 Date Ideas!
We want to help you have the best date nights ever! Grab this FREE printable with 365 date ideas, a date for every day of the year so you never run out of ideas!