Tips for Holiday Travel for Families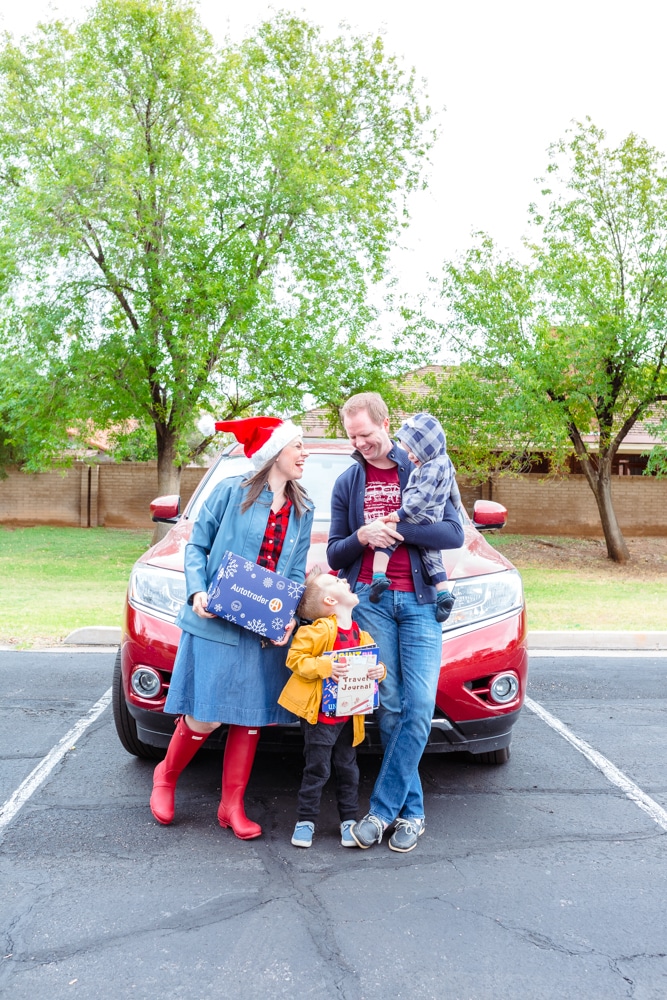 This post is sponsored by Autotrader; however, all thoughts and opinions are my own.
'Tis the season to head home for the holidays! Or at least head to the homes of family and friends for holiday visits.
With family all over the state and quite a bit of family out-of-state, we have done our fair share of holiday travel! Before children, it felt like a fun adventure together. Since becoming parents, we've learned it can take a little preparation, and sometimes you need the best holiday travel tips and tricks to get you through!
There's nothing like that special holiday time together, but if you're ready to prepare for the holiday trip, here are our top tips for holiday travel, particularly when traveling with children.
Start With a Good Attitude
It never ceases to amaze me how much the attitude of parents impacts children! If we're dreading something, inevitably our children pick up on the attitude and mimick it. When we go in with all the good vibes that it's going to be a fun, safe trip, our kids pick up on that too! I love starting off with a fun road trip song to pump us up, and I talk up the trip the entire time we prepare and load up the car. It makes a huge difference!
Snacks
Snacks will be your best friend throughout the trip! Even if the trip is only two hours, I'd still plan for snacks!
Let me suggest plenty of healthy snack options, so your kids feel well and healthy while you travel. But also, a few treats can go a long way! Plan a variety, bring something novel and fun, and let your kids have some say in snacks packed. In the greatest moment of need, you will thank yourself for keeping a snack variety on hand!

Bring Entertainment in All Varieties
When our kids are home, they love to switch up what activities they do and toys they play with often. Yet somehow we sometimes expect them to do the same thing for hours. I've found a mix of coloring activities, road trip games, audiobook listening, movie watching, and sticker books can be just the ticket! A new activity and a variety of choices keep things exciting, happy, and fun.
Prepare for Safety
There's nothing like an unexpected car problem or safety hazard, particularly in the cold weather! Most of these issues can be prevented, and Autotrader has an excellent list of road trip tips including safety tips in this article. Also, their article on the best family-friendly car features for road trips is a great resource too!
Get your car serviced, plan to avoid distracted driving, and make sure safety is top of mind!
Plan for Breaks
People will need to stop and use the bathroom. Children often need some time to run around and get their wiggles out. We try to strategically plan a lunch spot our kids can run around and play at. If lunch isn't in the cards, a quick bathroom stop near a park can make a world of difference!
Our baby also needs some time to be held, get out of his car seat, and get a little fresh air.
Note that kids need them, and adults do too. Build a little time for breaks outside the car into your agenda.
Include a Few New, Fun Surprises
We loved our Autotrader for this very reason! It was like the holidays came early, and there was a fun surprise for the entire family! Autotrader has made car buying easier than ever and now is making your holiday travel easier too!

Who knew a pair of cozy socks could bring so much joy for one trip? My son was so happy with his new coloring and activity book, plus a fresh set of colored pencils! There are fun ways to take pictures, document our trip, and enjoy music and podcasts on our drive. It's the perfect way to surprise yourself, and your children, to make the time on the road feel more exciting and fun.
Bring on the Silly!
We love taking a little time to play with our kids. For us, that means telling some corny jokes with a preschooler and making funny noises with a baby who is learning to talk and mimics sounds. It also means stopping at gas stations and playing musical car spots. Oh, how our boys laugh as we pretend to not understand where we sit. A few minutes of silly changes the mood quickly, and gives some quality time with kids!

Do the Things You "Never Have Time For"
I always say I'd read my kids a billion books a day if I had more time. Jacob and I often say we'd map out vacation plans for a year if there were extra hours. And guess what, a road trip during holiday travel give us that magic time to do those things! I have the best conversations with my husband while traveling. I get to know my kids better. And yes, we may read or listen to a billion books while we drive.
It's a time we shift perspective from "Are we there yet?" to the blessing it is to have time to just be together.

Make Sure Everyone Uses the Bathroom Before You Leave and At Every Stop
We keep this rule for ourselves too! Nothing kills the joy of holiday travel like having to stop a billion times. Have everyone use the bathroom whenever there's one available. That way you can use the rest of the time to focus on fun and memory-making together instead of being annoyed with each other.
Some trips go very smoothly, and some still include a few hiccups that come with the territory of having children. But we've learned preparing, planning, and going in with the right attitude make all the difference!
And best of all, I promise the road trip can be just as much fun and a great memory the same way your destination will be!
Get 365 Date Ideas!
We want to help you have the best date nights ever! Grab this FREE printable with 365 date ideas, a date for every day of the year so you never run out of ideas!