Valentine's Day Date Idea: French Cuisine at Home
This year Valentine's Day falls on a Saturday, which makes me think the world misses out on a few things:
1. High School displays of affection including oversized stuffed animals and terrible cologne in high quantities that I get to smell as I run near the high school the morning of.
2. Chocolate and flower deliveries at work. Now we have no idea whose significant other loves them the most.
3. The spacing out of restaurant dining, typically many do something small and wait for the weekend, but many also go for it the night of, breaking up the crowds for dining out on Valentine's Day.
Let's face it friends, #3 is the worst, and it scares me just how busy and unromantic it could be to go out on February 14th.
This got me thinking, why not come up with a perfect dining experience at home? More intimate, more romantic, and you won't be crammed less than a foot from another couple at a table. I wasn't the only one thinking this way, I have seven other blogging friends who shouted AMEN when I asked their thoughts, and we decided it would be awesome to show you eight menus you can make at home for a perfect Valentine's Day.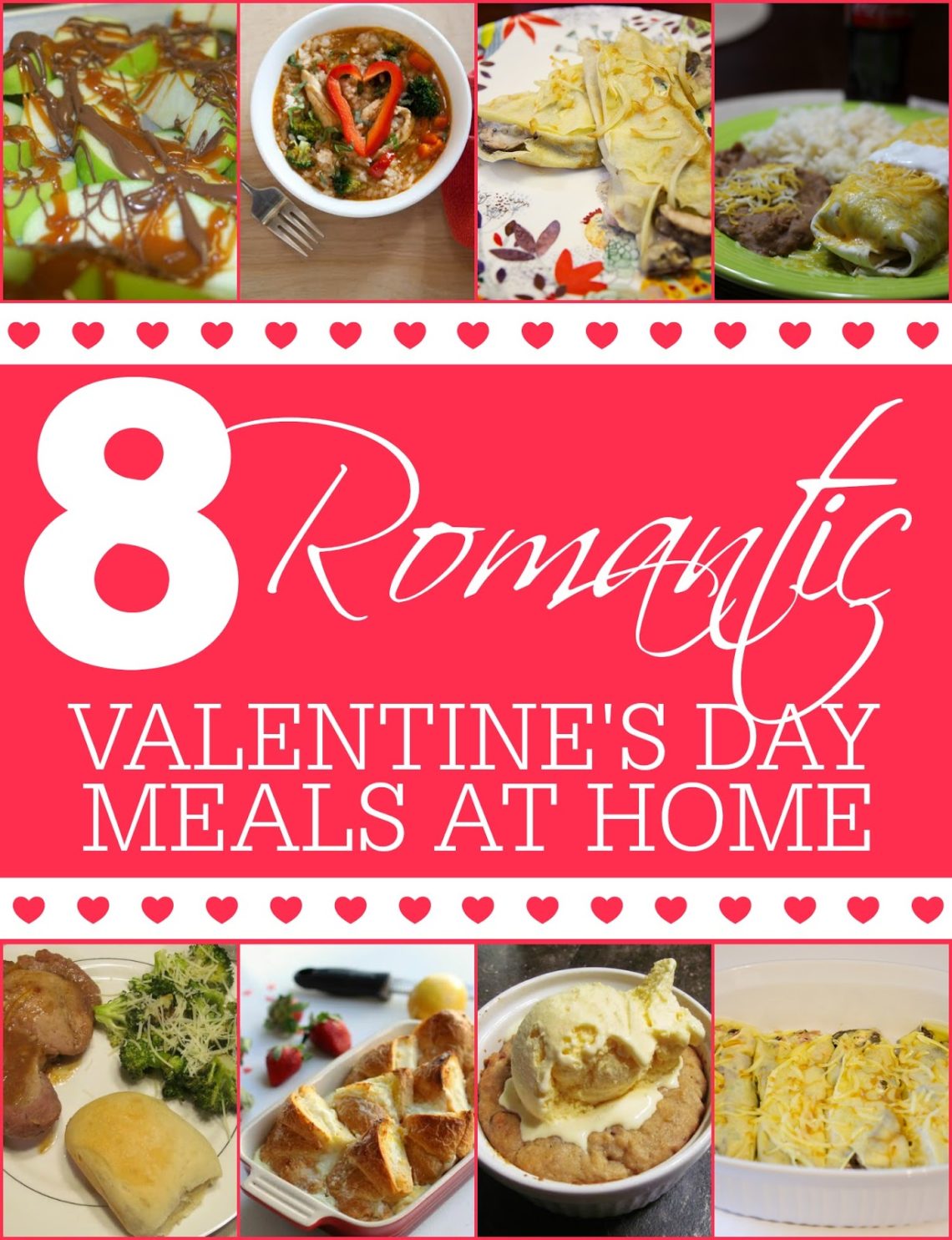 We thought about some of the most romantic meals we've had, and decided our last night in Paris watching the rain and eating savory and sweet crepes was the top of the list. We both loved a Parisian Night at Home theme, and decided what a perfect idea for a perfect romantic Valentine's Dinner!
Here's what's on the menu: 
Savory Ham, Mushroom, and Gruyere Crepes
Sweet Nutella Banana Crepes
Creme Brûlée
The best meals start with dessert, and this one is no exception! You need to start with the creme brûlée because even though it's easy to make, it takes some time to set up.
Assemble your ingredients:
1 pint heavy cream
1 vanilla bean, spilt in half and scraped
1/2 cup sugar
3 egg yolks
And here's what you need to do:
Split the vanilla bean and with a spoon scrape out as much of the soft inside as possible. Add the scraped center and bean to a medium saucepan and pour the heavy cream on top. Heat on medium high heat until it starts to boil. Watch it closely, it will boil over quickly if you aren't careful! As soon as it starts to boil remove from heat, cover, and let marinade for about 15 minutes.
In the meantime, whisk the sugar and egg yolks together in a separate bowl.
After you've waited the 15 minutes drain the bean and add the cream to the egg and sugar mixture.
Pour into ramekins, and place in a shallow baking dish. Fill the dish with water so that the ramekins are about half covered with water.
Bake for 40-45 minutes on 250 degrees. It should be set up but the middle should still jiggle when you shake the pan. Take them out of the pan/water mixture and put in the refrigerator. You'll want at least two hours to set it up, and you can leave it in there up to two days. We put them in the fridge and start the rest of the meal.
When we were in Paris we couldn't get enough crepes. They are a staple, and savory and sweet crepes are available at every meal in pretty much every cafe. The moment we decided a French themed meal was perfect for Valentine's Day we knew savory crepes were a must.
Here's what you need for the crepes:
Crepes: (15-20)
3/4 cup water
3/4 cup milk
3 eggs
2 TBSP melted butter
1 1/8 cups flour
Put all the ingredients in a blender and mix well.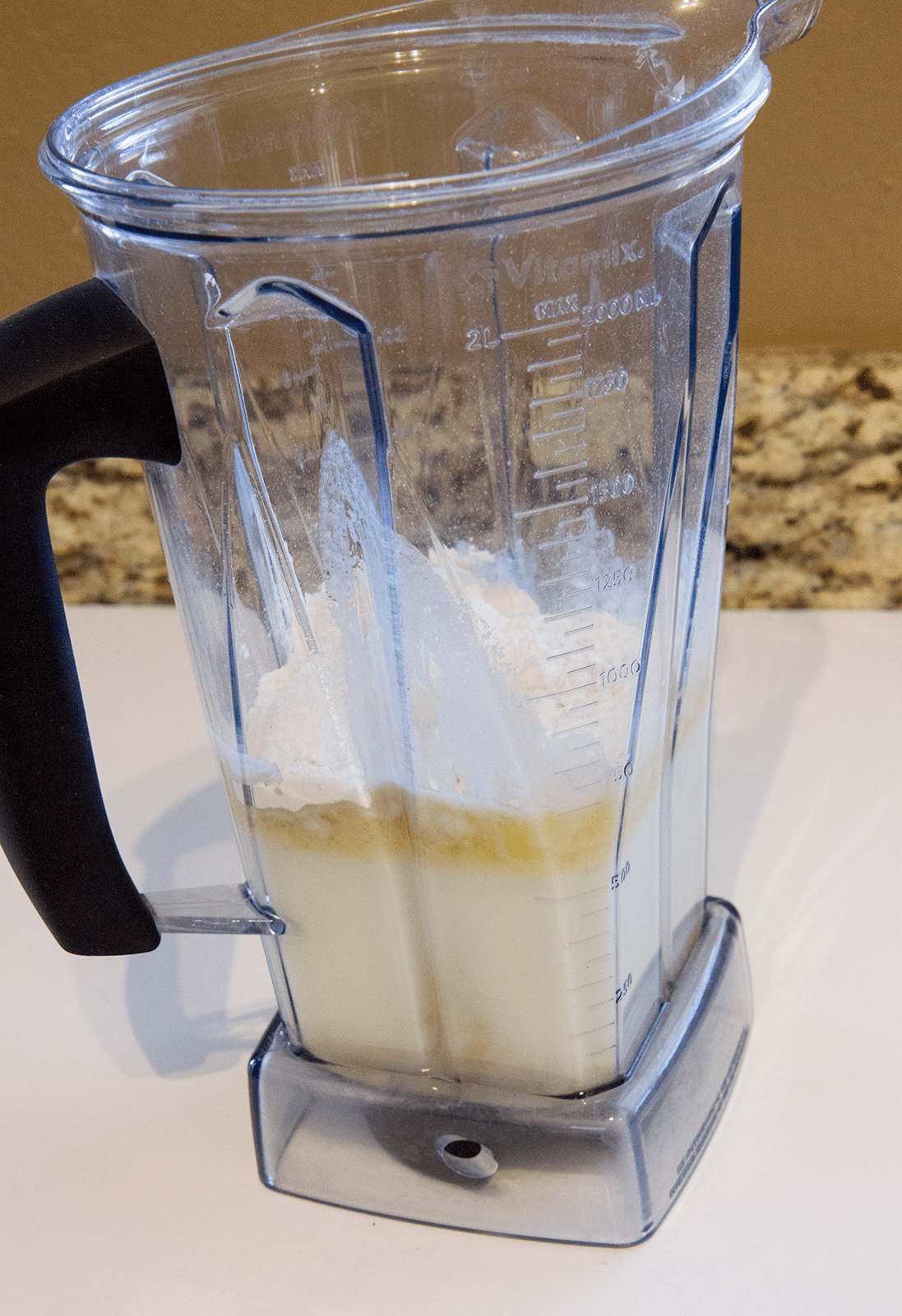 Also it doesn't hurt to have a Julia Child quote in your kitchen, it will help you gain any additional inspiration you need at this point.
We put the batter in the freezer for about 10 minutes to help it set up, it definitely makes the cooking process smoother.
Confession, we have a crepe maker that makes this process very easy. Don't fret if you don't have one, you can make these pretty easily in a basic frying pan. I found a great tutorial on The Food Network if you need it. We waited for this step until the filling was complete, but if you want to do it first you are more than welcome.
Let's talk savory fillings! In Paris we found any combinations of ham, chicken, vegetables, egg, and in each there was cheese. I can't say it enough, get good cheese and you'll love your crepes! Feel free to get creative with your fillings, but here's what we did and it was DIVINE!
Ham, Mushroom, and Gruyere Cheese Savory Crepe Filling:
1/2 TBSP Oil Oil
1/2 TBSP Butter
1/2 cup white onion finely diced
1 clove garlic finely minced
1-2 jalapeno peppers seeded and finely diced
1 1/2 TBSP flour
1/2 tsp sugar
3/4 cup half and half or heavy cream
1/2 cup sour cream
2 egg yolks
1/2 tsp salt
1/2 tsp pepper
1/4 tsp Italian seasoning
1 cup Gruyere cheese (plus another 1/2 for topping)
2 cups mushrooms sliced
2 cups deli ham cut in squares
Directions:
Heat the olive oil and butter in a large saucepan. Saute onions for about four minutes, then add the jalapeno and garlic for another four. Whisk in flour. Turn to low heat and add sugar, cream, sour cream, yolks, salt, pepper, and Italian seasoning, whisk together.
*This was when we paused to make the crepes.
But this picture is when I stopped to appreciate how lucky I got. I'm so glad he loves to cook. I'm so glad we can do this together. It really makes for a romantic night at home!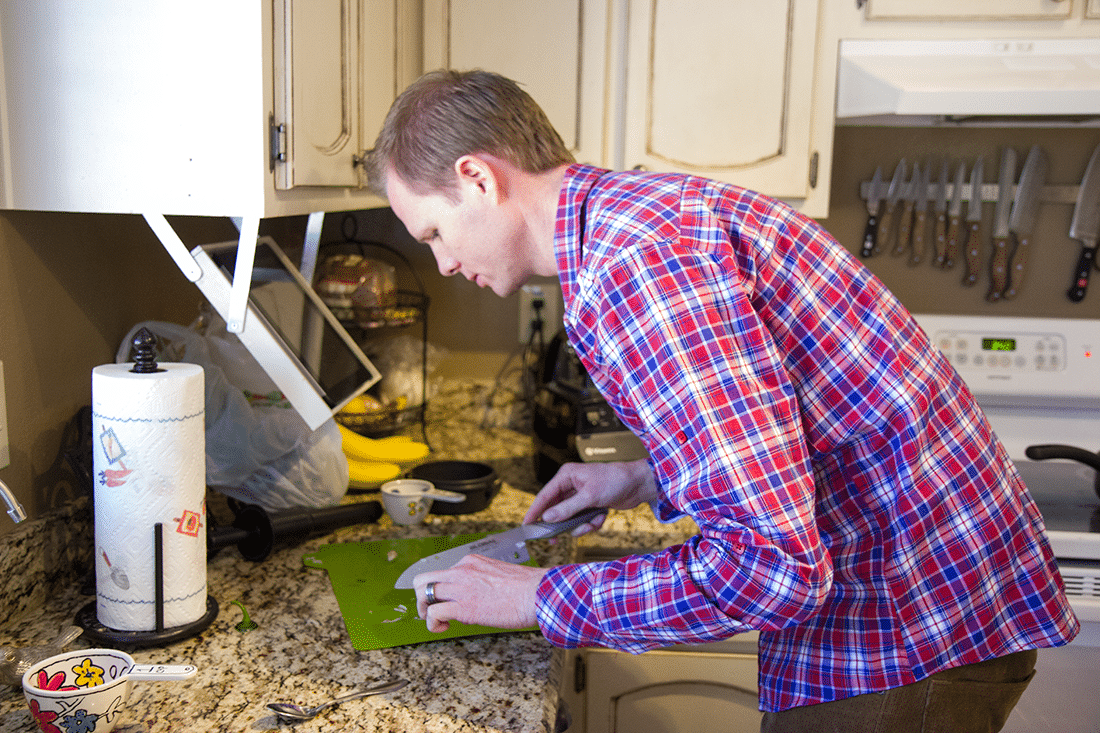 While Jacob finished up the crepes, I added in the cheese to the saucepan and let it slowly melt. Once melted stir in mushrooms and ham. You'll want to preheat your oven to 250 at this point too.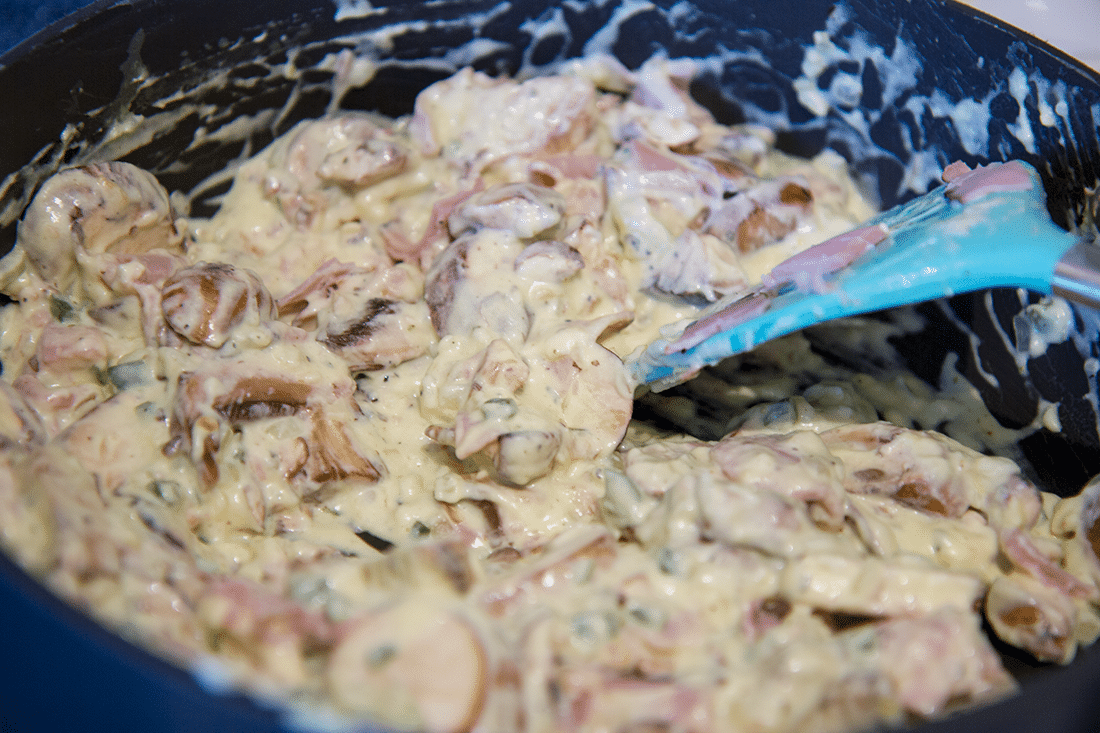 Grab a baking dish and stuff your crepes with your savory filling. Place in pan and top with the remaining cheese. 15 minutes is all you need, but we like to add an extra minute on broil to add a little crispy factor.
We then sat down two very excited people.
These smelled and looked amazing the moment we pulled them out of our oven.
They taste significantly better than they look. I honestly felt like I was back in Paris and I was waiting for an accordion street musician to show up.
Even though we still had creme brûlée to finish, we couldn't resist a few banana and Nutella crepes. The same crepe recipe above works wonderful, and then just a Nutella drizzle and sliced banana will make all your crepe dreams come true.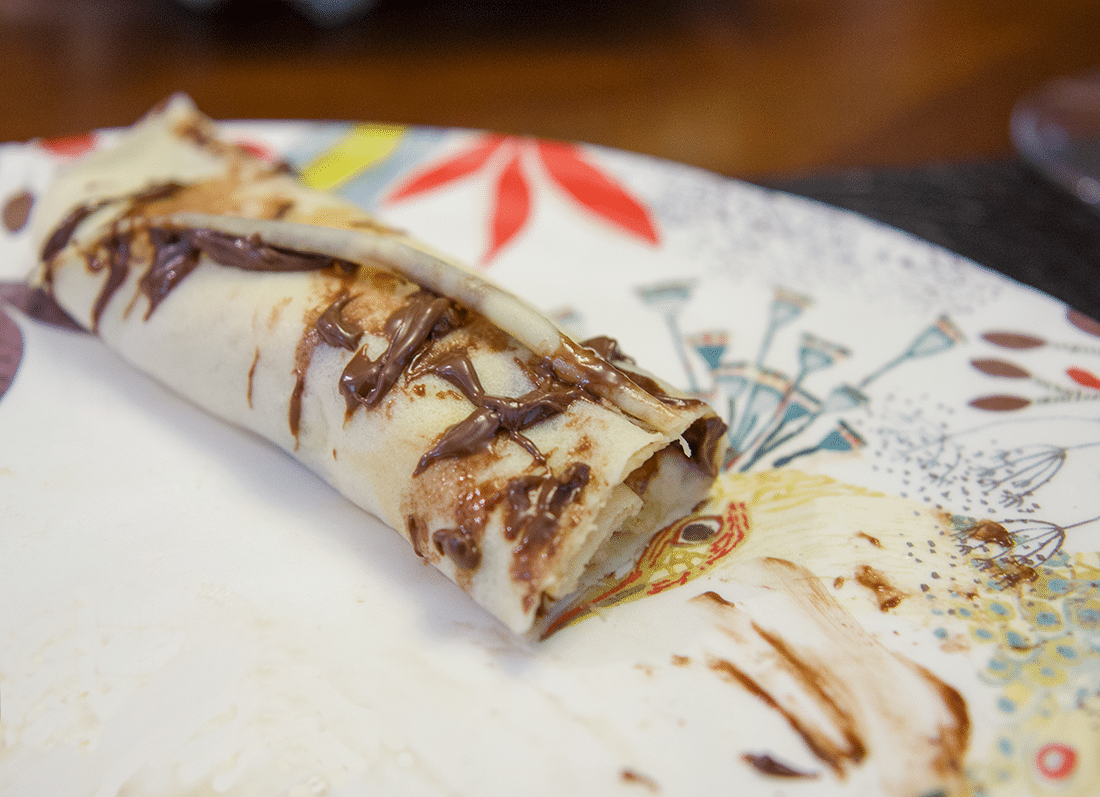 We waited an hour or two for our stomachs to settle before we went back for the creme brûlée. Think about it, you could watch a movie, read poetry together, or do things that aren't appropriate for me to spell out in a PG rated blog, and then come back to finish the night off with the best dessert you can imagine!
Sprinkle sugar on top, light up your torch, and hover back and forth in small sections until the sugar starts to bubble, then move onto the next section until the entire top has a hard shell.
A few berries enhance the flavor too, but they definitely aren't necessary!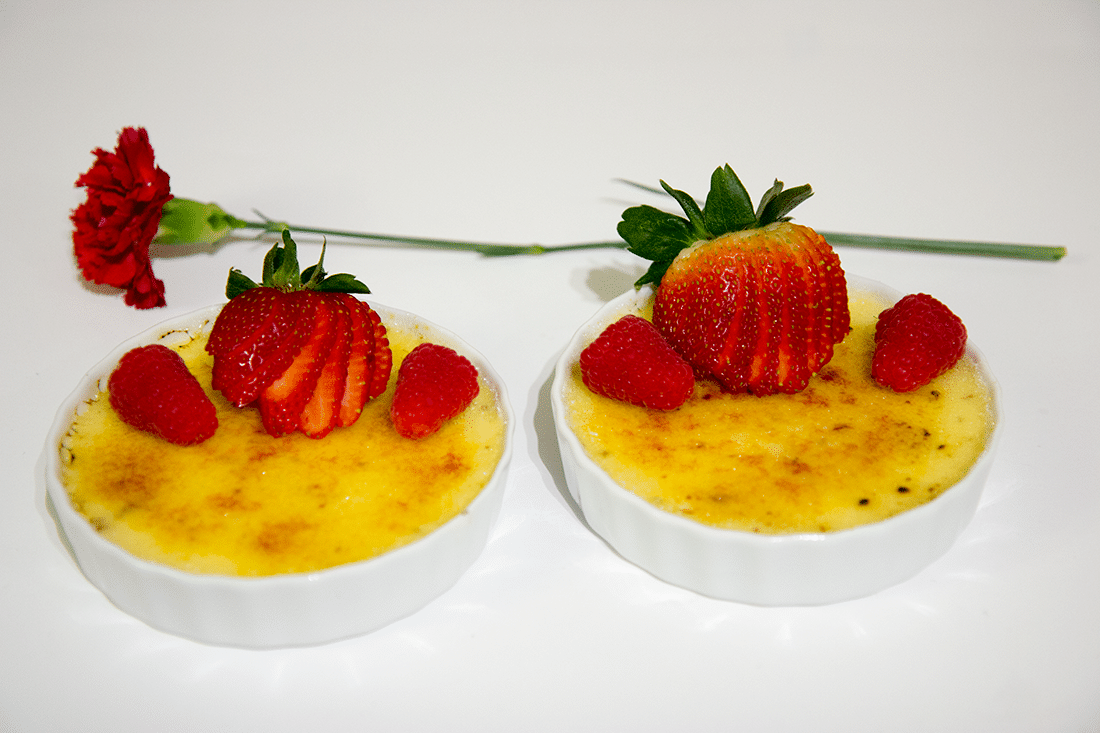 If a French dinner isn't up your alley, or you decide you want to do more romantic meals at home, check out these other awesome blogger's recipes and tutorials for a perfect Valentine's at home!
A Manly Valentine's Meal by Amberly from A Prioritized Marriage
Get 365 Date Ideas!
We want to help you have the best date nights ever! Grab this FREE printable with 365 date ideas, a date for every day of the year so you never run out of ideas!