Creating a Valentine's Day Dinner Menu
A formula to create the perfect Valentine's Day Dinner Menu with sample ideas for a romantic and special Valentine's dinner menu at home.
Valentine's Day is almost here, and as much as we love a great night on the town, we love a great romantic dinner for two too!
Romantic Dinner At Home
On the years Valentine's Day falls on a Friday, it's pretty crazy to try to wait for dinner reservations. If you've already made them, you may know that most restaurants pull in extra tables to celebrate the big day. It can feel very crowded, and the intimate, romantic dinner with your Valentine that you were hoping for can be hard to achieve on the actual night.
That's why we're big fans of planning a romantic Valentine's Day dinner menu for two. You can put the kids to bed and heat things up in the kitchen. If you have older kids, send them away and enjoy your night in!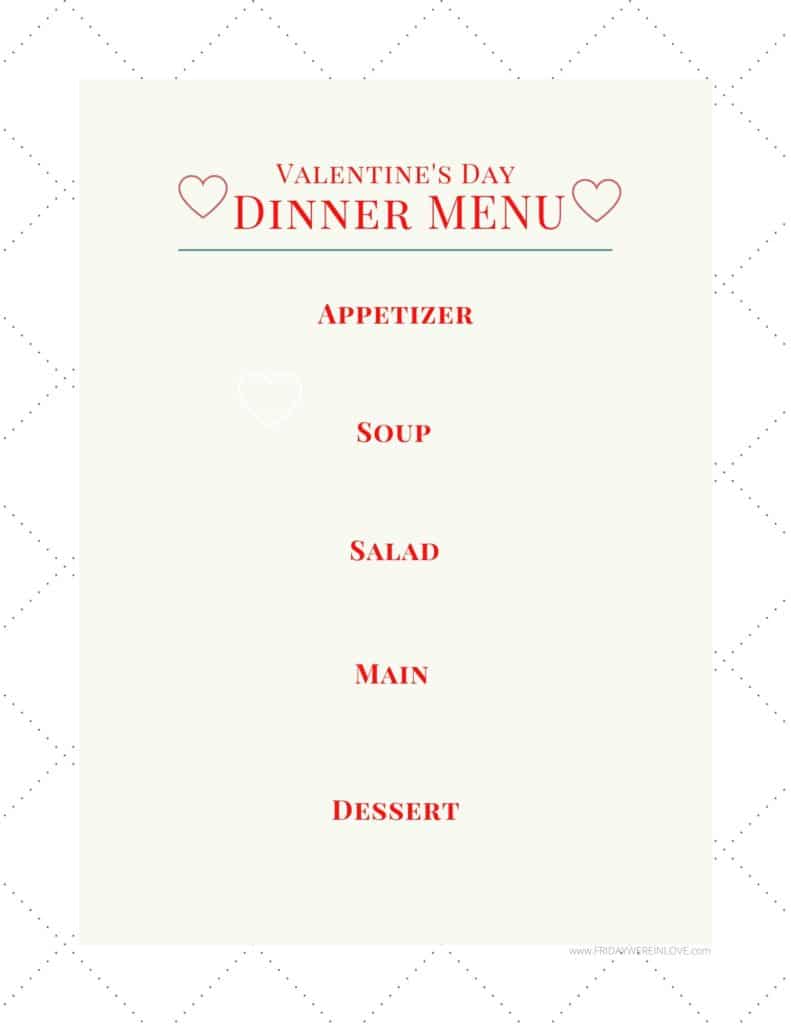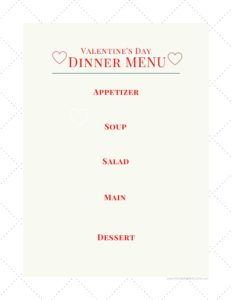 It just takes a little preparation and planning for a great romantic dinner menu. We've even made it easy for you with tons of ideas, and also a free five-course dinner menu template. Use this free download to help you plan your menu or to print and present for your bit dinner date night at home!
If you're looking for a romantic Valentine's Day dinner menu, here are several great ideas for a 5-course dinner menu you can easily make at home!
5 Course Dinner Ideas for Valentine's Day
Valentine's Day Appetizer Ideas:
bruschetta board
Stuffed mushrooms
Mini quiche
Cheese fondue
Shrimp cocktail
Valentine's Day Soup Ideas:
French onion soup
Butternut squash soup
Cream of mushroom
Roasted tomato
Roasted cauliflower
Valentine's Day Salad Ideas:
Strawberry spinach poppyseed
Classic Caesar
Winter vegetable
Olive Garden copycat
Broccoli salad
Valentine's Dinner Main Course Ideas:
Steak
Pork tenderloin
Chicken cordon blue
Oven-roasted chicken
Roasted eggplant
Valentine's Day Side Dishes:
roasted potatoes
Baked potatoes
Roasted veggies
Rice pilaf
Risotto
Valentine's Day Dessert Ideas:
molten lava cake
Cheesecake
Lemon curd with strawberries
Gourmet ice cream
Cream brûlée
Clearly, you can sub out any of your favorite items for any of the items above. All it takes is a little planning, a grocery pickup, and a commitment to a great Valentine's Day dinner for the perfect romantic night in!
Shortcut: order a Hello Fresh meal and make a romantic Valentine's Day menu even easier!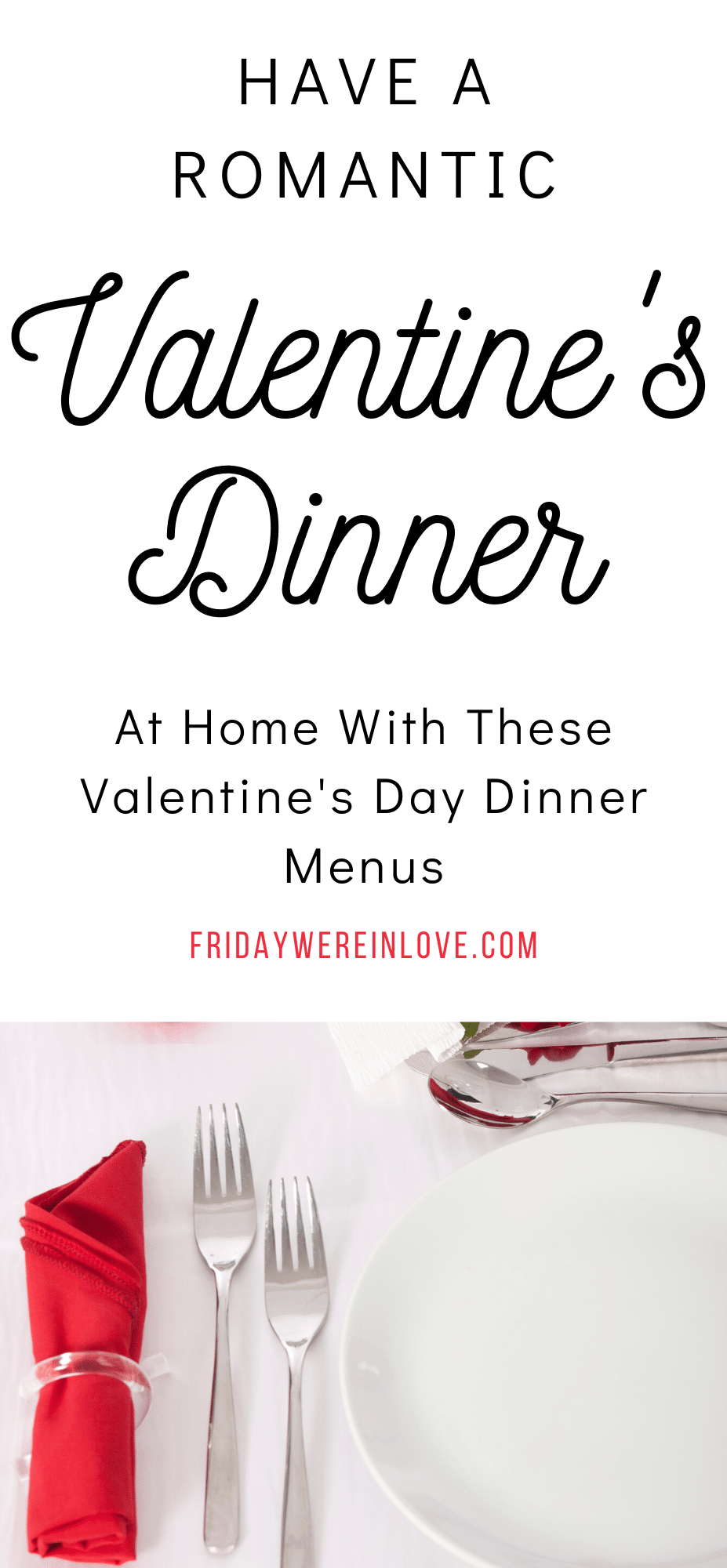 Like this Valentine's Day Idea? You may like these posts too:
Valentine's Day Date Ideas for Any Budget
Perfect Anniversary Date Ideas
Romantic Valentines Day Ideas" 10 Unique, Romantic Valentine's Date Ideas
Get 365 Date Ideas!
We want to help you have the best date nights ever! Grab this FREE printable with 365 date ideas, a date for every day of the year so you never run out of ideas!