Valentine's Day Plans: Setting Expectations Early for the Best Valentine's Day
Getting Valentine's Day plans in order? Hoping for a special date night or gift from your partner? We're sharing why communication is key to Valentine's Day plans and why setting expectations early is a must!

Valentine's Day Plans and Communication
When I was a college student I had a brother who was spending his first Valentine's Day as a newlywed. He's a very talented musician and was hired to play at a wedding reception on Valentine's Day.
I asked him what he planned to do for his wife for Valentine's Day. He told me they were broke newlyweds and he had a gig to make some money at the wedding. Thus, he wasn't planning on doing anything. I was in shock. He told me they'd talked about it and she said she didn't really want anything. I told him he may want to rethink at least writing a nice note or buy a cheap $1 carnation. But he insisted it was fine.
It turns out she was not fine. She felt pretty neglected that Valentine's Day. They had the first fight of their married life and the next time I saw my brother he told me that maybe he should have listened and done at least a little something.
But do you know what, this Valentine's Day flop wasn't all his fault. It isn't just a guys holiday that he should have known better. It was a lesson for both of them in communication.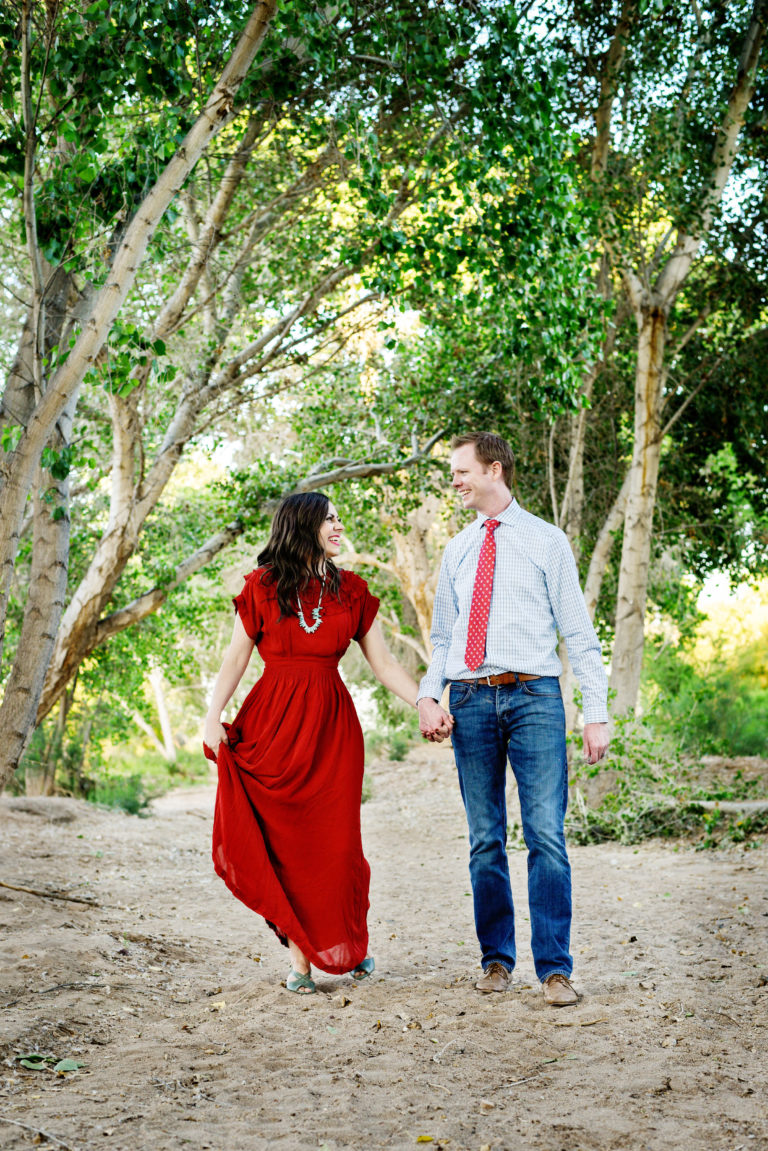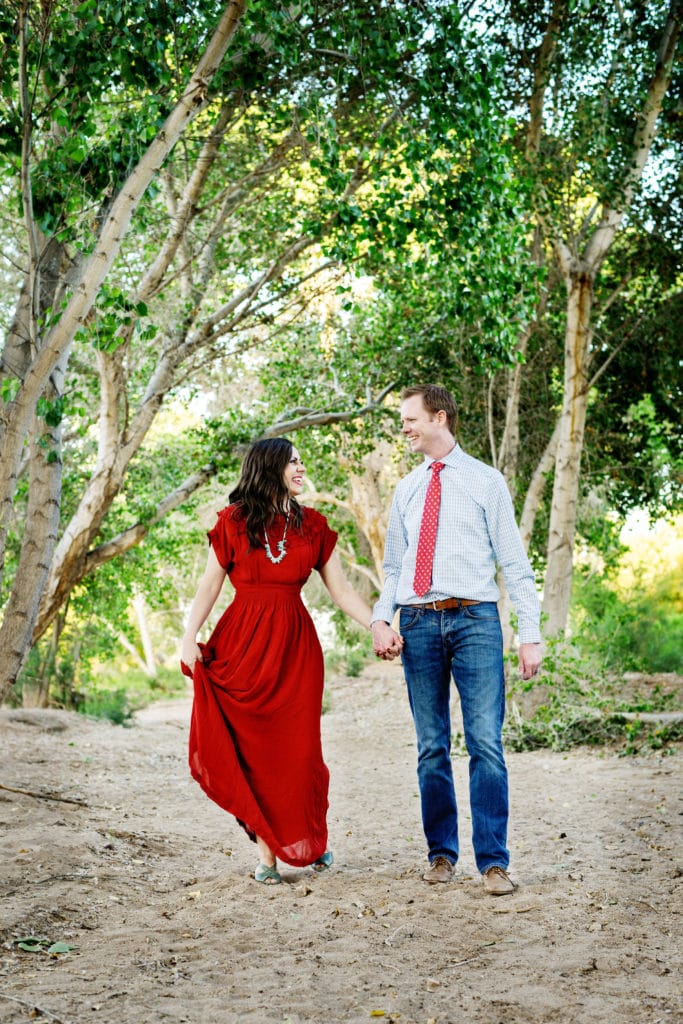 Setting Expectations for Valentine's Day
Now that we're coming up on our 10th Valentine's Day together (whoa that came up fast!) I feel like I've a learned a few things about setting expectations and communication too.
Our first year married we had the chance to attend a super romantic Valentine's Day Ball. It was really fun and sweet and the perfect Valentine's Day. The next year, we both went in with big expectations to find something just as amazing. We came up with nothing. I laugh that we decided to make that night as non-traditional and romantic as possible and spent it with a large crowd at a comedy club.
One year we'd just started dating and I wasn't even sure if I should do a gift for a boy I'd just started dating. Another year I spent half the day in the hospital with a miscarriage. I wanted our fancy plans canceled and a calm night enjoying love with the toddler we felt extra lucky to have that day. Jacob canceled his best-intended plans and the babysitter and let me just cry and snuggle the family I had. I felt more love that day than ever.
The beauty in all of this is, Valentine's Day is about love. It's about celebrating love. That may mean a super fancy dinner. It may mean dressing up. Maybe you're staying home and having an extra intimate night in. Perhaps kids are having dinner with you. And at the end of the day, it doesn't matter what you do or how you celebrate it. Each couple is different. Everyone will do Valentine's Day a little differently and maybe completely different from year to year.
That's why I love sharing Valentine's Day date ideas for any budget. At any given year a couple can be in a completely different place with romantic needs, family situations, and budgets.
The big lesson I learned from my brother and his wife so long ago is what matters is you communicate expectations. Neither partner is a mind reader, and it's important to let them know what you're needing this year.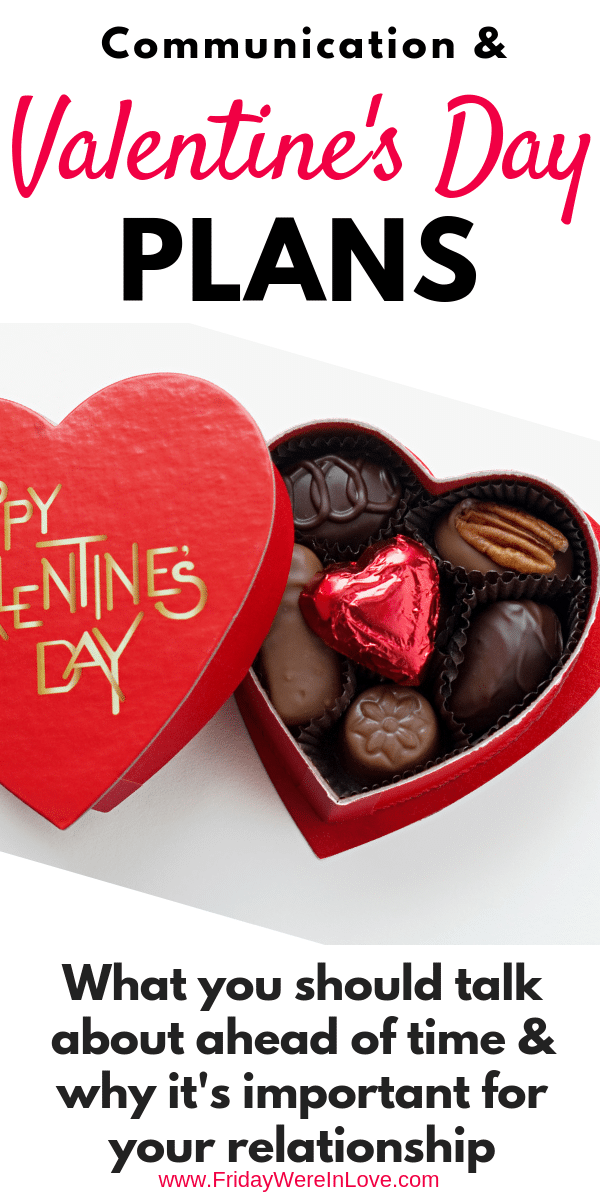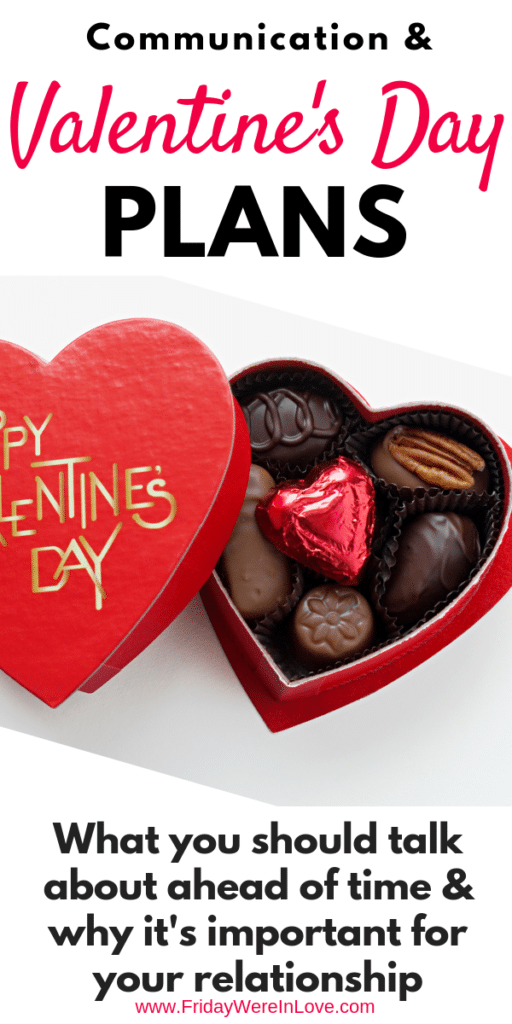 Keeping Your Budget in Mind with Valentine's Day Plans
Sometimes romance is not blowing the budget. Who knew that saving money to pay off some debt or a big home project could be the very definition of sexy for many couples? But indeed, it can.
Sometimes romance is telling them clearly I need a really expensive dinner and expect a huge bouquet of flowers. I've certainly had years I've requested one or both of those things. My love language isn't gifts, but occasionally we all need to dapple in another love language. If Valentine's Day means you do want a gift, big or small, it's important to communicate that.
Guidelines for Communicate Needs and Expectations for Success
I'm a firm believer there's no shame in being extravagant or extra cheap. You can go out or stay in. Kids can come, or it can very much be alone time. Either way, the secret to success on Valentine's Day is communicating expectations.
Talk about your budget. Talk about what you need this year. Let both partners be heard. Also, be sure to share if you want something specific or expect a surprise. Sometimes I even give a few gift or date ideas and tell him to choose one and surprise me with it. I get what I expect, he still gets to feel a little romantic about it.
No matter what you do, it's great to have this conversation in advance and start planning now. A little communication can be the difference of disappointment or a day you both truly feel loved.
P.S. If you need a Valentine's Day date idea I've shared every post we've ever published on this Valentine's Day Date roundup.
Like this Valentine's Day Plans Post? You may like these posts too:
Valentine's Day Date Ideas for Any Budget
Romantic Valentines Day Ideas" 10 Unique, Romantic Valentine's Date Ideas
Get 365 Date Ideas!
We want to help you have the best date nights ever! Grab this FREE printable with 365 date ideas, a date for every day of the year so you never run out of ideas!