Valentine's Day Traditions
I was asked to participate in the #HallmarkAtWalgreens #CareEnough campaign, sponsored by Hallmark at Walgreens. Although I have been compensated, all opinions are my own.
We're at a fun time of year where we see a little spike in traffic while people search for Valentine's Day date ideas and ways to celebrate love on this designated holiday. I love that there's a day to celebrate love- no matter what kind of love! Even as a bad-attitude teenager calling it "Single's Awareness Day" I really loved sharing notes and cards with my friends, having a few flowers come my way, and taking the time to have a special meal or treat with my family. At every phase of my life I have loved stopping to reflect on who I love and why I love them, even if it was just my parents at the time!
I think it's a given that's it's even more of a fun holiday as a married couple. For many this is the time they go out on a big date and celebrate in a way they don't typically do. We've been all over the map with fancy romantic dates, quirky non-Valentine's type dates to avoid crowds, and everything in between in our six Valentine's together. We've decided what matters is the expression more than the activity. For us, it's a time of year to reflect on the past year and what we've been through. It's a bit more of a sentimental day than a romantic one for the two of us, and I think we both prefer it that way!
We have a few traditions that I look forward to every year- we both do a small gift and we aim to share a reason why we love the other based on experiences of that year. I thought it would be fun to split our Valentine's Day traditions by having me share what I always do for Jacob, and Jacob share what he does for me! Since this always includes a card of some sort, we'll also give you a sneak peak of what we chose for each other and why.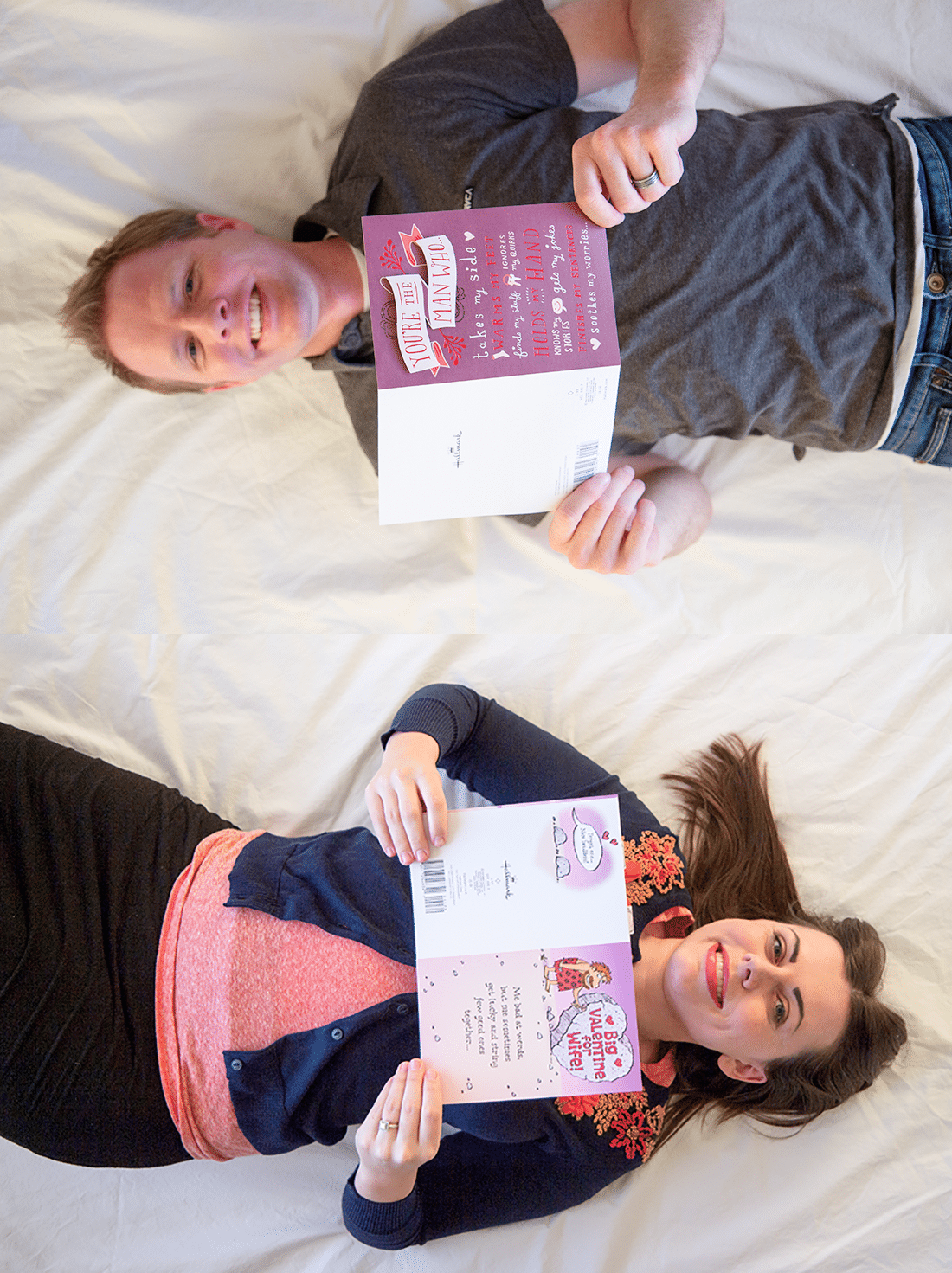 Ladies first…
The first year we were together, I made Jacob a cheesy love songs Valentine's playlist complete with burned CD. We'd been friends going on dates for a long time, but had just made the dating exclusively thing official a week before Valentine's Day. I wanted some romantic tunes to listen to in his car while we were out and about together, to set the mood.
I decided it was tradition, and every year I have made him a playlist with songs that remind me of our relationship, and a few that reflect events from the prior year. You can expect some relative to moving, having a baby, and probably something in Italian this year!
For the card I always look for something that grabs an inside joke, sentimental statement, or something funny that we relate to in our relationship. It's typically humor that I lean towards in choosing my Hallmark Valentine's Day card, but every once in a while a card does the perfect job blending the funny in with significance, and this year, that card found me!
I almost died at the line "Finds my stuff" because there isn't a day that goes by I don't ask for help finding something and Jacob swoops in like a honing pigeon and gives the exact whereabouts of the object.
But the sentimental pieces capture just what I feel too. In my book a little funny and a lot of sweet equal the perfect card that I know will go in the filing cabinet to keep forever and cherish forever
Jacob's plans…
We started dating a few weeks before Valentine's Day way back when, and I wasn't sure what I should do for Valentine's Day…do we do flowers? what kind? is that too romantic? If I do flowers, are roses too romantic? Are we to that point in our relationship? If I choose the wrong flower will she dump me in a week? It was pretty stressful to know what the right thing to do was. I settled for tulips because she had mentioned how she loves tulips one time. I had them shipped to her house. That night when I showed up to pick her up for the date, there was the box on the doorstep. Unopened. Undiscovered. It was far from the perfect first Valentine's I had imagined. I handed her the box and said "FedEx had a delivery for you." For the record, I should have ordered roses. Red roses. But nevertheless she still went out with me that night and I think we had a good time. I lucked out for sure!
Since then, there are two constants each Valentine's Day. Every year I send her roses. Color: Red. And a Hallmark Valentine's Day card. No exceptions to these two. It's the right thing to do and she is always checking the front porch for both ☺
Camille know that small sentiments go a long way so in addition, I try to get her something small that she might not be expecting. Like a gift card to her favorite clothing store. Chocolates. Some movie that she loved from the year before. But I always include a card. We both try to find something funny and fitting.
And I ALWAYS sign: Love, Jacob. Some years I'll include a heart.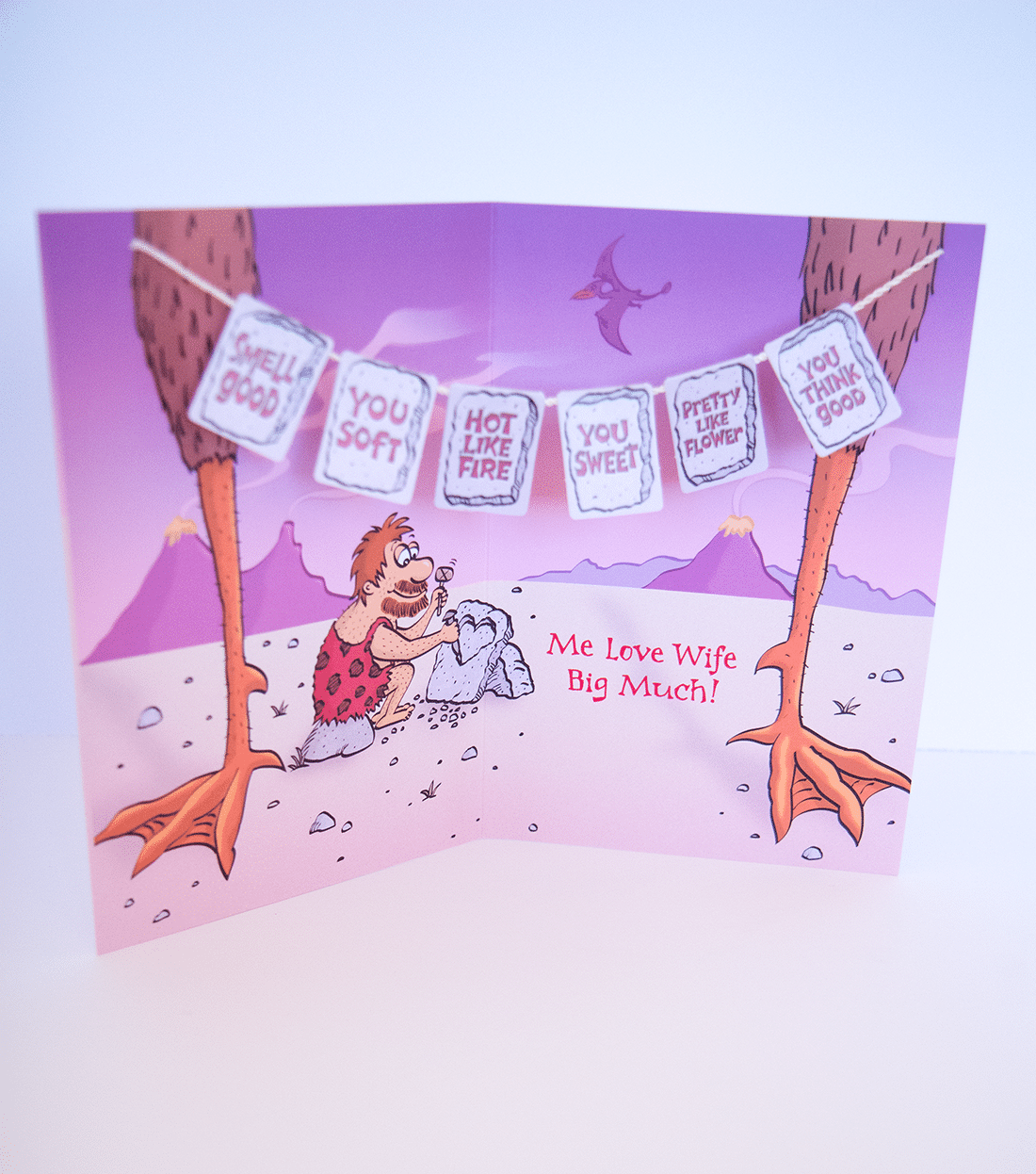 We both love that a quick trip to the Hallmark Department at Walgreens can yield the perfect card in very little time, but leave a lasting memory for our Valentine's Day traditions.
So there you have it, that's how we do Valentine's Day.
Do you have any Valentine's Day traditions? We'd love to hear!
Get 365 Date Ideas!
We want to help you have the best date nights ever! Grab this FREE printable with 365 date ideas, a date for every day of the year so you never run out of ideas!