Valentine's Gifts and Surprises
I hope everyone had a great Valentine's Day with some awesome dates and fun/romantic gifts. We both said over and over that it was by far the best V-Day we've ever had! Being married to the right person really is awesome- and oh so worth the wait!
I wake up quite a bit earlier than Jacob. In fact, I kiss him goodbye every morning while he is still in bed. This works to my advantage any time I want to leave a surprise. He wasn't feeling well, and was sad to be going back to work after a sick day, so I made sure this year's annual Valentine's CD was ready to go so he could have his trip to work brightened.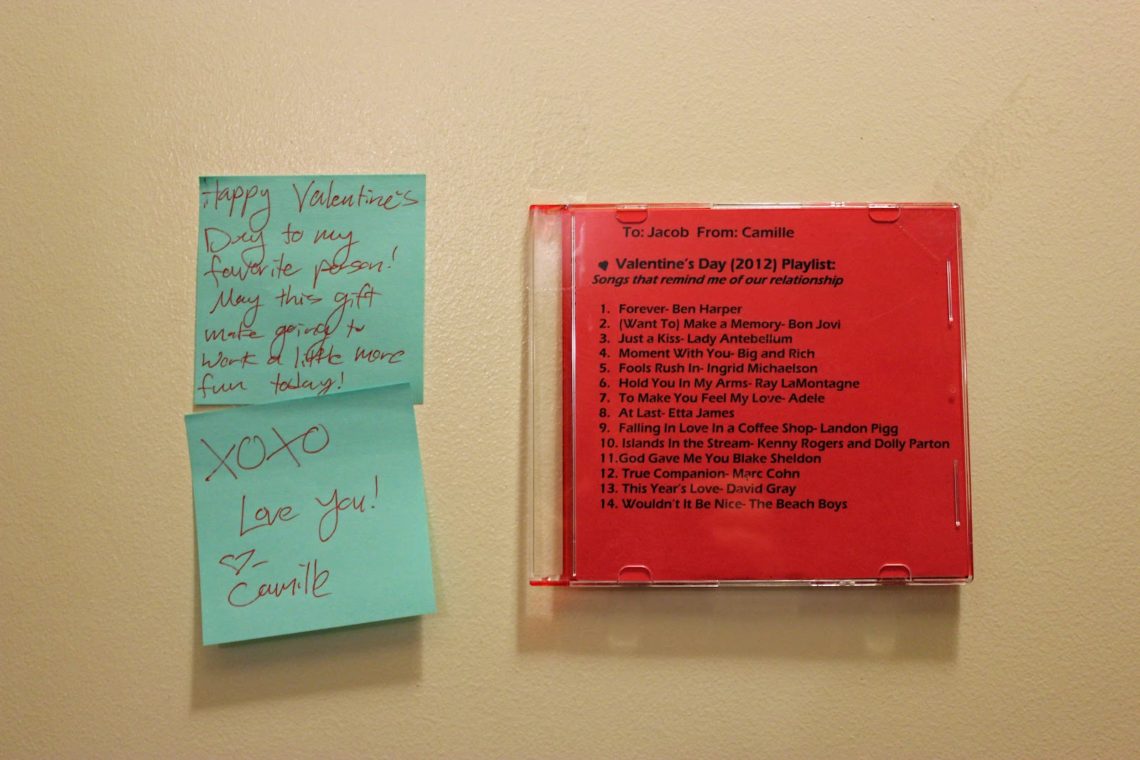 I also made sure he couldn't miss it.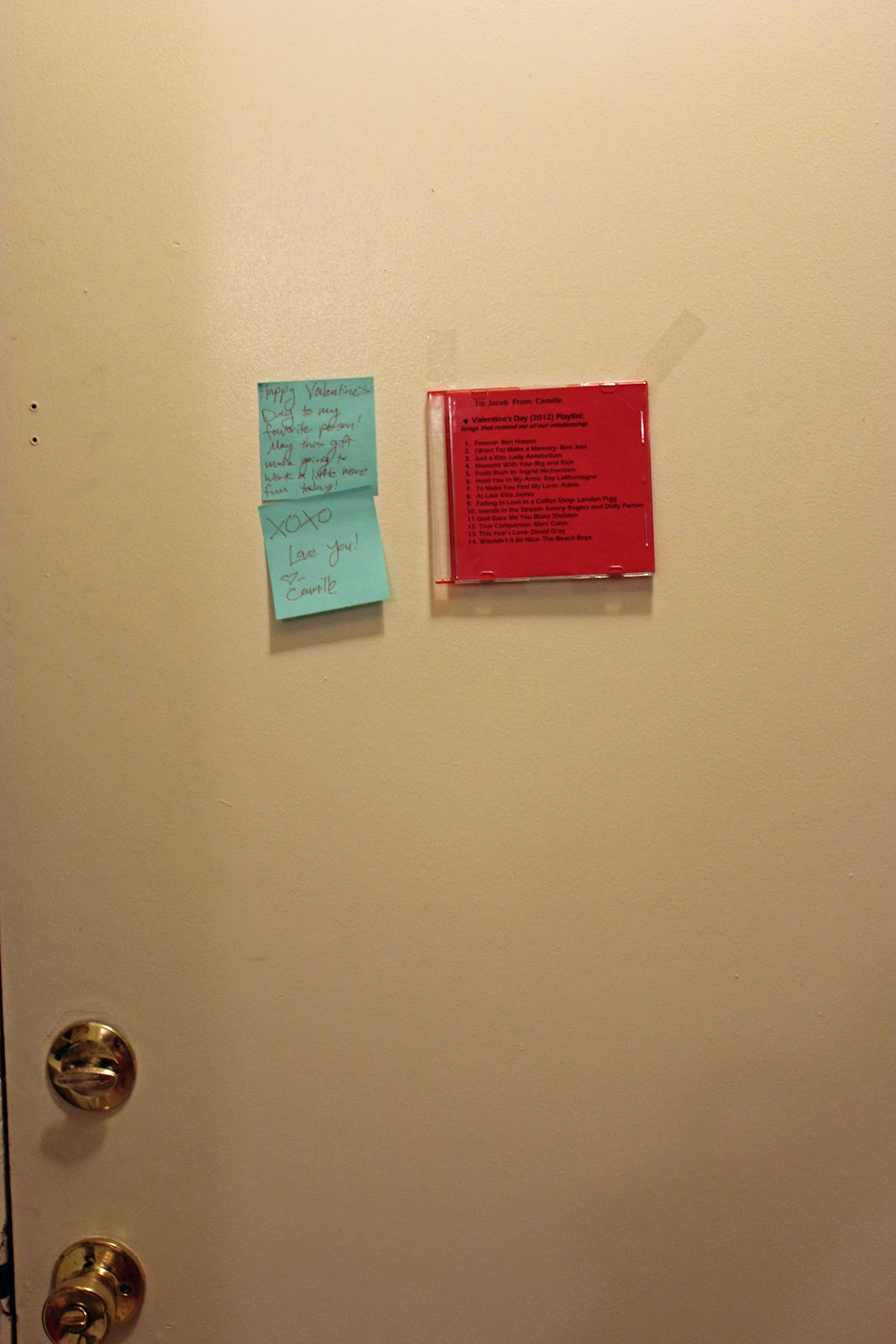 (Taping things to the door to the garage at eye level usually insures it will be found)
Here is what I came up with for the 2012 Valentine's "Songs That Describe Our Relationship" Playlist:
To: Jacob From: Camille
Valentine's Day (2012) Playlist:
Songs that remind me of our relationship
Forever- Ben Harper

(Want To) Make a Memory- Bon Jovi

Just a Kiss- Lady Antebellum

Moment With You- Big and Rich

Fools Rush In- Ingrid Michaelson

Hold You In My Arms- Ray LaMontagne

To Make You Feel My Love- Adele

At Last- Etta James

Falling In Love In a Coffee Shop- Landon Pigg

Islands In the Stream- Kenny Rogers and Dolly Parton

God Gave Me You Blake Sheldon

True Companion- Marc Cohn

This Year's Love- David Gray

Wouldn't It Be Nice- The Beach Boys
It was a lot of fun to put together this year's list. Some were funny, like our tribute to our Halloween Costume when we learned the words to "Islands in the Stream," or the feeling we had of just wanting to be married during our almost 6 months of engagement echoed in "Wouldn't It Be Nice." Many describe wedding and wedding feelings like "Moment With You," and "True Companion," since that our wedding is our best memory of the last year together. And some reflect conversations we've had, like "Forever" with our feelings that marriage is a choice that you can make last for eternity. Or the fact that we know the first year is always the easiest year and it's after that many say love started to fade…something we decided wouldn't be us, much like David Gray in "This Year's Love." Some are memories like "Just a Kiss" which echos how we felt about each other dating, wanting to take it slow because we knew this was something special. Or our fist dance as husband and wife to our song, "To Make You Feel My Love." Or even "Falling In Love At a Coffee Shop" which could easily be replace with "Falling in love at…Yogurtini (our DTR and the night I told Jacob my real life story with scars and baggage, and him just hugging me and affirming he knew deep down and still knew he wanted to date me)…Oregano's (the place we went before our half marathon, the night we picked out the engagement ring, so many dates we grew closer together)…Chipotle…(the night we stayed for hours and had our first deep chats after we'd both decided to give up on each other due to too many others pursuing the other person)……and that list could go on! And of course "Make a Memory" which we talk about each week as we plan DATE NIGHT!
Of course, Jacob had to show me up having these babies delivered to work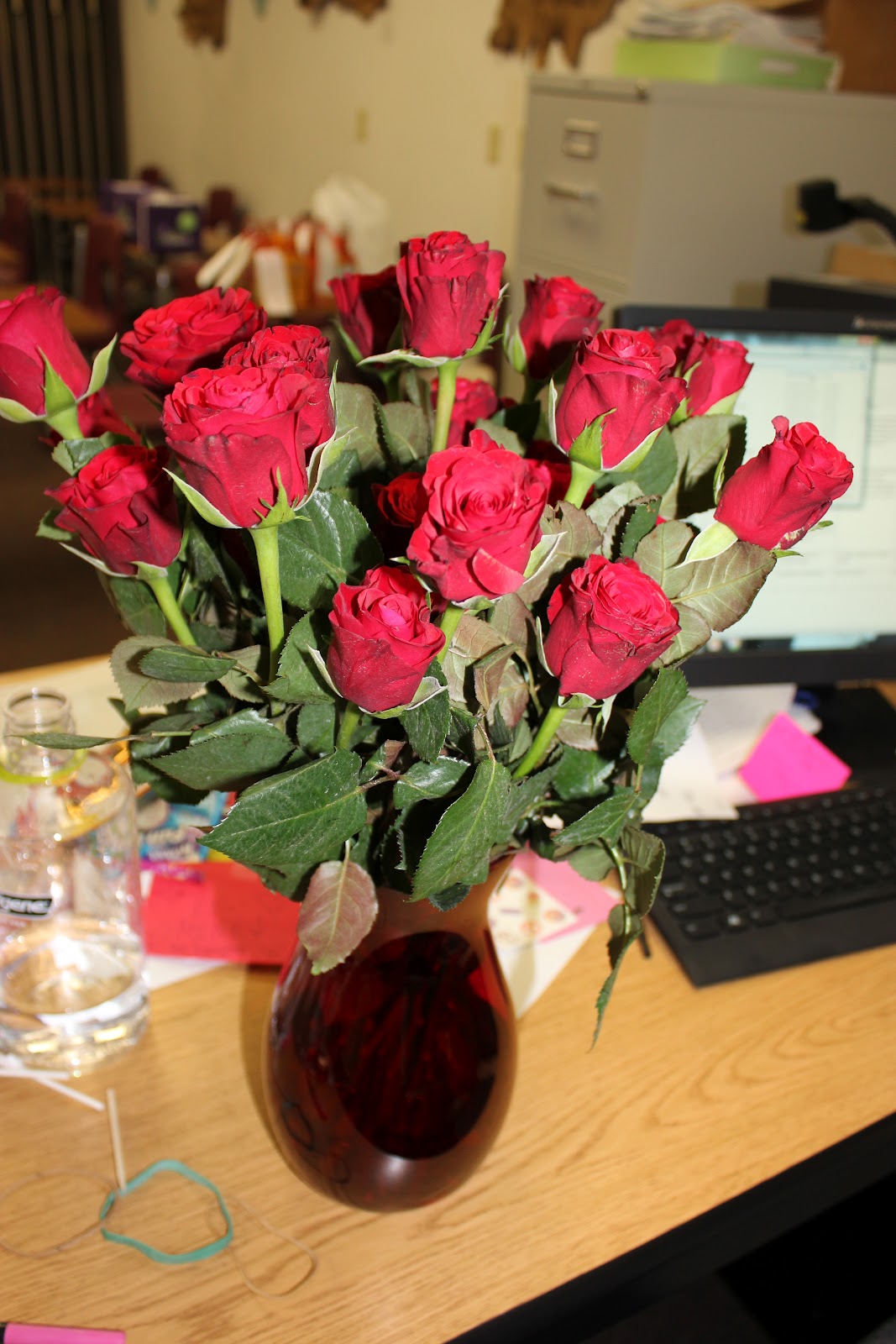 He made sure it came during my yearbook class because quote "I wanted it to be in the least disrupting class while still getting the ahhhhs from female students." Smart and funny man! And little did we know a student would grab my camera on my desk just in time to snap the surprise of the delivery.
And if that wasn't nice enough (it was, it SO was) I came home to this: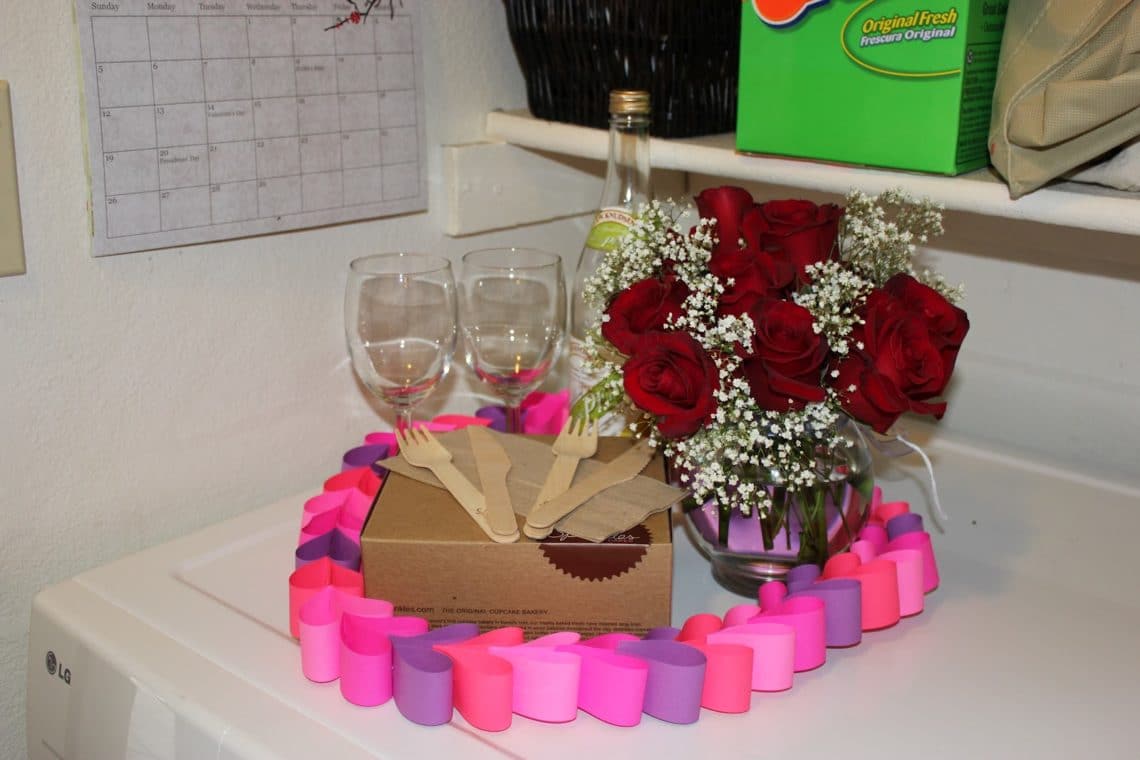 And if you know me at all, you probably can guess what I zeroed in on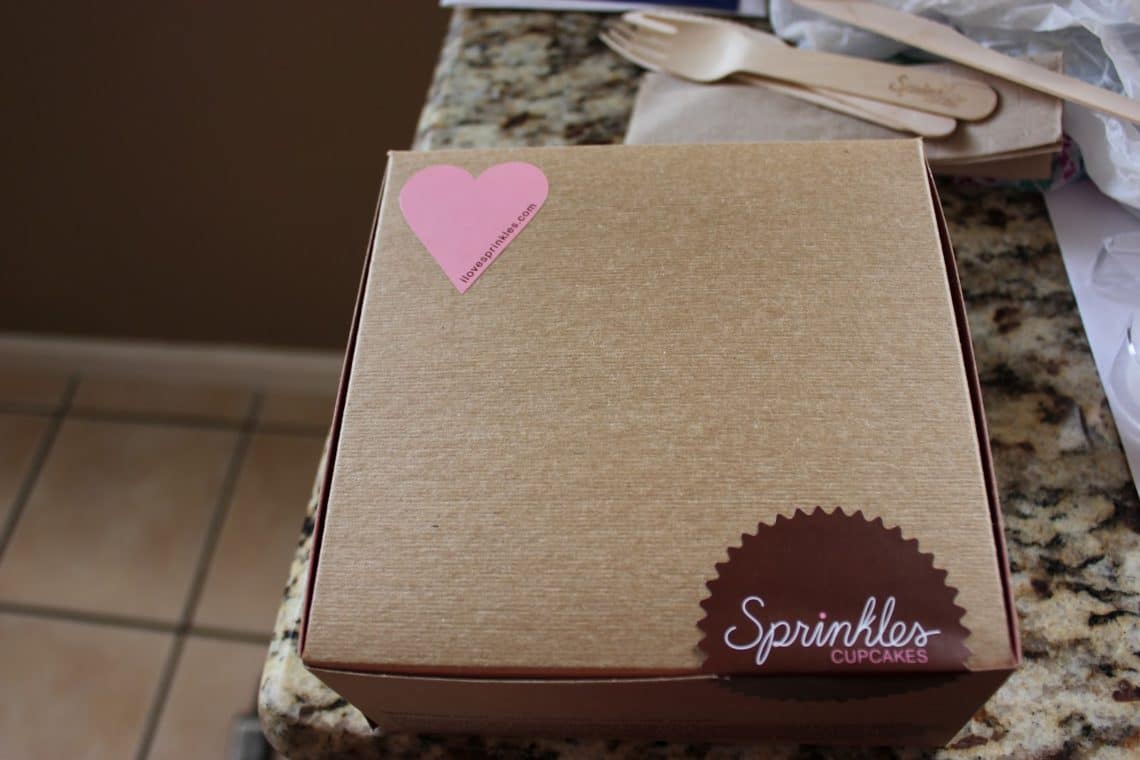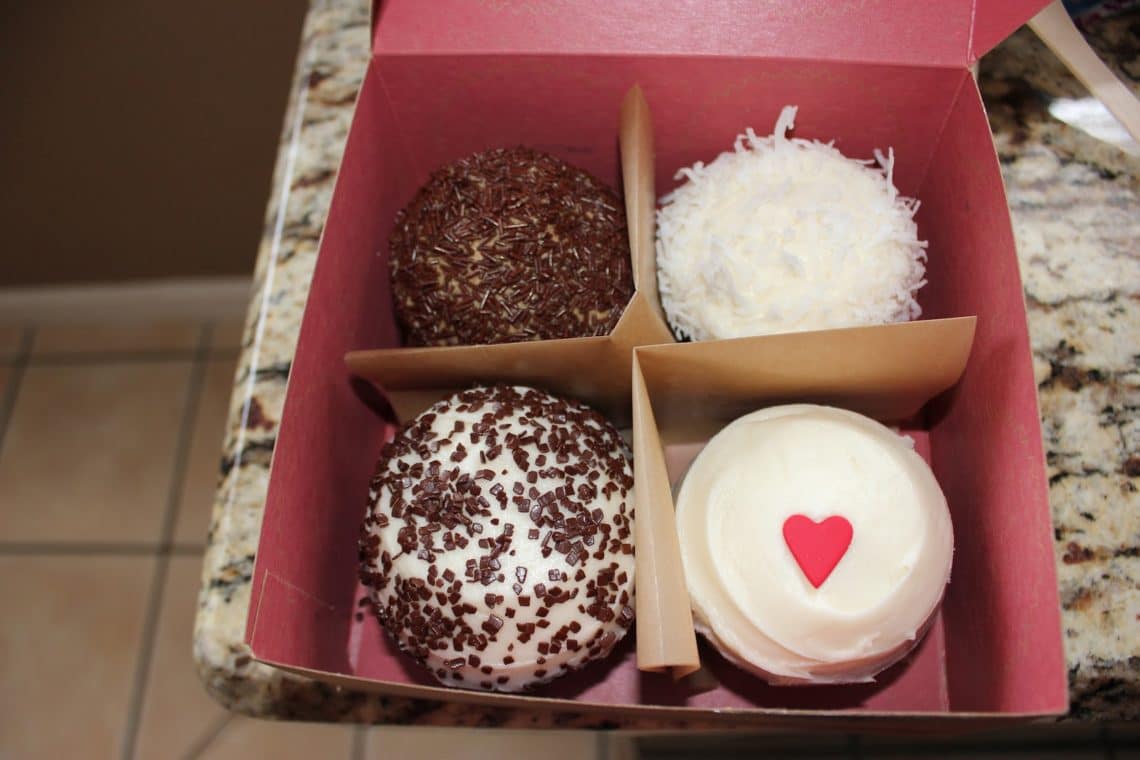 That boy knows me well! And I definitely enjoyed coming home to find these surprises and the fact that was home from work ready to share some cupcake time together before our big plans that night (my favorite surprise of all).
We are sure grateful for this day that we get to celebrate love!
Tomorrow I'll be sure to post about our amazing Valentine's date we had last night- stay tuned!
Did anyone else get an amazing, unexpected, perfect-for-you gift from your significant other? We'd love to hear!
Get 365 Date Ideas!
We want to help you have the best date nights ever! Grab this FREE printable with 365 date ideas, a date for every day of the year so you never run out of ideas!