If you've ever had those mornings when you get up and think "If I could only eat ice cream for breakfast and not feel completely sick later," (and let's just call this what it is and admit that we've all thought that) then we have your solution! 
We are both very involved at our church volunteering time on Sundays, and Jacob is gone all morning on Sunday before our afternoon services. For Easter the clergy leaders decided to take the morning off from meetings to be with families. We enjoyed eating breakfast together for the first time in a long time! We're waffle people. I'll eat pancakes, but Jacob is a fan of the crispy goodness that is a waffle and usually opts out of pancakes. We decided nothing says happy Easter like pancakes drenched in ice cream and berries! We were tipped off by a friend that ice cream instead of syrup is a great idea- and they were right!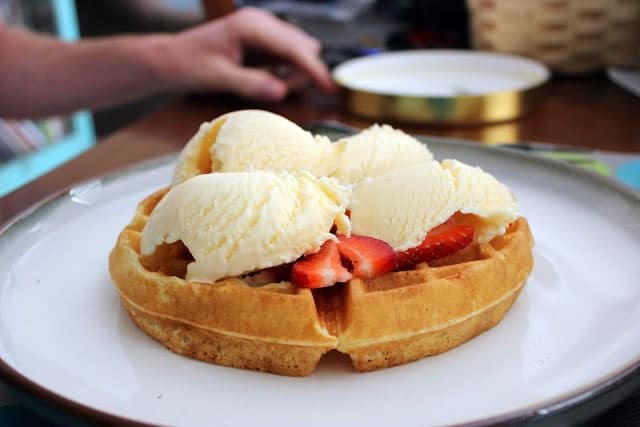 (Jacob likes a little waffle with his ice cream) 
2 Cups Buttermilk (we make our own with 1 cup milk, 1 TBSP lemon juice, and let set for 10 min) 
2 tsp Vanilla (Mexican is best!) 
Separate the egg and beat the egg whites until white and fluffy and "stiff" making peaks when the whisk touches it. You can do this in the Kitchenaid and then scoop out and put the egg whites in another bowl.
In the mixer mixer all dry ingredients. Then add the egg yolks and remaining wet ingredients. Mix for about a minute until full incorporated. Batter will be a little lumpy. Then add the egg whites, and stir for just a few seconds until mostly mixed. This adds a fluffy texture to the crispness. Spray your waffle iron and then cook accordingly.
Add a scoop of ice cream (or 4 if your name is Jacob) and some berries.
And really you should use homemade ice cream whenever possible, but the next best thing that is practically the same thing is Blue Bell's Homemade Vanilla ice cream. We had a discussion on Blue Bell at breakfast which ended up us looking at the fact they have Trademarked "Homemade Vanilla" and they sad fact they are only sold in 20 states. We read off the list and noted the 20 states would be willing to live in. I guess if the offer was ever right with a company we would pay the shipping fee like President Bush used to, but we'll probably play it safe and stay where Blue Bell is sold! 
 Do you see what great conversation comes from meals together at home? We're big advocates! 
Get 365 Date Ideas!
We want to help you have the best date nights ever! Grab this FREE printable with 365 date ideas, a date for every day of the year so you never run out of ideas!