One of the best Christmas light shows in Arizona! All the details on Christmas on Comstock in Gilbert including directions, the best time to go, and why we love this free holiday tradition!
Date Idea:
Christmas on Comstock animated light show
Location:
Gilbert, AZ
Price:
free, but they love donations raising money for Make a Wish
Time:
Plan about 15 minutes-1 hour
Website:
There's a Christmas on Comstock Gilbert AZ
Facebook Page
Tip:
It's far less crowded early in December and on weeknights. You can also go up to New Year's, so after Christmas is a fun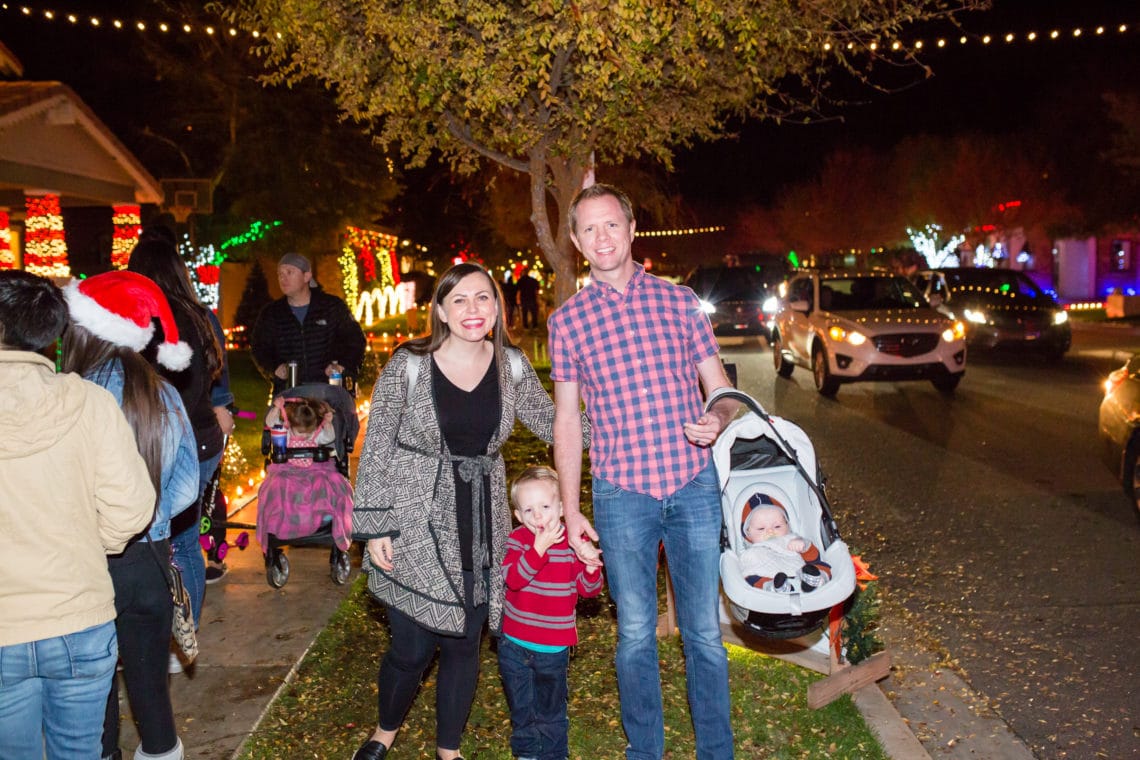 What is Christmas on Comstock Arizona?
Let's start with what is Christmas on Comstock and why is it a date night or family date to go on. Essentially an entire street in Gilbert, AZ (Comstock street) got together and decided to go all out with a light show. Each home is decorated to the nines. More than that, they've animated the lights on the street to coordinate to music. You can hear three different songs with complete light show display and coordination.
It's a street you can tune in your radio to the music and drive through. There's also parking throughout the surrounding area so you can get out and walk the lights. We really like to drive through at least once, and get out and walk up and down the street
It's really exciting with upbeat Christmas music, well organized, and completely free. They do use the platform for a good cause; to raise money for the Make a Wish Foundation. There are donation boxes located along the street in several locations.
Christmas on Comstock Directions
It's pretty easy to plug in the Christmas on Comstock address into GPS:
3702 E Comstock Dr, Gilbert, AZ 85296
But there's definitely a few things to note with Christmas on Comstock Directions. They make everything a one-way entrance for safety. It's roughly off Higley and Elliot in Gilbert, AZ. You'll want to come Eastbound on Elliot and turn right onto S. Cole Drive. The signs guide you in there from there with information on what radio station you should tune into.
If you go on a busy night you'll likely wait in a long line down Elliot. I'd make sure you get in the right lane quickly so you don't miss getting in the queue. And, of course, you can always plan a week night or go early or late December to avoid the crowds.

Christmas on Comstock in Gilbert
It's incredibly kid and family-friendly, but there's no shortage of couples out on a date too. We love Tia Rosa's in the same area for really delicious Mexican food. There's a lot of great restaurants in the area, so dinner and a walk through Christmas on Comstock really makes for a fun evening.


It's one of our favorite things to do in December in Gilbert. Even if it gets crowded, it's worth the wait. And truly one of the easiest ways to get in the holiday spirit!
Like this Christmas on Comstock date idea? You may like these posts too:
Date Ideas Phoenix: The Best Phoenix Arizona Date Ideas
Las Noches De Las Luminarias at Desert Botanical Gardens
365 Fun Date Ideas: A Date for Every Day of the Year
Odysea Aquarium Family DateCHrit
Get 365 Date Ideas!
We want to help you have the best date nights ever! Grab this FREE printable with 365 date ideas, a date for every day of the year so you never run out of ideas!