365 Fun Date Ideas: Dates Every Day of the Year
Looking for fun date ideas? Here are 365- one for every day of the year! These date ideas will help you keep love alive with every type and kind of date you can think of. Get ready to plan your next date night with the best date ideas out there!


There are times and seasons when fun date ideas seem to flow and we're ready with the best date ideas. Then there are times when we pull up the calendar and are feeling a little stumped at what fun date ideas we can do. For anyone looking for their next best date idea, we have you covered! I've compiled a list of 365 fun date ideas, that's right, a date for every day of the year. These are husband and wife approved, they aren't cheesy, and we avoided repeats.
Fun Date Ideas
Whether you're looking for an active date idea, a cheap date idea, an at-home date idea, or anything in-between, here are 365 fun date ideas that are completely diverse, completely fun, and should keep you busy with fun date ideas for any day of the year that you're ready to kick up the memory making!
First of all, the point is to find fun date ideas that resonate with you. When you're laughing and enjoying time together, it's always the perfect date. With the right fun date night idea, you're all set for a great experience and a memorable one!
We want your next date night to be a fun and memorable one, which is why we're making it easy with a bunch of fun date ideas!
365 Fun Date Ideas: A Date for Every Day of the Year
These dates are sorted by month, so you can easily choose the best date ideas that are seasonally appropriate for your next planning session. Without further adieu, here are 365 Date Ideas: fun Date Ideas for Every Day of the Year!


January Date Ideas
Plan your New Year's Resolutions, and share your goals together

Head to a

hockey game

, they are the perfect winter date! Also, they are fun to watch even from the nosebleed section!

This is a great time to have a

free date night at home

planing the fun things to do this year! Get a vacation and a bunch of dates on the calendar to make sure they happen.

Go snowshoeing. First of all, it's not too expensive, it's beautiful, and it's a great active date!

Embrace winter and head out to enjoy the cold on purpose. It's a great time to go build your own snowmen or snow forts!

If you want a totally free cozy date, head to a bookstore and

help choose each other's next reads

. You can also share some of your favorites on the shelf.

Go sledding. The lid to your garbage can will do, or a few cheap plastic sleds and a hill will lead to hours of fun.

Go on a hot chocolate crawl and find the best cup in your city.

Curl up and cuddle by the fire with a good book. Either read a book together or read the same one side-by-side and have a mini book club.

Go see ice sculptures at local exhibits or hotels who extend their holiday decor

Have a winter bonfire outside with plenty of hot drinks to enjoy.

Take a sleigh-ride


365 Fun Date Nights for an Entire Year!

Rent a cabin for the weekend and enjoy a winter retreat

Find an outdoor hot tub to enjoy on a cold night

While it's too cold to go camping, set up a tent in your living room and have a camping night at home.

Register for a couple's cooking class for two. Cook something amazing together!
Find a BYOB painting class studio nearby and take a class together creating a work of art while you sip.
Visit your local science museum together.
Attend a basketball game together. College, high school, NBA: whatever fits your budget!

Go bowling at your favorite bowling alley.

Paint pottery at a local studio.

Look up the most popular TED talks, watch several together and have an intellectual discussion after each with your thoughts and opinions.

Take a fitness class together you'll both enjoy, like a spin class or kickboxing class.

Get a jigsaw puzzle and try to complete it in one night.


More January Date Nights

Rent or borrow a Wii and have a competitive night of Wii sports or a dance off together

Host a couple's game night and enjoy a night of treats and friendly competition
Make a bucket list of things you want to do as a couple together. Start planning how to make some of those things become a reality!
Watch a night's worth of funny YouTube videos (there are several channels curated on FridayWereInLove.com)
Book an escape room and see if you can solve riddles to escape the room in time!

Hit up antique stores together. Start with treasure hunting items that have meaning to you. Additionally, after the holiday clean out, you can find some amazing treasures this time of year!

Go perfume/cologne shopping and pick out scents you both find attractive for Valentine's Day presents
February Date Ideas
Cook a romantic dinner at home

! Enjoy some romantic time in preparing and enjoying dinner by candlelight. Cook something out of the ordinary and enjoy the process!

Book a

fancy restaurant

with a view early, and impress with a romantic evening dressed to kill

Boat tour: it may be a small lake or river, it may be a man-made structure, it could be gondolas in Italy, but all are a cool experience filled with romance.

Buy

play tickets

to a community theater.

Take a hot air balloon ride. A view of the city at morning or sunset makes for a romantic experience you won't forget!

Fondue night in

: choose a chocolate fondue recipe with fruit and treats to dip, find a main course dip (cheese or marinara are our favorites) with some bread and meat, and enjoy a romantic night in for a fraction of the price of going out.

Head to the movies. There's always at least one romantic comedy released for the season, and even if it's a bit cliché. Probably, it's cliche for a reason and sometimes the comfort and predictable love is the best kind!
Skip the overpriced meals this time of year and choose a place that's just you. Always up for burritos, go get those burritos! Love a good burger? We've learned that being together casually, or even welcoming a family date out can still feel so special.


Fun Date Night Ideas Every Day for an Entire Year!

Head out for

dessert only

. Chocolate is a known aphrodisiac, so hitting up a fancy chocolate stand, grabbing your favorite ice cream, or splurging on creme brulee can make you feel like you've had an expensive date when you only had to pay the bill for dessert.

Order takeout and set up a romantic place for two at home. Sometimes crowded restaurants aren't the way to go, but a meal you don't have to make and can enjoy under some stringed lights, at an indoor picnic, or a set table makes it feel just as special.

Make hand-dipped chocolates or chocolate strawberries.

Go visit the

significant places in your relationship

(where you met, your first kiss, where you first lived) and, consequently, take a walk down memory lane while only have to pay for gas.

Buy a box of chocolates and head to your favorite coffee shop or hot chocolate stop. Get your favorite drinks and take turns feeding each other chocolates trying to guess each flavor.

Find your

favorite romantic movie

you already own or can watch streaming, and enjoy a romantic night cuddling to your favorite flick.


Date Ideas that are Ridiculously Fun!

Although I'm always bashful mentioning it,

bedroom games

typically don't cost a thing. Find one that sounds fun to you and have a good time reminding yourself love really doesn't cost a thing.

List your favorite things you love about each other, write them out and share it. It may sound cheesy, but those words of affirmation with specifics can make you feel more love than spending a million bucks.

Celebrate Random Acts of Kindness Day (Feb. 17th) and go spread some kindness with some kind gestures. Additionally, you'll feel the love helping others!
Splurge on a couple's massage.

Give each other

massages at home

. There are plenty of free guides and YouTube videos online. Also, a little lotion and some romantic music later set the tone of a totally free, totally romantic night.

Visit a local improv studio and enjoy a night of cheap laughs to beat the winter blues.
Tour your local chocolate or candy factory.


365 Dates

Buy the mats and ingredients and learn to roll sushi at home.

Visit a rock climbing gym and enjoy a day of being active together.

Hit up the local arcade for a night of old-school video games and some skeeball

Take The 5 Love Languages test, and read the chapters on your love language. Talk about how you can better show love to each other.

Book a first-class train ride touring a scenic part of your area.
Host a Super Bowl party even if you're on team "Here for the food" and enjoy a couple's group date together.

Celebrate the Chinese New Year by supporting your local community, even if that's you only have a great local restaurant to support.
Fun Date Night Ideas
Want the rest of the fun date ideas with the full 365 date ideas to do this year? We have a FREE Printable ready to send to your inbox with the full 365 to make it even easier to keep your date ideas on hand and easy to plan.
Get 365 Date Ideas!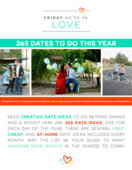 We want to help you have the best date nights ever! Grab this FREE printable with 365 date ideas, a date for every day of the year so you never run out of ideas!
We promise, it won't let you down and your year will be filled with a lot more date idea fun!
Like these date ideas? You may love these date idea lists too: