New Year's Resolutions for Couples
It's time for New Year's Resolutions, and to strengthen your relationship it's a great idea to set some together! Here are 12 Must-Do New Year's Resolutions for Couples!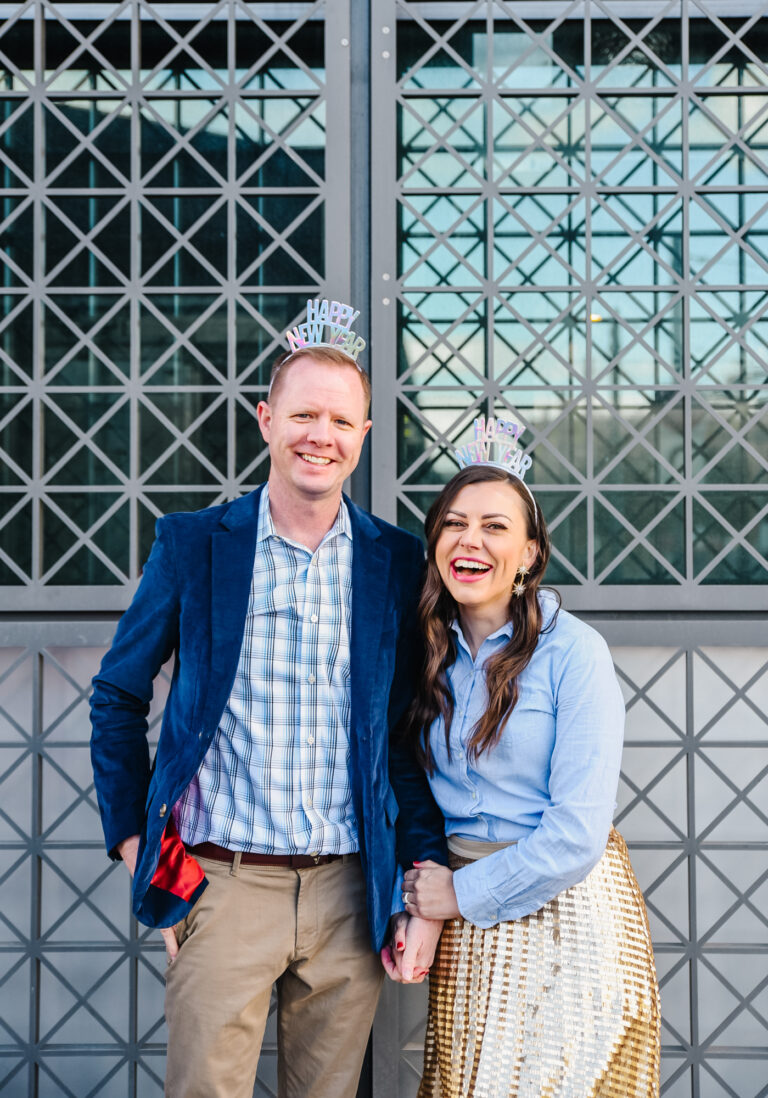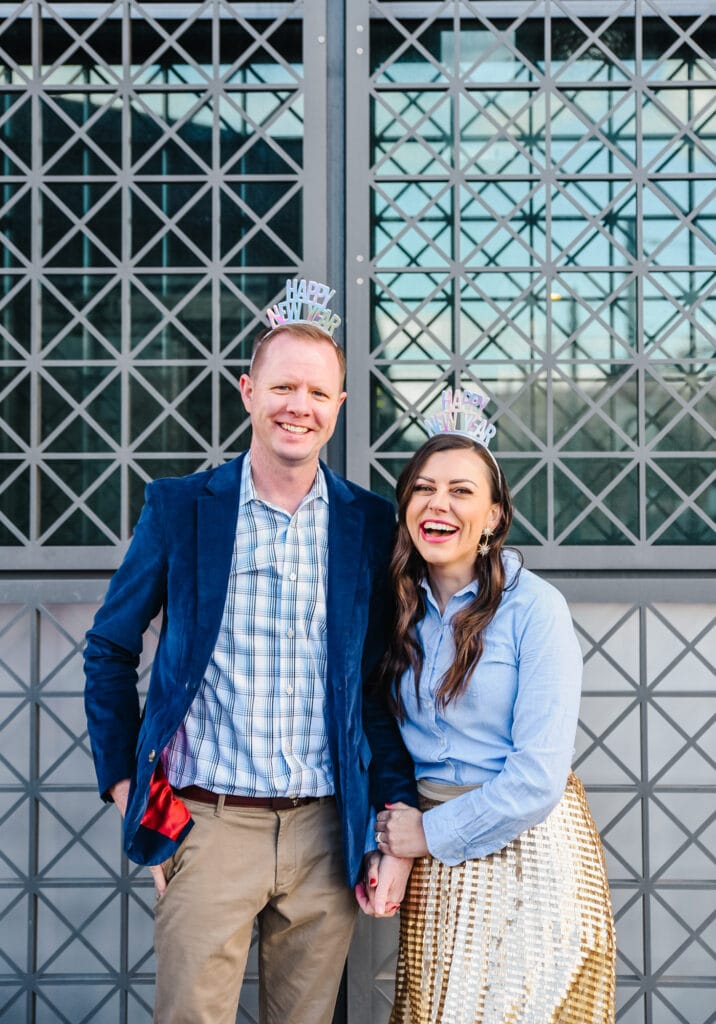 It's the week of setting goals for the new year, and it's time to include your relationship with New Year's resolutions for couples! No matter how great your relationship is, you can always improve and find deeper love and connection together.
New Year's Resolutions for Couples
I'm a firm believer that the close bond you feel as a couple comes from a few connections you share: emotional, intellectual, physical, and spiritual connections. So let's break down a few easy, fun, and important goals that make perfect New Year's resolutions for couples.
Connect Emotionally
Make a weekly date night goal.

We started Friday We're in Love as a goal to go on a date every week. I know making a formal goal has made all the difference in making date night happen for us!
Spending quality time together and making sure your schedules prioritize you and your relationship are some of the best secrets to a long term relationship that feels fun.
I'd challenge you to set a goal to date every week. But if that's not possible, shoot for at least once a month. Twice a month or more is ideal. So many couples aim for a date night out and a stay-at-home date night in. You do what works for you! Here's our date night system that's enabled date nights since we become parents.

If you need ideas, sign up for our Beyond Dinner and a Movie email series to get date nights delivered to your inbox weekly. You can also check out our date night ideas lists, and follow us on Instagram for more date ideas!


Brush up on each other's love languages.

Even if you've taken the 5 Love Languages assessment before, it's a good idea to retake and brush up on them every year. People change and evolve, and sometimes their love languages do too! We have a 5 Love Languages Date Night with a free worksheet perfect to follow for a date night in!

Join the 20 Dates Challenge.
We're kicking this off tomorrow, but essentially, we're asking you to join us in making date night a routine and add some adventure to your relationship with 20 date nights. You can certainly do more, but 20 feels like the perfect number to embrace a date night mentality and set you up for a fun year with your spouse. Plan a date night in, and a date night out every month. Start in January, and be sure to pencil in plans on the calendar every month of the year.
We'll share tons of ideas and help every week on Instagram, so come follow along!

Plan to have a marriage meeting every month.

These don't have to be intimidating or even very formal. But plan a time to talk about what's going well and any concerns anyone may have. Be sure to share wins and sandwich any issues with plenty of solutions and positive feedback too. Give praise freely, be kind, and make it a safe place to share emotions without resentment.
This is one of those New Year's Resolutions for Couples that can make all the difference in feeling more connected this year!

Plan a Big Dream Together

If you love traveling, start planning that dream trip and how you'll make it happen. That may mean it's a few years out, but start working towards that dream now and come up with ways to achieve it.
Maybe it's a remodel, a big move, a career change, sending one of you back to school…the sky truly is the limit with your dreams!
But it's a great emotional connector to share these dreams and start working towards a path to make them a reality. It's also a really fun New Year's Resolutions for couples way to approach goals!

Set a Smartphone Resolution

So many couples find they have a lot of jealousy over devices. If smartphones or laptops have become distractions that are making you feel neglected, it's a great time to talk about couple's resolutions to give more time and attention to each other. We set a rule in our early days of smartphones that we could ask each other at any time to please wrap up with their phone and put it away so we could get more attention.
It sounds silly to make this a goal, but it's one almost every modern couple needs regularly! Make a goal to turn off phones for a set hour every day and spend that time connecting emotionally and really talking and listening to one another.

Make a Goal to Give Words of Affirmation Daily

One tiny compliment a day can make a world of difference in your relationship. Make it a goal to be specific and end each day with a compliment or specific thing you love about your partner.
This small token of appreciation goes such a long way in seeing the good and cutting bad habits of unkind words. It's really the small stuff that adds up to big relationship wins, and this simple goal is one of those big pay-off items for a small intentional task.
Connect Intellectually
Set financial goals together.

Make sure you are both on the same page. Set a financial goal, either big or small, and make a plan to work together towards it.
Here are a few financial goals:
– Save for retirement
– Save for a downpayment
– Pay down a mortgage
– Find a new way to save money
– Come up with a budgeting system and stick to it
– Find new ways to invest

Resolve to Fight Fair

Couples who really grow together and strengthen relationships aren't strong because they never fight or argue, it's because they do. But there's a difference between disagreements and dealing with conflict and fighting.
Choose to make this a year without name-calling, one where you each accept responsibility, and approach conflict when you're level-headed and able to talk and listen.
And if this is a persistent issue, I'd resolve to make a therapy/counseling session to help you get a few tools in your toolbelt to approach this common problem better. Sometimes those sessions on a couch with a professional give relationship resolutions and tools you need to really pull your relationship out of a rut and improve your communication and behavior.

Try Something New Together Every Month

We're firm believers in doing new date night activities just for the science behind it. New experiences trigger adrenaline and dopamine in your brain, which are the same chemicals that help one feel in love.
Give yourself the gift of feeling more love, and learning and growing together. Plan a vist to a new restaurant, make some new friendships, visit a new city, try new activities, think of new couples to meet and double with, or classes to take together.

Make a 10-Year-Plan

If you don't have a 5-year plan, 10-year plan, etc, this is a great time to make one! Come up with where you're like to be in your life and career. And go ahead and backtrack on how you'll get there.
We often come up with new savings plans. Almost always, there's a work goal of certification or a new skill to learn we realize one of us may need.
I love feeling like we're heading in the same direction and finding ways to better support one another. These plans help us stay in check all year to achieve the big-picture items.

Connect Physically
Resolve to change one habit to touch more.

Maybe every time you watch something together, you make a rule to cuddle to hold hands. Perhaps whenever you say a word you agree to kiss. Perhaps a hug before you leave for work, or some intentional PDA is one of those new resolutions that would be great for a little more romance and give a physical boost to your day.
Make an intentional plan for more physical touch and affection, every couple needs it!

Make intimacy resolutions.

Could you benefit from the scheduled intimate time? If your sex life isn't where either of you would like it, is it time to see a sex therapist? Maybe you just need a goal or actual plan to make it happen more or make it better for one or both partners.
Many relationships have a tendency to need a little extra passion or effort to set the mood better. Make it a goal to help each other out in this area and have more spark this year, you're definitely worth it!
Connect Spiritually
Plan a regular spiritual practice to experience together.

Do you want to have meditation time? Are you looking to attend church regularly? Maybe you want to read scriptures together as a couple?
This is going to look different for every couple. But spiritual intimacy is important and planning a way to connect spiritually is always a great New Year's Resolutions for Couples to look into.

Plan Some Time in Nature Together

So many people find a fresh start and spiritual connection out in nature. IF you can plan a hiking date, a cabin retreat, or a day trip to spend some time outside, do it! And do it with your lover! You may find anxiety is decreased, and you find a new connection and inspiration with a little time in nature together.
Be sure to grab our free goal-setting worksheet to help you write down and plan out your New Year's Resolutions for couples.
And may this year be a year your relationship grows stronger and you grow closer together!
Like these New Year's Resolutions for Couples? You May Like These Posts too:
New Year's Eve Mocktail Party- How to Host the Perfect New Year's Eve Party
101 Fun Date Ideas for Couples