How to pull off a hiking date or hiking date night that you'll both enjoy. Plus what to wear, and how to find hikes in your area.
We're lucky as Arizona residents that there are still mountains and plenty of places to hike. Even though we live in the heart of the city, hiking is always within reach! In fact, most places throughout the United States have a hiking mountain or hill within a few hours. We love finding scenic places and breathtaking views while we participate in an active date idea!
Hiking was actually one of our first dates, and we did an extremely challenging hike that taught us communication and trust skills pretty early. We've always loved taking the opportunity to connect with this free date idea!
We spent part of our summer living in Utah while Jacob was working remotely. While there, we stayed with my brother and sister-in-law who lives in Northern Utah. The views from their windows alone are absolutely breathtaking! Truly, Utah has some of the most beautiful mountain ranges and hikes in the world!
While there were nieces to help with kids, we knew a hiking date needed to happen!
How to pull off a hiking date
The beauty of a hiking date night (or day-date) is it's really doesn't take much! Here are a couple of things you need to consider.
A hiking location
I love this website to look at hiking trails in my area. They come up with a ton of results, and let you filter by distance and difficulty. One tip, if you're planning a hiking date as a surprise, I would aim for a relatively easy hike that isn't more than three miles long. You can do a more ambitious hike if you plan it together, but easy hikes tend to facilitate more conversation.
Research hikes in your area that best fit your time of day and that you're date will enjoy.
Parking
Some places have restricted parking and some require a pass in advance. Plan ahead and check out the best time to go.
Timing
I have been on early hikes where we woke up to see the sunrise. Alternately, growing up in Utah and attending college there, I have been on many night hikes watching the sunset. You may need a flashlight for either of these experiences.
We're fans of visiting when it's not too hot, and not very crowded. Research a good time to go and plan your timing accordingly.
Snacks/Food
We did a little hiking for this romantic sunset picnic date a few years ago. That included preparing a picnic basket and planning food accordingly.
We've done lunch/dinner before or after a hike, and also packed quick sandwiches to enjoy. Also, granola bars or trail mix and water have been great for snacks when we've skipped a meal.
There's no wrong way to do this, but I'd make sure there's water for both of you, and you have some food or snack plan before you go.
Dress Accordingly
I had a "surprise" date once in college that didn't inform me we'd be doing something active. I struggled with sandals but made it work. Be sure to tell your date to dress accordingly, and if you need to know what to wear, we have you covered!
What to wear on a hiking date
Your hiking date outfit doesn't need to be complicated: it's all about comfort while still feeling cute.
If you have pants or shorts with some stretch, those will work great! Denim with some stretch or leggings(these are my favorite pair I own!), or bike shorts are perfect. Find a t-shirt or breathable top you feel comfortable in. I aim for a cute top that's linen or a t-shirt I love.
If you know you're going on a cleared path/area or somewhere with water, I'd highly recommend shorts and a top you feel comfortable in.
Should you be hiking in an area with thicker foliage, I'd go for jeans or leggings to avoid scratches and bug bites. If you have hiking shoes, that's great! But I've found walking shoes/sneakers do the trick just fine for most hikes.
Top it off with a hat, and don't forget to wear sunscreen with your outfit!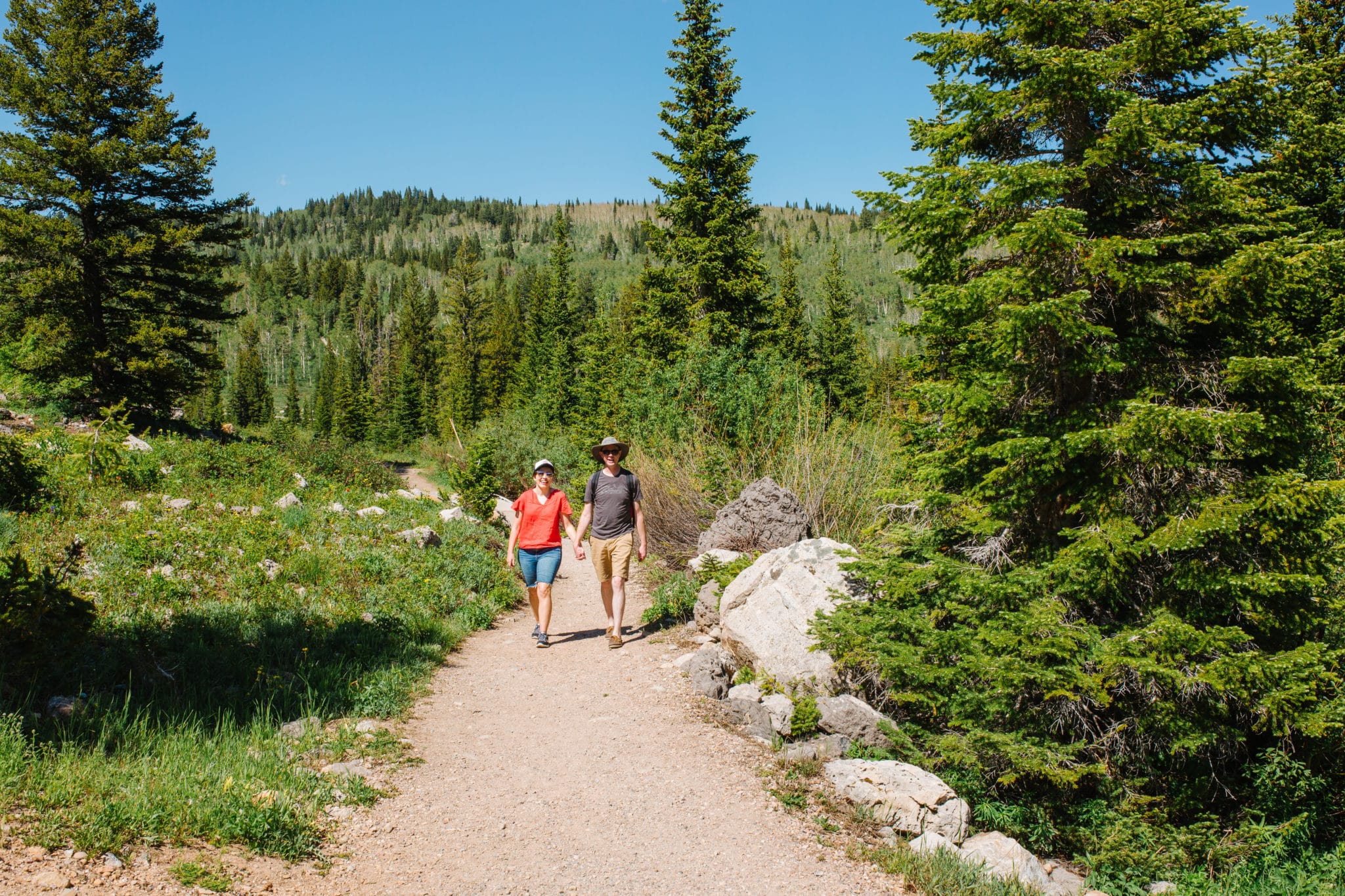 A Few More Hiking Tips for a Romantic Hike
Don't forget the following items:
bug spray
water bottles
a backpack
sunscreen
sunglasses
a flashlight
a camera or mini-tripod to snag some phone selfies,
go with a full phone charge.
Remember to laugh and take the hiking date easy! This is meant to be a connecting time. Plan for some good conversation, amazing views, and some hand-holding while you connect in nature!
Like this date idea? You may like these posts too:
Foodie Date Night Taste Testing Project
Airport Viewing Area Date Night
Get 365 Date Ideas!
We want to help you have the best date nights ever! Grab this FREE printable with 365 date ideas, a date for every day of the year so you never run out of ideas!