Everything you need to know about a drive-in movie date night. How to find one, plan one, rock one, and what to wear for this movie date night!
It's been years since we've had a drive-in movie date. Thanks to our local car cinema place closing, it hasn't been in the cards. But due to the huge demand in social distancing date ideas, we've had several open throughout the Phoenix metro again. I bet wherever you live, you have options too! I'm so excited that we could make a drive-in movie date happen!
Why Are Drive-in Movie Dates the Best?
Social Distanced activities for couples date that lets you still get out of the house
They typically include a double feature for twice the fun
Drive-in dates are often cheaper than a movie theater date
They promote a little more PDA since it's quite a bit less public. Seriously, this is how to cuddle at a movie theater in a way that's socially acceptable!
You can enjoy the privacy of your vehicle
Movie theater concessions are often still available for purchase
It's an intimate date night or a total party of a group date, you can choose to go either way!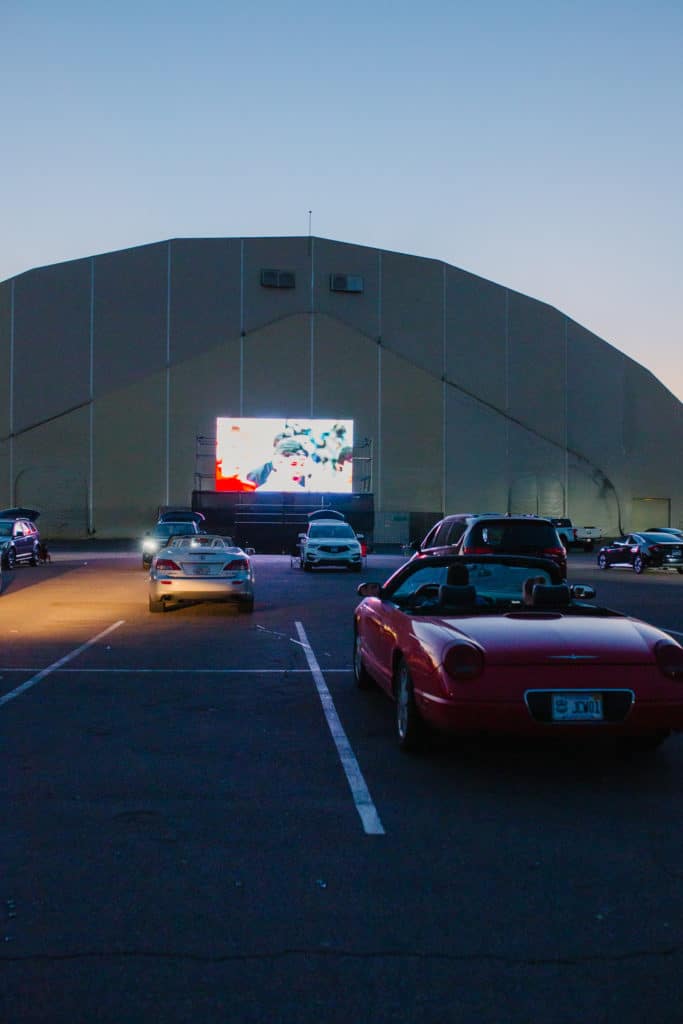 How do I Find a Drive-In Theater Near Me?
Google will be your best friend here! Many new places have popped up this year, and it's the best place to find where movies are in your area. Also, check with your local theater, several are doing outdoor movies with their regular concessions and bathrooms open right now.
How Much Does it Cost?
This is going to vary by theater and area. But most places either charge by vehicle and I'd expect to pay $20-$40 per car. Or, they will charge by person in the vehicle. I've seen $8-$15 per person in Phoenix. When you consider what it would cost to go see a double feature, it's still a great deal!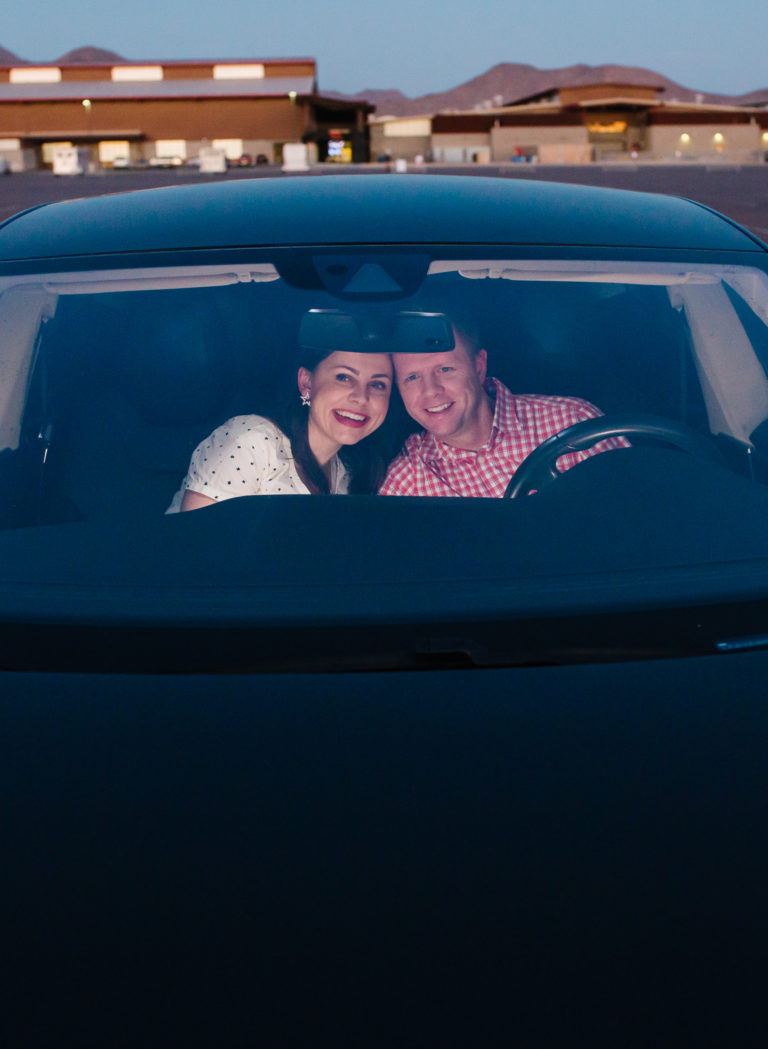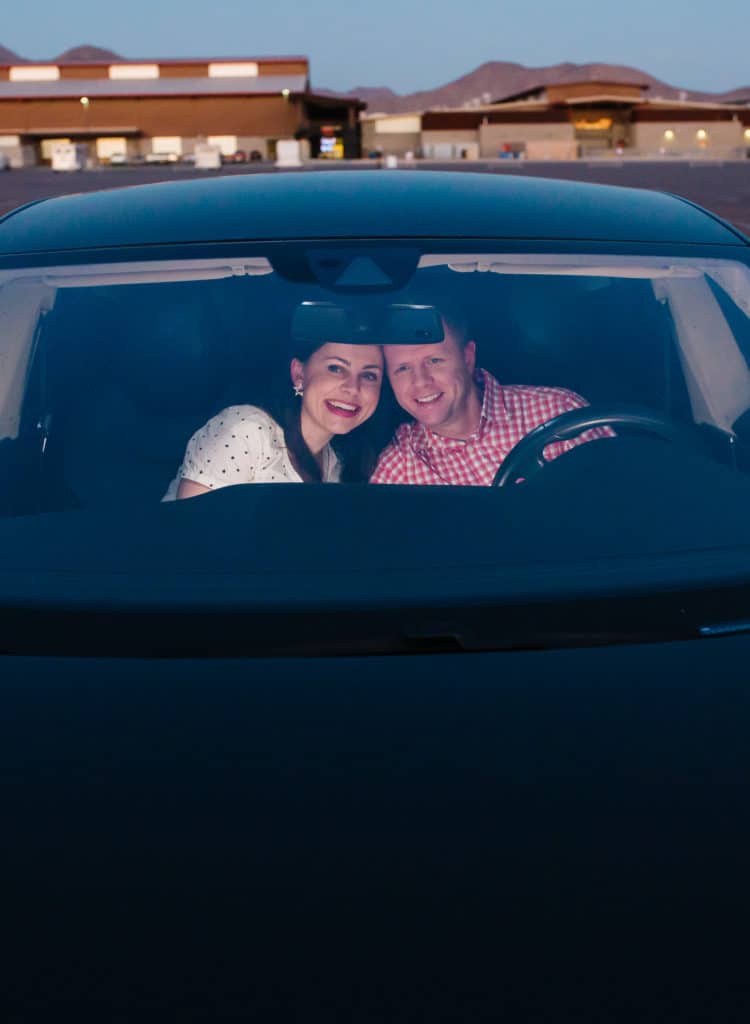 Drive-In Movie Car Setup
There's no wrong way to do this, but you have a few options for your car setup.
First, you can park facing the screen. You'll stay in your car, or go sit on the hood and watch the movie side-by-side. If the weather is too hot or too cold, plan to have the air running and enjoy inside of the vehicle any time of year.
Second, you can bring camping chairs and sit in front, back, or to the side of your car.
If you have a truck, a drive-in movie makes a great truck bed date night! We've borrowed my parents' truck and parked it so the truckbed was facing the screen. It gave for a lot of room, and with the tailgate down, a great view! We've also parked sideways so we could have friends jump in with us for a party. This was years ago before we were officially dating, but it was a fun option for a group date!
Finally, if you have a tailgate, you can park backward and sit in your trunk or backseat spaces. We're SUV owners, and this is our favorite thing to do! When the weather is nice, this is an easy car date idea we can pull off and really enjoy!
What to Bring to an outdoor cinema Date
It doesn't take much to make this date night happen! You literally need a ticker and your car to get in. But here's a list of some other items to consider that make for a really great outdoor movie date!
Food!
We love supporting the local theater, but in this time and season bringing food is a great choice! Pack a dinner, grab takeout, and make dinner and a movie happen.
Snacks
If you can't buy snacks or are on a budget, some inexpensive movie theater candy boxes and some popcorn go a long way!

Bug spray
If you're outside, there's a good chance the bugs are too! Don't let them ruin your date, and plan on a bug spray.
Blankets
You'll want some to keep you warm, and some to sit/lie down on if you're not sitting in your car seats.
Pillows
Sitting in a truck bed or trunk space will need a little extra help for comfort. Grab several pillows!
Radio
Depending on where you're sitting and viewing, you might night hear well from your vehicle. A radio may be a good idea for better volume and sound.
Flashlight
We used the flashlight on our phones several times to set things up, and to head to the bathroom. If you don't have one on your phone, I'd highly recommend bringing one!
Cuddling at the Movies
The main reason people love drive-in movies is for the cuddle factor! If you're on a first date, I'd plan some space and see how things go. If you're an established couple, plan a setup that allows for cuddling! Borrow that truck or SUV if you need to.
I'd also recommend going when the weather is cooler. We just went on the hottest day of the year, and even with the AC blasting, it wasn't the best cuddling at the movies date. When it's cooler, you're set for a little more physical touch. Just remember to be courteous and keep it to cuddling or a private make-out session.
What to Wear to a Drive-In Movie
As a girl who loves dresses and skirts, I'm going to tell you this is the time to be team pants/leggings! First of all, there are often bugs so you'll want to keep your legs covered. But getting in and out of truckbeds, SUV hatchbacks, or leaning over consoles of cars lends to pants or leggings.
Look for comfy clothes you feel cute in! A solid pair of comfy jeans and a top you look and feel your best in is our top recommendation for what to wear to a drive-in movie.
Etiquette for an Outdoor Cinema Date
Park where you're instructed to park. If there isn't someone to guide you, park about 10 feet away from other cars next to you, in designated parking spots.
The moment you park turn off your headlights. Drive-in theaters are set up in a way the lights are shining into someone else's eyes, or bouncing off the screen.
Keep it quiet. Yes, you're outside and more spaced, but most people can still hear your commentary or sing-along time. Be courteous!
Clean up after yourself. Don't leave any litter or mess behind.
Stay 10 feet away from other cars. A little space is a good thing, particularly if you're social distancing. But much more than that limits vehicles and is a little rude.
Can I Make My Own Outdoor Movie Drive-In?
Absolutely! In fact, we highly recommend it! We have an entire post about our outdoor movie theater setup, and we plan to do a group drive-in movie date with our exact setup! It's been one of our favorite purchases and one we use often!
One more tip: take a picture! It's a cute date night you'll want to remember!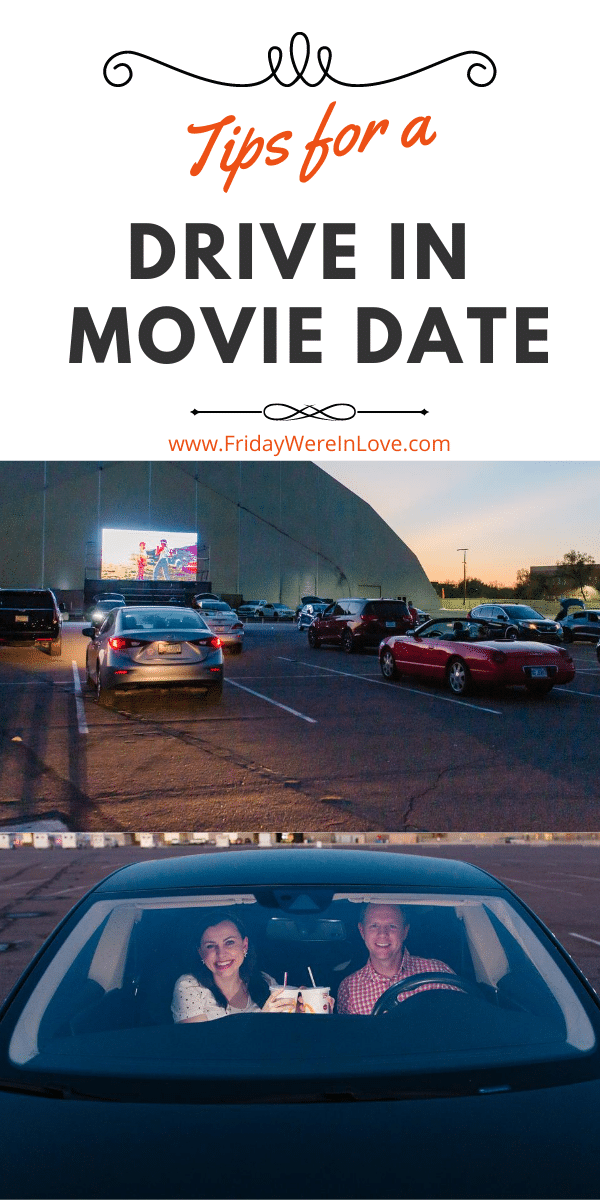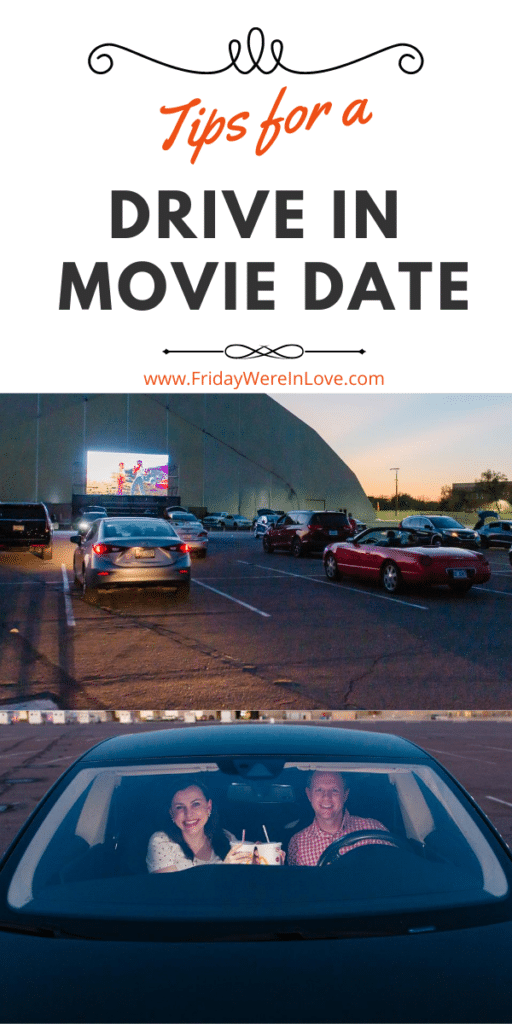 Like these date night ideas? You may like these posts too:
The Best Date Night Subscription Boxes for Couples
The Adventure Challenge Couple's Edition
Get 365 Date Ideas!
We want to help you have the best date nights ever! Grab this FREE printable with 365 date ideas, a date for every day of the year so you never run out of ideas!