Date Night Subscription Box: The Best Date Night Box Options
Looking to try a date night subscription box? Here is a complete roundup of over 20 date night box ideas for your next date night in.
We've had so many requests to share our thoughts on date night boxes over the years. We've tried so many of them! Most importantly, we wanted to make sure we gave all the information you'd need to choose the best date night box subscription for you! After years of trial and research, here's the ultimate guide to date night subscription boxes!
What is a Date Night Box?
A date night box is a planned date delivered in a package to your doorstep. Essentially, it's a date night subscription box for couples to enjoy date night without planning!
Typically it's a monthly date night kit, which most often includes curated goods that you can do all in the comfort of your home. However, there are also box options that can plan your night out. A date box takes the stress out of planning dates with your significant other by sending a date night kit ready to use. Date night subscription boxes for couples often include food, activities, conversation topics, and more.
Also, some variations of a date box may come in a book form. They give you "challenges" or "prompts." The concept of a date night kit is the same! Others may come completely digital to your inbox with all the ideas and printables.
No matter the format, there are so many good options of date night subscription boxes for married couples!
Why subscribe to a date night box?
If you're experiencing any of these feelings, then a date night box might be the perfect solution for that:
Struggling to find a babysitter and stuck at home constantly on the weekends.

Love staying in for date night but sick of just watching Netflix.

Too busy to plan an upcoming weekend you want to spend with your partner.

Tired and lacking creativity when it comes to planning a date.

Desiring to build a deeper connection with your SO.

Wanting to create a spark in your relationship by trying something new.

Experiencing weather that makes it tough to leave get out or leave the house.

Needing something that helps you get in the groove of dating more.
Who is a Date Night Subscription Box for?
Generally speaking, date night boxes cater to everyone in a long-term relationship. First of all, we love that many advertise as date night subscription boxes for married couples. They are extra useful for parents who can't get out as often! However, they work for all couples! Their goal is to spark up relationships by providing a date and bonding activity for the couple. There are many different types of date night subscription boxes out there and can cater to all kinds of couples.
They widely range from couples who prefer to stay in or ones that like to go out, to family-friendly or "adults only" options. Date boxes cater to all kinds of couples too and what they're looking for in a box. For example, there are faith-based date boxes, newlywed options, subscription boxes for older couples, LGBT-friendly ones, and more.
Other subscription boxes can also double as date night boxes for couples who share similar interests or hobbies. From cooking to puzzle-solving, there's a box for any kind of interest!
Essentially, a date subscription box is perfect for any couple who is looking to mix up their date nights, deepen their connection, and make planning their weekend easier.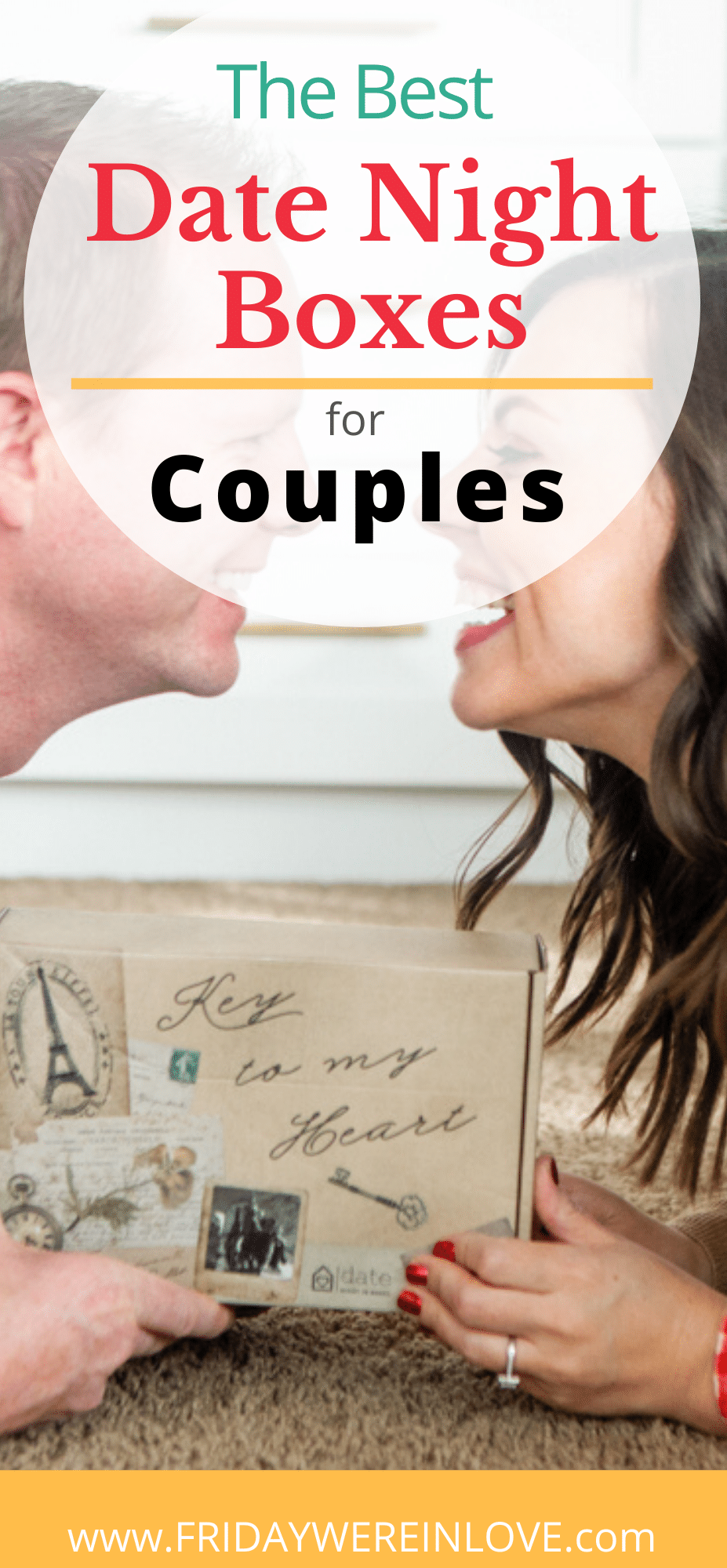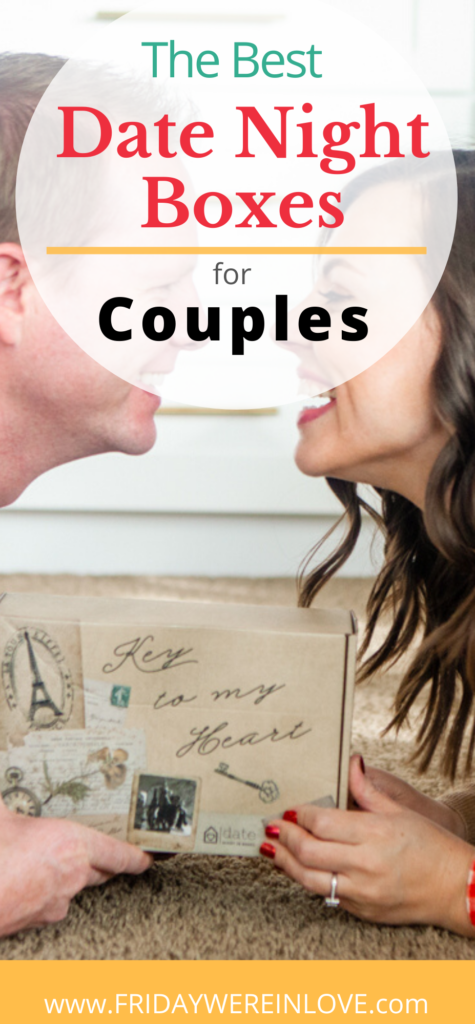 Choosing the Right Date Box For You
Here are all the details you want to know about the date night subscription boxes out there. We'll help you find the perfect one for you.
Some things to consider:
Budget

frequency

relationship interests

date night preferences
Good news, we've provided all the info on each date box subscription option so you'll be set to make the best choice for you!
Complete List of Date Night Box Options
Top Rated Boxes
Date Boxes With Options! Here's the One we Personally subscribe to and love most!
I am so excited to share I have a half off happily date box promo code for you! Use this link and sure to use the Happily promo code: FRIDAYWEREINLOVE to get 50% off your next box!
What it is: A creative date night experience that switches out between going out and staying in. Happily also has other relationship sources like a camping indoors date idea as well as relationship booklets and online courses. Happily is a rebranded "Get-Date Box" committed to the longevity of relationships.
What it Includes: Box plan: date-night guide and everything needed for the themed date, including playlists. The also have a digital date box plan!
Digital plan: typically, conversation starters, a recipe, a playlist, relationship challenge prompt, and a printable activity.
Price Structure:
Digital Date Box Only Plan – $7.99/month.
Monthly Date Night Subscription Box Plan – $39.95/month. But $19.95 with promo code FRIDAYWEREINLOVE
Prepaid 3 Month Plan – $36.45/month.
Prepaid 6 Month Plan – $32.96/month.
Delivery Options: Box arrives around the 15th of every month.
Pros:
You can try one box only to make sure you love it with code: FRIDAYWEREINLOVE

Colorful, exciting packaging.

Historically the leading brand in date night boxes.

Tailored to your preferences in a profile quiz.

Physical and digital options.

Tailors to dietary or allergy restrictions.

Auto-renew, cancel month-to-month anytime.

Blog with inspiration for date night.

Try before you buy: Free Digital DateBox email sample.
Cons:
Not-so-simple refund / return process.

The physical box has no international shipping. Only a digital option outside the US.
https://datenightinbox.com/ but scroll down to get a better deal HERE
Check out our Date Night In Box Review for more thoughts and pictures!
What it is: The Date Night in a Box is a beautifully crafted, full experience brought to your home each month. From Island Oasis to Roaring 20s, each month comes with a beautifully designed and themed box that's exciting to open. The types of activities vary too, from relationship building questions to dance lessons, you're in for a delightful surprise every month!
What to Expect: They do a great job mixing it up each box! In fact, they have been our personal favorite so far! Expect more than on activity, it's a full night of date night fun that really helps you bond.
What the box includes: A variety of interactive activities, mood-setting ambiance accessories, snacks or mixers, and a chef-curated dinner menu with recipes if you'd like to add dinner to the date. Also, we think this is the best date night subscription box for married couples because of the conversation questions. They really help you think deeply and connect no matter how long you've been together!
Price Structure: $41.99/ Month, $120/ for 3 months, $239 for 6 months, $464 for year.
Delivery Options: Monthly only, comes between the 16th-21st of each month.
Pros:
Great Christian subscriptions boxes for married couples and families

Boxes employ disabled and underserved communities.

Includes an optional, faith-building add-on.

Beautiful packaging and design.

Different, exciting themes and activities each month.

It comes with built playlists (on Spotify or Pandora) for ambiance.

Really great dates! Fun thoughtful activities and conversations.

Renewing and non-renewing subscriptions available.

Many opportunities to win free boxes on social media.

Seasonal promotions are available.

Includes the materials for activity, not just instructions.

Box organizes and plans an entire evening.
Cons:
Includes paying for shipping.

Recipes can require a lot of work.

Very small snack packs.

Month-to-month "worth the cost" varies.

Auto Auto-Renewal: no notices for subscription renewal.

Many claims of difficult customer service.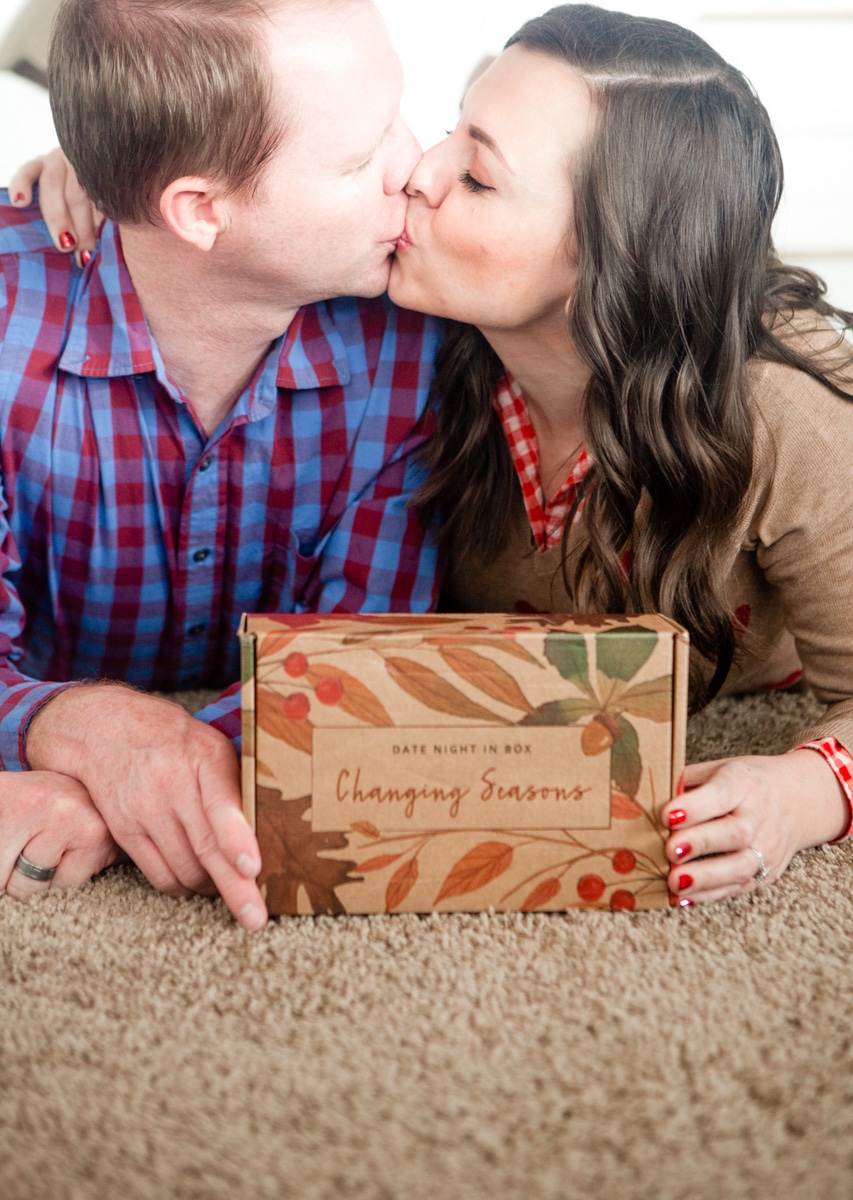 https://cratedwithlove.com/product/gift/
What it is: First of all, Crated with Love is a budget-conscious, tailorable delivery date night box inspired to make you and your partner laugh and reconnect with each other.
What it Includes: Four to five date night games and activities. All items needed for your fun date night. A Spotify playlist and online content. Recipes, exclusive badges to earn, all wrapped in a new theme every time. Option to get date ideas (12 new ideas per month), challenges, and tips emailed every week as well for a small fee.
Price Structure: $31.99 / month (month to month), prepay $149.94 every 6 months, prepay $239.88 for a year, $2 / month for weekly digital email tips; one-time purchase options for $35.
Delivery Options: Delivered monthly, every other month, or quarterly – on the 1st or 15th (you get to choose when you want it to come on when you initially order).
Pros:
Very cute box designs.

Flexible delivery frame and customizable subscription.

Special Date Night Digital add-on to supplement other weeks in the month.

Printable card for gifting.

Ships to United States, Canada, United Kingdom, New Zealand, and Australia.

Referral program.

Easy online cancellation.

One-time purchase options you can choose from.

Good customer service.

Various activities per box (so you can choose what you want or not want to do).

Great long-distance option.
Cons:
International orders require a shipping fee of $10 per box.

Mostly focused on only conversation topics and learning about SO.
Date Boxes for Married Couples
What it is: A date night subscription box dedicated to long-term relationships dedicated to making memories together. This box is tailored to the couples' interests and provides everything needed to do that date, but will occasionally push couples out of their comfort zone for an exciting new adventure.
What to Expect: Something tailored to your preferences! You'll love getting to have input on your date night box!
What it Includes: Date instructions, recipes, tips cards, his and her only cards, fun products and games, gourmet snacks and drinks, projects you can do together, and everything you will need for the date.
Price Structure:
Month to Month subscription: $39 / Month.
3-Month subscription: $36 / Month ($108.00 upfront pre-paid).
6-Month subscription: $34 / Month ($204.00 upfront pre-paid).
Delivery Options: Monthly delivery. Shipped on the 10th every month.
Pros:
Free 2-3 day priority mail shipping.

Dates and date activities correspond with where you live.

One-time discount purchase (in shop section) and auto-renewal options.

Most are indoors, but some will work outdoors according to the season where you live.

Easy cancellation.

Clean, easy site to use.
Cons:
$20 charge to ship to Canada.

The packaging is simpler, cheaper looking.
https://www.theadventurechallenge.com/collections/products
*Check out our full Save 10% post for more details!
What it is: Looking for a surprise or something to spark your next date this weekend? The Adventure Challenge book is a book of scratch-off prompts to push you and your spouse to try something new. You can also get a Polaroid camera with it to document your completed challenges.
Here's a sample date you can watch to get a feel for the Adventure Challenge date book.
What it Includes: Adventure scratch-off challenge booklet, scratch-off coins, can add on an instant camera for additional.
What to expect: They put the adventure in date night! You don't know what you're doing in advance, but it will tell you time frame and location with a hint. It creates a little thrill with a surprise.
Price Structure: $49.99 / Book of Dates, $127.99 for couples' book and polaroid camera bundle
BONUS: We love them so much we asked for a promo code!
Save 10% off any Adventure Challenge book with promo code: InLove10
Delivery Options: One-time purchase.
Pros:
Very affordable.

No "auto" renewal purchase issues.

Documents memories you create together.

Use it at your convenience.

No wait for the subscription.

Flexible: can scratch off the idea by category.

Inspirational messages from coaches.
Cons:
Not as exciting after initial use.

It could disappear on your shelf.

You'll have to remember to put it on the calendar and make it a regular date

No space to "write-in."
Bonding Bees Date Night Box
https://bondingbees.com/
What it is: Bonding Bees is a cute Date Night box built on the motto, "Gather. Give. Grow." They deliver a box each month that helps new and long-time couples reconnect with the perfect date while giving back to the community.
What it includes: Information booklet, crafts, games, recipes, relationship building activities, dessert, unique products, and unique gifts.
Price Structure: Pricing starts at $39/ month | 3 months for $36 a box | 6-months for $34 a box. IT auto-renews, and there are often sale boxes for $15 a box.
Delivery Options: Auto-monthly, ships out 1st week of the month.
Pros:
Free Shipping in the US.

Brand "Gives Back" – hires underserved communities in Detroit, donates to causes.

Features a cute "Couple of the Month," and donates to a charity of their choice.

Clear Instructions in Organized booklet.

Includes everything you need for date night (for the most part – might need small items if mentioned).

Versatile activities – fit for any couple.

Multiple things to do in each box.

Includes a reusable item.
Cons:
The packaging is a little cheesy.

Activities are most often craft or art-focused. (Con or pro depends on your interest level in these activities).
Themed Date Night Box
https://www.cratejoy.com/subscription-box/the-date-crate/
What it is: A date night box designed for busy couples that provides a new, creative experience every month for you and your SO to enjoy.
What it Includes: A themed date night guide, snacks, snacks, and full pieces for box activity.
Price Structure: $34.99 / month.
Delivery Options: Ships on the 4th of every month.
Pros:
Wide variety of date ideas.

Great customer service.

Ships worldwide.

Auto-renew, cancel whenever.

LGBT friendly (every kind of couple can enjoy).
Cons:
Shipping costs not included.

Inconsistent shipping results.

Mixed reviews on goods provided (either really high or really low).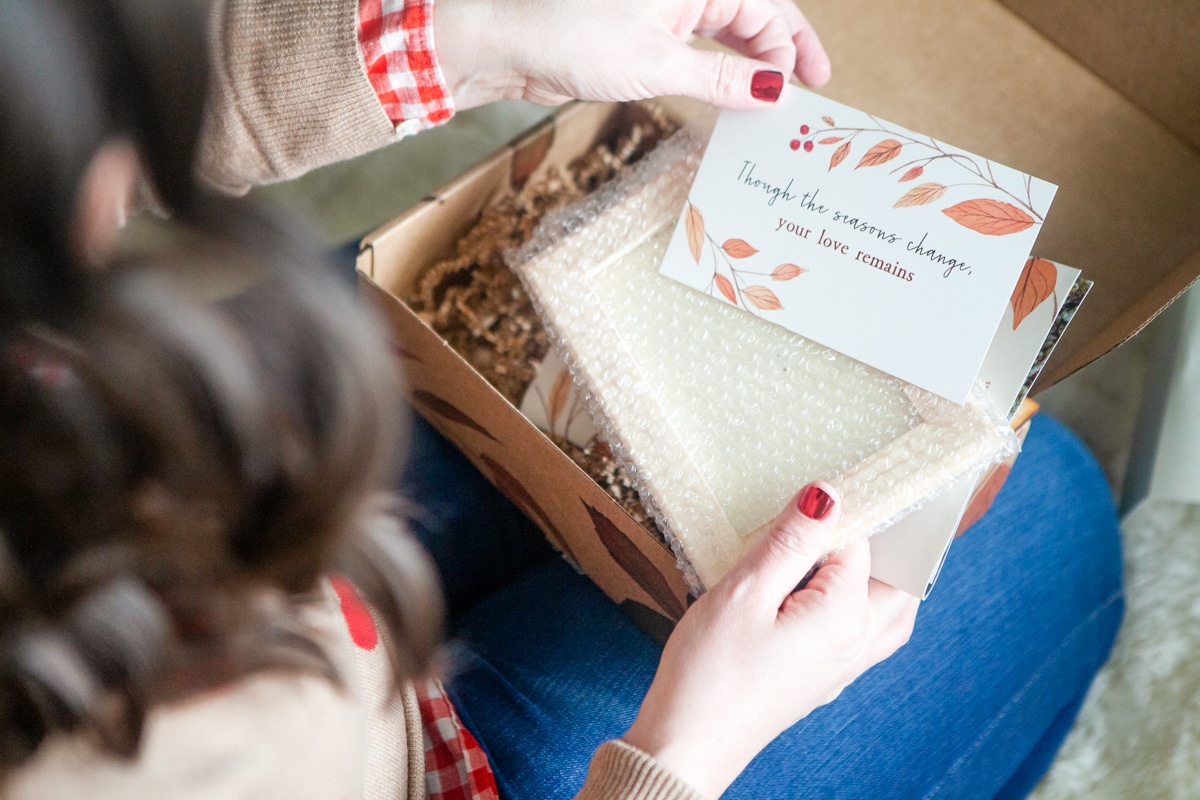 Couples Getaway Box
https://www.couplesgetawaybox.com/
What it is: This date night subscription box focuses on creating "romantic destination getaway" experiences all in the comfort of your own home. Each month features a themed travel destination to inspire your next vacation together as well as reconnecting with your spouse right now.
What it Includes: A detailed "travel" itinerary, local-themed goodies, and a date night activity. The itinerary provides suggestions on where or what to eat, bath and body treats, and a themed activity.
Price Structure: $44 for 1-time box, $39 Bi-Monthly auto-renewal, $210 Annually for bi-monthly deliveries.
Delivery Options: One-time purchase, delivered bi-monthly (every other month).
Pros:
Cancel anytime.

Versatile: can inspire going out or creating an exotic experience at home.

It creates a relaxing vacation activity.

It helps discover new destination ideas.

Destination recommendations – so it doubles as a travel guide.

More unique than other date night subscription options.

High-quality, curated themed goods.

One-time sample option (no commitment required).

Credit towards returned options.
Cons:
No monthly option.

Mostly spa-themed (pro or con dependent on interests).

Could cause a major wanderlust travel bug.
Home Delivery Date Boxes
Date Nite
What it is: Date Nite Box plans your romantic weekend with stress-free, novel, fun and exciting ideas. This box focuses on fulfilling the Five Love Languages in the activity it customizes for your profile. This service provides package options for either going out on the town or staying in at night.
What it Includes: This box provides date-planning concierge services. In addition, it has pre-paid vouchers to cover a complete date full of activities. As well as themed goodies that typically provide prompts and notes to bond with each other. The Pre-Date Night In includes a full-kit activity.
Price Structure: For starters, there are four package options. These include:
$69 / Month for quarterly customized date + 2 date nights per quarter (Bronze Option).
$89 / Month for bi-monthly customized date + 1 bi-monthly date night in (Silver Option).
$159 / Month for the monthly customized date (Gold Option).
Platinum option with Gold features + monthly date night in (more info TBA).
Delivery Options: Delivered monthly, bi-monthly, or quarterly 7 days after billing.
Pros:
Each date paid for and valued over $150.

Higher-end, novel date compared to other date boxes.

Plans and pays date night out for you.

Also, provides a supplementary date night in.

Auto renews, can cancel before the next order.

Customizable interests in profile prior to delivery.

Featured on Tyra Banks' show.
Cons:
Requires a babysitter for a night out.

Only ships in the US.

Activities cannot be customized once delivered.

It doesn't cover gratuity or tax expenses.

Most expensive date box option.
More Date Night Subscription Box Options
DateBox Club
What it is: DateBox Club encourages couples to reconnect with each other after by providing a creative night in. It curates one-of-a-kind, delightful experiences that constantly excite and surprise its subscribers.
What it Includes: Everything needed for the date night that month. May include a DIY project, a game, cooking activity, or a fun couple's challenge. Plus, we'll often include a thoughtful gift, delicious treats, communication exercises
Price Structure: $33-$40 Month. This is dependent on the plan you choose. Subsequently, you can go month-to-month for $40 or buy a full year for $33. There are also 3 or 6-month options in between.
Delivery Options: Sent the 2nd-3rd week of every month.
Pros:
Cancel or pause anytime option.

Cheaper than dinner and a movie.

Box activities are pre-tested and tried before delivery.

Offers "free" date night ideas on

its blog

.

Opportunities to win giveaways through email subscription.

Low-effort activities.
Cons:
Mediocre quality products.

Mediocre quality shipping.

Not a great value for the goods provided.

Can't cancel longer-term subscriptions.

International Date Box
CupidBox
https://cupidbox.co.uk/
Hi UK readers, we know we have many of you, and this one is for you!
What it is: Based in the UK, CupidBox is a date subscription that delivers an evening of creating conversation and quality time for couples straight to their doorstep. This date night box is a great, affordable option for couples in Europe.
What it Includes: A complete guide to date night, several activities and games, snacks, games, and essentially everything needed for the date night at home.
Price Structure: £25 for a monthly subscription, £23 /month for quarterly, and £20 for semi-annual subscriptions.
Delivery Options: Monthly on the 15th.
Pros:
Cancel anytime.

Free shipping/postage.

Delivers to the UK, Ireland, France, Spain, and Italy.

Cute packaging.

Very positively rated by users.
Cons:
Only Delivers in Europe to the stated above countries.
Date Night Box Ideas based on Interests
For couples who are looking for much more intimate dates…
The Fantasy Box
https://www.thefantasybox.com/
What it is: Subscription boxes that encourage different intimacy or sensual date nights. From very simple ideas like a bubble bath for two to special occasions like birthdays or anniversaries, to creative roleplay, the Fantasy Box provides a night in that can delight and excite any couple.
What it Includes: Everything tailored to the experience of the box.
Price Structure: $39 / Month for Essentials pack, $59 / Month for Classic pack, $159 / Month for platinum pack ; individual box purchases from $35 – $160; 3-Box Bundles from Classic tier ($199) or Platinum tier ($499).
Delivery Options: Monthly delivery within the first two weeks of the month; other orders 1-5 business days.
Pros:
High-quality, discreetly designed package.

Luxury experience.

Plus-size lingerie is available.

Easy cancellation or 1-month delay options prior to billing.

Customizable subscriptions.

Themed box progression (starts tamer then builds on it).
Cons:
Can't cancel an order after it's billed.

Non-returnable or refundable (can be replaced through proper request).

Budget Date Box
Love-Drop Date Night Box



https://love-drop.com/products/lovedrop-subscription
WARNING: This is an intimacy-based box, so if that isn't your thing skip this one!
What it is: A box that will spice up your intimacy with a variety of high-end goodies and ideas. LoveDrop focuses on the emotional aspect of relationships too, and not just a physical connection.
What it Includes: Original box – Romantic challenges and prompts, designer Sex Toys, sexy games/activities/ideas, samples of lubricants, chocolates, condoms, etc.., intimacy writings, education and self-care features. Lingerie with an add-on box.
Price Structure: $64.99 / bi-monthly for original, $89.98 /bi-monthly with lingerie add-on.
Delivery Options: Box delivers bi-monthly.
Pros:
It is currently deeply discounted on Groupon.

You can cancel anytime.

Boxes are discreetly and beautifully packaged.

High-quality, designer-line products at a deeply discounted price.

It helps focus on intimacy in a relationship.

Pre-pay for 10% discount.

It can use more than once.
Cons:
On the expensive side for a date night subscription box.

No monthly date night box options.
For mystery, puzzle-solving lovers…
https://deadboltmysterysociety.com/ / https://www.cratejoy.com/subscription-box/deadbolt-escape-rooms/
What it is: An opportunity to bring a new Escape Room home every month. The Deadbolt Mystery Society Monthly Box is a mystery/puzzle box that sends subscribers a new, stand-alone case file with everything needed to solve it.
What it Includes: Stand-alone compelling stories in each box, immersive scenarios, intriguing characters, and interactive, online components to enhance the story.
Price Structure: $24.99 for a month-to-month plan, 3-Month prepay $69.99, 6-month prepay $134.99, 12-month prepay $259.99; one-time purchases and bundles – $25+.
Delivery Options: Monthly delivery first week of the month, 3 to 6-month subscriptions available.
Pros:
Ships worldwide (with a few exceptions).

Auto-renew, cancel anytime.

Loved by reviewers for date night.

Family-friendly activity.

Engaging and exciting.

Very affordable.

Great Customer service.
Cons:
A few extremely difficult puzzles; Some puzzles might take more than one night to solve.

Occasionally misleading; More escape room style, less murder mystery.
For the at-home thrill-seekers
What it is: The Hunt a Killer Subscription Box is a murder-mystery subscription box for those couples who love to watch crime shows. These exciting boxes build on each other for a full 6-box season of suspense!
What it Includes: A package every month containing letters, objects, evidence, and clues; each proceeding box will expound on the plot.
Price Structure: month-to-month plan – $30 / month, $25 per month for 6 (full season pass) or 12 month (double season pass) package.
Delivery Options:
Pros:
Amazon integration for quick delivery!

Free shipping with season pass packages.

Can expedite the next month if you're too excited to wait.

Pause subscription option if monthly is too fast.

Ships internationally.

Very positive reviews / highly raved about.
Cons:
No refunds or returns on delivered episodes.
For couples who own a board game cupboard –
https://www.cratejoy.com/subscription-box/unboxboardom/
What it is: UnboxBoardom is a board game subscription box that delivers new games right to your door. You can choose from featured monthly games or be surprised. Best of all, most games can be two-player but also work for couples who like to meet and play together.
What it Includes:
Price Structure: Beginner – quarterly $31.99; Casual Gamer – bimonthly $30.99, Game Guru – monthly $29.99
Delivery Options: Ships monthly, bimonthly, and quarterly (depending on subscription) on the 15th of the scheduled month.
Pros:
Auto-renew, cancel anytime.

Board games for a good cause; donates 10th purchased game to underserved communities.

Can handpick board game from three options.

Wide variety of games.

High-quality games.

Team improves curations based on customer feedback.
Cons:
US shipping only.

Occasional shipping issues.
For Travel Foodies Stuck at Home…
https://takeoutkit.com/ / https://www.cratejoy.com/subscription-box/takeout-kit/
What it is: If you're a couple with an adventurous culinary palette, this is the perfect kit for you. From Pad Thai to Shakshuka, your taste buds will be delighted with International eats right at home.
What it Includes: Each kit provides a culinary history of the dish, easy step by step instructions, and all the ingredients you need to make the meals at home. Additionally, Takeout Kit gives suggestions for fresh add-ins and drink pairings.
Price Structure: Month to Month CrateJoy Plan @ $36.99 / month, 10% off 3 or 6 month subscription; One-time purchase $25+ for individual kits, $80+ for 3-kit bundles.
Delivery Options:
Pros:
Delivers nationwide to the continental U.S., Hawaii, Alaska, Puerto Rico, and military APO addresses worldwide.

Free UPS ground shipping over $50.

Amazon Prime

1-2 day shipping options.

You can either one-time purchase on the main website or enjoy every month with CrateJoy.

One Kit feeds four (or a couple twice!)

Takeout Kits can be stored in your pantry until you're ready to cook!

Gluten-free, vegetarian, and vegan options.

Organic, authentic imported, gourmet, and free from preservatives whenever possible.

Kits have a long shelf life.

Replacement and store credit options available for defects.
Cons:
Have to buy fresh ingredients if you want to enhance the meal.

No international shipping.

Deliciousness may vary on the recipe.
Date Night Box Subscriptions Currently on Hold We Hope Make a Comeback soon
Date to Door



*To clarify, these couples box options appear to be paused. However, we're hoping they return soon!
https://boxes.hellosubscription.com/subscription-box/date-to-door/ / https://www.facebook.com/datetodoor/
What it is: A simple, monthly date night box subscription that provides a creative date night ideas. Its goal is to help keep the spark alive for couples and marriages.
What it Includes: NA
Price Structure: $40 / Month.
Delivery Options: NA
Pros: NA
Cons: NA
The Modern Love Box

– Currently Unavailable
https://www.modernlovebox.com/
What it is: Modern Love Box focuses on helping long-term relationships cure boredom and keep that intimate, romantic spark alive. Also, these boxes will occasionally include NSFW, adult items that encourage physical intimacy. Di we mention it's a very chic design?
What it Includes: A communication activity, a game, and luxury goods that promote intimacy or excitement.
Price Structure: $54.00 per quarter? – TBD when they activate
Delivery Options: Delivered monthly – TBD when they activate
Pros:
Beautiful, minimalist packaging and design.

Very "cool" and modern.

Free shipping.

Great customer service.

Great retail value.

High-quality curation of goodies.

Easy to cancel.

Great for every kind of couple (ie. LGBT friendly).
Cons:
Currently unavailable for an indefinite amount of time.

Only ships in the US.
Datelivery
https://boxes.hellosubscription.com/subscription-box/datelivery/ / https://www.facebook.com/Datelivery/
What it is: Datelivery is a long-time running box with monthly or buy-as-you-go options for couples. It provides all the activities for a date night in within its box.
What it Includes: A date night box with a theme, instructions, and items that match the theme.
Price Structure: $29 / Month, $24-$150 for individual boxes or bundles
Delivery Options: Typically purchased box-to-box, but monthly subscriptions seem available.
Pros:
Gives a little sneak-peek of what's coming in the box, but not spoiling everything.

Free shipping.

Pay as you go option.

Themed boxes that you can choose from, variety and options.

Most affordable month-to-month option without commitment.
Cons:
Main Website is currently unavailable (

https://www.datelivery.com/

).

Additionally, there's not a ton of current information about Datelivery availability due to their missing website.

Some boxes seem to miss pieces to games or activities.
We hope you find the perfect date night subscription box for you! Did we miss any? We'd love to hear of any new kids on the block to add to our roundup!
Like these date night box ideas? You may like these posts too:
Inexpensive Date Ideas: 10 Date Ideas Under $10
Making Date Night Happen When You're Out of the Habit
Get 365 Date Ideas!
We want to help you have the best date nights ever! Grab this FREE printable with 365 date ideas, a date for every day of the year so you never run out of ideas!