Everything you need to know about The Polar Express AZ experience. Details on tickets, what to pack, how to prepare, and tips for The Polar Express Williams AZ experience.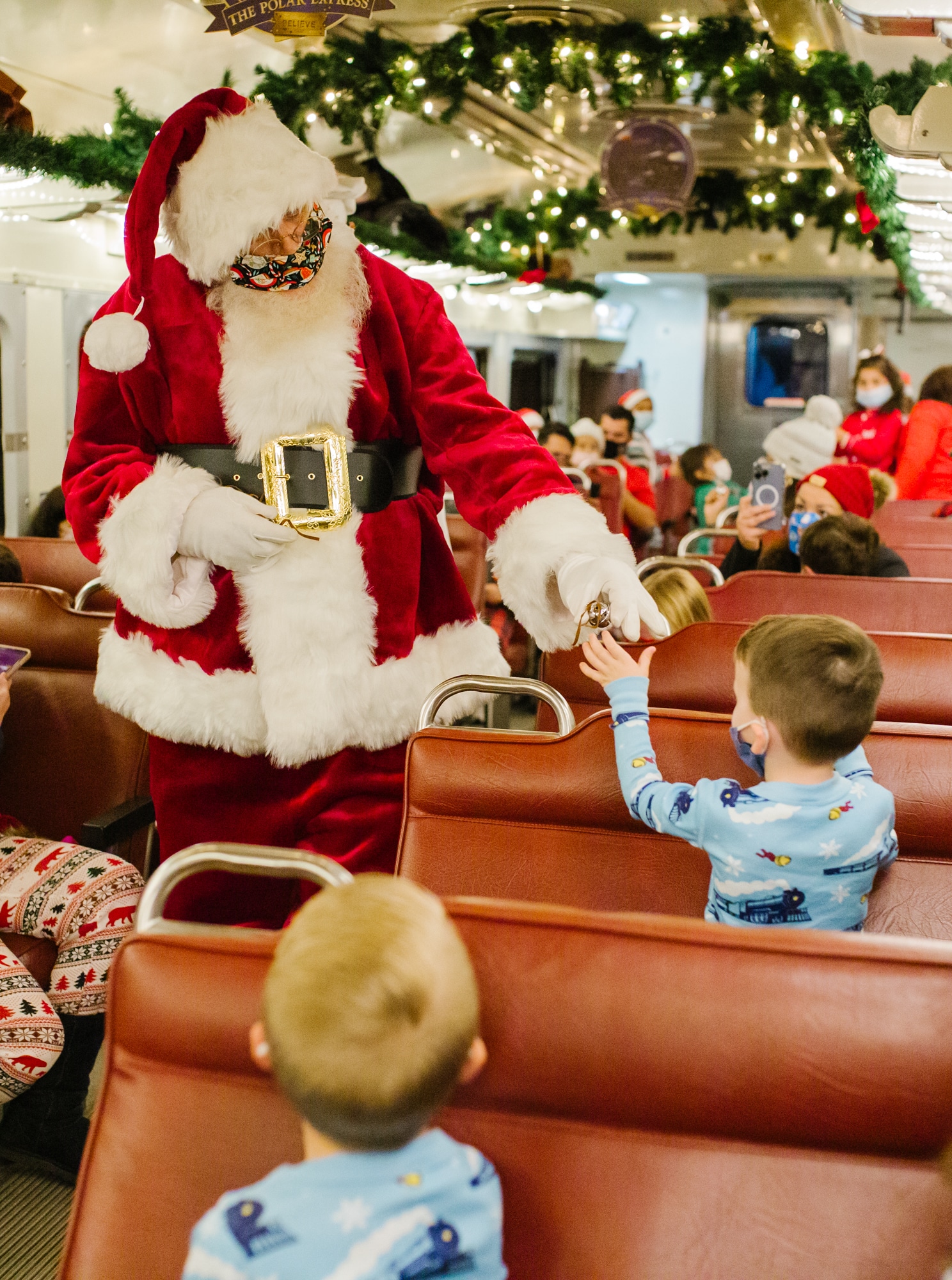 Long before I had my own children I'd heard of chartered Polar Express experiences. It's essentially a real train ride families can book set to mimic The Polar Express book and movie. I always thought it sounded amazing, and I promised myself if I became a parent I'd make it happen at least once.
We made that parenting bucket list a reality and took our kids on The Polar Express AZ train ride. And we loved our Polar Express train ride so much, we've made it a holiday tradition and just returned from our third Polar Express Arizona experience.
What is the Polar Express Experience?
Essentially you book a train ride and walk directly into The Polar Express book and movie. They play and sing and dance to songs from the movie. You can expect the song and dance to Hot Chocolate, with cookies and hot chocolate served. It's fun and magic right up until you arrive at The North Pole where Santa Claus waves from his sleigh.
On the way back, the reindeer are still there, but Santa seems to be missing from his sleigh. To cheer kids up, they'll have you sing Christmas carols to cheer up kids, and in the middle Santa magically appears aboard the train.
He gives each kid "The first gift of Christmas" aka a bell. Kids get to enjoy a few minutes of magic with him, and then he waves goodbye and heads to the next car. You'll enjoy carols and lots of bell ringing until you're back at the station.
It's all so magical! Truly two hours well spent and we'd say completely worth the money!
We had an even more amazing time than I imagined! But I instantly started writing down the information I wish I'd known before our experience. I came up with about 20 things either we did right or wish we'd have done differently to get the most out of The Polar Express Williams AZ experience. And you know I'm updating this list after three years of holiday magic and experiencing The Polar Express Arizona.
Booking Polar Express Experience Tickets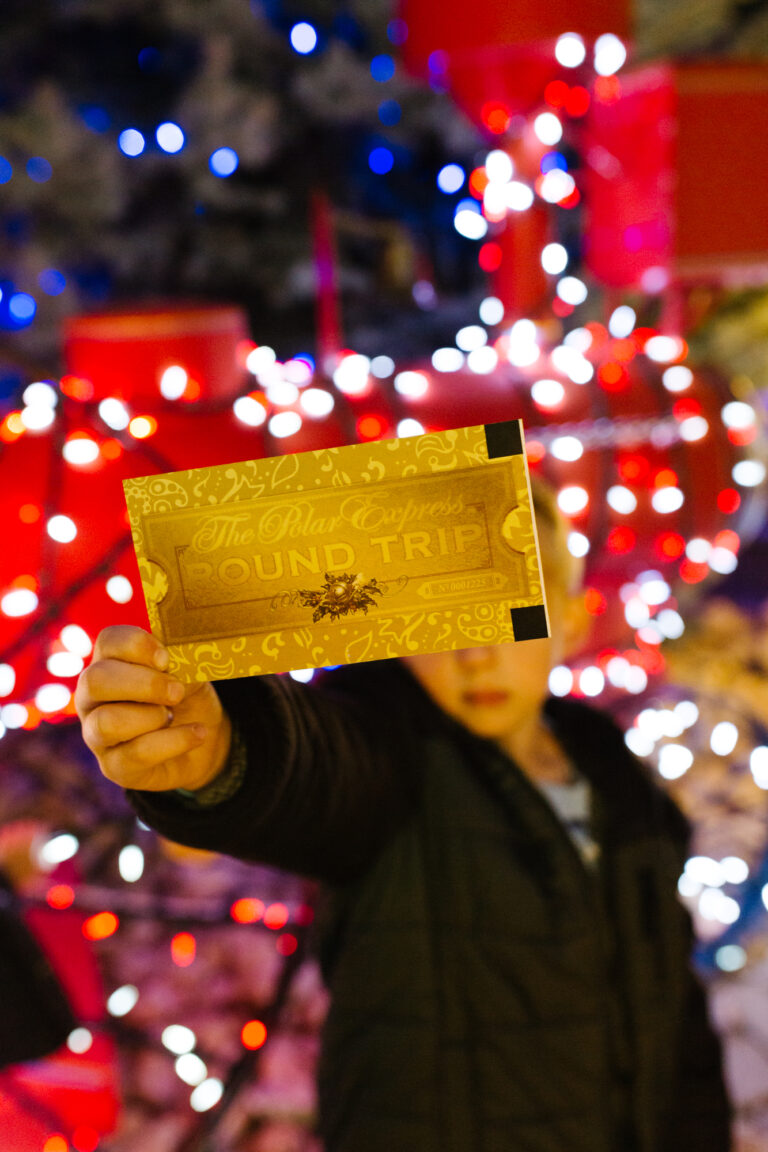 I'm writing this after opening weekend in November. As of today, there are a limited amount of weeknight tickets available. I also noticed as soon as the season starts, they open tickets for next year. This means you can try to grab some during the holiday season, but you can also book a year in advance.

When is the best time to book tickets?
The sooner the better! We bought our first train tickets in October and noticed all the Saturday tickets were already gone. If you have a large party I'd book them no later than summertime. If you're taking a small family as we did, you can probably still book a weekend timeslot up through October or Nov.
* *Check out our note about special packages below.
I'd put a calendar reminder on your phone to remember to book them at a time you have some extra cash. AKA, use your tax return or a bonus earlier in the year and purchase them then.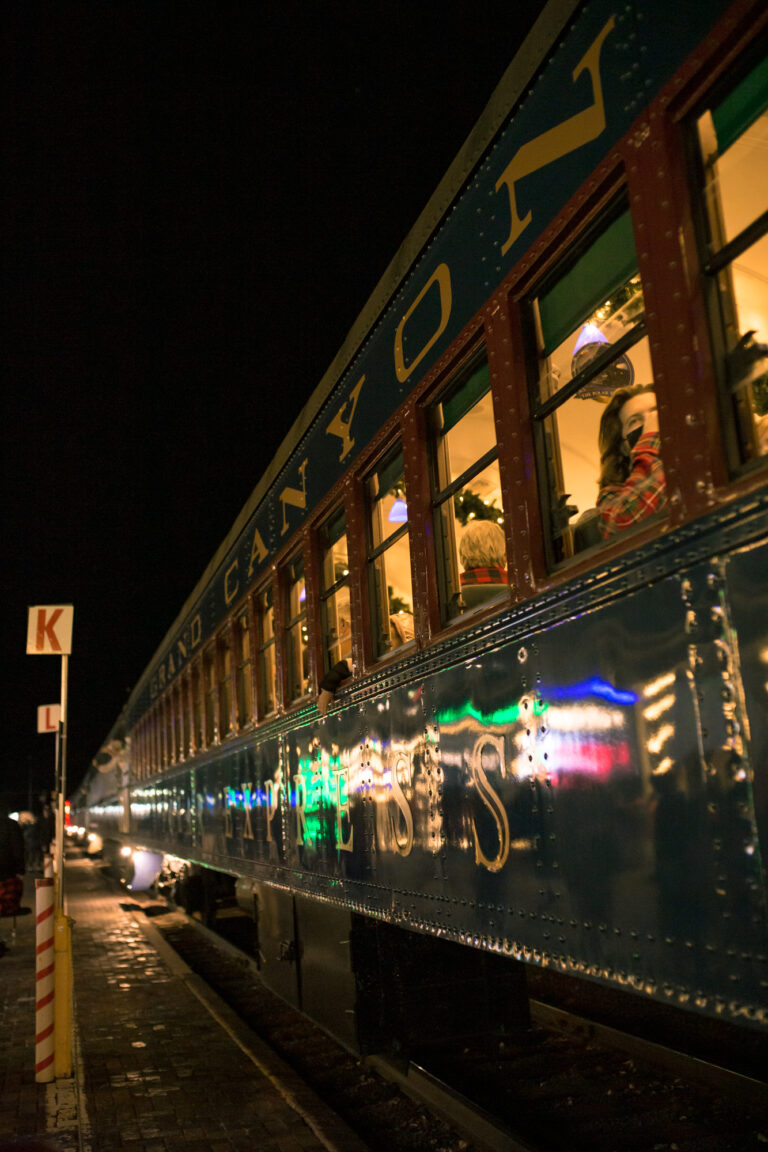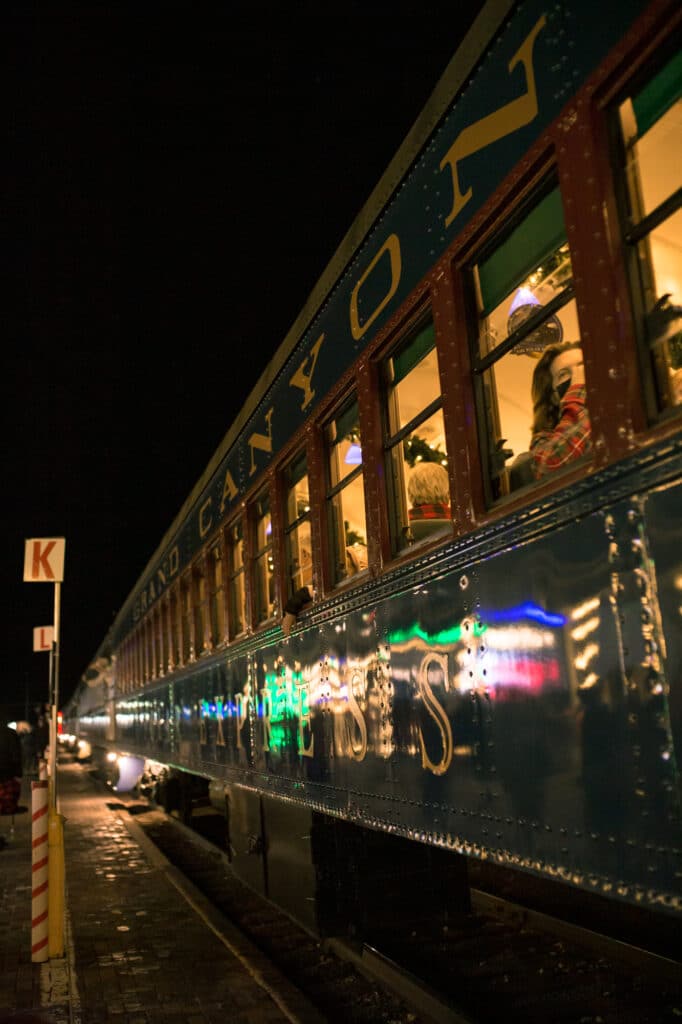 That's my first big warning, let's go through the top 22 tips for preparing and getting the most out of your Polar Express Experience!

22 Tips for Preparing the Getting the Most Out of the Polar Express Williams AZ Experience
Before Your Trip
Book early!

Tickets open for the next year as soon as the current season starts. So in November, you can start booking a year out. I'd try to get them sooner or later! There's still availability through November, but weekends sell out by October. Try to get them by September at the latest!

Try to snag a 5:00/5:30 time slot.

We did the 7:30 train our first year, because we went on a Friday, and that worked best after work. Our kids did well, but we noticed several melting down in the last 30 minutes. It's a lot of fun and excitement that wears kids out! We went again next year, and an earlier time slot was just perfect!
One more note, you get much better pictures with that pretty golden hour lighting before the earlier ride. I think that makes the earlier time another reason we'd recommend it! (But for the record, our magical very dark later time was wonderful too! I just think younger kids may enjoy earlier timing.)

Request to sit on the Santa side. 





We didn't have this option while booking online. But you can definitely call the box office to book, or call shortly after you book online. If all else fails, ask when you pick up the tickets. I'd call the office and ask if they can make this happen. We did not get this side, and felt so lucky a set of parents behind their children offered to swap seats with our boys for the magical moment. Had we known better, we'd have made the call to confirm we had at least one bench on the Santa side.  
Our two subsequent years, we snagged those seats C/D spots that give a clear view of Santa at the North Pole. I'm glad we knew this tip! 

Wear Christmas Pajamas (even parents)


You'll want to make sure everyone has pajamas for the train ride. Yes, I mean the whole family! Sure some people don't wear them. But it's way more fun to wear family Christmas pajamas, or at least kid's Christmas pajamas. We bought these Polar Express Pajamas and they were so perfect for the event!

Read the Book Several Times Before You Go.

Help your family remember the fun details of the story by reading the book. Seriously, the classic children's book by Chris Van Allsburg is a must! They read the classic children's book on the train, and it helps to have recently read it with your kids. It makes every moment from ticket pick up to when you step off the train more magical!

Watch the Movie at Least Once Before Your Trip.

It's closely based on the movie and incorporates the music. You'll enjoy the performers and musical integration a lot more with a recent movie viewing.

The Day of Your Polar Express AZ Experience

Get There Early and Pick up tickets early!

It gets busy at the ticket pickup location. As soon as you drive into Williams, I'd make a stop at the box office and get your tickets.
Try to get there 1.5-2 hours before your train departure time, dressed and ready to go.

Bring your own camera.

It's worth getting some great pictures. There weren't photographers on the train, so I'm glad we had both of our phones and our DSLR with us.
You can pay extra to get pictures with Santa at the train depot.

Pack your own copy of The Polar Express

There's a moment where they play an audio recording of the book read by the author. The performers will have a large copy and walk up and down the aisle so this tip is optional. But they invite families to pull out their own book copy and we instantly wished we would have brought ours!

Make sure your phone is fully charged (or you have an external battery charger).

I went with a phone half charged, and an hour in I was getting pretty nervous I'd miss the big moments and held back capturing footage. I was using my phone for work on the drive-up. I wish I'd had my external battery charger with me! Make sure you're fully charged before your big adventure on the train.

Eat before you go.

There's a fair amount of sugar on the train. It's also a two-hour ride. I'd opt for dinner before you go.
But if you do the earlier time, eat a late lunch. If you're coming from Phoenix, we recommend stopping for a late lunch in Flagstaff around 1:30. And plan to stop by the Fred Harvey Restaurant at the Williams depot after. They serve a Christmas dinner buffet that's actually pretty good and helps keep you in the holiday spirit! Just hurry over right after, the line to get in gets long fast!

Get there 2 hours early

The website will tell you that an hour early is recommended, but I'd say make it two! There's a lot to do, many photo-opts, and plenty of magical experiences before your train takes off. Get there with plenty of time to do it all!
If you do the earlier time, 1.5 hours is probably enough time.

Try to take pictures before the train ride: Particularly with Santa 

 If you're on the earlier train, you'll snag some beautiful golden hour lighting. But either way, you'll get an excited anticipation face instead of a tired one. 
But you can also pay extra to get photos with Santa, which most people do after the train. I'd highly recommend getting there early and being the first in line to get them before your train ride. It makes the whole night go smoother!  

Find the conductor and ask for a golden ticket!

He will punch each child's name or initials and it's the cutest experience some kids miss. Make sure you have time before your ride to ask for one!

In 2023 they implemented a system where a conductor is supposed to join you on the train to do this: which I think adds to the magic and stops the chaos crowding a conductor!

However, we didn't have one join our train car. Apparently, some run out of time. So if you don't get this experience on the train, track one down after and ask for a magic punched ticket.

Wear Santa Hats/Winter Caps

The moment we got on the train I regretted not bringing our Santa hats! So many families wore winter hats with pom-poms, elf hats, or winter beanies. It was a fun and cute addition!

Bring a Coat, but Make it One That's Easy to Get on/off Since the Train Car is Heated

That's it! Just plan accordingly with your coat/jacket.
Note: train windows can be opened if it's too toasty. Also, others around you may open their windows and you may want your coat if they do.

Wear Shoes Instead of Slippers

I debated this one while we were packing. But the moment we got to the train station I knew shoes were the right choice! There's plenty of walking around the station. Also, it does snow quite a bit at The Polar Express Williams, AZ. Our second year was quite cold and very snowy even in early November. I think you'll be happy if you and any children are in shoes.

Bring Wet Wipes

There's hot cocoa and chocolate chip cookies served on the train. I've never been so glad to have a way to clean off chocolate! And for the record, I brought some backup pajamas just in case there was a messy spill. One year there wasn't, one year there was. Either way, I'm glad I was prepared!

During Your Polar Express Experience

Watch the Santa picture line, it gets long!

We waited an hour after the train ride to snap a picture with the big man. We wish we would have jumped in that line faster and earlier in the evening! In fact, if you can make it early enough, go get the picture before the train ride.

Use the bathroom before you get on the train

There are bathrooms on the train. But every minute is really fun and magical. I'd try to use the bathroom about 20 minutes before the train ride.

There are bathrooms on the train. But every minute is really fun and magical. I'd try to use the bathroom about 20 minutes before the train ride.

And if you have a little one who needs to go constantly, go during the reading of the Classic children's book. The magic with Santa happens shortly after, and we've had a kid almost miss out having to use the bathroom right when Santa came. Try to have them go after their hot chocolate and during story time.

Don't miss the conductor show! 

About 15 minutes before your ride, the conductor gets up to get everyone excited and share a few rules. It kicks off the magic! 



Get a Picture on the Train Before the Train Starts

Before the car is crowded or once everyone is seated, you'll want to get your picture. It's the calmest time and best lighting. They dim the lights, get the train moving, and the chefs start the show quickly after. So be sure to get that family picture on the train pretty quickly!
Where to Stay for the Polar Express in Williams AZ
The Grand Canyon Railway's Polar Express is in Willams, about 45 minutes north of Flagstaff. The train depot is connected to the Grand Canyon Railway Hotel, which gives the easiest access to the train, and special Polar Express packages with hotel rates and meals included in the experience. Many people love to do this for Christmas Eve and experience Christmas at the hotel.
We've never done this, but had a great experience staying at the Holiday Inn Express and La Quinta Inn which are literally a half mile from the station.
Many people find better rates in Flagstaff and don't mind the 45-minute drive after their magical train ride.
Polar Express AZ Frequently Asked Questions
Is the Polar Express worth it?
This is always subjective, but if you love the Polar Express book or movie, you are a fan of holiday activities, and/or you have kids between the ages of 3-10, I think it's absolutely worth it! It's a magical experience most kids never forget!
How long is Polar Express AZ?
It's about 90 minutes round trip. There's about an additional hour worth of activities at the train station to enjoy before and after your trip.
Is the Food on the Polar Express Gluten Free/Allergy Friendly?
The hot cocoa and cookies aren't allergy-friendly. They do allow you to bring your own food on the train if you need an alternative.
We are already planning a trip one more time while our kids are still young! It was one of the most magical and amazing experiences we've had as a family!
Like this Polar Express AZ post? You may like these posts too:
Disneyland Discount Tickets: Disneyland Ticket Deals
50 Christmas Activities for Families + Free Printable
Train Park Christmas Family Date
Get 365 Date Ideas!
We want to help you have the best date nights ever! Grab this FREE printable with 365 date ideas, a date for every day of the year so you never run out of ideas!