Don't Miss the HANNAH ANDERSON 40% SALE HERE!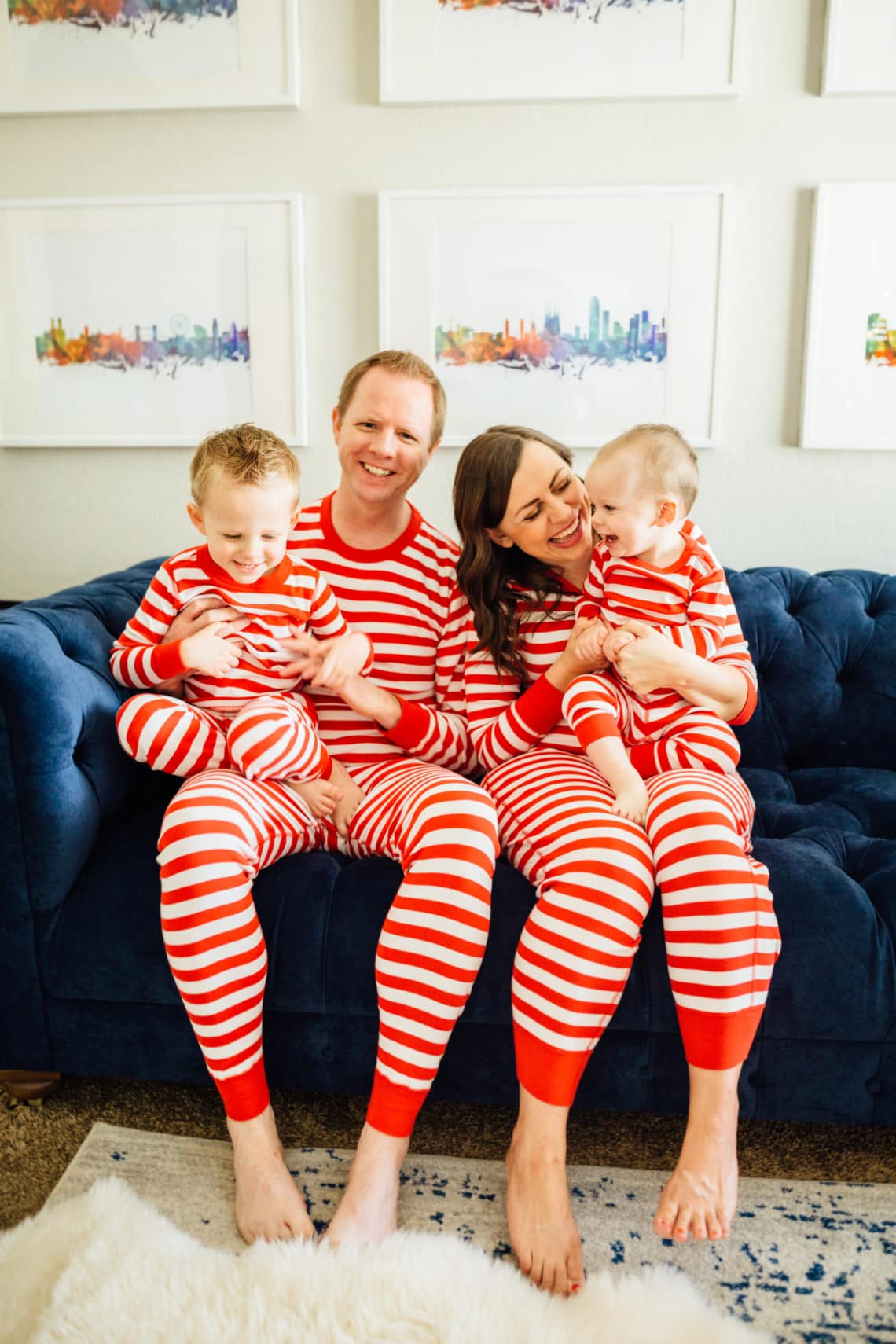 A roundup of the best family Christmas pajamas and where to find matching family pajamas at all price points!
My preschooler is pretty obsessed with matching pajamas. In fact, we've had a challenge reusing hand-me-down pajamas we saved from his baby years because matching jammies are that important. When our little people see they are rocking twinning pajamas, they both giddy squeal. We've found matchings pjs since the toddler years, and I'm so grateful for the easy way to add some holiday spirit the entire season!
Several years I bought the first pairs of twinning jammies for my baby's first Christmas. The pictures I took of them snuggled up on Christmas morning remain forever in my heart. I told my husband Jacob that I was almost too cheap to splurge on some matching holiday jammies, and I regretted nothing when Christmas morning came.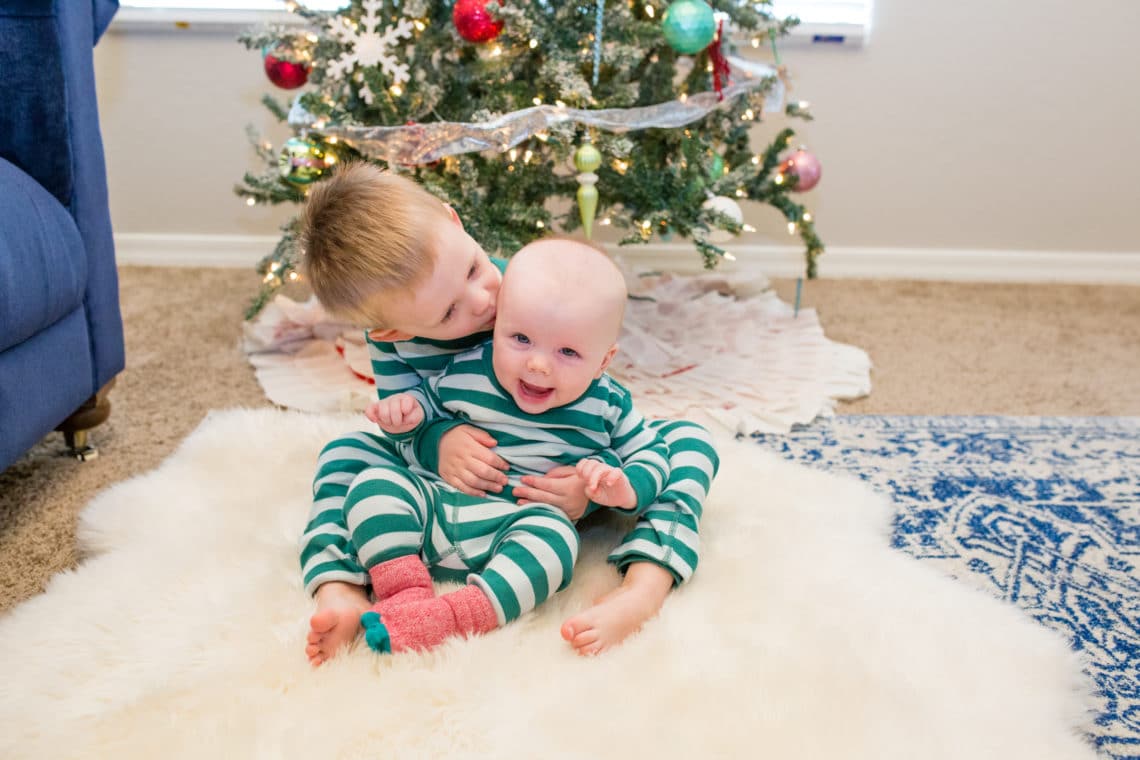 Last year, we decided to take the joy one step further and do matching family Christmas pajamas we could all enjoy. Let me tell you seriously brought us so much cheer to be cozy and festive for at-home holiday activities. I vowed this would be a tradition we'd do every year!
Be sure to check out our boy's Christmas pajamas roundup, tons of great couple Christmas pajama options, and where to find Polar Express pajama options!
These are perfect for the tradition to gift family matching jammies on Christmas Eve. However, we've loved pulling them out early to enjoy throughout December! In fact, they are the main attraction in the Christmas box! We can be festive as a family, make memories all matching, and enjoy them through Christmas.
I looked far and wide for the best holiday family Christmas pajamas and where to buy matching family pajamas that I knew I needed to share a list of our favorites. If you're in the market, this week with Black Friday sales is the perfect time to buy!
The Best Family Christmas Pajamas



I first learned about Hannah Andersson's striped pajamas from a friend who raved and raved about them. I thought the price was a bit steep, but I did end up buying my oldest son a pair on sale. We were HOOKED! They are the best quality I have ever experienced! Our matching holiday pajamas from last year are all Hanna Andersson. Our son's pajamas last year are too.

We can wear them several times a week, and years later, they still look brand new!
I knew investing in matching family pajamas last year would mean we could buy an updated size for our baby this year. Guess what, they stretch a bit as kids grow and their pajamas still fit this year! Seriously you'll get two years for one at least! They will last and last, and we all adore them!
Bonus: They do a lot more than just stripes! Hello, cutesy, character-based, classic, Mickey Mouse, Grinch pajamas, and even Star Wars Christmas pajamas for the whole family! You'll see quickly whey these are so Instagram famous!

These are our other favorite pajamas! They are so soft and so affordable for their quality. I love that they make cuts for men and women that aren't just long-john style. Sometimes getting dad on board means pajamas he'll feel comfortable in too. These are the type of pajama sets you'll love wearing as sleepwear due to the soft, breathable cotton fabric. I love how many options and styles they have! We've had Burts Bees matching Christmas pajamas in the past, and they are still at the top of our love list!

We love Carter's pajamas! They are soft, affordable, and have tons of cute styles! They have seriously upped their family holiday pajama game lately! And they do really great deals!




These are Amazon exclusives also by Hanna Andersson. They are the same quality, at a much lower starting price point. We own a few pairs of these too, and I love that they did some matching holiday sets!


I went to a conference a few years ago where I met a Walmart fashion rep who told me things were going to change a lot for Walmart with new designers and styles this year. I have loved watching all these changes roll out!
Hello, affordable, cute, and I have to say they are rocking the onesie and union suits better than anyone! Plus the free shipping when you buy more than $35 is a great perk!


Guess where we bought our flannel matching pajamas this year: Target! They are definitely priced right with tons of different styles! If you are on a budget or have a large family this a great option to get cute matching family jammies at a great price point!
I love that Target lets you choose from classic to quirky. Also, they are running some excellent rare promos on their pajamas that are already one of the best prices out there!

Kohls has their own lines of pajamas, and they are so fun and come in so many prints and options! Plus if you're a Disney family, you're going to fall in love with so many exclusive sets! And it's hard to beat the Kohl's cash holiday earnings you'll make back while snagging these deals.


We have tried Amazon Essentials jammies for kids, and the quality is great, particularly for the low price! Plus hello two-day shipping so you can be set for the whole season or order them last-minute.

Hello, options with every cut, color, and style! I love how many styles there are to choose from! From classic button-up sets to long-johns, you'll love how well they do family Christmas pajamas!

My friend Michelle posted a tutorial about how to customize holiday jammies and my jaw dropped at the cute pair she found. Lauren Conrad for Kohls has done an amazing job with some cute, unique designs. If you want an affordable and adorable one, check out this line! Here matching pjs are are always so fun!




I met one of their marketing team members at a conference in the middle of the spring and I've never forgotten what she shared and the cute woodsy styles. They started doing matching jammies before it was as big as it is now. And they definitely have original styles and prints you won't see in other places! If farmhouse is your vibe, they are likely your best match!


You can always bank on awesome coupons and deals at Old Navy! Plus this year in particular, they've made buffalo plaid and a lot of classics their jam. Like a classic buffalo check is always available for the entire crew from infants to grandparents! Did I mention your pets sometimes can get in on the holiday pjs actions too? They have fun bandanas or holiday shirts for pets that are super fun.
Their plaid family pajamas are holiday family pajama favorites for a good reason! You'll look festive and can still enjoy your pajamas after the holiday season.

I ordered my first pair this year, and I am IN LOVE with the quality and the soft fabric! There are a lot of classic styles, but I love that it's easy to coordinate looks with all their choices. Plus, you can easily find pajama pants only if that's your jam.

They graduated from just kid's pajamas to offer fun holiday family pajamas perfect for every family member! I mean hello cute newborns through teens, and plenty of family pjs for mom and dad too! They even offer a Thanksgiving line.
They typically have socks, slippers, and robes to add to your Christmas pjs. Which naturally makes the festivities even more fun with the complete collection!

If you want customized outfits, pajamas, prints, and cuts- check out the family holiday pajamas from small sellers on Etsy!

We hope these help you find the perfect matching family Christmas pajamas, or coordinating Christmas jammies for the whole family! It's the best way to make bedtime feel a lot more festive!
And here's your permission to get more than one if you just can't decide. We love wearing them for Christmas family movie nights, hot cocoa parties, making Christmas cookies, driving to see the lights with our Christmas lights scavenger hunt, and tons of other Christmas activities!
You won't regret getting at least one pair!
Photos: Chrissy Blake
Like these ideas for the best place to buy matching family Christmas pajamas? You may like these posts too:
Christmas Box: How to Make a December Box + Tons of Christmas Box Ideas
Holiday Coloring Pages: An Oversized Christmas Coloring Page Printable
Experience Gifts for Kids: A Year of Experiences Free Printable
Best Date Night Ideas You Can Order From Amazon!
Building Toys: The Best STEM Toys for Holiday Gifts
Get 365 Date Ideas!
We want to help you have the best date nights ever! Grab this FREE printable with 365 date ideas, a date for every day of the year so you never run out of ideas!