Year of Dates Gift: 12 Pre-Planned, Pre-Paid Dates to Enjoy Throughout the Year!
Last week I posted about Christmas and mentioned I gave Jacob a full year of dates gift or 12 months of dates as gift. This consists of one pre-planned, pre-paid gift for each month of the year.
This is actually the 3rd time I've done the full gift, but I've realized I've never posted the full gift to get the holistic picture. I thought this was the year to bite the bullet and give a full preview.
How to Make the Year of Dates Gift
This gift takes some planning. I originally got this idea from one of my blogging friends, Shannon Brown, who had the post of the idea go viral as one of the first viral pins on Pinterest. I reached out and asked her how she felt about me doing my own take on this gift, and she was like, Camille, you run with it!
I spend about two months pulling together ideas and gift cards and then put them all in a Google Doc so that I can keep everything straight and remember which dates will work best in which months. I also come up with a bonus one or two, just in case something falls through.
The first two years I gave Jacob a file folder with hanging files, one for each month. You can see that presentation here. Shannon did envelopes, which is how I gave just a handful of dates last year. I think it's perfect for a full year, or if you just want to give a few for a birthday or Valentine's Day.
I had to switch it up this year, and disguise the presentation so I could adequately surprise Jacob.
Date Night Binder
A binder with sheet protectors seemed like it would be just the key! It's super simple, basic, and I could make it look like a book. Plus, a date night binder is a really affordable and easy way to compile a year of dates gift. I also got over the fact that my handwriting is terrible and decided to make things more personal this year. I'm by no means a cutesy/crafty/scrapbooky type, but I thought a few permanent markers and stickers would hopefully do the trick. Bless stickers, they make anyone look better in the cutesy department!
Here was the result, feel free to click the image to see the details.
How to Present the 12 Months of Dates Gift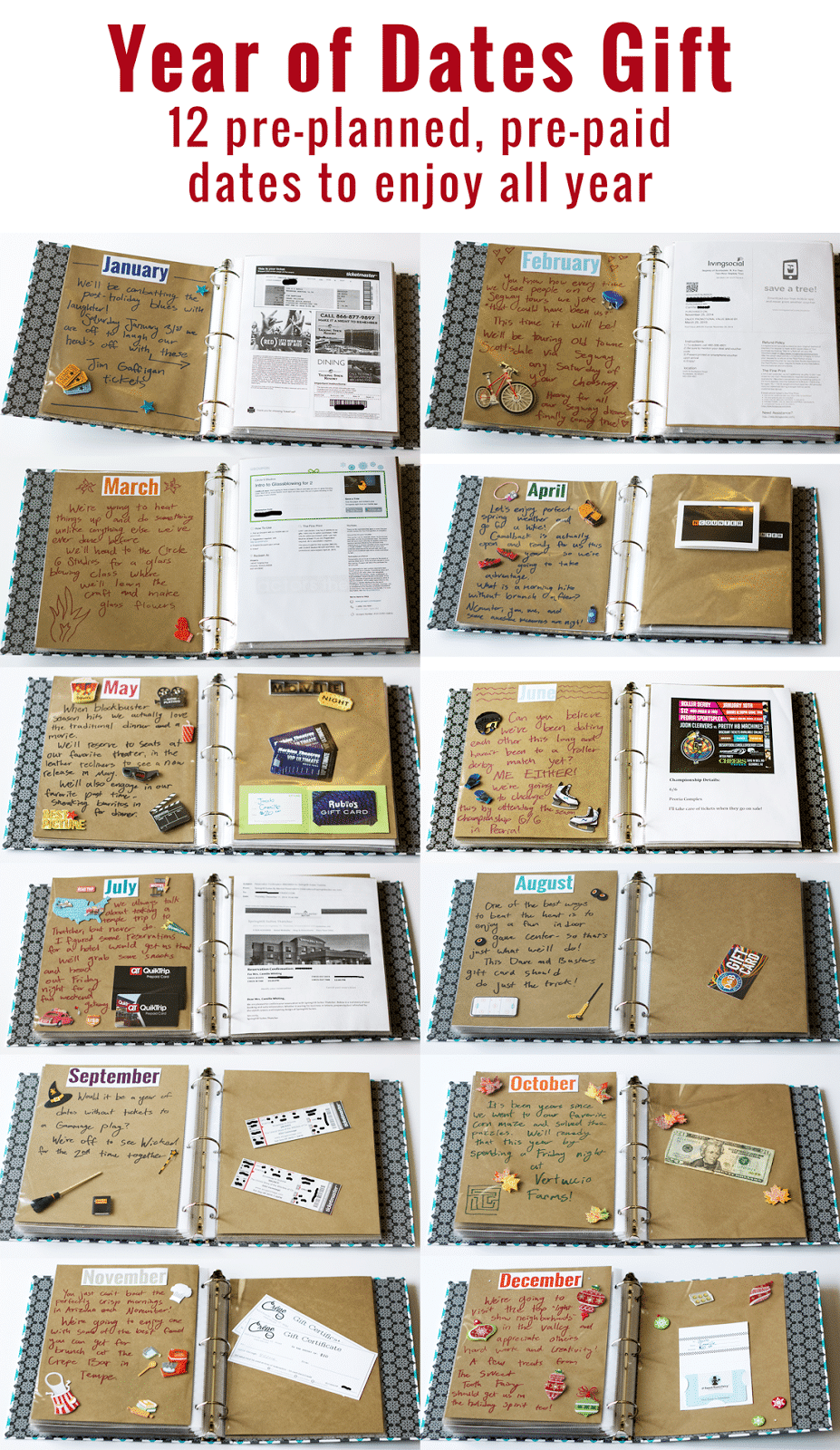 Creative Date Ideas for the Year of Dates:
Here's the list if you can't see them above:
January: Tickets to see comedian Jim Gaffigan
February: Segway tour of Scottsdale
March: Glassblowing class
April: Hiking and brunch
May: Dinner and movie (it's blockbuster month after all!)
July: Road trip to a small town, overnight stay in hotel
September:
Wicked
play tickets
October: Corn maze
November: Brunch in perfect fall weather
The end result worked well! There were more personal touches, and a complete surprise. I keep trying to think of other gifts, but at the end of the day giving experiences and quality time together is just always the perfect gift for us.
We're so excited to make a lot of great memories dating each other in 2015!
If you're looking for date ideas there are several in the navigation above. If you want to see dates I've given in the past, here are a few examples of past dates we've had in our 12 Months of Dates.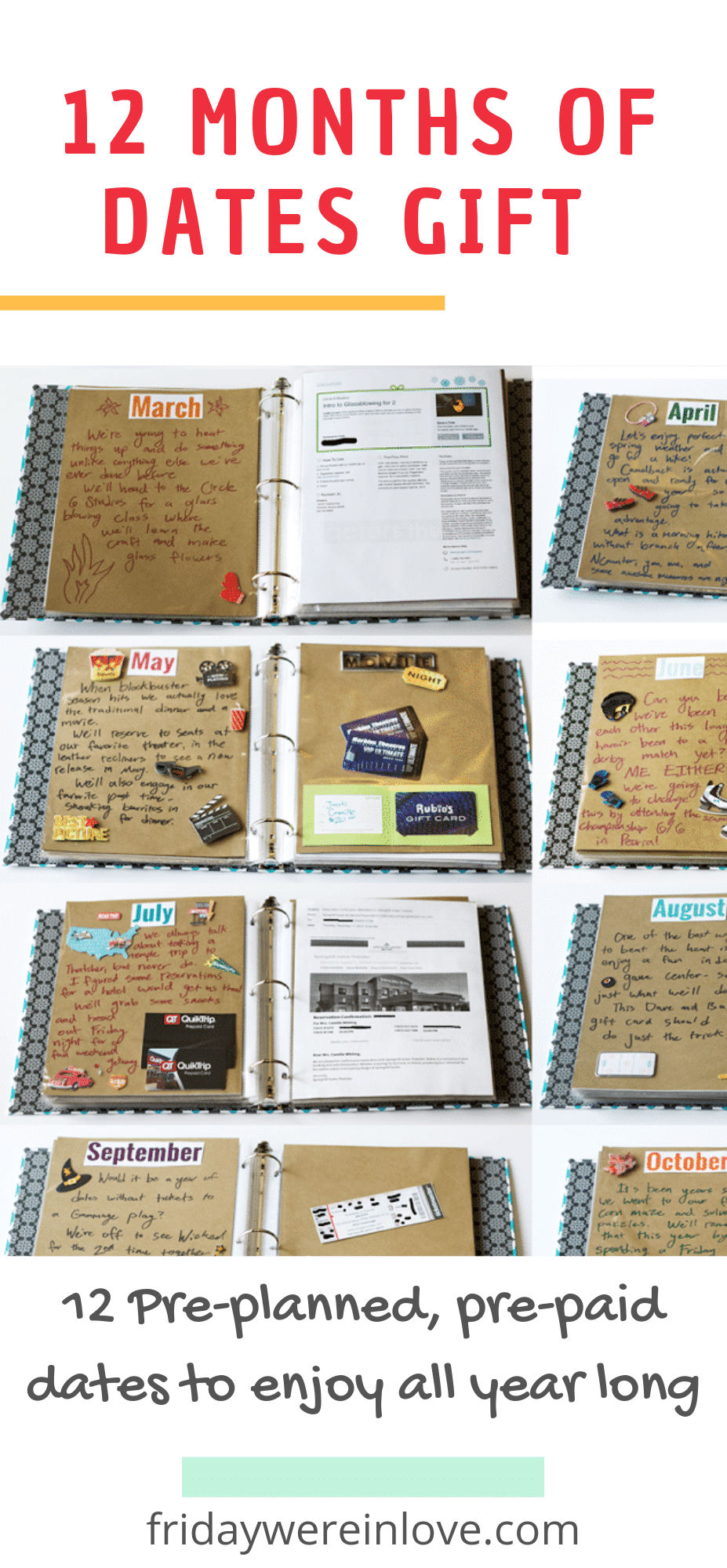 Want 5 current date ideas in your inbox twice a month? SIGN UP FOR OUR NEWSLETTER where we share a free date idea, an at-home date idea, and three date ideas to match the current season to help you plan your gift, or just plan your weekly date night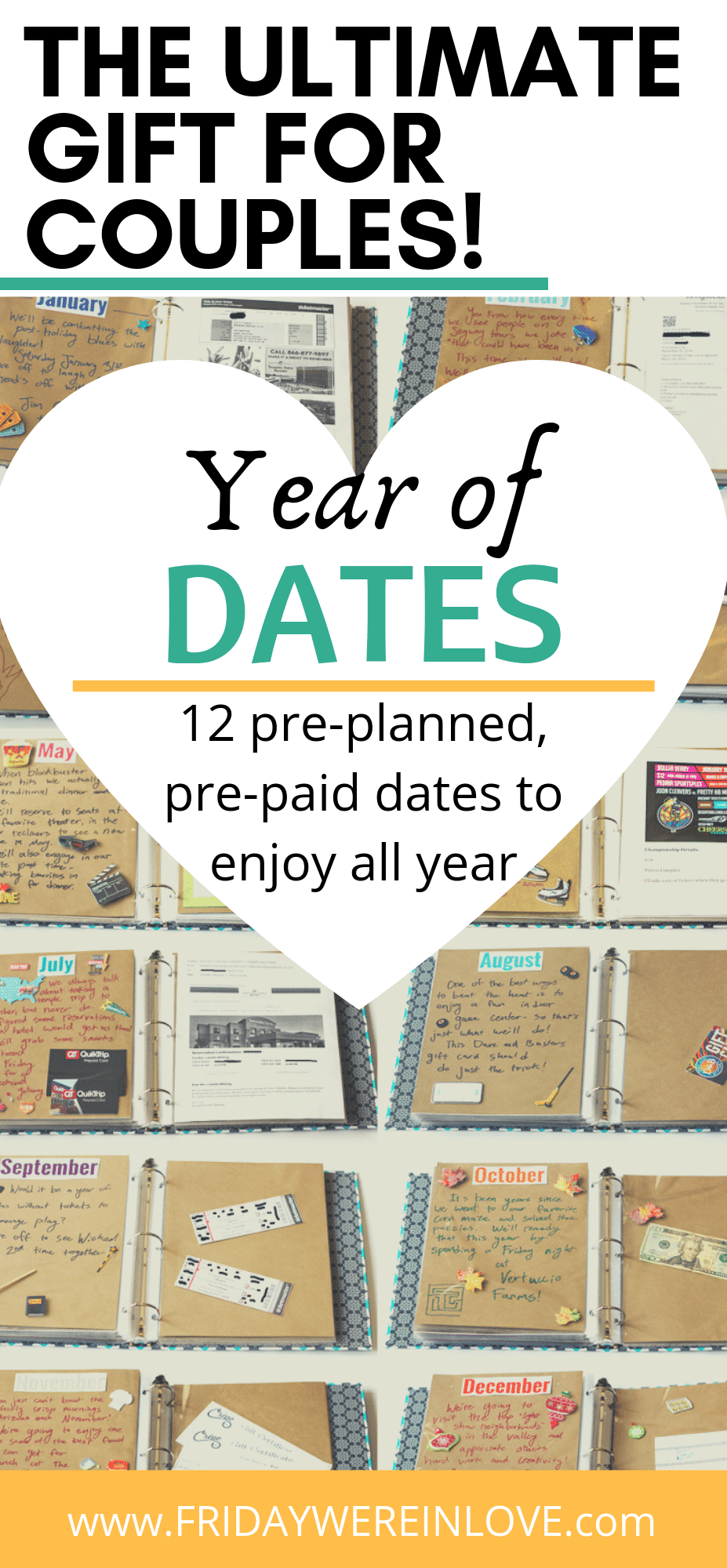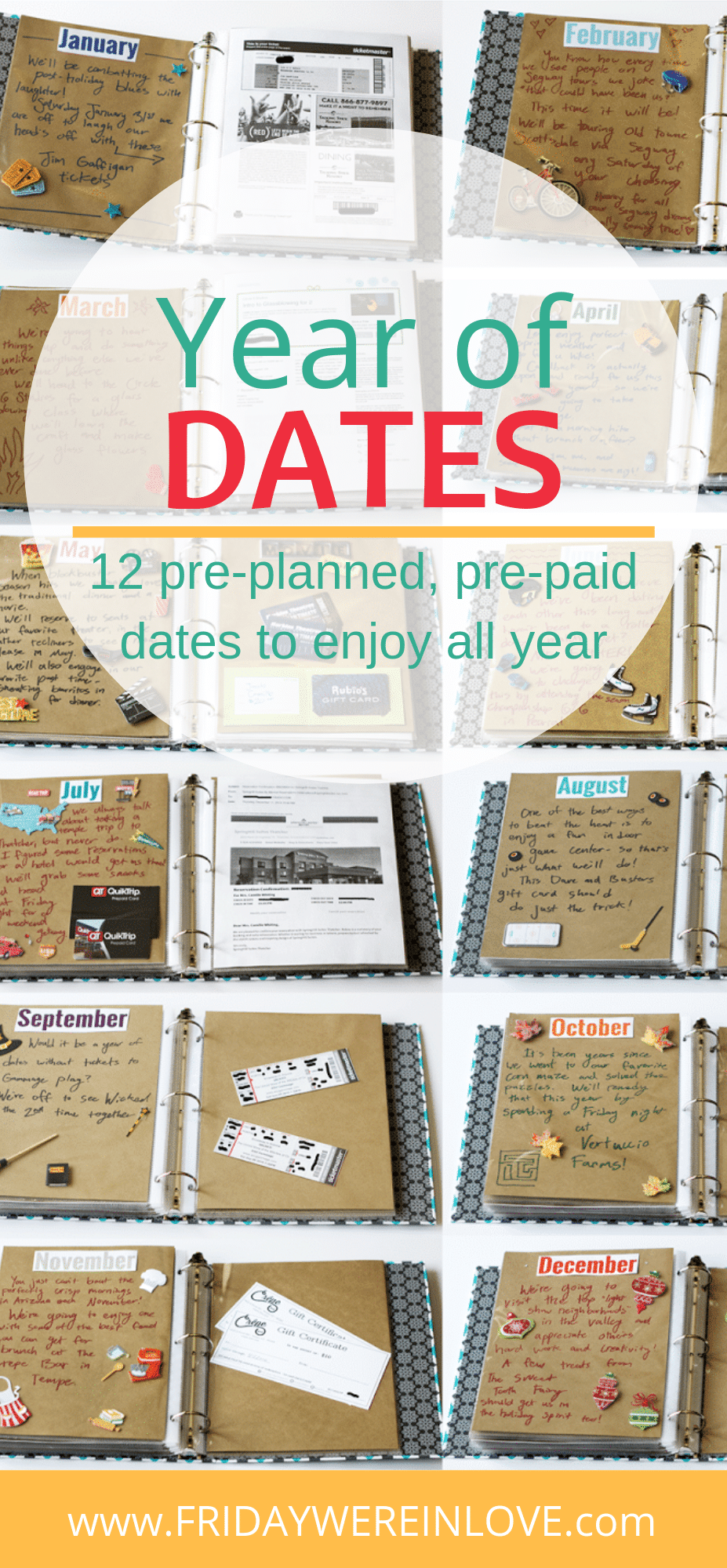 Get 365 Date Ideas!
We want to help you have the best date nights ever! Grab this FREE printable with 365 date ideas, a date for every day of the year so you never run out of ideas!