Ready for some fun date ideas? Here are 101 excellent date night ideas you'll both love!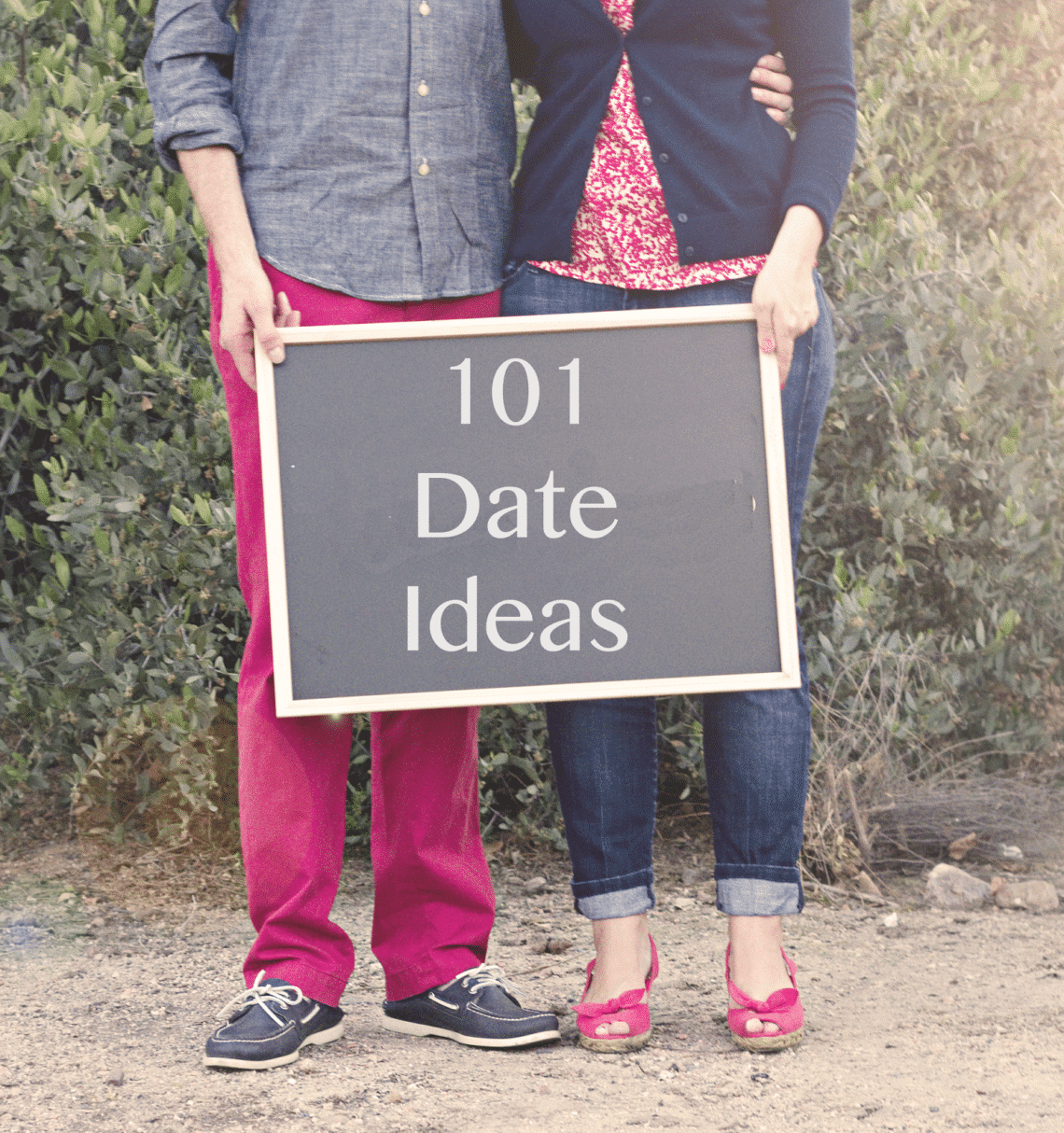 Get ready to plan your next date night with tons of fun date ideas! They're sorted by category, price, and place to inspire and help you find your next date night!


101 Creative Date Ideas
(Those with a * indicate can be free or done for very little cost)
Looking for a great date idea? Here are 101 creative date ideas to help you plan your next date night!
Active/Outdoors Date Ideas
Go for a swim, just the two of you*
Tube a local river
Go hiking*
Go camping (just the two of you)
Rent or borrow a jet ski
Set up a tent in the backyard and order takeout*
Have a campfire with s'mores*


Places to Go on a Date

Ride bikes (try renting a tandem)*
Ice-skating date (even more fun in summer months)
Build a snowman together*
Go sledding*
Put on some boots and go country line dancing
Pick fruit together at a local farm
Learn to skateboard or longboard together*
Romantic Date Ideas
Read The 5 Love Languages and discuss what you can do better to help your spouse feel loved*
Go stargazing*
Watch the sunset*
Watch the sunrise*
Pack a picnic basket and go to a unique location for a romantic picnic*
Make a nice dinner together
Look on Yelp, find a highly rated restaurant and recommended meal for a type of food you've never tried before, share dishes for a new culinary experience
Have your own cooking class at home with YouTube or Food Network video demonstrations
Rooftop picnic at home or a building you have access to*
Give each other massages at home*
Find a hill or mountain in your area and go to the top at night to look at the city lights. Enjoy a "dessert picnic" while you look at the lights. *
Intellectually/Culturally Enlightening Date Ideas
See a concert of any type (favorite band, school, etc) *Many are free
Watch TED lectures on your computer and discuss your thoughts on what you learn (I love this one and this one)*
Take a city class together; most city websites list offerings (photography, dance, etc.)
Make a bucket list of things you want to do together, with kids, independently, and share*
Find a lecture at a local university or community college and attend*
Watch a foreign film together (rent from the library for free)*
Download a vintage radio program podcast, go listen to it in a unique location (think horror story in the woods at dusk)*
Rent a documentary (try Fast Food Nation, Waiting for Superman, or Grizzly Man)*
Read a novel/short story/play together (I'm happy to recommend some J)*
Borrow a guitar or other instrument, watch YouTube videos teaching you how to play, take turns and be sure to perform a song for each other.*

At-Home Date Ideas
Play board games for two. Here's a huge list of couples games to get you started!*
Buy a cheap canvas and paint portraits of each other
Try a date night box. It's a complete date night with several fun activities, menu suggestions, and a playlist delivered to your door! We have a thorough post rating and giving all the details about the top date night subscription boxes to help you find one. But we've personally used the Happily Date Box this year, they're our current favorite! You can get half off your first box to try it out with our Happily Date Box promo code: FRIDAYWEREINLOVE to get 50%
Buy a bunch of popsicle sticks at a craft store, have a competition who can build the best structure out of the popsicle sticks, and glue*
Bake sugar cookies and decorate to look like people you know (deliver them after)*
Draw a cartoon of how you met in sidewalk chalk on your driveway*
Rent or borrow a Wii and play games together*
Do "Dinner and a Movie" with a theme (like watch The 3 Amigos and make Mexican food)*
Do a puzzle date together*
Build paper airplanes, make sure to get fancy and look up several different types, then have a flying competition*
Get on Spotify and make a playlist of your favorite songs from high school. Take a trip down memory lane and share your favorite songs while telling a memory attached to each one. *
Group Date Ideas
Host a dinner party (themed, formal, or casual)
The Amazing Race Dates (tasks for the couple to complete at various locations)
Host your own murder mystery (you can buy games online)
Couples game night (charades, catchphrase, whatever group couple games you enjoy)*
Grab some Nerf guns, have a fight
Play "Bigger or Better" and compete which couple returns with the best item*
Karaoke out on the town or at home*
Have a scavenger hunt taking pictures or retrieving items, compare findings after*
Have white elephant gift exchange (no need to wait for the holidays)*

Places to Go on a Date Night
Art Museum (often free one day of the month)*
Art walk (usually held as summer festivals in college towns or state capitals)*
Musical Instrument Museum (BofA card members can get in free at certain times, check websites)*
NHL game
Visit an aquarium
Local high school sporting events*
Visit the nearest rodeo
Go to the circus
Ride go-carts at a Raceway
Visit a home décor store (like Pier 1 or Crate and Barrel) and each of you takes a turn design a dream room in your house or apartment separately, pretending money is no object. Meet up and give each other a "tour" of the items in your room. *
Paint pottery at a paint your own pottery shop (like Color Me Mine or As You Wish)
Miniature golfing date night
Arcade games (like Dave and Busters or Gameworks)


Creative Date Ideas You'll Both Love

Visit a car show (like Barrett Jackson) when they are in town (score points with your husband)
Walkthrough IKEA, it's an experience all its own! (and there are cheap Swedish meatballs)*
Go to a bookstore and share your favorite books with each other (you can even read your favorite children's books to each other)*
Go to a bookstore and look at the travel section. Plan your dream vacation on your own and then present yours to your spouse and listen to their ideas too.*
Volunteer at a soup kitchen, nursing home, or women's shelter*
Visit a planetarium and learn about the solar system
Go look at model homes or open house home shows and pretend you're in the market*
Go see lights at Christmas, just the two of you*
Watch a local band's show (often free)*

Hopefully, these creative date ideas help you plan your next date night with ease- happy dating!
Need even more creative date ideas? Check out these date ideas lists too:
Perfect Anniversary Date Ideas
Beyond Dinner and a Movie: Date Ideas to Make Date Night Fun!
Fun Family Activities: 52 Family Date Ideas to Do This Year
Get 365 Date Ideas!
We want to help you have the best date nights ever! Grab this FREE printable with 365 date ideas, a date for every day of the year so you never run out of ideas!