There's just something about the idea that a really cool date it completely free. This is why we really love First Friday in Phoenix. What is this magical night we speak of? Essentially on the first Friday most the museums are open late and 100% free for all visitors. Most the cities also participate with some kind of walk (like the Phoenix Art Walk), live music, and bakeries and restaurants in the area staying open extra late or offering specials. It's always fun, it's always free, and it really is a great date!
We decided to hit up the Phoenix Art Museum this month.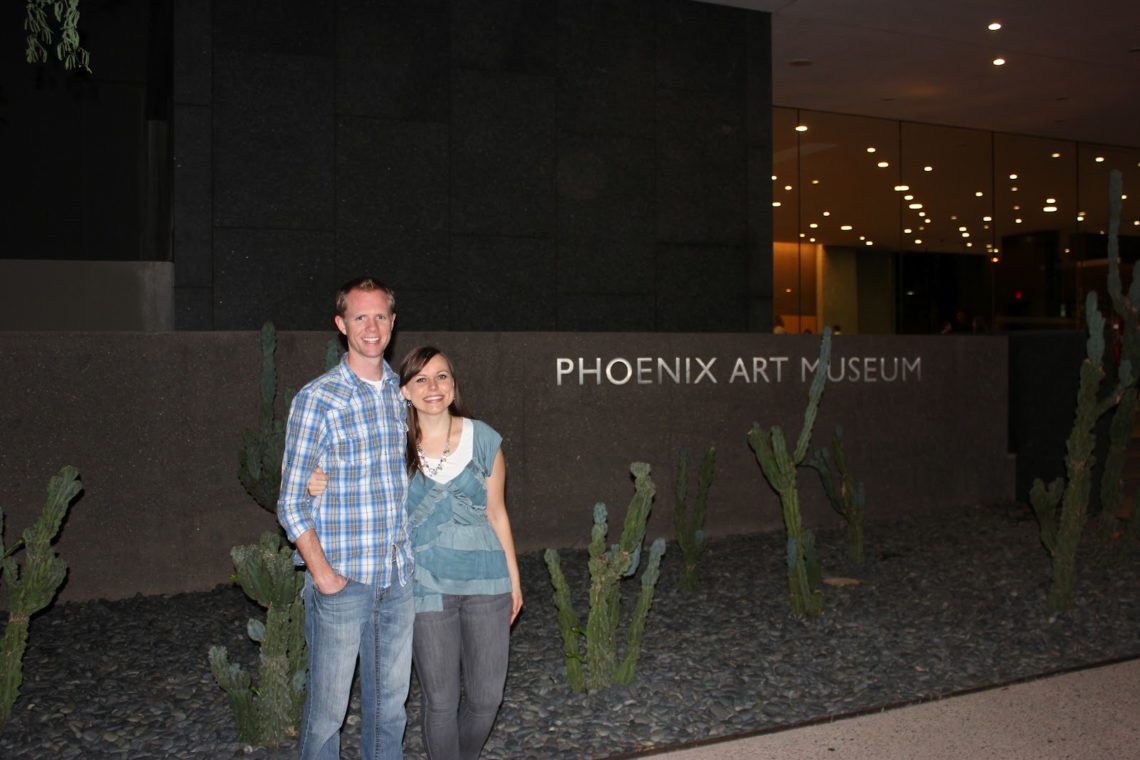 We went to dinner first, and this time it was Jacob's turn to choose. Usually when we go to dinner we agree on somewhere, but on occasion we just say "You're night- I'll go anywhere without complaint!" This was Jacob's night, and the poor carb-deprived boy choose Texas Roadhouse to eat all the rolls he wanted. Smart man!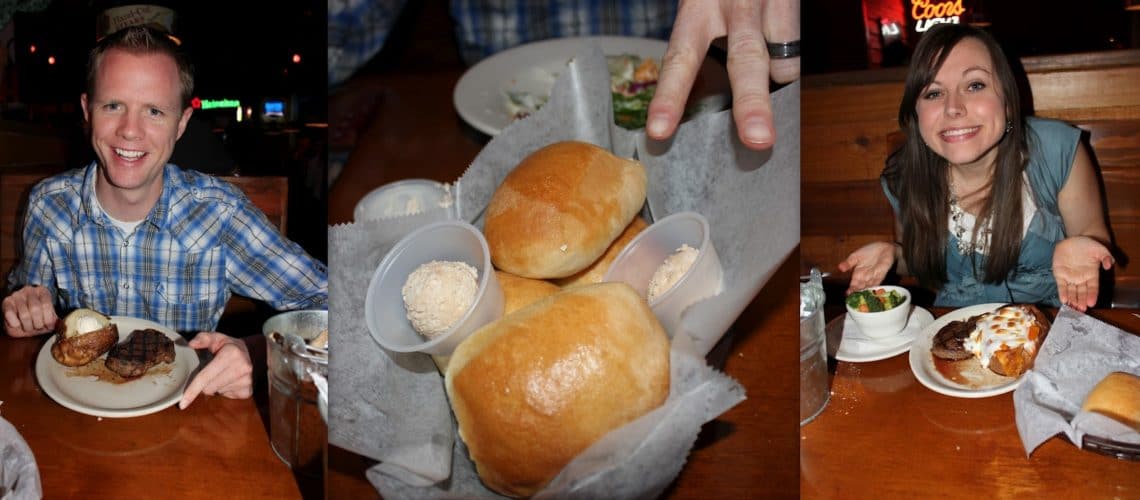 Note that Jacob is indicating this is his 2nd basket of rolls, he was a happy man! I also finally found the root of some health problems, and luckily I'm okay to eat some sugar and carbs in limited supply again! I celebrated with marshmallow creme on top of my sweet potato- boy is this stuff good!
We headed over to enjoy the art museum shortly after. It had rained most of the day, so this was actually a less crowded night to attend.
It was also cool because it was Latin night, and the band was great, the smell of Mexican food permeated the main area, and we opted to take a picture in the corner while everyone was looking the other way at the band.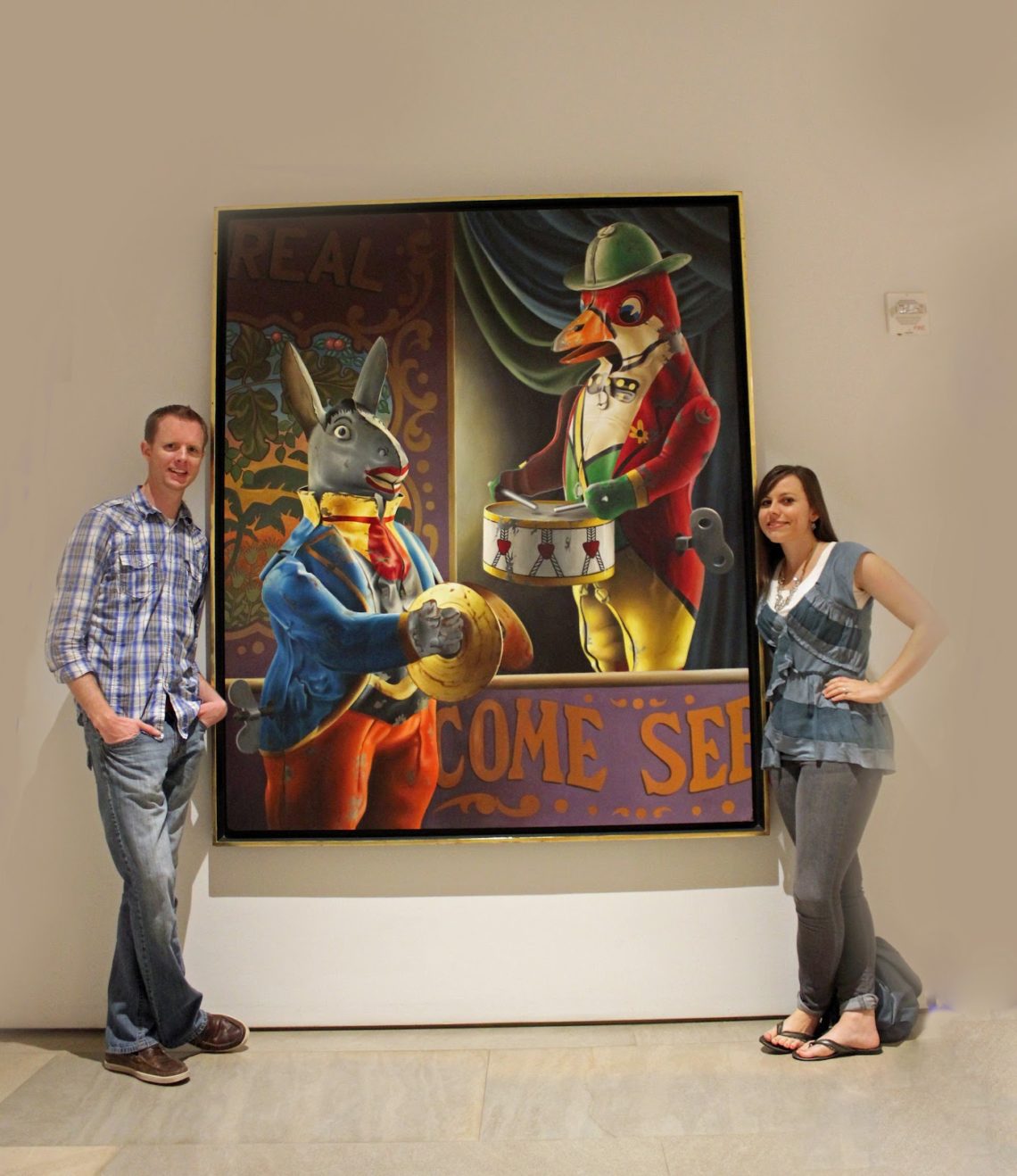 In some areas they welcome pictures, in others not so much. We still managed to get a few of some of the cooler areas of the museum.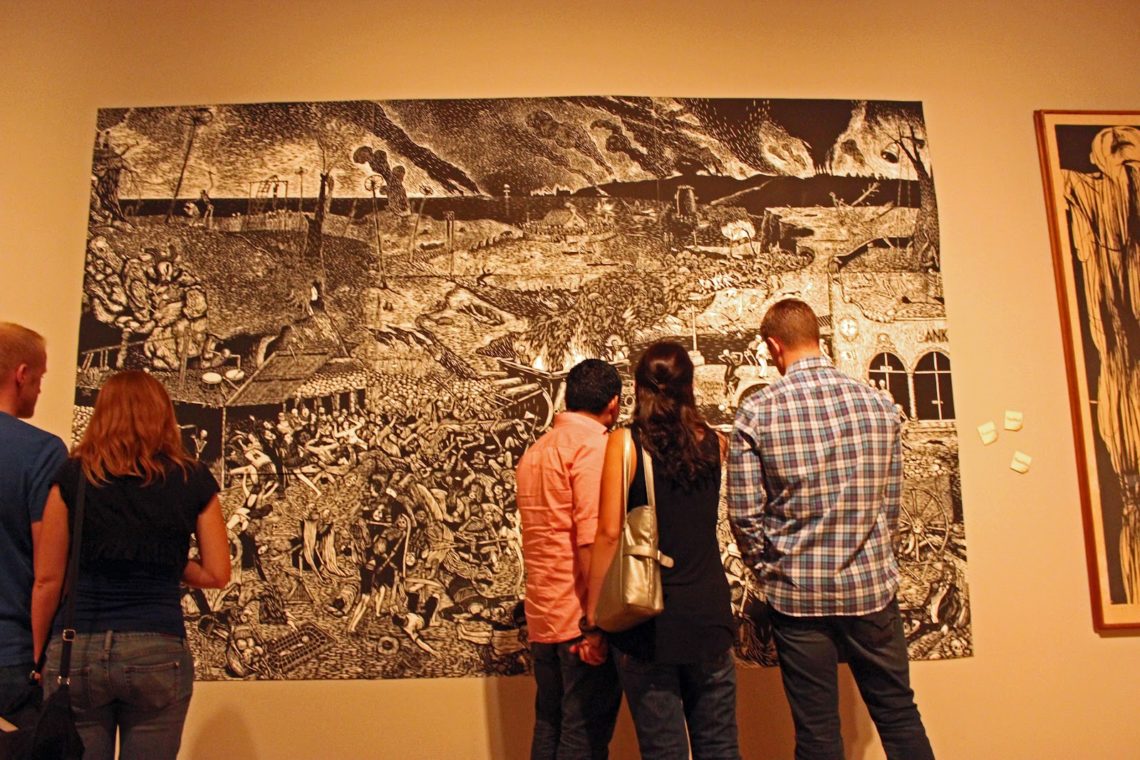 You could stare that the intricacies of this ink on canvas painting all day long! It was quite the commentary on death taking over the living. I don't even want to know how many hours went into this!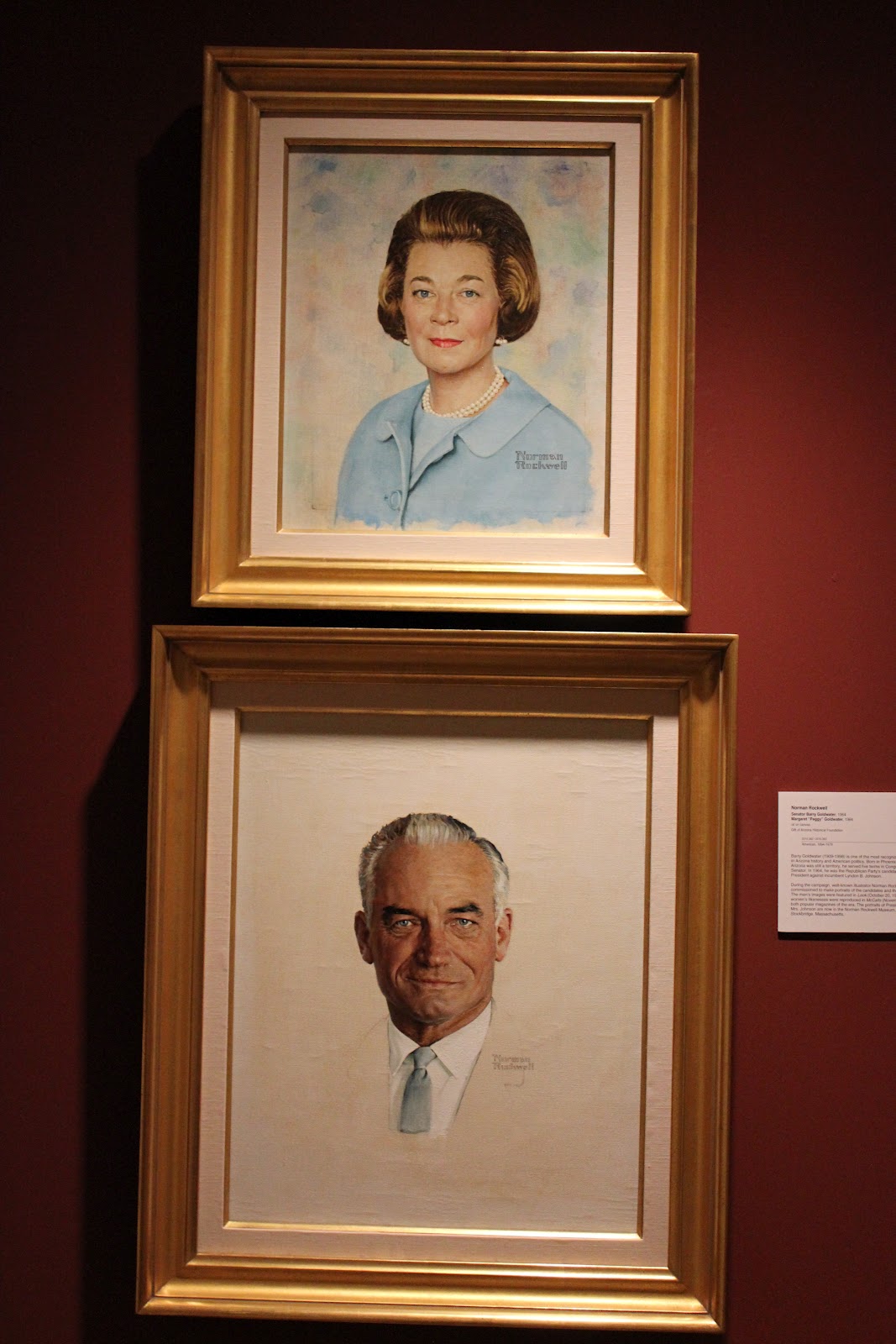 Norman Rockwell, I've been a fan since my childhood Dr. had his office plastered in his stuff. This also sprang the date idea to create paintings of each other, preferably in stuffy 50's clothes.
This is dirt. I know, maybe not that exciting. But guess what, it's a painting, not a photo! We thought that was pretty cool!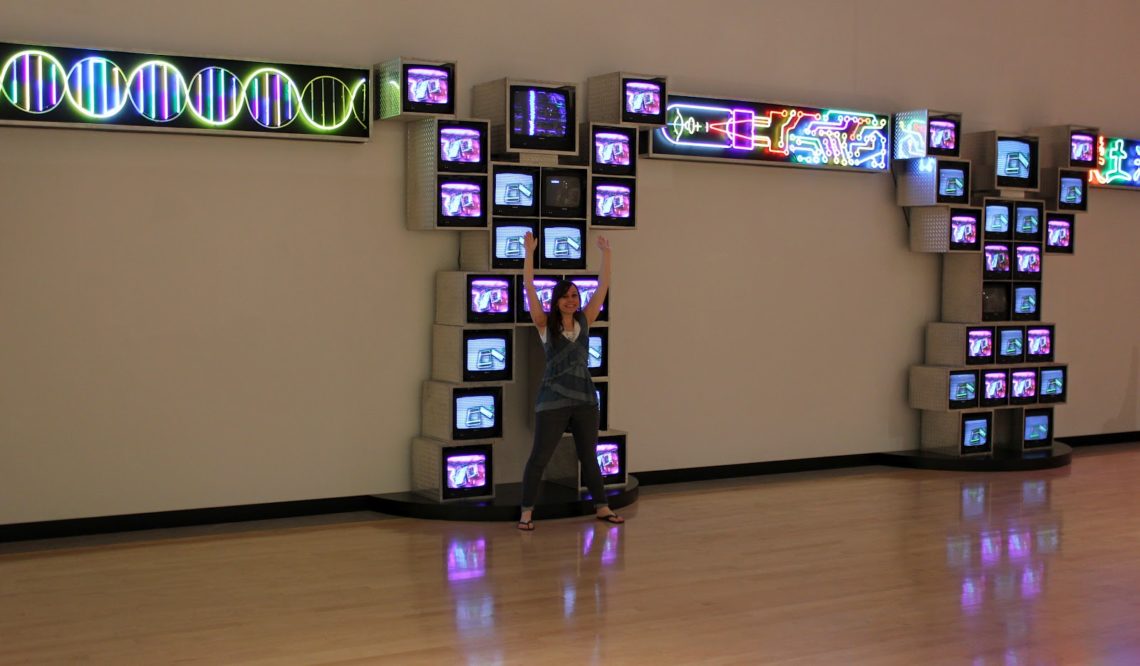 Just after seeing this exhibit I could not get "Video Killed the Radio Star" out of my head!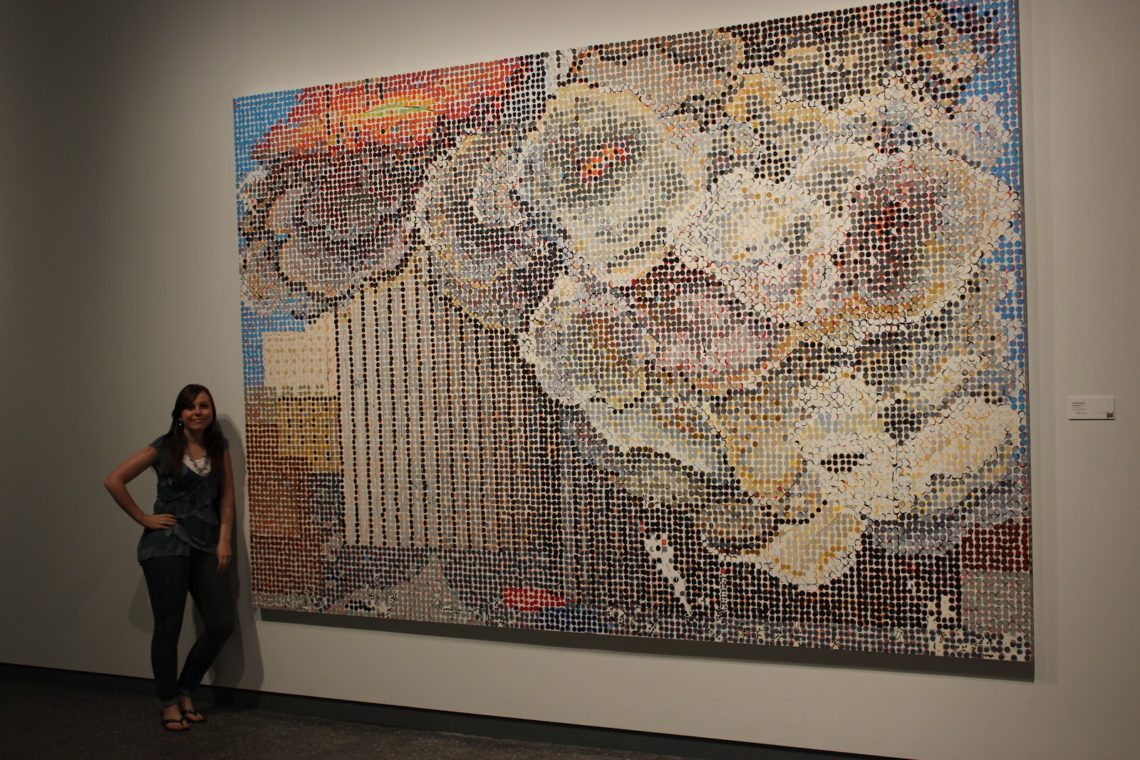 And on a more serious note, this may be the most amazing painting I have ever seen! It's pointillism at its best, and if you are close up you can't even tell what it is going on. Even when I backed up I thought it just had clouds and maybe some fire. Then I read the title "Goodbye Bill" with notice it was painted in 2001. What an amazing tribute to Bill and September 11th. It had me a little choked up to look at. I spent some time staring at this guy.
We had a great time with some deep discussions, not so deep discussions, laughs, and people watching. Seriously, check out the free museum nights in your area, because this was one really awesome date!
Get 365 Date Ideas!
We want to help you have the best date nights ever! Grab this FREE printable with 365 date ideas, a date for every day of the year so you never run out of ideas!