Let's Make Date Night Fun Again!
Let's bring the fun back to your relationship by making date night happen! We have you covered with thousand of DATE IDEAS real couples
Browse Date Ideas by Category: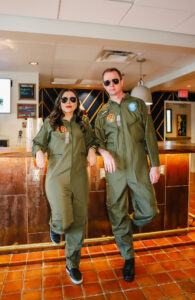 Talk to me Goose (err…maybe Rooster)! How to pull off a Top Gun costume with links and ideas to channel your inner Maverick! One of the most popular Halloween costumes since 1986 has been a Top Gun costume. Add in the record-shattering popularity of the 2022 movie: Top Gun Maverick, and you've got a costume… Read More
Meet the author
Welcome! I'm Camille!
After living through years of abuse, I swore off the idea that love can really last.
The last thing I expected was to meet a man opposite of everything I'd ever known!
He convinced me to believe in love again and promised me we'd go on a date every week no matter what (preferably on Fridays). And hence, our project to share real date ideas became Friday We're in Love
Family Fun and Parenting Resources
Happy families create memories together! Truly families who play together stay together! Fun family ideas plus all the parenting hacks to keep a household running and create more space for fun!
You're Not Like a Regular Mom, You're a Cool Mom!
Wanna make planning family fun, holidays, finding deals, and just being a mom, in general, a lot easier?
Come join our FUN MOM STATUS email series.
Get 365 Date Ideas!
We want to help you have the best date nights ever! Grab this FREE printable with 365 date ideas, a date for every day of the year so you never run out of ideas!