Printable Summer Schedule
Set up your summer routine and get ready for summer fun with this FREE printable summer schedule. Plus scheduling tips and different ways to use this printable to make the best summer schedule for your family's needs!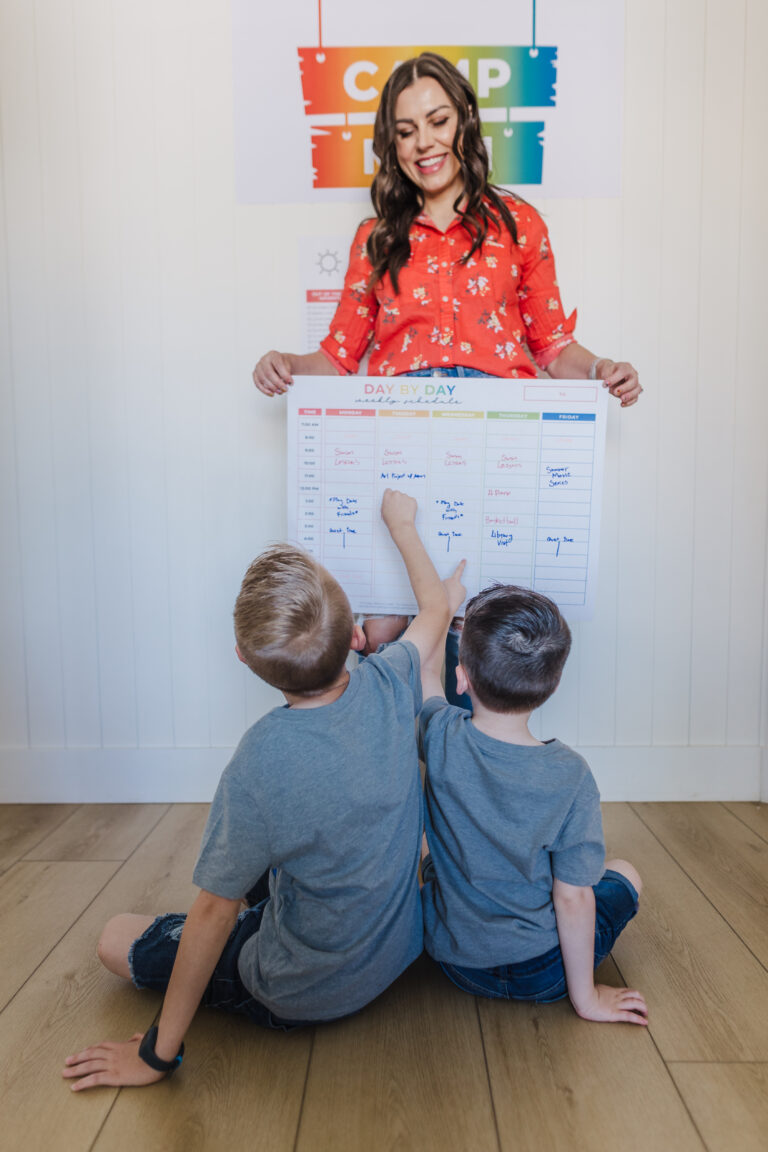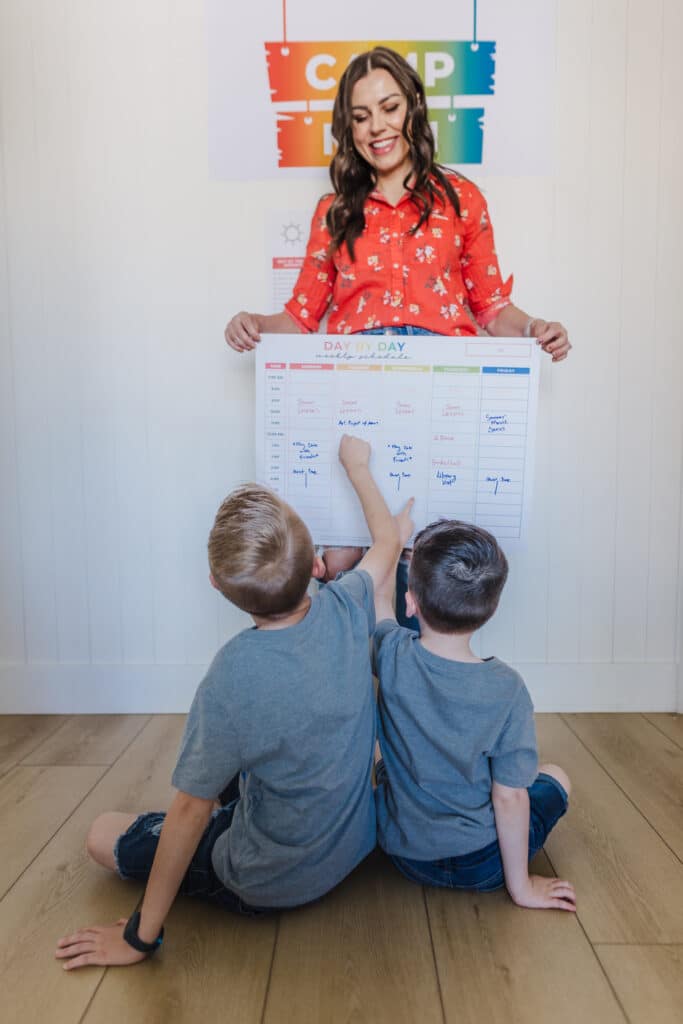 Free Printable Summer Schedule: Keep Your Days Organized and Fun!
Are you looking for a way to stay organized and make the most of your summer days? Grab our free printable summer schedule! With this handy tool, you can plan out your days and ensure that you don't miss out on any of the fun that the season has to offer. Keep reading to learn more about how to use our printable summer schedule and make the most of your summer!
Summer is the perfect time to relax, unwind, and enjoy all that the season has to offer. And at the same time, summer vacation seems to fly by with so many different summer activities, summer camps, sports activities, music lessons, and family vacations. It's important to stay organized and make the most of your time. That's where our free printable summer schedule comes in! With this helpful tool, you can plan out your days, schedule activities, and ensure that you don't miss out on anything.
Grab the free printable summer calendar right here!
Just let us know which email address to send the digital download to, and we'll send the PDF file right your way!
*Note* many email clients auto-download as soon as you confirm your email, so double-check your downloads folder.
How to Use the Printable Summer Schedule:
First of all, there are really no wrong ways to use these free printables, but we have a few helpful ideas that many families love incorporating to make sure they are set each day of the week with a daily routine and daily summer schedule in a way that makes sense for them.
1. Print a Poster Size File
Families who love to see the big picture love to do a giant poster-sized calendar and show the blocks of time for family vacations, camps, swim lessons, and the fun things and different activities coming up. If you like one giant command center to keep the whole family on the same page, printing out the summer schedule on a giant super summer schedule can be just about the best thing!
It's actually not very expensive to print off a blueprint-sized file. We have an entire post about how to get engineer print made for only a few dollars! And feel free to print one for each month of the summer so you can get all your summer plans down and map out the whole summer! 
We also made the giant print reusable so we only had to print one.
2. Print Summer Calendars for Each Kid
I'm learning some kids like to know each detail of their lives, and some of my younger kids like a visual to count how many days away specific fun activities are happening. The good news is, with individual calendars for each kid, they get to use them to help track of their own weekly schedule and the kind of routine they can expect.
For my oldest son, we need to know the daily summer schedule for all the sports camps and social outings in his world.
For my preschooler, having his own weekly summer schedule helps him see what date we plan on the water park when we're home to play with a friend, and what time quiet time is going to happen.

I typically keep one master print for me for all the things, or more often, utilize a digital calendar in my phone to keep my busy mom life and all the activity lists in order. But individual planners help my kids feel in the loop, and it's been a good thing to help them feel empowered instead of stressed or in the dark about their own kids' summer schedule.
3. Laminate It
It doesn't cost a lot more to laminate the printed pdf files and make a reusable schedule. We know different things come up, and sometimes you need a flexible routine kind of plan. If you laminate the calendar (at any printable size) and grab some dry erase markers I like use a different colored dry-erase marker for theme days or types of activities.
So how does our printable summer schedule work? It's simple! Just print out the schedule, fill in your activities, and hang it up where you can see it. Our schedule is designed to be flexible and customizable, so you can use it to fit your unique needs and preferences. Whether you're a busy parent, a student on summer break, or just someone looking to make the most of the season, our printable summer schedule is the perfect tool to help you stay organized and have fun.
Plan for Fun
We're big advocates of making sure you plan fun ideas and quality time making memories while you add in all the events and appointments. Grab our free printable summer bucket lists to help you get some great ideas for easy fun! Last summer thousands of families downloaded this printable and let us know these great resources helped to make sure you have a great time before the school year starts.
We set up themed days of the week, and a summer routine with downtime, educational activities, and a fun family adventure day in our weekly planner. It makes sure fun is included in our predictable routine, and that we make the most of the lazy days of summer when we have them!
Tips for making the most of your summer schedule
Now that you know some of the benefits of using a summer schedule, let's dive into some tips for making the most of it. Whether you're a seasoned scheduler or new to the game, these tips can help you stay on track and have the best summer ever.
Start with a blank slate:
Before filling in your summer schedule, take some time to clear your mind and think about what you really want to accomplish during the season. What are your goals? What activities do you want to prioritize? Starting with a blank slate can help you avoid over-scheduling and ensure that you're truly focusing on what's most important.
Be realistic:
While it's important to aim high and dream big, it's also important to be realistic about what you can actually accomplish in a given day or week. Don't overload your schedule with too many activities or commitments, as this can lead to burnout and feelings of overwhelm. Instead, focus on a few key priorities and build your schedule around those.
Prioritize self-care:
Summer is a time for relaxation and rejuvenation, so be sure to prioritize self-care activities like exercise, time outdoors, and quality time with loved ones. These activities can help you feel more balanced and energized, and can also improve your overall mood and well-being.
Build in flexibility:
While having a schedule can be helpful, it's also important to build in some flexibility. Leave room in your schedule for spontaneous outings, last-minute plans, and unexpected events. This can help you feel more relaxed and open to new experiences, which is what summer is all about.
Stay organized:
Once you've created your summer schedule, be sure to stay organized and keep track of your commitments. Use a planner, calendar, or app to help you stay on top of your schedule and avoid double-booking or forgetting important events.
How to Involve Your Family in Your Summer Schedule
Summer is a great time for families to bond and make memories together, but it can also be a time when schedules get hectic and everyone feels pulled in different directions. If you want to involve your family in your summer schedule, here are some tips to help you do it:
Make a family bucket list: Sit down with your family and make a list of all the activities and experiences you want to have together this summer. This can be a fun way to get everyone excited and involved in the planning process.
Schedule family time: Once you have your family bucket list, schedule specific times for family activities in your calendar. This can help ensure that everyone is on the same page and that no one misses out on the fun.
Be flexible: While it's important to schedule family time, it's also important to be flexible and open to last-minute changes. Summer is a time for spontaneity and adventure, so be open to changing your plans if something unexpected comes up.
Involve everyone in the planning process: If you want your family to be involved in your summer schedule, be sure to involve everyone in the planning process. Ask for input and ideas, and be willing to compromise and adjust your plans to accommodate everyone's needs and preferences.
Make it fun: Above all, make sure that involving your family in your summer schedule is fun and enjoyable. Plan activities that everyone will love, and don't forget to build in some downtime for relaxation and rest.
We hope this printable summer calendar helps you stay organized and have fun this summer! With a little planning and effort, you can stay productive and accomplish your goals while still having fun and making the most of the season.
Like this free summer printable calendar? Be sure to check out these posts too:
Free printable chore charts for kids
Summer Schedule for Kids with Free Printable
Summer Plans: Tips for Scheduling and Planning with Free Printable
150+ Summer Activities for Kids with Free Activity List Download!
Get 365 Date Ideas!
We want to help you have the best date nights ever! Grab this FREE printable with 365 date ideas, a date for every day of the year so you never run out of ideas!