Summer Chore Chart for Kids
Grab the FREE Summer Chore Chart for Kids printable download + Tips and systems to make summer chores easier for the whole family this summer!
Balancing Work and Play
If we get up and head straight for a fun place it's definitely more difficult to get our kids to do chores and clean the house. That leaves me feeling really overwhelmed.
My parents raised us to work hard and play hard. That is, work hard first, then you've earned playing hard. I'm really grateful for parents who taught me early in life that after you've worked very hard during the day you're free to go somewhere at night with your friends. I played night games as a child, I had a wonderful social life as a teenager. And I still earned money at a job and had a great GPA. I owe parents who taught me the balance of work and play!
It's all about tackling responsibilities and then earning a reward. Just like when an adult and earn a paycheck.
That's something I want my kids to learn young, and I'm convinced summertime is the perfect time to do that!
How to fit in summer chores and all the fun plans
As we work through our summer routine and summer schedule, we plan something fun every day. Sometimes that's more chill activities at home, and sometimes that's taking my kids to a fun center I know they'll love.
No matter what it is, we do a summer chore system at works. It's based on work to get your reward, with easy expectations and goals.
Summer Chore Chart for Kids
We made the summer chore chart for kids simple and easy to follow. Add the job(s) to the chore chart, and check them off when they're done.
If you do your job(s) for the day, you get to participate in the fun activity planned. If you don't, you miss you. We plan a summer routine with at least a small fun activity each day. If you want to do the same, check out our 150 Summer Activities list!
I promise it only takes one time of a kid missing out for them to learn you mean business and to get their stuff done every day.
It's also easy to promote positive parenting!
"You get to join us at the park if your chores are done by 9:00! You can do this! Hooray for earning a park day!"
Since we do fun things and outings every Friday, I like to make them earn it! If they follow their summer chore chart and complete jobs, they earn the big outing of the week.
"Hey you did your chores all five days of the week, you totally get to join us at the trampoline park!"
Maybe you make a big activity or family outing with both parents happen on the weekend. Perhaps there's a movie day with treats on Friday. You choose what works for your family!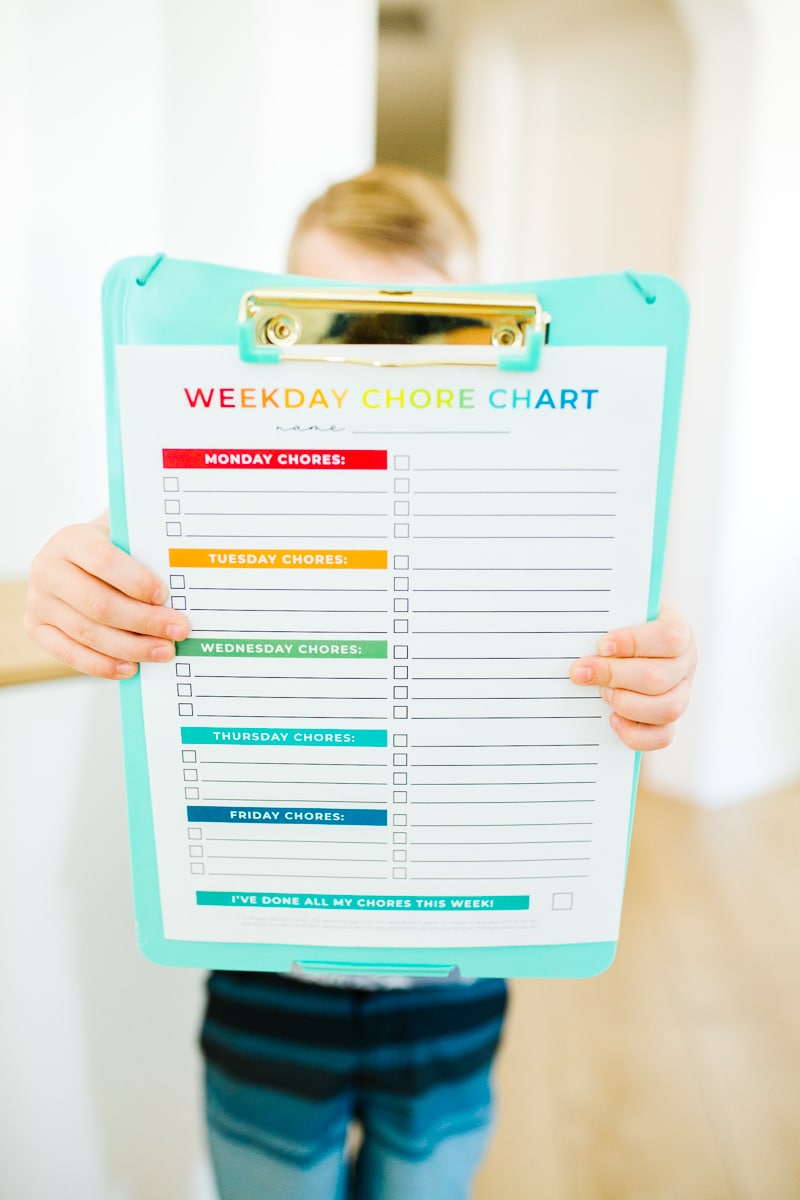 Chores for Kids: Setting Expectations
We also like to make chores very logical and easy. For me, with younger kids, if they'll clean up their own rooms every single day and put all the toys away I'm pretty thrilled with them.
I may add in a smaller chore that's age-appropriate. But keeping it simple so they knew what to do and what time they need to finish really helps.
if you live somewhere hot as we do in Arizona, you may find you need to get out first thing in the morning to make certain activities happen before it's too hot or to beat crowds. That's no problem, just adapt to having kids earn for the next day. We often "put the playroom to bed" at night and my kids wake up to a clean slate and leave a clean slate when we leave.
And we want to help you make summer chores happen without complaint and using the system to incentivize work and good choices. That's why we made a chore chart printable to help you and your kids keep track of chores.
Our Biggest Tip: Be Consistent
Remind them often what they're earning. Be consistent so they know you mean business.
If they miss out on a day, don't cave in, let them know they get another chance for fun tomorrow! If you're having a burnt-out day as a parent, call in your significant other that evening. See if grandparents can take a fun activity day. Or, let them know they get double the fun tomorrow! But follow through with the reward, and make sure they learn to earn it!
I promise the desire to get to go on the donut run or play a game with mom will get them working faster than never-ending fights and threats. It's been our biggest win to watch our kids be excited to clean up and help around the house.
You got this! Start strong early on and keep it going all summer. Your housework won't feel so overwhelming. Your "work then play" lesson will reiterate strongly all summer with repetition. And hey, it may be a habit that lasts long beyond summer!
Grab the Free Summer Chore Chart Printable
Ready to start your summer chores and get your own system going? Be sure to grab our FREE Summer Chore Chart for Kids Here:
Like this free summer chore chart? You may like these posts too:
Chore List for Kids: Chores for Toddler and Preschoolers
Summer Plans: Tips for Scheduling and Planning with Free Printable
Get 365 Date Ideas!
We want to help you have the best date nights ever! Grab this FREE printable with 365 date ideas, a date for every day of the year so you never run out of ideas!