DIY Peter Pan Party Hat : A No-Sew Easy Tutorial
An easy new-sew DIY tutorial for a Peter Pan Party Hat perfect for a Peter Pan Birthday party!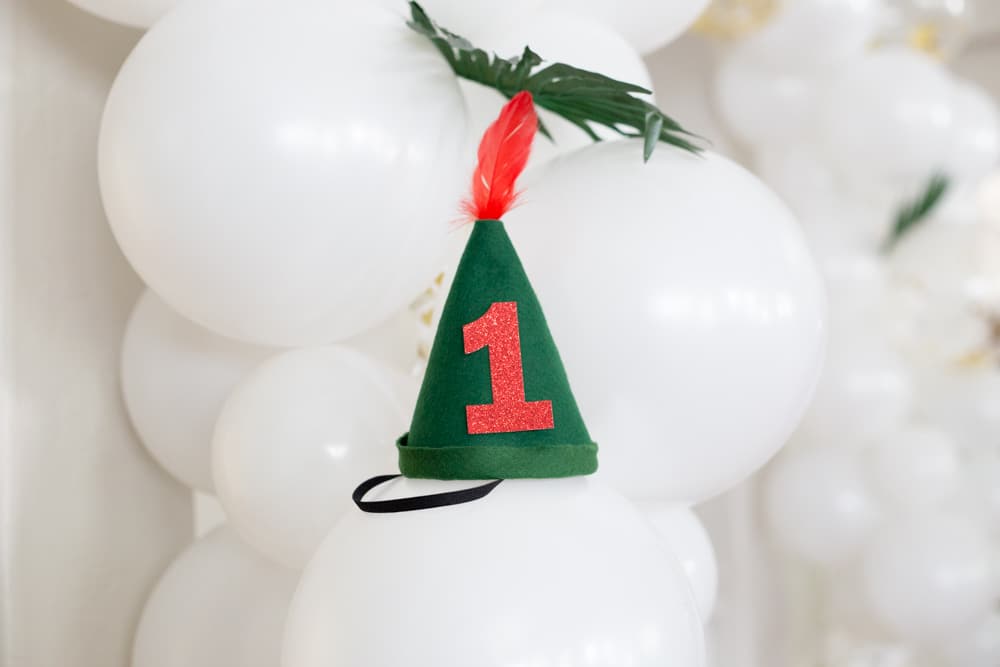 I was so excited when we chose a Peter Pan Birthday theme for our baby's first birthday party. Never Grow Up is exactly how my mama heart feels about my babies turning into toddlers. When we thought about the pieces of the party and how we'd pull it together, I knew I wanted it simple but of course still cute enough to want to photograph!
At the top of the to photograph list is a cake smash photo capturing the baby's reaction to their first taste of the cake. Whether they love it and eat as much as they can, or hate their first taste, the cake smash is always the main attraction! Thus, it's my favorite thing to prep for. I knew a simple cake with the theme and a Peter Pan Party Hat was in order!
Cake Smash Party Hat
I scoured the internet for a cake smash party hat. I'm typically a buy it from a professional instead of make it myself kind of girl. But, I was shocked at how few options there were. Additionally, I was even more shocked at how much people were charing for a Peter Pan hat.
I decided to dust off my DIY attitude I haven't used in a long time, and get creative! I figured I could likely make it myself, and even turn it into a party hat hybrid for an even cuter effect!
If you're planning to take a trip to Neverland for an upcoming birthday, I've got your back with a super easy new-sew Peter Pan Party hat tutorial! It takes about 15 minutes, minimal supplies, and came out just how I hoped it would!

DIY Peter Pan Party Hat
DIY Peter Pan Hat Materials needed:

Peter Pan Birthday Hat Instructions

Start with the fabric and a part hat template. Cut out the template in the felt. Just be sure to leave a long piece to complete the brim later.
Next, cut out the brim from remaining felt. You'll need a piece about 12″ long with 2″ wide is all you'll need leftover. If you're working with a tight space, cut the template with this wiggle room. Also, if it's a little short, that's okay! It doesn't have to be a precise measurement.

Next, fold the hat template cutout inside out, and staple the pieces together. I'd do a close set of staples for a secure fit.
*Of course, you can sew instead of staple if you'd like! It works the same either way! But for those who aren't sewers in the crowd, a stapler will do the trick!
Turn the hat right side out and grab the brim piece of felt. This is going to fold over the bottom of the hat to look like Peter Pan's brim. This is the trickiest part, but I promise you can eyeball this pretty easily!
Next, place the brim around the bottom, and open up the top piece that will show in the front so you can attach the back piece with a stapler. Staples will show while it's folded down. But as soon as you're done with your staples, you can easily fold the brim back up and hide them.

Finishing Off the Peter Pan Party Hat
From here you have a hat! The chin strap is optional, but if you're doing this for a baby as we did, I'd highly recommend one! We measured the elastic to fit the little chin and attached it to the sides with staples. It's easy to hide your staple under the brim so it doesn't show.

Finally, decorate that baby! I added feathers to the top of the hat, but you could easily attach it to the side too. The number came from a sticker pack I purchased. If you have a Cricut or Silhouette machine, you can easily cut a number on sparkly red cardstock. I went easy and just bought a large number pack of stickers.
That's all it takes! It was about a 15-minute project, and the Peter Pan birthday hat came out perfect! It was just what we needed for his Never Grow Up party! And, I have to add, it was the perfect piece for the cake smash pictures of my dreams!
Like this Peter Pan Party Hat Tutorial? You may like these posts too:
Never Grow Up 1st Birthday Party: A Peter Pan Birthday
Baby First Birthday: 10 Reasons to Have a 1st Birthday Party
Donut Grow Up 1st Birthday Party
Get 365 Date Ideas!
We want to help you have the best date nights ever! Grab this FREE printable with 365 date ideas, a date for every day of the year so you never run out of ideas!